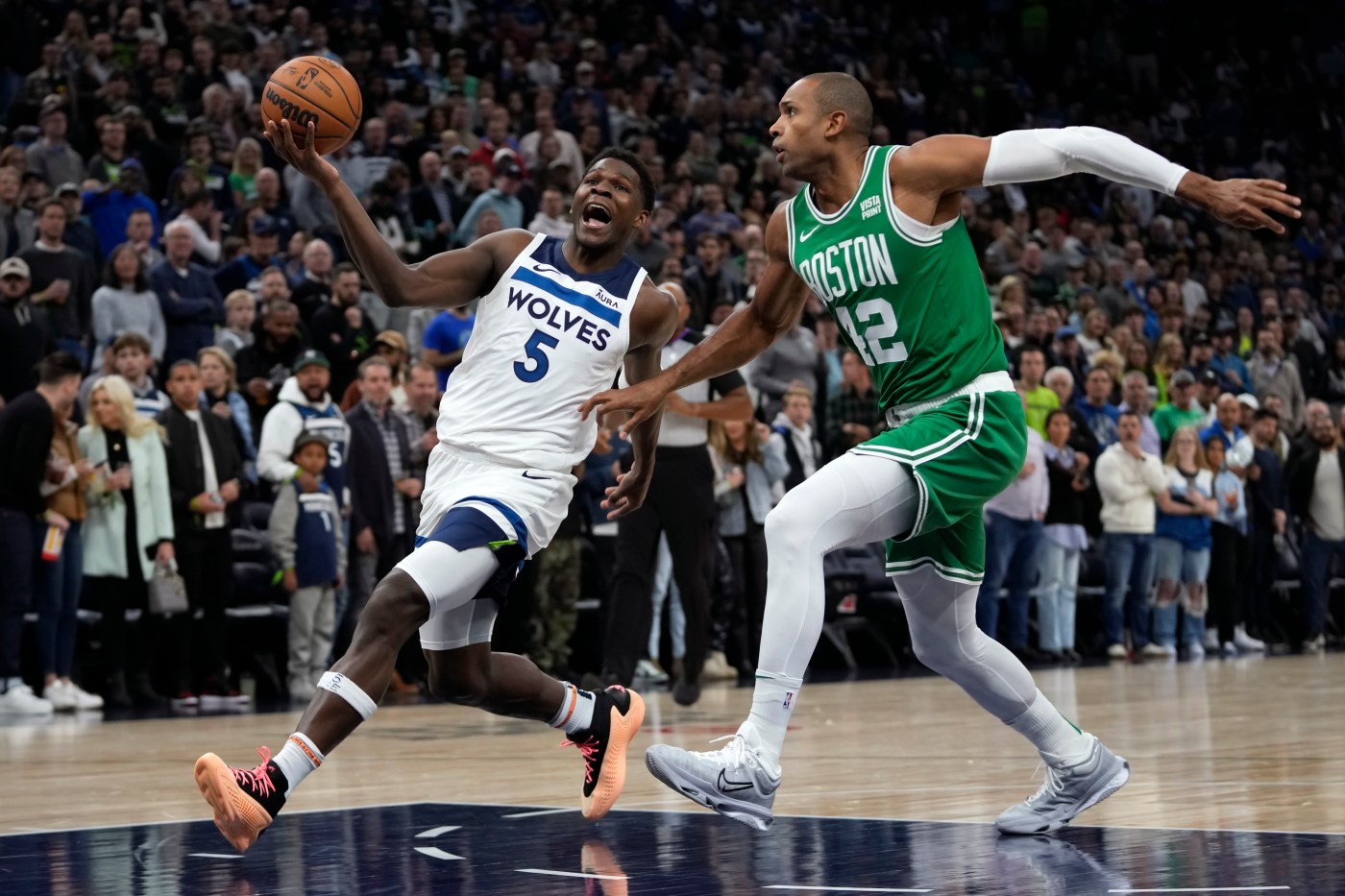 Anthony Edwards takes over late to hand Celtics first loss
The Celtics finally met their match.
On a night when the Celtics' offense finally looked mortal, it almost didn't matter. Kristaps Porzingis was stuck in foul trouble. Jrue Holiday couldn't buy a shot. Even without Derrick White again, the Celtics were in position for a tough road victory in Minnesota.
Then Anthony Edwards happened.
The Timberwolves guard and fastest rising NBA superstar scored 38 points, including eight in overtime. The Celtics couldn't stop him on the court, and they couldn't take advantage when he was off it as he dealt with foul trouble. They didn't get enough outside of Jayson Tatum, who scored 32 points, or Jaylen Brown, who added 26. Instead, they dropped their first game of the season with a 114-109 loss to the Timberwolves.
Edwards proved to be the difference.
"He's a great player," C's coach Joe Mazzulla told reporters in Minnesota. "He's gonna make shots. I thought he made some difficult ones."
The Celtics' offense went stale against Minnesota, the league's top defense by rating to start the season, especially in crunch time. But they still had plenty of chances to win. They overcame those slow stretches to take the lead several times. In a back-and-forth fourth quarter, they had a late lead. Mazzulla, in a bold yet ultimately genius move, purposely called for a foul on poor free-throw shooter Rudy Gobert. He missed both, and then Brown hit a 3-pointer with two minutes left to give the Celtics a three-point lead.
But the C's didn't score again in the fourth. Jaden McDaniels responded with a game-tying 3-pointer, and neither team could find a winning play in regulation.
Al Horford lost the ball with 33 seconds left. Edwards missed a triple with 14 seconds to go. Mazzulla opted not to call a timeout, and Brown got a good look on an isolation 3-pointer that missed to send the game to overtime.
In overtime, Edwards stole the show.
Edwards picked up his fifth foul with 10:49 to go in the fourth, but it never mattered. The C's tried to attack him, but Edwards stood tall and never got his sixth foul. Then the young Wolves star erupted in overtime. The Celtics led 105-103 when Tatum's sixth turnover of the night on an Edwards steal led to Mike Conley's go-ahead 3-pointer. Then the Celtics kept missing on bad offensive possession, and Edwards made three consecutive shots – all while Mazzulla refused to call a timeout – as the Wolves ran away with the game.
Mazzulla later said he didn't want to call a timeout in order to save them inside the final minute. He didn't think it was necessary to call one even though the Celtics' offense turned stagnant.
The Celtics cut it to three with 36 seconds left on Tatum's steal and dunk, but McDaniels replied with a jumper on Minnesota's next possession to clinch the victory.
The Celtics forced 23 Minnesota turnovers, but the Wolves overcame it in part because the C's committed 16 themselves. Though Tatum and Brown had their moments, neither could match Edwards late because of the Wolves' suffocating defense.
"Our opponents are always going to bring the best out of us," Mazzulla told reporters. "I thought we competed at a high level. I thought their defensive toughness outmatched our offensive toughness at times, but I thought both teams played a really good game for Game 5 of the year.
"Their overall pressure bothered us on the offensive end, so that's a good learning point for us."
Mazzulla didn't seem upset by the loss. He admitted there was some growth within that, as he looked at the game for its learning opportunities moving forward.
"I probably wouldn't be as open-minded about a loss like that last year as I am this year, and that just comes with time," he said.
"That was awesome, though. What a game. That was sick."
Other takeaways and notes from the loss:
– The Celtics, with the help of review guru and assistant Matt Reynolds, are always all over opportunities to challenge calls and they earned another key overturn in the third quarter. Karl-Anthony Towns appeared to draw a three-point play – which would have given the Wolves a five-point lead and given Holiday his fourth foul. But the C's challenged the call and it was ruled that Towns actually committed an offensive foul, which gave the Wolves big man his fourth personal.
But the Celtics couldn't quite take advantage in that third period with Edwards out of the game in foul trouble. The game was tied at 66 with 7:07 left in the period when Edwards went to the bench with his fourth foul, but the Celtics ultimately trailed by five entering the fourth despite Edwards missing those seven minutes.
Edwards eventually took over in crunch time. But Mazzulla thought the Celtics defended him well for the most part.
"That small stretch, he got loose kind of in transition and we gave him the one thing that he's great at, which are those shake and race threes," Mazzulla said. "So you have to be able to take those away in the flow of the game, and I thought we did a good job taking away his tendencies the majority of the game but he's a hell of a player. He's gonna make tough shots."
– The Celtics' bench was the unsung hero of Saturday's win in Brooklyn, and without White again, the unit stepped up with an early strong stretch on Monday. The C's trailed by three to begin the second quarter when Mazzulla put out a lineup of Tatum with Al Horford, Sam Hauser, Payton Pritchard and Luke Kornet and the group reeled off an 8-0 run to begin the period to regain control. Tatum scored six consecutive points as he made easy paths to the rim in the pick and roll with Kornet, while Pritchard and Hauser held their own defensively and on the glass.
But the bench ultimately didn't give them the kind of production they did Saturday in Brooklyn. Sam Hauser made three 3-pointers and the unit helped keep the Celtics in the game in the fourth quarter with Porzingis out of the game in foul trouble. But they needed more during that third quarter when they failed to take advantage of Edwards' foul trouble, especially with Holiday – who finished the game 4-for-16 from the field in 41 minutes – struggling.
– Without White, Mazzulla certainly wasn't afraid to use his bench and went 10 deep in the first half. It included a surprising inclusion of Lamar Stevens as the first player off the bench just 3:46 in the game as Mazzulla looked to use Stevens' versatility against Minnesota's double-big lineup of Towns and Rudy Gobert. Svi Mykhailiuk also earned some first-quarter minutes.
– Brown had another hot start as he scored nine points within the first six minutes of the game, including a highlight among the best of his career. Brown found a lane to the hoop in the early going when Gobert tried to help at the rim. It didn't go well for the Wolves big man, as Brown flushed it with one hand on Gobert for one of the best dunks of his career.
– White missed his second consecutive game due to the birth of his second child. It's unclear if the Celtics guard will return for Wednesday's game against the 76ers.