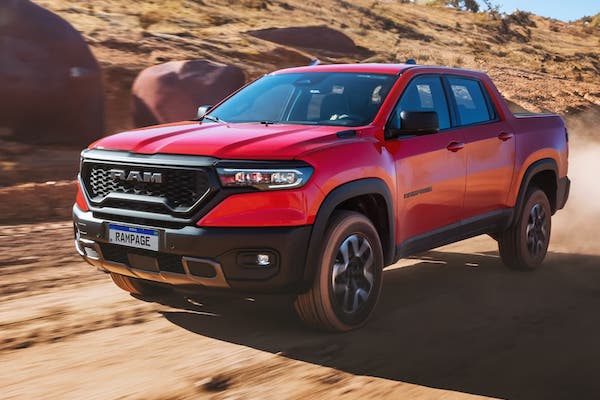 Brazil October 2023: Rampage lifts Ram up 474.1%
The Ram Rampage sells over 2,500 units in October.
The Brazilian new light vehicle market is up a sturdy 22.7% year-on-year in October to 206,669 units, a clear sign of recovery after October 2022 was up 12.3% on the year prior. However we remain roughly 15% below pre-pandemic levels (241,175 units in October 2019). The year-to-date volume is now up 11.4% to 1,741,128, 20% below the 10 months 2019 result. Fiat (+18.8%) comfortably retains the brands top spot with 21.5% share vs. 11.7% at home in Italy. Volkswagen (+38.6%) continues to impress in 2nd place with 15.9% share, it is also up 31.6% year-to-date. Chevrolet (+14.6%) is the weakest in the Top 4 and stuck at #3 above Toyota (+15.1%) which overtakes Hyundai (stable) to return to the 4th place it holds year-to-date. Nissan (+143.6%), Chery (+88.8%), Ford (+83.4%) and Peugeot (+61.9%) impress below but Ram (+474.1%) is the hero of the month with a surreal uptick. Porsche (+69.8%) also shines further down.
The Fiat Strada (+47.6%) is the best-selling model again, resisting the VW Polo (+1403.1%) which ends the month 751 units below. The Chevrolet Onix (+37.2%) lodges a solid month to stay at #3. Leader a year ago, the Hyundai HB20 (-18.3%) is down to #5 this month while the Nissan Kicks (+134.8%) is the only remaining Top 10 member to beat the market. Indeed the Chevrolet Tracker (-21.5%) and Onix Plus (-3.3%) regress, the Renault Kwid (+5.8%) is weak and the VW T-Cross (+20.3%) and Fiat Mobi (+19.2%) just miss out on matching the market growth. The VW Virtus (+661.8%) and Peugeot 208 (+129.9%) post extravagant lifts but the best performer this month is the new Ram Rampage, a competitor for the Toyota Hilux and Ford Ranger, up 24 spots to #32 with over 2,500 sales.
Previous month: Brazil September 2023: Fiat and Strada dominate, BYD and GWM up
One year ago: Brazil October 2022: Hyundai HB20 and Chevrolet Tracker top market up 12.3%
Full October 2023 Top 25 brands and Top 135 models below.
Brazil October 2023 – brands:
PosBrandOct-23%/22Sep2023%/22PosFY221Fiat  44,45621.5%+ 18.8%1384,44422.1%+ 11.9%112Volkswagen32,88615.9%+ 38.6%2271,31015.6%+ 31.6%233Chevrolet32,27415.6%+ 14.6%3268,58115.4%+ 15.9%324Toyota  17,6688.5%+ 15.1%5157,1759.0%+ 2.7%445Hyundai  16,3347.9%– 0.0%4144,3708.3%– 6.9%556Renault  11,9245.8%+ 3.8%699,2205.7%– 2.5%777Jeep9,5074.6%– 16.7%7106,6886.1%– 3.4%668Nissan8,0223.9%+ 143.6%859,1683.4%+ 32.5%999Honda5,5762.7%+ 10.1%959,8353.4%+ 32.3%8810Chery3,7881.8%+ 88.8%1023,2291.3%– 22.2%121111Ford  3,4891.7%+ 83.4%1322,5101.3%+ 36.3%131412Peugeot3,3051.6%+ 61.9%1128,1571.6%– 18.7%101013Citroen 3,1391.5%– 20.0%1225,9211.5%+ 10.0%111214Ram3,0771.5%+ 474.1%1810,4090.6%+ 212.9%162015BYD2,7321.3%new148,8220.5%new17n/a16Mitsubishi1,8550.9%+ 19.5%1514,1590.8%– 23.3%141317GWM1,4500.7%new177,3240.4%new18 –18BMW1,3690.7%+ 49.5%1611,8550.7%+ 3.6%151519Volvo6470.3%+ 38.8%206,3920.4%+ 59.6%191920Audi6310.3%+ 43.7%195,0210.3%+ 19.8%201721Kia4800.2%+ 21.8%n/an/an/an/a241822Porsche4380.2%+ 69.8%224,3910.3%+ 64.3%222223Land Rover3780.2%+ 3.6%214,0310.2%+ 31.3%232124Mercedes3290.2%– 44.6%234,7760.3%– 4.8%2116
Brazil October 2023 – models:
PosModelOct-23%/22Sep2023%/22PosFY221Fiat Strada11,8745.7%+ 47.6%198,5115.7%+ 4.7%112VW Polo 11,1235.4%+ 1403.1%283,0504.8%+ 2533.2%2523Chevrolet Onix10,6575.2%+ 37.2%381,4034.7%+ 19.1%334Fiat Mobi8,0373.9%+ 19.2%759,6663.4%+ 5.1%655Hyundai HB207,4213.6%– 18.3%469,2214.0%– 13.3%426Chevrolet Onix Plus7,1143.4%– 3.3%563,0933.6%+ 6.6%547VW T-Cross6,7243.3%+ 20.3%958,1253.3%+ 7.7%788Chevrolet Tracker6,6693.2%– 21.5%653,9793.1%– 2.4%979Renault Kwid6,3943.1%+ 5.8%1049,2412.8%+ 6.8%121210Nissan Kicks6,1153.0%+ 134.8%1341,7702.4%+ 27.7%152111Hyundai Creta5,3542.6%+ 6.1%1650,2522.9%– 1.1%101112Fiat Argo5,2572.5%– 20.7%856,1663.2%+ 13.4%8913VW Nivus4,9572.4%+ 31.4%1242,0372.4%+ 40.8%142014Fiat Cronos4,9292.4%+ 32.6%1438,8522.2%+ 27.4%181915Jeep Compass4,6402.2%– 12.6%1749,4222.8%– 3.2%111016VW Saveiro4,2142.0%– 5.2%1138,2222.2%+ 119.4%192717Fiat Pulse4,1572.0%– 3.6%2436,5522.1%– 14.6%211418Fiat Toro4,0872.0%+ 37.1%1842,1802.4%+ 0.9%131519Honda HR-V4,0492.0%+ 55.6%1539,9292.3%+ 329.3%163720Toyota Hilux4,0261.9%– 4.2%2138,0732.2%+ 0.2%201621Toyota Corolla3,9961.9%+ 21.6%2335,3052.0%+ 1.2%221722Toyota Corolla Cross3,6821.8%+ 14.2%2535,0372.0%– 0.5%231823Fiat Fastback3,6401.8%+ 28.0%2232,7451.9%+ 899.8%244724Hyundai HB20S3,4421.7%+ 59.7%1923,9011.4%+ 12.9%262625Jeep Renegade3,2491.6%– 17.9%2039,9222.3%– 3.8%171326Chevrolet Montana2,9241.4%n/a3025,2731.5%+ 168386.7%25n/a27VW Virtus2,9101.4%+ 661.8%2621,0341.2%+ 397.3%305528Renault Duster2,8911.4%+ 51.1%2720,0361.2%+ 10.2%312829Peugeot 2082,8321.4%+ 129.9%3123,0841.3%– 4.4%272330Citroen C32,7141.3%+ 3.6%3221,2521.2%+ 386.0%294231Ford Ranger2,5911.3%+ 84.7%3315,7610.9%+ 38.0%373832Ram Rampage2,5411.2%new563,1210.2%new62 –33Chery Tiggo 5X2,4831.2%+ 444.5%419,7420.6%+ 25.1%424834Toyota Yaris Sedan2,4261.2%+ 66.6%2816,1360.9%+ 32.7%363635Chevrolet Spin2,0511.0%+ 18.1%3416,8711.0%+ 25.2%343336Fiat Fiorino2,0511.0%+ 7.7%2916,1850.9%– 3.8%353137Chevrolet S102,0371.0%+ 25.4%3621,4621.2%– 4.0%282438VW Taos1,8650.9%+ 88.6%3812,3630.7%+ 35.9%394139Toyota Yaris Hatch1,8620.9%– 17.4%3519,1731.1%– 8.8%322540Jeep Commander1,5770.8%– 25.3%3716,9541.0%– 4.0%332941Toyota Hilux SW41,5480.7%+ 78.1%3912,5410.7%+ 15.9%383942GWM Haval H61,4500.7%new407,3240.4%new47 –43BYD Dolphin1,3660.7%new442,8680.2%new64 –44Mitsubishi L2001,2060.6%– 2.9%429,6850.6%– 25.4%433545BYD Song Plus1,1000.5%new464,2660.2%new54 –46Renault Oroch9910.5%– 31.3%4310,4840.6%+ 11.3%404047Renault Master9800.5%+ 31.4%458,7010.5%+ 4.0%454648Nissan Versa7670.4%+ 896.1%517,0630.4%+ 39.9%485449Honda City7510.4%– 33.9%5010,0240.6%– 49.0%413050VW Amarok7350.4%+ 70.1%476,3490.4%+ 45.9%515351Honda City Hatch6840.3%– 48.3%499,3270.5%– 29.5%443452Chery Tiggo 86780.3%– 30.7%487,3330.4%– 18.0%464453Nissan Frontier6480.3%+ 7.6%536,6750.4%+ 0.9%495054Chery Tiggo 75100.2%+ 5.8%525,0730.3%– 30.7%534955Nissan Sentra4900.2%n/a603,4360.2%n/a58n/a56Mitsubishi Eclipse Cross4640.2%+ 75.8%622,7950.2%– 5.8%665957Renault Sandero4430.2%– 24.7%546,5780.4%– 17.4%504358Chevrolet Equinox4250.2%+ 47.1%553,3570.2%+ 198.7%597759BMW X14180.2%+ 159.6%573,1610.2%– 6.4%616260Citroen C4 Cactus3320.2%– 71.6%583,1820.2%– 80.9%603261Volvo XC603230.2%+ 319.5%633,6090.2%+ 147.0%577562VW Jetta3130.2%+ 745.9%721,6720.1%+ 269.9%7110963Fiat Scudo3110.2%+ 41.4%612,9700.2%+ 377.5%639364BMW 320i3100.1%– 31.7%593,7280.2%+ 6.5%565765Ford Bronco2570.1%+ 46.9%n/an/an/an/an/a7966Audi Q52460.1%+ 284.4%691,6650.1%+ 32.2%738067Kia K25002360.1%– 8.2%642,0030.1%– 8.7%696668Chevrolet Trailblazer2170.1%– 37.8%841,4330.1%– 44.4%786369BYD Yuan Plus2150.1%new809950.1%new91n/a70Peugeot Expert1970.1%– 37.3%701,5220.1%– 52.9%756171Ford Maverick1970.1%+ 392.5%1001,3400.1%+ 12.4%848572Mitsubishi Pajero1850.1%+ 400.0%711,6670.1%+ 17.3%727373Renault Logan1770.1%– 74.3%653,7940.2%– 53.7%554574Ford Territory1750.1%+ 118.8%799560.1%+ 9.5%929575Ram 35001680.1%– 37.1%752,8680.2%+ 97.9%656876Ram Classic1630.1%+ 297.6%731,8240.1%+ 4348.8%7010877Ram 25001590.1%+ 591.3%741,3670.1%+ 55.9%829278VW/MAN Express1490.1%+ 20.2%761,5430.1%– 17.2%747079Ford Transit1400.1%– 10.8%812,1780.1%+ 76.1%677180Audi Q31400.1%– 37.5%771,2800.1%+ 12.2%857881Volvo XC401330.1%– 49.6%961,2790.1%– 5.3%867482Porsche 9111320.1%+ 73.7%828300.0%+ 60.9%9910583Peugeot 20081310.1%– 41.8%781,5050.1%– 68.2%775684Chevrolet Cruze Sedan1210.1%– 70.7%859970.1%– 87.5%905185Iveco Daily  1160.1%– 4.1%861,5120.1%+ 114.8%769686Kia Sportage1140.1%n/a898640.0%n/a98n/a87Fiat Ducato1050.1%+ 600.0%944950.0%– 73.0%1087688Mercedes Sprinter 3151040.1%+ 89.1%881,1450.1%+ 356.2%8811589Chery Arrizo 61000.0%+ 222.6%668960.1%– 29.8%958190Land Rover Discovery960.0%– 11.1%681,3510.1%+ 5.5%838291Mini Cooper940.0%+ 64.9%1086320.0%+ 8.0%10410092BMW X4930.0%n/a839020.1%n/a949993Peugeot Partner870.0%– 57.6%671,4230.1%– 18.0%796994Effa V21860.0%+ 16.2%927280.0%+ 24.2%10010195Porsche Macan840.0%– 9.7%911,1070.1%+ 19.8%899196Citroen Jumpy830.0%– 35.7%871,4190.1%– 41.6%806597Ford F-150780.0%n/a998760.1%n/a97n/a98Land Rover Defender750.0%n/a988890.1%n/a9613999Volvo XC90720.0%n/a909390.1%n/a93n/a100Audi A3 Sedan700.0%+ 600.0%1015650.0%+ 44.9%106110101Mercedes C Class630.0%– 68.2%976530.0%– 26.7%10388102Porsche Panamera630.0%+ 384.6%1063750.0%+ 98.4%111131103Audi A5580.0%+ 132.0%1044600.0%+ 89.3%109119104Porsche Cayenne480.0%n/a1031,3950.1%n/a81n/a105Ram 1500450.0%– 78.0%951,2290.1%+ 28.0%8786106BMW 330E450.0%– 27.4%1075330.0%+ 3.1%107107107Audi A3450.0%+ 4400.0%1133240.0%+ 110.4%117135108Porsche Cayman440.0%n/a1121840.0%n/a130n/a109Porsche Boxster410.0%+ 4000.0%1102430.0%+ 196.3%123146110Chevrolet Cruze Hatch380.0%– 64.5%1143400.0%– 72.9%11584111Jeep Gladiator340.0%+ 100.0%1112070.0%+ 78.4%129140112Honda Civic330.0%+ 1550.0%1194430.0%– 77.7%11072113Honda Accord330.0%n/an/a420.0%n/a162n/a114Hyundai Ioniq270.0%+ 1250.0%932280.0%– 5.0%126128115Porsche Taycan260.0%+ 766.7%n/a2320.0%+ 2.7%125127116JAC E-JS1240.0%– 11.1%1053730.0%– 32.5%112106117VW Gol220.0%– 99.3%1186,1530.4%– 89.0%526118Peugeot Boxer220.0%n/a1171600.0%+ 73.9%133144119Ford Mustang210.0%– 30.0%1153200.0%+ 5.6%118122120Iveco Daily 30-130200.0%+ 42.9%1261620.0%– 63.5%132113121Effa V22180.0%– 33.3%1162990.0%+ 39.1%120125122Jaguar F-Type180.0%+ 80.0%128830.0%+ 50.9%140n/a123BMW M3170.0%+ 0.0%1202420.0%+ 72.9%124134124Hyundai HR150.0%– 28.6%n/a930.0%– 85.4%138104125BMW 420i150.0%+ 25.0%n/a900.0%– 2.2%139138126Audi A4140.0%– 46.2%n/a2710.0%+ 74.8%121124127Toyota Corolla GR140.0%new129540.0%new156 –128Mercedes Sprinter 517120.0%new123650.0%new150 –129Mercedes Sprinter  110.0%+ 22.2%1271140.0%– 11.6%136137130BYD Seal110.0%new1021020.0%new137 –131Effa V25110.0%+ 57.1%n/a630.0%+ 46.5%152n/a132BMW i4100.0%new1221310.0%new135n/a133VW Fusca100.0%+ 66.7%n/a760.0%+ 46.2%144n/a134JAC EJV5.5100.0%new131390.0%new163 –135Honda Civic Type-R90.0%n/an/a450.0%n/a160n/a
Source: Fenabrave