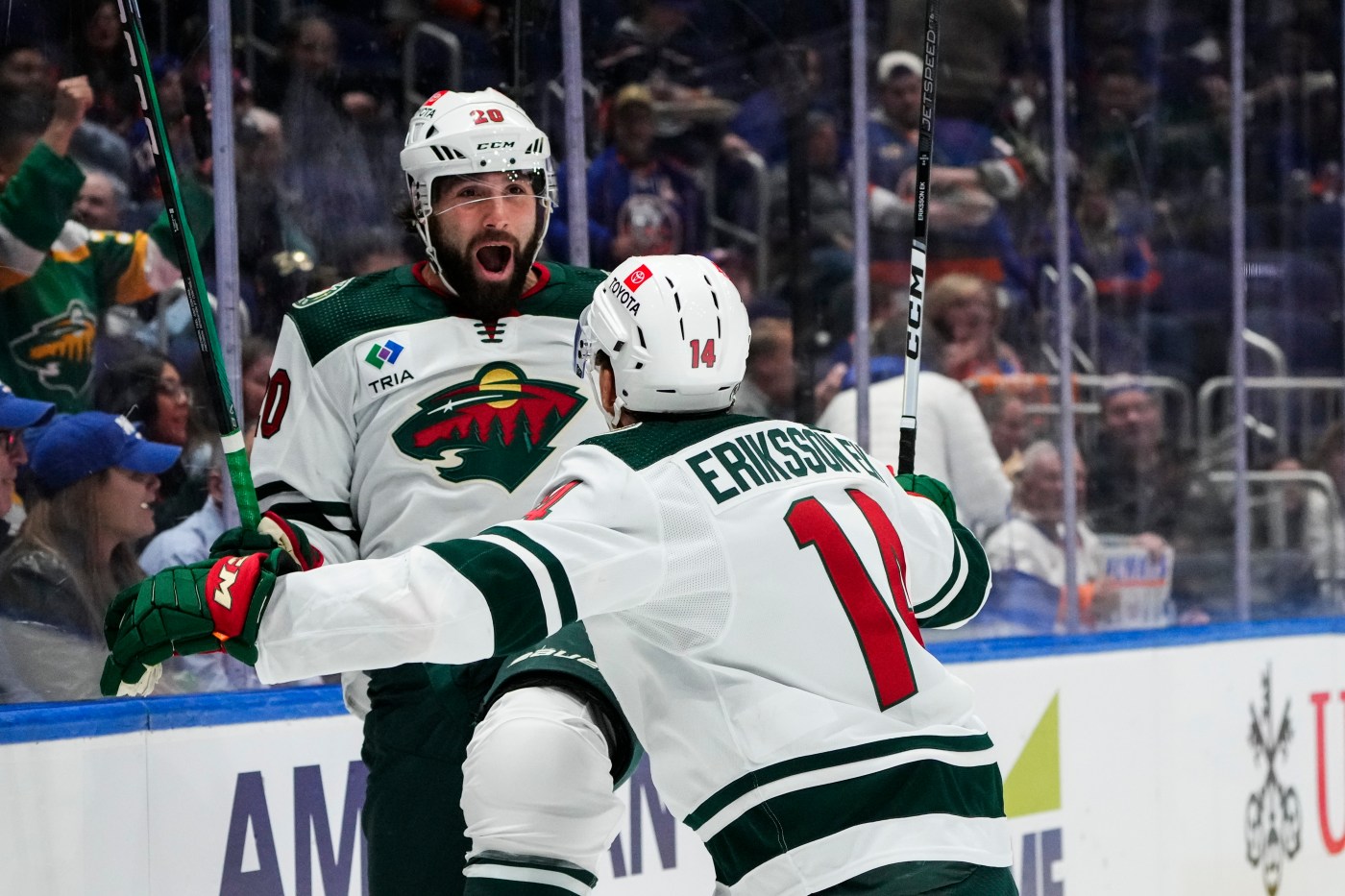 Wild's Pat Maroon continues to make his presence felt in 4-2 victory over Islanders
What a pickup Pat Maroon has been for the Minnesota Wild.
Acquired in a trade with Tampa Bay on July 2, the veteran wing cost only a seventh-round pick, and the Lightning are paying $200,000 of his $1 million cap hit. And all the big guy has done is play up and down the lineup while giving Minnesota two goals and seven assists in 12 games.
He had a goal and assist in the Wild's 4-2 victory over the New York Islanders on Tuesday at USB Arena in Elmont, N.Y.
Maroon put the Wild up 1-0 with a goal in the first 19 seconds of the game, then forced a neutral zone turnover and found Joe Eriksson Ek at the corner of the crease for an assist on a third-period goal that made it 4-2, all but sealing Minnesota's second straight victory.
ELMONT, NEW YORK – NOVEMBER 07: Vinni Lettieri #10 of the Minnesota Wild celebrates his second period goal against the New York Islanders at UBS Arena on November 07, 2023 in Elmont, New York. (Photo by Bruce Bennett/Getty Images)
Vinni Lettieri beat Semyon Varlamov from the high slot to tie the game in the second period, and Kirill Kaprizov scored on a power play from the right circle to 6 minutes, 50 seconds into the third period put the Wild up 3-2 as the Wild started a three-game road trip through New York with a two points.
The Wild have won two in a row for the first time this season. They beat the New York Rangers — whom they'll play Thursday at Madison Square Garden — 5-4 in a shootout last Saturday to end a four-game losing skid.
Maroon's goal Tuesday was the fastest scored in the NHL this season, a near side one-timer off a pass from behind the net by Eriksson Ek — who now has 13 points in 12 games this season.
"That was one of the first games this year where we really came out with fire," defenseman Brock Faber told Bally Sports North after the game. "That first goal was huge."
Maroon, 35, has been everything the Wild hoped for when Bill Guerin sent a seventh-rounder to Tampa Bay for the veteran left wing and prospect Max Cajkovic. He also has won three Stanley Cups, one with St. Louis and two with Tampa Bay, from 2019-21.
"What Patty's done is he's a real calm influence. He's calm with the puck offensively," coach Dean Evason said before the Wild left for New York. "He hangs on to pucks, he tries plays, he makes plays offensively."
Maroon already is close to last season's offensive production, five goals and nine assists in 80 games.
"He's what we expected of him when Billy and the guys (acquired) him to be a presence, not only on the ice but in the dressing room and on the bench," Evason said. "He's been a nice addition."
Marc-Andre Fleury stopped 26 of 28 shots on goal, including three after losing his stick in the second period, to build off his relief appearance in last Saturday's victory over the Rangers.
ELMONT, NEW YORK – NOVEMBER 07: Marc-Andre Fleury #29 of the Minnesota Wild makes the first period save against Mathew Barzal #13 of the New York Islanders at UBS Arena on November 07, 2023 in Elmont, New York. (Photo by Bruce Bennett/Getty Images)
The Islanders pulled Varlamov with 2:33, and had a full 2 minutes of 6 on 4 after Faber was called for holding, but held fast to close out the victory. Varlamov stopped 27 shots.
Lettieri's goal was his first as a member of the Wild, and he scored it with his grandfather, former Gophers and NHL star defenseman Lou Nanne, doing color in the booth for Bally Sports.
"It was pretty fun," Lettieri told BSN between the second and third periods. "The guys on the bench were all yelling, 'Looooou!' It was pretty funny."