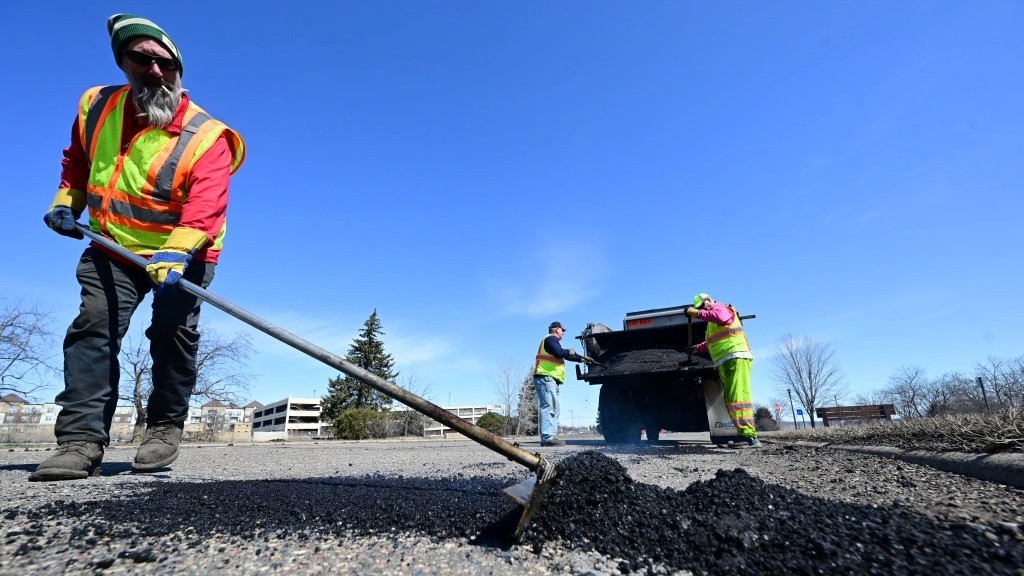 St. Paul voters consider raising city's sales tax for 24 road rebuilds, parks projects
St. Paul's off-year election ballot asked voters whether to raise sales taxes in the capital city to pay for its aging roads and parks.
Mayor Melvin Carter's office proposed increasing the city's sales tax by 1 percentage point to 9.875%, which would be the highest sales tax in the state, to generate nearly $1 billion over 20 years for some 44 miles of arterial road reconstruction, as well as high-priority park maintenance and four designated parks projects.
Leading up to Tuesday's election, St. Paul Public Works officials and a progressive coalition including most of the city council had said the tax would amount to a badly-needed cash infusion for the city's pockmarked roads, totaling some $30 million per year to rebuild long segments of 24 major thoroughfares like Phalen Boulevard and Grand, Hamline and Maryland avenues. The $30 million would roughly double what the city already spends on road reconstructions from local funding sources.
Opponents, including the St. Paul Area Chamber, the Midway Chamber of Commerce and Hospitality Minnesota, called the sales tax a hefty burden for restaurants and retailers already struggling to regain footing after the pandemic, when many customers turned their attention to online shopping or to suburban establishments. They predicted customers will cross city borders into the suburbs to shop.
Voters decide
After mulling the question at length, Elaine Evans made up her mind while walking over to the polls at LEAP High School in the Hamline-Midway neighborhood. She called a higher sales tax regressive.
"It puts a bigger burden on poor people," said Evans, explaining her "no" vote on Tuesday morning.
Elin Cannon, 5, listens as her grandpa Will Nordmark explains voting while casting his ballot at Palace Community Center in St. Paul on Tuesday, Nov., 7, 2023. (John Autey / Pioneer Press)
Kristin Howatt, proprietor of Sweet Fruci's ice cream bus, recognized that a sales tax hike will increase some costs for her small business. She voted "yes" anyway, given that Minnesota does not tax most clothing or groceries.
"It's a tax on the rich, more so," said Howatt, while serving coffee drinks and bubble waffles from her truck outside the high school. "The more money you spend, the more money you pay. I'd rather people who have more money and are able to spend more money — like visitors from outside the city — pay more of the tax."
Fed up with driving over potholes following a difficult spring thaw, Sarah Cooke went to the polls and also cast a "yes" vote.
"I live on this side of town and we need better streets," said Cooke, a longtime homeowner in Ward 6, shortly before polls closed for early voting on Monday afternoon at the Arlington Hills Community Center on Payne Avenue. "The street conditions are not great. A lot of them need repaving."
Equally fed up with property tax increases and the general state of city services, Robbie Smith cast a "no" vote. She said she had lost trust that the city would spend the money wisely, or as promised, despite reassurances from city officials that state law required the city to spell out its sales tax-driven spending in advance.
"I'm really disappointed," said Smith, a Ward 5 resident who said the city has fumbled core services from trash collection and tree trimming to public safety. The city council, she said, "has been doing things that are not helpful for the city of St. Paul. They've been raising our taxes like crazy. Just let our voice be heard."
"I've lived all over the world," she added, "and this is truly a nice place to live, but we're going downhill."
Rebuilding arterial streets, parks projects
City officials had said rebuilding 44 miles of major arterial streets would allow St. Paul Public Works to spend less time completing emergency pothole repairs on them, freeing up more resources for road repair and reconstructions on residential side streets.
Split almost evenly down the middle, about half of the 30 candidates for city council on Tuesday's ballot had called for the city to look to alternate resources, leading one voter outside St. Stephanus Lutheran Church in Frogtown to throw up his hands in frustration Tuesday that few candidates appeared to have proposed clear funding alternatives.
Even with the Democratic-Farmer-Labor Party trifecta controlling the state House, Senate and governor's office, an increase in state gas tax revenue will total $3 million annually for the capital city, a far cry from the $30 million expected to be generated annually by the sales tax proposal.
In addition to road needs, the city has chronicled a $100 million maintenance backlog at parks and recreation facilities, and parks officials say the sales tax would be put toward upkeep at facilities that need it most, as well as four big parks projects that had drawn a gamut of reaction.
The projects, criticized by some voters as the mayor's vanity pet projects but celebrated by others, include a multipurpose community center on the city's East Side, an environmental learning space overlooking the river at Crosby Farm Regional Park, a multi-sport tournament complex that would likely be situated in the North End and a 1.5-mile promenade, or Mississippi River balcony, overlooking the downtown river bluff.
St. Paul was not alone in seeking to leverage the city's sales tax for municipal spending. According to MinnPost, some 37 cities and counties received state legislative go-ahead this year to put a local option sales tax increase on their ballots for voter approval.
Related Articles

A diverse new St. Paul City Council to be seated in January

Election results: 2023 St. Paul-area races

Local voters cast ballots in election featuring city council, school board races, ballot questions

Mitra Jalali: Essential city services are the vehicle to deliver on our bold vision for St. Paul

Jane Prince: St. Paul's sales-tax initiative? It's bait and switch