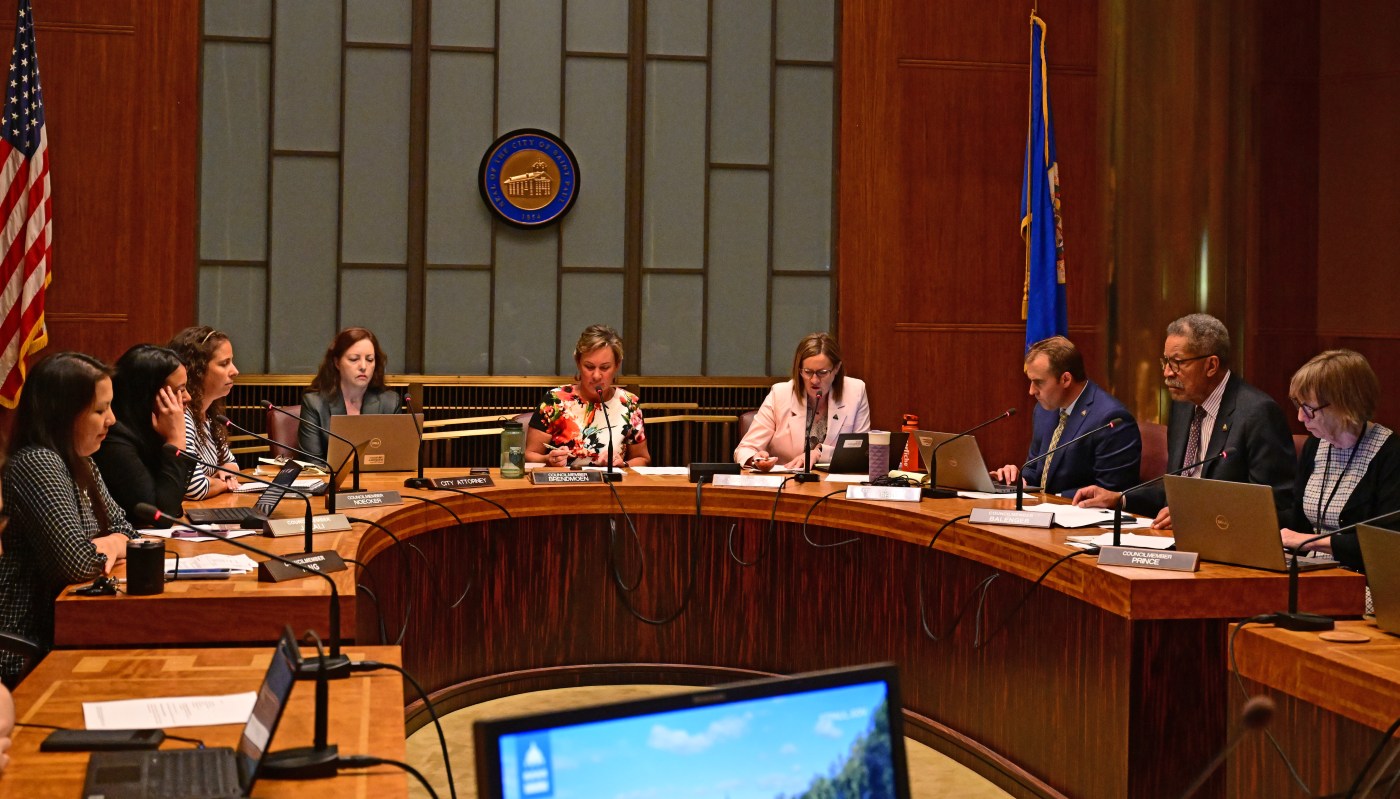 A diverse new St. Paul City Council to be seated in January
St. Paul voters headed to the polls Tuesday to elect what stands to be the most racially diverse city council in city history, one likely to be led by a progressive female majority and immigrant and ethnic voices indicative of the capital city's changing demographics.
In all, 30 candidates filed for seven seats on the nonpartisan council, which with four open seats will turn over a majority of council members in January. Results in some council races may not be available before a manual ballot reallocation process begins Friday, given the city's ranked-choice election system, which involves hand-tallying races where no candidate breaks 50% of the vote on Election Day.
Overall voter turnout appeared mixed, with the 5,945 absentee ballots cast by Monday evening trailing totals in 2019 and 2021 by several hundred ballots. Voter turnout throughout the day Tuesday seemed about on par with or slightly below recent off-year elections, according to a spokesperson for Ramsey County Elections, despite heavy involvement from labor unions and progressive organizing groups such as Faith in Minnesota.
Still, voters turned out in relatively strong numbers in Ward 3, which spans Highland Park, Macalester-Groveland and part of West Seventh Street, followed by Ward 1, which covers Frogtown, Summit-University and swathes of the North End and surrounding neighborhoods.
Open council seats in both those races had drawn a sizable and racially-diverse mix of candidates, energizing corners of the Black, Hmong and East African electorate.
Rent control, road repair, schools
Will Hyland voted early at the Ramsey County Elections office on Plato Boulevard. Hyland said he cast his council vote with the intention of protecting the city's voter-approved rent-control ordinance to "ensure that the rent cap stays in place," he said. "There's a lot of people trying to dismantle that."
Several voters at the Highland Park Community Center on Tuesday afternoon said they were more motivated by concern over road repair and educational issues than city council elections. Several voters in a row at a polling location near Macalester College, also in Ward 3, acknowledged they knew little or nothing about the council races until researching them the night before, or even minutes before their vote.
Four openings on the St. Paul school board and a proposal to raise the city's sales tax to fund road reconstructions and parks projects were on Tuesday's ballot, as well.
Ward 1
In the busiest race of the night, eight candidates appeared on the ranked-choice ballot for the open council seat in Ward 1, which spans Frogtown, Summit-University and parts of adjoining neighborhoods.
The candidates were Anika Bowie, James Lo, Omar Syed, Suz Woehrle, Lucky "Tiger Jack" Rosenbloom, Yan Chen, Jeff Zeitler and Travis Helkamp. The seat had previously been held by council member Dai Thao, who moved out of state last year but was active on Lo's campaign.
No one obtained the influential St. Paul Democratic-Farmer-Labor Party endorsement before a walk-out ended the party's ward convention last April, but Bowie at the time had led Syed in party balloting.
Ward 2
Council member Rebecca Noecker, who was first elected eight years ago, faced three lightly-funded challengers in her re-election bid for the Ward 2 seat, which represents downtown St. Paul, West Seventh Street, the West Side, Summit Hill, Railroad Island and Lowertown.
Her challengers were Peter Butler, Bill Hosko and Noval Noir.
Ward 3
Four candidates vied for the open council seat in Ward 3, which spans Highland Park, Mac-Groveland and part of the West Seventh neighborhood. The candidates were Saura Jost, Isaac Russell, Patty Hartmann and Troy Barksdale, a student at Macalester College. Jost held the St. Paul DFL endorsement, while Russell had garnered the backing of multiple labor unions critical of rent control.
The seat had been held by council member Chris Tolbert, who had chosen not to run for re-election after 12 years.
Ward 4
Council member Mitra Jalali, one of the more progressive voices on the council, faced conservative challenger Robert Bushard in Ward 4, which spans all or part of five neighborhoods — Hamline-Midway, Merriam Park, St. Anthony Park and parts of Macalester-Groveland and Como.
Ward 5
With council President Amy Brendmoen choosing not to seek re-election after 12 years in office, four candidates vied for the open seat in Ward 5, which spans the Como, North End, Payne-Phalen and Railroad Island neighborhoods.
On the ballot was Hwa Jeong Kim, Brendmoen's former legislative aide, as well as David Greenwood-Sanchez, Nate Nins and Pam Tollefson.
Of the 30 candidates for city council, only Kim and Ward 6 council member Nelsie Yang carried endorsements from both the St. Paul DFL and the Twin Cities Democratic Socialists of America.
Ward 6
Yang, a former union organizer with the progressive advocacy organization TakeAction Minnesota, faced a single challenger, the more moderate Gary Unger, in her bid for re-election in Ward 6, which spans the neighborhoods of Frost Lake, Hayden Heights, Hazel Park, Payne-Phalen, Phalen Village and Prosperity.
Ward 7
With council member Jane Prince choosing not to run for re-election, the Ward 7 race featured Alexander Bourne, Dino Guerin, Cheniqua Johnson, Foua Choua-Khang, Pa Der Vang and Kartumu King. Ward 7 spans the East Side neighborhoods of Dayton's Bluff, Mounds Park, Swede Hollow, Battle Creek, Highwood, Conway and Eastview. Johnson carried the DFL endorsement.
Caleb Hensin contributed to this report.
Related Articles

St. Paul voters consider raising city's sales tax for 24 road rebuilds, parks projects

Election results: 2023 St. Paul-area races

Local voters cast ballots in election featuring city council, school board races, ballot questions

Mitra Jalali: Essential city services are the vehicle to deliver on our bold vision for St. Paul

Jane Prince: St. Paul's sales-tax initiative? It's bait and switch