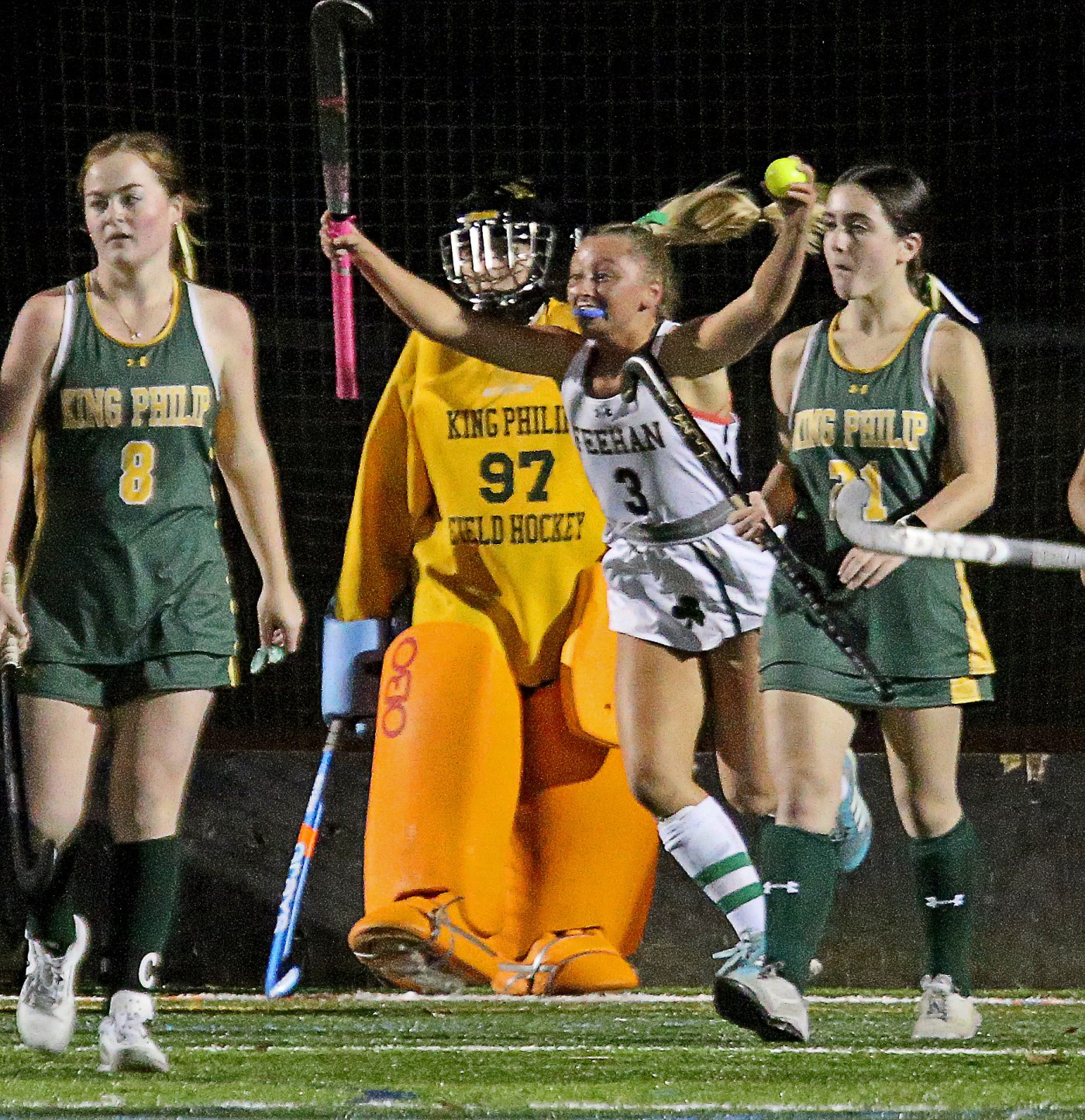 Late goal lifts Bishop Feehan to dramatic 2-1 win over King Philip
ATTLEBORO — The big rematch of field hockey's Div. 1 second round saw Bishop Feehan and King Philip play to a similarly hectic ending as they did last tournament, but Tuesday night brought a different result.
Bella Colitti's goal on a corner with 1:37 left to play put the eighth-seeded Shamrocks (13-5-2) ahead for a 2-1 win over the No. 9 Warriors, getting revenge for last year's overtime loss to them in the same round.
The highly-skilled game could've gone either way, especially since King Philip (15-5) responded quickly to seemingly force overtime for a second straight year. But its goal off a corner with three seconds left was waved off due to a foot violation ruling, which was the second goal of the game the Warriors scored that wouldn't count due to a close call.
Bishop Feehan did enough defensively otherwise to gut out the win, moving on to the Div. 1 quarterfinals for the first time. It gets No. 1 Walpole next.
"I thought it was a fabulous game, both teams were fired up (and) ready to play," said Shamrocks head coach Betsy D'Ambrosia. "They both wanted it. The girls put it together. They didn't break down, they stuck together as a team. They encouraged each other on the field, they trusted each other, and it showed."
Rain started to pour in the second half, but it didn't interrupt the fast pace and high energy of the game. Teams traded threats within a matter of seconds throughout. King Philip held a narrow edge in offensive pressure overall, but Bishop Feehan flipped the script in a well-played fourth quarter.
With under three minutes to play, King Philip had just fended off a defensive corner before the Shamrocks marched back quickly to draw another. Kay Murphy and Lily Marchand executed a give-and-go at the right wing to get past the Warriors' flyer, before Murphy sent a shot to the far post. Colitti, who assisted Ava Meehan on the team's first goal, snuck it just inside the left pipe.
"(The goal) was mind-boggling," Colitti said. "I was on the end (of the circle), and I was like, 'Bella, you've got this, this is yours.' It just went across and I was right there, so I just took the opportunity. … My whole family was here, so it was nice to have them all see that. It's just, like, not real."
King Philip utilized 100-point scorer Kelly Holmes frequently to generate a wealth of offensive opportunities all game, and she nearly set up another late, game-tying goal after doing so in last year's tournament. Her move past two defenders set up a reverse-chip off the pads of Shamrocks goalie Bella Basse (seven saves), leading to a scrum that Ella Morgan finished off with three seconds left. The official ruled someone touched the ball with their foot beforehand, though, adding frustration to a first-quarter call that a goal was shot too high.
Meehan's goal in the first quarter came less than two minutes after King Philip's first goal was called off. Makenzie McDevitt tied things up for the Warriors with 1:11 left in the half.
"We've talked this week a lot about trusting in each other," D'Ambrosia said. "I think they did, I think because of that they were able to hold their composure and have each other's back."
"It was such a tough game and we knew going into it that we needed to step it up and do our best," added Colitti. "I think we knew what we needed to bring to the plate, so that brought our intensity up."