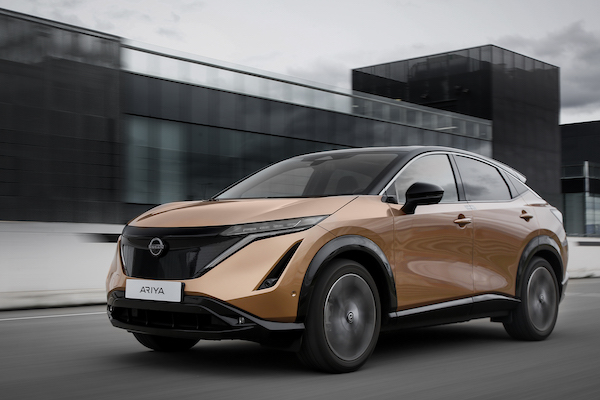 Norway April 2023: Tesla Model Y #1, Nissan Ariya in Top 10, sales off -7.7%
8,976 new cars found a buyer in Norway in April, a further -7.7% year-on-year drop following a -26.1% year-on-year fall in April 2022. The year-to-date tally is now down -10.5% to 37,641. BEVs gain 3.7% to 7,471 sales and 83.3% share vs. 74.2% a year ago and drop -6.8% year-to-date to 31,702 and 84.2% share vs. 80.8% over the same period last year. PHEVs drop -28.4% to 703 for the month and -32.4% to 2,243 year-to-date while HEVs sink -43.7% to 399 in April but gain 19.4% YTD to 2,259. This means electrified sales reach 95.6% share for the month, as petrol cars hold just 1.2% share and diesel is at 1.7%.
Volkswagen (+71.1%) goes against the gloom environment to jump two spots on March to #1 with 15.8% share vs. 13% so far this year. Tesla (+1077.1%) signs a surreal year-on-year lift to rank #2 with 10.9% share, cementing its YTD leadership at a gargantuan 27.8% share. Toyota (+3%) is down to #3 but still in positive, whereas Volvo (-28.8%) skids. Nissan (+155.7%), Mercedes (+22.6%) and Skoda (+4.3%) all manage an up this month. Strikingly, the next 15 brands all endure double-digit falls. It seems the first wave of Chinese arrivals is petering out, with MG down -12.7%, NIO down -23.2%, BYD off -64.7%, Xpeng down -94.4% and Hongqi off -98.7%.
Over in the models lane, the Tesla Model Y (+1944.4%) cancels its end-of-quarter month backloading to rank #1 in a start of quarter month for the first time (alongside Denmark). It holds a commanding 10.2% share vs. 6.7% for the #2, the VW ID.4 (+36.8%) also in outstanding shape. The Volvo XC40 (-26.9%), leader a year ago, ranks third above the Skoda Enyaq (-18.8%) and VW ID.3 (+541%). The Audi Q4 e-Tron (+66.8%) and Nissan Leaf (+47.9%) also shine while the BMW ix1 (#8) and Nissan Ariya (#9) break into the Norwegian Top 10 for the first time. Meanwhile the Ford Mustang Mach-E (-13.9%) falls to #10 and the Toyota bZ4X is down 9 spots on last month to #11.
Previous month: Norway March 2023: Tesla Model Y holds 38.4% share, signs highest monthly volume in history
One year ago: Norway April 2022: Volvo and XC40 take control of market falling -26.1%
Full April 2023 Top 48 All brands and Top 193 All models below.
Norway April 2023 – brands:
| | | | | | | | | | | |
| --- | --- | --- | --- | --- | --- | --- | --- | --- | --- | --- |
| Pos | Brand | Apr-23 | % | /22 | Mar | 2023 | % | /22 | Pos | FY22 |
| 1 | Volkswagen | 1,420 | 15.8% | 71.1% | 3 | 4,904 | 13.0% | 44.5% | 2 | 2 |
| 2 | Tesla | 977 | 10.9% | 1077.1% | 1 | 10,448 | 27.8% | 102.8% | 1 | 1 |
| 3 | Toyota | 796 | 8.9% | 3.0% | 2 | 4,690 | 12.5% | 94.0% | 3 | 4 |
| 4 | Volvo | 717 | 8.0% | -28.8% | 4 | 2,886 | 7.7% | 9.0% | 4 | 5 |
| 5 | Skoda | 609 | 6.8% | 4.3% | 10 | 1,655 | 4.4% | -13.9% | 5 | 8 |
| 6 | Nissan | 601 | 6.7% | 155.7% | 5 | 1,509 | 4.0% | 40.2% | 6 | 14 |
| 7 | Mercedes | 592 | 6.6% | 22.6% | 8 | 1,423 | 3.8% | -39.4% | 7 | 6 |
| 8 | BMW | 581 | 6.5% | -27.4% | 7 | 1,377 | 3.7% | -53.1% | 8 | 3 |
| 9 | Audi | 429 | 4.8% | -21.9% | 12 | 1,242 | 3.3% | -62.8% | 9 | 7 |
| 10 | Ford | 327 | 3.6% | -27.7% | 11 | 998 | 2.7% | -39.3% | 12 | 11 |
| 11 | Hyundai | 325 | 3.6% | -48.6% | 6 | 1,222 | 3.2% | -58.3% | 10 | 9 |
| 12 | Kia | 321 | 3.6% | -45.5% | 14 | 591 | 1.6% | -74.0% | 13 | 10 |
| 13 | MG | 192 | 2.1% | -12.7% | 15 | 549 | 1.5% | 15.1% | 14 | 13 |
| 14 | Peugeot | 178 | 2.0% | -34.8% | 9 | 1,072 | 2.8% | -6.6% | 11 | 15 |
| 15 | Opel | 128 | 1.4% | -48.8% | 13 | 483 | 1.3% | -34.0% | 15 | 22 |
| 16 | Citroen | 114 | 1.3% | -32.9% | 16 | 302 | 0.8% | -35.5% | 18 | 21 |
| 17 | Suzuki | 94 | 1.0% | -67.8% | 22 | 215 | 0.6% | -76.2% | 20 | 16 |
| 18 | Mazda | 84 | 0.9% | -12.5% | 20 | 318 | 0.8% | -7.3% | 16 | 19 |
| 19 | Lexus | 71 | 0.8% | -14.5% | 17 | 309 | 0.8% | -28.5% | 17 | 24 |
| 20 | NIO | 63 | 0.7% | -23.2% | 18 | 184 | 0.5% | -43.7% | 21 | 25 |
| 21 | Polestar | 45 | 0.5% | -86.4% | 19 | 238 | 0.6% | -84.4% | 19 | 12 |
| 22 | BYD | 36 | 0.4% | -64.7% | 21 | 132 | 0.4% | -66.4% | 22 | 17 |
| 23 | Mini | 31 | 0.3% | 3.3% | 29 | 67 | 0.2% | -62.6% | 28 | 29 |
| 24 | Renault | 30 | 0.3% | -45.5% | 24 | 114 | 0.3% | -52.3% | 23 | 23 |
| 25 | Mitsubishi | 28 | 0.3% | 250.0% | 35 | 41 | 0.1% | 115.8% | 30 | 36 |
| 26 | Porsche | 25 | 0.3% | -80.5% | 27 | 86 | 0.2% | -87.8% | 25 | 18 |
| 27 | Maxus | 24 | 0.3% | -73.0% | 25 | 84 | 0.2% | -55.6% | 26 | 26 |
| 28 | Fiat | 20 | 0.2% | -64.9% | 23 | 99 | 0.3% | -2.9% | 24 | 34 |
| 29 | Subaru | 15 | 0.2% | #DIV/0! | 33 | 36 | 0.1% | #DIV/0! | 32 | 30 |
| 30 | JAC | 15 | 0.2% | new | 34 | 33 | 0.1% | new | 34 | 41 |
| 31 | Land Rover | 14 | 0.2% | -51.7% | 32 | 42 | 0.1% | -50.6% | 29 | 35 |
| 32 | Cupra | 12 | 0.1% | 9.1% | 26 | 79 | 0.2% | -51.8% | 27 | 28 |
| 33 | DS | 9 | 0.1% | -35.7% | 30 | 32 | 0.1% | -37.3% | 35 | 38 |
| 34 | XPeng | 8 | 0.1% | -94.4% | 36 | 18 | 0.0% | -95.7% | 37 | 27 |
| 35 | Jaguar | 7 | 0.1% | -76.7% | 31 | 39 | 0.1% | -69.3% | 31 | 32 |
| 36 | Alfa Romeo | 7 | 0.1% | 600.0% | 28 | 35 | 0.1% | 3400.0% | 33 | 43 |
| 37 | Honda | 6 | 0.1% | -80.6% | 42 | 20 | 0.1% | -82.8% | 36 | 33 |
| 38 | Ora | 6 | 0.1% | new | 38 | 13 | 0.0% | new | 39 |  – |
| 39 | Dacia | 4 | 0.0% | 300.0% | 46 | 5 | 0.0% | -28.6% | 40 | 40 |
| 40 | Jeep | 3 | 0.0% | -25.0% | 37 | 15 | 0.0% | -61.5% | 38 | 37 |
| 41 | Morgan | 3 | 0.0% | 0.0% |  – | 3 | 0.0% | -40.0% | 44 | 47 |
| 42 | Iles Automotive | 2 | 0.0% | n/a | 39 | 5 | 0.0% | 150.0% | 41 | 51 |
| 43 | Hongqi | 2 | 0.0% | -98.7% | 41 | 4 | 0.0% | -99.5% | 42 | 20 |
| 44 | Ferrari | 1 | 0.0% | -83.3% | 40 | 3 | 0.0% | -57.1% | 43 | 44 |
| 45 | Bentley | 1 | 0.0% | 0.0% | 44 | 2 | 0.0% | -33.3% | 45 | 42 |
| 46 | Lamborghini | 1 | 0.0% | -66.7% | 47 | 2 | 0.0% | -60.0% | 47 | 48 |
| 47 | Maserati | 1 | 0.0% | 0.0% |  – | 2 | 0.0% | -50.0% | 48 | 46 |
| 48 | Chevrolet | 1 | 0.0% | n/a |  – | 1 | 0.0% | n/a | 51 |  – |
Norway April 2023 – models:
| | | | | | | | | | | |
| --- | --- | --- | --- | --- | --- | --- | --- | --- | --- | --- |
| Pos | Model | Apr-23 | % | /22 | Mar | 2023 | % | /22 | Pos | FY22 |
| 1 | Tesla Model Y | 920 | 10.2% | 1944.4% | 1 | 9,637 | 25.6% | 185.7% | 1 | 1 |
| 2 | VW ID.4 | 602 | 6.7% | 36.8% | 4 | 1,974 | 5.2% | -8.3% | 2 | 2 |
| 3 | Volvo XC40 | 453 | 5.0% | -26.9% | 3 | 1,859 | 4.9% | 48.8% | 4 | 5 |
| 4 | Skoda Enyaq | 394 | 4.4% | -18.8% | 9 | 1,124 | 3.0% | -20.2% | 6 | 3 |
| 5 | VW ID.3 | 391 | 4.4% | 541.0% | 5 | 1,639 | 4.4% | 327.9% | 5 | 18 |
| 6 | Audi Q4 e-Tron | 322 | 3.6% | 66.8% | 14 | 805 | 2.1% | -57.4% | 8 | 7 |
| 7 | Nissan Leaf | 315 | 3.5% | 47.9% | 7 | 894 | 2.4% | -9.3% | 7 | 15 |
| 8 | BMW ix1 | 281 | 3.1% | new | 17 | 603 | 1.6% | new | 12 | 72 |
| 9 | Nissan Ariya | 280 | 3.1% | new | 16 | 584 | 1.6% | new | 13 | 67 |
| 10 | Ford Mustang Mach-E | 273 | 3.0% | -13.9% | 8 | 760 | 2.0% | -43.6% | 10 | 10 |
| 11 | Toyota bZ4X | 235 | 2.6% | new | 2 | 1,972 | 5.2% | new | 3 | 43 |
| 12 | BMW i4 | 229 | 2.6% | 74.8% | 13 | 546 | 1.5% | 82.6% | 15 | 12 |
| 13 | Toyota RAV4 | 223 | 2.5% | 42.0% | 20 | 559 | 1.5% | -36.7% | 14 | 11 |
| 14 | VW ID.Buzz | 210 | 2.3% | new | 29 | 474 | 1.3% | new | 19 | 62 |
| 15 | Mercedes EQA | 168 | 1.9% | 147.1% | 19 | 482 | 1.3% | -22.9% | 18 | 23 |
| 16 | Hyundai Ioniq 5 | 167 | 1.9% | -43.2% | 25 | 431 | 1.1% | -76.3% | 22 | 6 |
| 17 | Mercedes EQC | 165 | 1.8% | 24.1% | 56 | 210 | 0.6% | -71.3% | 37 | 14 |
| 18 | Kia EV6 | 156 | 1.7% | 5.4% | 34 | 244 | 0.6% | -68.5% | 32 | 19 |
| 19 | VW ID.5 | 138 | 1.5% | new | 23 | 415 | 1.1% | new | 23 | 22 |
| 20 | Peugeot 208 | 122 | 1.4% | 25.8% | 10 | 491 | 1.3% | 6.0% | 17 | 36 |
| 21 | Volvo C40 | 122 | 1.4% | -26.1% | 26 | 447 | 1.2% | -36.3% | 20 | 13 |
| 22 | MG 4 | 121 | 1.3% | new | 39 | 238 | 0.6% | new | 33 | 91 |
| 23 | Kia Niro | 117 | 1.3% | -54.5% | 33 | 233 | 0.6% | -71.7% | 35 | 29 |
| 24 | Opel Corsa | 110 | 1.2% | 205.6% | 24 | 295 | 0.8% | 75.6% | 27 | 61 |
| 25 | Toyota Yaris Cross | 98 | 1.1% | 50.8% | 11 | 628 | 1.7% | 241.3% | 11 | 17 |
| 26 | Citroen C4 | 92 | 1.0% | -37.4% | 37 | 192 | 0.5% | -49.5% | 41 | 30 |
| 27 | Hyundai Kona | 88 | 1.0% | -60.2% | 15 | 500 | 1.3% | -35.2% | 16 | 20 |
| 28 | Volvo XC60 | 80 | 0.9% | -20.0% | 36 | 269 | 0.7% | 49.4% | 29 | 26 |
| 29 | Audi Q8 e-Tron | 80 | 0.9% | new | 30 | 254 | 0.7% | new | 30 |  – |
| 30 | Toyota Yaris | 78 | 0.9% | -67.4% | 18 | 409 | 1.1% | 1.2% | 24 | 21 |
| 31 | Hyundai Ioniq 6 | 70 | 0.8% | new | 21 | 291 | 0.8% | new | 28 |  – |
| 32 | Skoda Octavia | 65 | 0.7% | 261.1% | 46 | 183 | 0.5% | 90.6% | 42 | 54 |
| 33 | Mercedes EQB | 64 | 0.7% | 20.8% | 27 | 249 | 0.7% | 3.3% | 31 | 33 |
| 34 | Skoda Enyaq Coupe | 60 | 0.7% | new | 52 | 122 | 0.3% | new | 50 |  – |
| 35 | Toyota C-HR | 59 | 0.7% | -66.9% | 28 | 229 | 0.6% | -28.2% | 36 | 39 |
| 36 | Skoda Kodiaq | 55 | 0.6% | -15.4% | 44 | 145 | 0.4% | -50.2% | 45 | 37 |
| 37 | Mazda MX-30 | 54 | 0.6% | 0.0% | 80 | 203 | 0.5% | 29.3% | 39 | 41 |
| 38 | Ford Kuga | 49 | 0.5% | -52.0% | 40 | 209 | 0.6% | 27.4% | 38 | 49 |
| 39 | Tesla Model 3 | 46 | 0.5% | 21.1% | 6 | 773 | 2.1% | -56.4% | 9 | 16 |
| 40 | Polestar 2 | 45 | 0.5% | -86.4% | 32 | 238 | 0.6% | -84.4% | 34 | 9 |
| 41 | Mercedes EQS SUV | 43 | 0.5% | new | 41 | 139 | 0.4% | new | 46 |  – |
| 42 | Toyota Corolla Cross | 39 | 0.4% | new | 12 | 441 | 1.2% | new | 21 | 109 |
| 43 | Toyota Corolla | 38 | 0.4% | -62.7% | 22 | 302 | 0.8% | -31.4% | 26 | 31 |
| 44 | Volvo XC90 | 36 | 0.4% | -20.0% | 35 | 197 | 0.5% | -13.2% | 40 | 45 |
| 45 | MG ZS | 36 | 0.4% | -67.0% | 90 | 74 | 0.2% | -70.0% | 57 | 34 |
| 46 | Skoda Superb | 35 | 0.4% | 118.8% | 59 | 81 | 0.2% | -33.1% | 55 | 60 |
| 47 | Suzuki Across | 35 | 0.4% | -50.7% | 97 | 53 | 0.1% | -83.2% | 62 | 38 |
| 48 | NIO ET5 | 33 | 0.4% | new | 49 | 74 | 0.2% | new | 58 |  – |
| 49 | Lexus NX | 31 | 0.3% | -16.2% | 57 | 123 | 0.3% | 4.2% | 49 | 64 |
| 50 | Renault Megane | 28 | 0.3% | 460.0% | 48 | 100 | 0.3% | 177.8% | 52 | 42 |
| 51 | Suzuki SX4 S-Cross | 28 | 0.3% | -69.9% | 95 | 52 | 0.1% | -84.0% | 63 | 47 |
| 52 | VW Transporter/Caravelle | 27 | 0.3% | 125.0% | 47 | 172 | 0.5% | 65.4% | 43 | 63 |
| 53 | Mercedes Vito | 26 | 0.3% | 333.3% | 77 | 71 | 0.2% | 14.5% | 59 | 83 |
| 54 | Mitsubishi ASX | 26 | 0.3% | n/a | 121 | 32 | 0.1% | n/a | 94 | 297 |
| 55 | Kia Soul | 24 | 0.3% | -84.5% | 83 | 47 | 0.1% | -89.2% | 76 | 50 |
| 56 | MG Marvel R | 23 | 0.3% | -65.7% | 38 | 169 | 0.4% | -7.7% | 44 | 27 |
| 57 | NIO ES8 | 23 | 0.3% | -72.0% | 58 | 58 | 0.2% | -82.3% | 68 | 40 |
| 58 | Toyota Proace Verso | 22 | 0.2% | 83.3% | 42 | 93 | 0.2% | 20.8% | 54 | 90 |
| 59 | Mercedes EQE | 21 | 0.2% | new | 76 | 44 | 0.1% | new | 79 | 57 |
| 60 | Lexus UX | 20 | 0.2% | -50.0% | 45 | 138 | 0.4% | -50.9% | 47 | 68 |
| 61 | Fiat 500 | 20 | 0.2% | -64.9% | 43 | 99 | 0.3% | -2.9% | 53 | 89 |
| 64 | Mini | 19 | 0.2% | -17.4% | 88 | 48 | 0.1% | -60.3% | 75 | 77 |
| 65 | Mercedes EQE SUV | 19 | 0.2% | new |  – | 19 | 0.1% | new | 108 |  – |
| 66 | BYD Atto 3 | 18 | 0.2% | new | 61 | 68 | 0.2% | new | 61 | 52 |
| 67 | BMW iX | 18 | 0.2% | -94.8% | 82 | 48 | 0.1% | -97.3% | 74 | 4 |
| 68 | Peugeot 2008 | 17 | 0.2% | -85.1% | 31 | 395 | 1.0% | -35.9% | 25 | 35 |
| 69 | Maxus Euniq6 | 17 | 0.2% | 142.9% | 60 | 55 | 0.1% | 19.6% | 70 | 48 |
| 70 | Mercedes GLC | 17 | 0.2% | -26.1% | 67 | 50 | 0.1% | -39.0% | 72 | 105 |
| 62 | BYD Han | 16 | 0.2% | new | 55 | 62 | 0.2% | new | 66 | 80 |
| 63 | Mercedes GLE | 16 | 0.2% | -27.3% | 100 | 35 | 0.1% | -51.4% | 90 | 76 |
| 71 | Volvo V90 | 15 | 0.2% | 7.1% | 93 | 51 | 0.1% | -52.8% | 71 | 66 |
| 72 | Subaru Solterra | 15 | 0.2% | new | 91 | 36 | 0.1% | new | 89 | 71 |
| 73 | JAC E-JS4 | 15 | 0.2% | new | 96 | 33 | 0.1% | new | 92 |  – |
| 74 | VW Tiguan | 15 | 0.2% | -60.5% | 122 | 33 | 0.1% | -60.7% | 93 | 85 |
| 75 | Suzuki Vitara | 15 | 0.2% | -78.6% | 111 | 28 | 0.1% | -73.6% | 98 | 79 |
| 76 | Mazda CX-60 | 14 | 0.2% | new | 54 | 69 | 0.2% | new | 60 | 51 |
| 77 | Lexus RZ | 14 | 0.2% | new |  – | 14 | 0.0% | new | 124 |  – |
| 78 | Audi e-Tron | 13 | 0.1% | -95.9% | 74 | 136 | 0.4% | -89.6% | 48 | 8 |
| 79 | Citroen C4X | 13 | 0.1% | new | 70 | 37 | 0.1% | new | 84 |  – |
| 80 | BMW X3 | 13 | 0.1% | 160.0% | 115 | 20 | 0.1% | -4.8% | 106 | 132 |
| 81 | Cupra Born | 12 | 0.1% | 9.1% | 53 | 79 | 0.2% | -51.8% | 56 | 55 |
| 82 | MG 5 | 12 | 0.1% | -72.7% | 50 | 68 | 0.2% | 44.7% | 64 | 53 |
| 83 | Peugeot 308 | 12 | 0.1% | 300.0% | 64 | 47 | 0.1% | 213.3% | 78 | 111 |
| 84 | Mini Countryman | 12 | 0.1% | 71.4% | 132 | 19 | 0.1% | -67.2% | 110 | 102 |
| 85 | Suzuki Swift | 11 | 0.1% | -78.8% | 72 | 65 | 0.2% | -47.2% | 65 | 81 |
| 86 | Volvo V60 | 11 | 0.1% | -82.3% | 75 | 57 | 0.2% | -66.1% | 69 | 70 |
| 87 | Porsche Taycan | 10 | 0.1% | -89.8% | 73 | 44 | 0.1% | -92.9% | 80 | 25 |
| 88 | Peugeot 5008 | 10 | 0.1% | -37.5% | 69 | 37 | 0.1% | -27.5% | 87 | 101 |
| 89 | Range Rover Sport | 10 | 0.1% | n/a | 167 | 12 | 0.0% | 1100.0% | 136 | 204 |
| 90 | VW T-Roc | 9 | 0.1% | -83.9% | 94 | 41 | 0.1% | -70.3% | 82 | 59 |
| 91 | Opel Astra | 9 | 0.1% | n/a | 81 | 37 | 0.1% | 1750.0% | 86 | 148 |
| 92 | Kia Sportage | 9 | 0.1% | n/a | 99 | 34 | 0.1% | n/a | 91 | 87 |
| 93 | Mercedes Sprinter | 9 | 0.1% | 125.0% | 101 | 23 | 0.1% | -30.3% | 105 | 116 |
| 94 | Mazda2 | 9 | 0.1% | -52.6% | 136 | 18 | 0.0% | -40.0% | 112 | 124 |
| 95 | Porsche 911 | 9 | 0.1% | -57.1% | 140 | 15 | 0.0% | -65.9% | 120 | 120 |
| 96 | BMW X5 | 8 | 0.1% | -68.0% | 85 | 27 | 0.1% | -53.4% | 100 | 93 |
| 97 | Mercedes EQS | 8 | 0.1% | -92.2% | 107 | 19 | 0.1% | -90.3% | 109 | 58 |
| 98 | Tesla Model X | 8 | 0.1% | n/a | 169 | 15 | 0.0% | 1400.0% | 122 | 75 |
| 99 | BMW X1 | 8 | 0.1% | -71.4% | 142 | 13 | 0.0% | -87.4% | 128 | 94 |
| 100 | BMW iX3 | 7 | 0.1% | -93.6% | 63 | 49 | 0.1% | -81.5% | 73 | 32 |
| 101 | VW Polo | 7 | 0.1% | -87.7% | 71 | 42 | 0.1% | -64.4% | 81 | 69 |
| 102 | Citroen C5 X | 7 | 0.1% | new | 68 | 38 | 0.1% | new | 83 | 141 |
| 103 | Jaguar i-Pace | 7 | 0.1% | -75.0% | 87 | 37 | 0.1% | -66.1% | 85 | 84 |
| 104 | Maxus Euniq5 | 7 | 0.1% | -91.3% | 84 | 28 | 0.1% | -74.8% | 97 | 108 |
| 105 | BMW 3 Series | 7 | 0.1% | -50.0% | 102 | 27 | 0.1% | -63.0% | 99 | 110 |
| 106 | Peugeot Traveller | 7 | 0.1% | -22.2% | 166 | 9 | 0.0% | -86.6% | 148 | 117 |
| 107 | Peugeot 3008 | 6 | 0.1% | -68.4% | 51 | 62 | 0.2% | -6.1% | 67 | 95 |
| 108 | NIO EL7 | 6 | 0.1% | new | 78 | 47 | 0.1% | new | 77 |  – |
| 109 | Lexus RX | 6 | 0.1% | 500.0% | 79 | 27 | 0.1% | 58.8% | 101 | 191 |
| 110 | Kia Sorento | 6 | 0.1% | 20.0% | 124 | 16 | 0.0% | 0.0% | 117 | 131 |
| 111 | Mercedes EQV | 6 | 0.1% | -25.0% | 126 | 13 | 0.0% | -71.1% | 132 | 115 |
| 112 | Ora Funky Cat | 6 | 0.1% | new | 116 | 13 | 0.0% | new | 133 |  – |
| 113 | Mercedes CLA | 6 | 0.1% | 20.0% | 171 | 11 | 0.0% | -50.0% | 140 | 142 |
| 114 | VW Golf | 5 | 0.1% | -81.5% | 62 | 37 | 0.1% | -69.7% | 88 | 88 |
| 115 | Suzuki Ignis | 5 | 0.1% | -16.7% | 123 | 17 | 0.0% | -51.4% | 115 | 118 |
| 116 | Opel Combo | 5 | 0.1% | 150.0% | 114 | 15 | 0.0% | 66.7% | 119 | 173 |
| 117 | VW Multivan | 5 | 0.1% | -54.5% | 118 | 15 | 0.0% | -21.1% | 123 | 122 |
| 118 | Kia Ceed | 5 | 0.1% | -64.3% | 120 | 11 | 0.0% | -50.0% | 138 | 156 |
| 119 | Mercedes C Class | 5 | 0.1% | -72.2% | 170 | 11 | 0.0% | -78.0% | 139 | 96 |
| 120 | Audi Q2 | 5 | 0.1% | 0.0% | 182 | 6 | 0.0% | -45.5% | 159 | 194 |
| 121 | Mazda MX-5 | 5 | 0.1% | 400.0% | 197 | 6 | 0.0% | 500.0% | 162 | 176 |
| 122 | DS 4 | 5 | 0.1% | 400.0% |  – | 5 | 0.0% | -44.4% | 168 | 189 |
| 123 | Nissan Qashqai | 4 | 0.0% | -81.0% | 92 | 24 | 0.1% | -67.6% | 103 | 97 |
| 124 | VW Caddy | 4 | 0.0% | -42.9% | 109 | 24 | 0.1% | 50.0% | 104 | 154 |
| 125 | Alfa Romeo Tonale | 4 | 0.0% | new | 89 | 19 | 0.1% | new | 107 | 217 |
| 126 | Xpeng P7 | 4 | 0.0% | -76.5% | 104 | 14 | 0.0% | -90.2% | 127 | 78 |
| 127 | Opel Grandland X | 4 | 0.0% | -60.0% | 148 | 8 | 0.0% | -33.3% | 151 | 119 |
| 128 | Mercedes SL | 4 | 0.0% | n/a | 175 | 7 | 0.0% | n/a | 155 | 277 |
| 129 | Kia Xceed | 4 | 0.0% | -60.0% |  – | 6 | 0.0% | -76.9% | 161 | 140 |
| 130 | Dacia Duster | 4 | 0.0% | 300.0% | 188 | 5 | 0.0% | -28.6% | 167 | 179 |
| 131 | Xpeng G3 | 4 | 0.0% | -96.8% |  – | 4 | 0.0% | -98.5% | 184 | 82 |
| 132 | Tesla Model S | 3 | 0.0% | n/a | 150 | 26 | 0.1% | 766.7% | 102 | 73 |
| 133 | Range Rover | 3 | 0.0% | n/a | 112 | 17 | 0.0% | n/a | 114 | 187 |
| 134 | Alfa Romeo Stelvio | 3 | 0.0% | n/a | 103 | 16 | 0.0% | n/a | 116 | 233 |
| 135 | VW T-Cross | 3 | 0.0% | -93.3% | 134 | 16 | 0.0% | -81.2% | 118 | 99 |
| 136 | DS 7 Crossback | 3 | 0.0% | 0.0% | 108 | 13 | 0.0% | 30.0% | 130 | 165 |
| 137 | Peugeot Rifter | 3 | 0.0% | -78.6% | 129 | 11 | 0.0% | -72.5% | 141 | 137 |
| 138 | Jeep Compass | 3 | 0.0% | 200.0% | 137 | 10 | 0.0% | -28.6% | 144 | 147 |
| 139 | Honda Jazz | 3 | 0.0% | -50.0% | 172 | 7 | 0.0% | -78.1% | 153 | 128 |
| 140 | Audi A6 | 3 | 0.0% | 50.0% | 174 | 6 | 0.0% | -25.0% | 158 | 166 |
| 141 | Mercedes GLB | 3 | 0.0% | 0.0% |  – | 4 | 0.0% | -63.6% | 181 | 157 |
| 142 | Morgan Plus 4 | 3 | 0.0% | 200.0% |  – | 3 | 0.0% | 50.0% | 193 | 237 |
| 143 | Toyota Prius | 2 | 0.0% | -81.8% | 110 | 19 | 0.1% | -59.6% | 111 | 114 |
| 144 | Porsche Cayenne | 2 | 0.0% | -75.0% | 113 | 15 | 0.0% | -54.5% | 121 | 134 |
| 145 | Renault Captur | 2 | 0.0% | -75.0% | 106 | 14 | 0.0% | -80.3% | 126 | 113 |
| 146 | Mazda CX-30 | 2 | 0.0% | -71.4% | 117 | 13 | 0.0% | -87.6% | 131 | 104 |
| 147 | Honda E | 2 | 0.0% | -87.5% |  – | 12 | 0.0% | -73.3% | 135 | 112 |
| 148 | Ford Explorer | 2 | 0.0% | -86.7% | 125 | 11 | 0.0% | -66.7% | 137 | 92 |
| 149 | VW Passat | 2 | 0.0% | -95.5% | 151 | 11 | 0.0% | -88.2% | 142 | 86 |
| 150 | BMW 5 Series | 2 | 0.0% | -77.8% | 119 | 10 | 0.0% | -73.7% | 143 | 123 |
| 151 | Ford Puma | 2 | 0.0% | -77.8% | 131 | 9 | 0.0% | -82.7% | 146 | 127 |
| 152 | Mitsubishi Eclipse Cross | 2 | 0.0% | -75.0% | 127 | 9 | 0.0% | -50.0% | 147 | 106 |
| 153 | BMW 2 Series Active Tourer | 2 | 0.0% | n/a | 152 | 8 | 0.0% | n/a | 150 | 183 |
| 154 | Audi A3 | 2 | 0.0% | -77.8% | 153 | 7 | 0.0% | -65.0% | 152 | 150 |
| 155 | Porsche Cayenne Coupe | 2 | 0.0% | n/a | 155 | 7 | 0.0% | n/a | 156 | 155 |
| 156 | Audi A4 | 2 | 0.0% | 100.0% | 144 | 6 | 0.0% | -33.3% | 157 | 174 |
| 157 | Mercedes eVito Tourer | 2 | 0.0% | 0.0% | 156 | 6 | 0.0% | -86.7% | 164 | 130 |
| 158 | Mercedes GLA | 2 | 0.0% | -75.0% | 147 | 6 | 0.0% | -80.6% | 165 | 138 |
| 159 | Iles Automotive Sprinter | 2 | 0.0% | n/a | 159 | 5 | 0.0% | 150.0% | 170 | 240 |
| 160 | VW Amarok | 2 | 0.0% | 0.0% | 161 | 5 | 0.0% | -28.6% | 177 | 205 |
| 161 | Hongqi E-HS9 | 2 | 0.0% | -98.7% | 164 | 4 | 0.0% | -99.5% | 180 | 24 |
| 162 | BMW XM | 2 | 0.0% | new |  – | 3 | 0.0% | new | 187 |  – |
| 163 | Mercedes V Class | 2 | 0.0% | 0.0% |  – | 3 | 0.0% | -50.0% | 192 | 178 |
| 164 | BYD Tang | 2 | 0.0% | -98.0% |  – | 2 | 0.0% | -99.5% | 201 | 28 |
| 165 | Nissan Townstar | 2 | 0.0% | new |  – | 2 | 0.0% | new | 207 | 281 |
| 166 | Porsche 718 | 2 | 0.0% | n/a |  – | 2 | 0.0% | n/a | 209 |  – |
| 167 | Toyota Aygo X | 1 | 0.0% | new | 66 | 29 | 0.1% | new | 96 | 129 |
| 168 | Peugeot 408 | 1 | 0.0% | new | 86 | 18 | 0.0% | new | 113 | 258 |
| 169 | DS 3 Crossback | 1 | 0.0% | -88.9% | 105 | 13 | 0.0% | -55.2% | 129 | 145 |
| 170 | Toyota Camry | 1 | 0.0% | -50.0% | 130 | 9 | 0.0% | -55.0% | 149 | 149 |
| 171 | BMW 4 Series | 1 | 0.0% | -90.9% | 141 | 6 | 0.0% | -66.7% | 160 | 169 |
| 172 | BMW 1 Series | 1 | 0.0% | -66.7% |  – | 5 | 0.0% | -28.6% | 166 | 160 |
| 173 | Mercedes E Class | 1 | 0.0% | -92.3% | 173 | 5 | 0.0% | -90.2% | 173 | 121 |
| 174 | Mercedes G-Class | 1 | 0.0% | n/a | 146 | 5 | 0.0% | 400.0% | 174 | 235 |
| 175 | NIO ET7 | 1 | 0.0% | new | 157 | 5 | 0.0% | new | 175 | 144 |
| 176 | Ford Transit | 1 | 0.0% | n/a |  – | 4 | 0.0% | 100.0% | 179 | 231 |
| 177 | Audi A1 | 1 | 0.0% | -83.3% | 162 | 3 | 0.0% | -66.7% | 185 | 185 |
| 178 | BMW X7 | 1 | 0.0% | 0.0% |  – | 3 | 0.0% | -66.7% | 186 | 200 |
| 179 | Citroen Berlingo | 1 | 0.0% | -87.5% | 178 | 3 | 0.0% | -90.3% | 188 | 158 |
| 180 | Mercedes AMG GT | 1 | 0.0% | 0.0% | 179 | 3 | 0.0% | 200.0% | 190 | 250 |
| 181 | Mercedes S Class | 1 | 0.0% | 0.0% | 181 | 3 | 0.0% | -25.0% | 191 | 208 |
| 182 | Range Rover Evoque | 1 | 0.0% | -66.7% |  – | 3 | 0.0% | -76.9% | 194 | 151 |
| 183 | Audi Q7 | 1 | 0.0% | -50.0% | 184 | 2 | 0.0% | -77.8% | 195 | 193 |
| 184 | BMW i3 | 1 | 0.0% | -99.1% |  – | 2 | 0.0% | -98.5% | 197 | 65 |
| 185 | Citroen SpaceTourer | 1 | 0.0% | -66.7% |  – | 2 | 0.0% | -66.7% | 202 | 212 |
| 186 | Lamborghini Urus | 1 | 0.0% | -50.0% | 194 | 2 | 0.0% | 0.0% | 203 | 243 |
| 187 | Mercedes A Class | 1 | 0.0% | -50.0% |  – | 2 | 0.0% | -85.7% | 204 | 164 |
| 188 | Mercedes GLE Coupe | 1 | 0.0% | -66.7% | 200 | 2 | 0.0% | -33.3% | 205 | 171 |
| 189 | Bentley Bentayga | 1 | 0.0% | 0.0% |  – | 1 | 0.0% | 0.0% | 212 | 220 |
| 190 | Chevrolet Corvette | 1 | 0.0% | n/a |  – | 1 | 0.0% | n/a | 215 |  – |
| 191 | Ferrari 812 GTS | 1 | 0.0% | -50.0% |  – | 1 | 0.0% | -50.0% | 219 | 270 |
| 192 | Honda HR-V | 1 | 0.0% | -87.5% |  – | 1 | 0.0% | -97.4% | 221 | 143 |
| 193 | Maserati MC20 | 1 | 0.0% | 0.0% |  – | 1 | 0.0% | -50.0% | 226 | 249 |