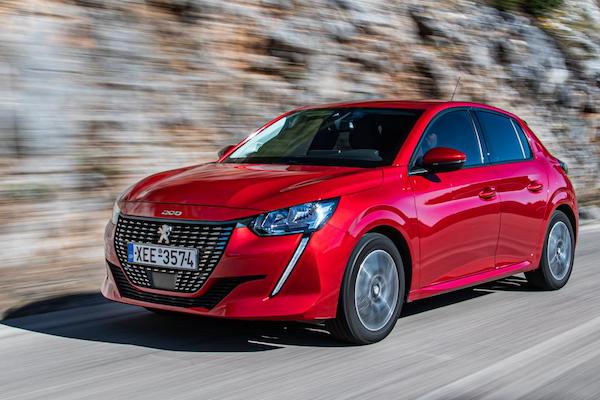 Morocco April 2023: Peugeot (+63.3%), Volkswagen (+72.4%) shine in stabilised market
Sales of new light vehicles slow down their fall in Morocco in April at -0.2% year-on-year to 12,484 units. Passenger Cars are actually up 1% to 11,278 while Light Commercials fall -10.1% to 1,206. Passenger Cars are now down -6.5% YTD to 45,035. In the Passenger Car brands ranking, Dacia (-15.5%) takes another beating but easily remains the overall best-seller at 22.5% share. Renault (+28%) stuns with a fantastic YoY gain but its market share (15.1%) remains below its YTD level (16%). Hyundai (+7.6%) is also up at #3 but the heroes of the month are Peugeot (+63.3%) and Volkswagen (+72.4%) surging ahead at #4 and #5 respectively. Peugeot notably scores a 9.8% share vs. just 7.2% so far this year. Opel (+11.1%) also shines at #6 while Skoda (+97.5%) rounds out the Top 10 in spectacular fashion.
Previous month: Morocco March 2023: Volkswagen (+94.1%) highlights market off -11.9%
Full April 2023 Top 34 All brands ranking below.
Morocco April 2023 – brands:
| | | | | | | | | | | |
| --- | --- | --- | --- | --- | --- | --- | --- | --- | --- | --- |
| Pos | Brand | Apr-23 | % | /22 | Mar | 2023 | % | /22 | Pos | FY22 |
| 1 | Dacia | 2,537 | 22.5% | -15.5% | 1 | 10,485 | 23.3% | -18.6% | 1 | 1 |
| 2 | Renault | 1,705 | 15.1% | 28.0% | 2 | 7,199 | 16.0% | 3.8% | 2 | 2 |
| 3 | Hyundai | 1,292 | 11.5% | 7.6% | 3 | 5,831 | 12.9% | 11.9% | 3 | 3 |
| 4 | Peugeot | 1,107 | 9.8% | 63.3% | 4 | 3,236 | 7.2% | -12.0% | 4 | 4 |
| 5 | Volkswagen | 674 | 6.0% | 72.4% | 5 | 2,491 | 5.5% | 41.0% | 5 | 8 |
| 6 | Opel | 542 | 4.8% | 11.1% | 6 | 1,974 | 4.4% | -17.6% | 6 | 5 |
| 7 | Kia | 446 | 4.0% | -13.1% | 8 | 1,498 | 3.3% | -18.6% | 8 | 9 |
| 8 | Citroen | 342 | 3.0% | -29.2% | 7 | 1,505 | 3.3% | -31.0% | 7 | 6 |
| 9 | Audi | 331 | 2.9% | -28.4% | 10 | 1,269 | 2.8% | -11.9% | 10 | n/a |
| 10 | Skoda | 310 | 2.7% | 97.5% | 13 | 1,206 | 2.7% | 115.0% | 11 | n/a |
| 11 | Toyota | 301 | 2.7% | -38.8% | 11 | 1,408 | 3.1% | -31.1% | 9 | 7 |
| 12 | Fiat | 266 | 2.4% | -37.1% | 14 | 1,086 | 2.4% | -21.9% | 12 | 10 |
| 13 | Seat | 264 | 2.3% | 16.8% | 15 | 728 | 1.6% | -8.0% | 15 | n/a |
| 14 | BMW | 241 | 2.1% | -6.9% | 9 | 1,013 | 2.2% | 11.3% | 13 | n/a |
| 15 | Mercedes | 149 | 1.3% | -44.6% | 12 | 927 | 2.1% | -5.7% | 14 | n/a |
| 16 | Land Rover | 92 | 0.8% | 70.4% | 17 | 345 | 0.8% | 107.8% | 19 | n/a |
| 17 | Ford | 89 | 0.8% | -42.6% | 18 | 471 | 1.0% | -20.7% | 16 | n/a |
| 18 | Nissan | 85 | 0.8% | -59.5% | 16 | 445 | 1.0% | -30.7% | 17 | n/a |
| 19 | Jeep | 84 | 0.7% | -33.3% | 19 | 384 | 0.9% | -40.8% | 18 | n/a |
| 20 | Volvo | 81 | 0.7% | 9.5% | 20 | 334 | 0.7% | 8.1% | 20 | n/a |
| 21 | DFSK | 80 | 0.7% | 321.1% | 21 | 239 | 0.5% | 267.7% | 21 | n/a |
| 22 | Porsche | 44 | 0.4% | 46.7% | 22 | 168 | 0.4% | 30.2% | 22 | n/a |
| 23 | MG | 37 | 0.3% | new |  – | 41 | 0.1% | new | 31 | n/a |
| 24 | Cupra | 36 | 0.3% | new | 31 | 142 | 0.3% | new | 23 | n/a |
| 25 | DS | 30 | 0.3% | -6.3% | 23 | 99 | 0.2% | 16.5% | 24 | n/a |
| 26 | Mini | 24 | 0.2% | 41.2% | 28 | 74 | 0.2% | -10.8% | 27 | n/a |
| 27 | Honda | 17 | 0.2% | 112.5% | 27 | 55 | 0.1% | 22.2% | 29 | n/a |
| 28 | Alfa Romeo | 16 | 0.1% | -33.3% | 26 | 79 | 0.2% | -13.2% | 26 | n/a |
| 29 | Mitsubishi | 14 | 0.1% | 250.0% | 25 | 86 | 0.2% | 120.5% | 25 | n/a |
| 30 | Lexus | 13 | 0.1% | 30.0% | 29 | 38 | 0.1% | -11.6% | 32 | n/a |
| 31 | Mahindra | 12 | 0.1% | 33.3% | 32 | 52 | 0.1% | 18.2% | 30 | n/a |
| 32 | Jaguar | 8 | 0.1% | -27.3% | 30 | 38 | 0.1% | -5.0% | 33 | n/a |
| 33 | Suzuki | 6 | 0.1% | 20.0% | 24 | 73 | 0.2% | -9.9% | 28 | n/a |
| 34 | Abarth | 3 | 0.0% | -57.1% | 33 | 16 | 0.0% | -61.0% | 34 | n/a |