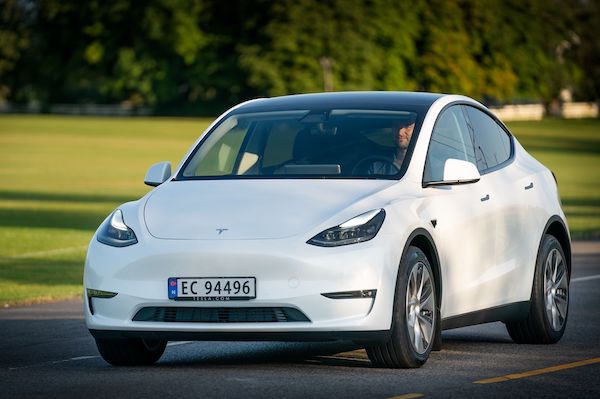 Denmark April 2023: Tesla Model Y stays #1, market up 9.5%
New car sales in Denmark gain 9.5% year-on-year in April to 12,067 units, this is a rather poor showing given April 2022 was off -29% on the year prior. The year-to-date tally is up 15% to 52,023. Volkswagen (+14.2%) is the most popular brand in the country this month but Audi (+134.9%) is nipping at its heels just 29 sales below. Leader last month with an extravagant 20.5% share, Tesla (+5382.4%) posts yet another stellar month at 7.7% of the market in third place, keeping the YTD lead by far at 11.8% share (+498.9%). Toyota (+30.8%), Ford (+21.9%) and Skoda (+21.9%) also impress in the remainder of the Top 10 but all other carmakers are in negative, with Mercedes (-32%) and Hyundai (-12.5%) hit the hardest. Below, Cupra (+76.4%), Seat (+56.5%) and Mazda (+30.5%) stand out.
Over in the models ranking, the Tesla Model Y (+6160%) scores its first ever win in the world in a start-of-quarter month, confirming the out-of-balance quarters are now gone. Tesla used to backload its quarters and as a result start of quarters were usually very weak. No more. The Model Y therefore cements its YTD domination at 10.2% share vs. 3.6% for the #2, the Peugeot 208 sinking to #46 this month. The Ford Kuga (+190.8%) is up to 2nd place ahead of the Hyundai i10 (-22.4%). The Tesla Model 3 (+4028.6%) is down just one rank on last month to #4 while the Volvo XC40 (+48.9%) remains in 5th place. Notice also the Audi A5 (+528.9%), VW ID.4 (+643.3%), Renault Megane (+613.3%) and Audi Q3 (+356.5%) all posting fantastic year-on-year upticks below.
Previous month: Denmark March 2023: Tesla and Model Y smash records in market up 22.8%
One year ago: Denmark April 2022: Hyundai i10 leads, Polestar 2 and Cupra Formentor in Top 10, sales down -29%
Full April 2023 Top 50 All brands and Top 247 All models below.
Denmark April 2023 – brands:
| | | | | | | | | | | |
| --- | --- | --- | --- | --- | --- | --- | --- | --- | --- | --- |
| Pos | Brand | Apr-23 | % | /22 | Mar | 2023 | % | /22 | Pos | FY22 |
| 1 | Volkswagen | 1,300 | 10.8% | 14.2% | 2 | 4,855 | 9.3% | 12.5% | 2 | 1 |
| 2 | Audi | 1,271 | 10.5% | 134.9% | 3 | 4,085 | 7.9% | 115.0% | 4 | 7 |
| 3 | Tesla | 932 | 7.7% | 5382.4% | 1 | 6,157 | 11.8% | 498.9% | 1 | 18 |
| 4 | Toyota | 925 | 7.7% | 30.8% | 4 | 4,187 | 8.0% | 28.2% | 3 | 2 |
| 5 | Hyundai | 790 | 6.5% | -12.5% | 5 | 3,266 | 6.3% | 17.1% | 5 | 4 |
| 6 | Skoda | 730 | 6.0% | 21.9% | 8 | 2,612 | 5.0% | 3.4% | 7 | 5 |
| 7 | Mercedes | 678 | 5.6% | -32.0% | 7 | 2,333 | 4.5% | -29.6% | 8 | 3 |
| 8 | Kia | 650 | 5.4% | -5.5% | 10 | 2,209 | 4.2% | -9.1% | 10 | 9 |
| 9 | BMW | 577 | 4.8% | -4.5% | 6 | 2,260 | 4.3% | -11.4% | 9 | 6 |
| 10 | Ford | 567 | 4.7% | 21.9% | 13 | 2,143 | 4.1% | -8.8% | 11 | 10 |
| 11 | Volvo | 534 | 4.4% | 20.3% | 11 | 1,943 | 3.7% | 4.9% | 12 | 12 |
| 12 | Renault | 428 | 3.5% | -12.1% | 14 | 1,405 | 2.7% | -13.5% | 17 | 14 |
| 13 | Cupra | 381 | 3.2% | 76.4% | 19 | 1,238 | 2.4% | 78.1% | 18 | 19 |
| 14 | Citroen | 324 | 2.7% | -21.5% | 18 | 1,542 | 3.0% | -23.9% | 13 | 11 |
| 15 | Suzuki | 304 | 2.5% | -15.3% | 17 | 1,422 | 2.7% | -5.0% | 16 | 15 |
| 16 | Opel | 302 | 2.5% | 22.8% | 15 | 1,433 | 2.8% | 2.6% | 15 | 13 |
| 17 | Seat | 241 | 2.0% | 56.5% | 20 | 830 | 1.6% | 95.3% | 20 | 22 |
| 18 | Nissan | 195 | 1.6% | 3.2% | 16 | 1,177 | 2.3% | -0.3% | 19 | 17 |
| 19 | Peugeot | 185 | 1.5% | -75.8% | 9 | 2,630 | 5.1% | -19.4% | 6 | 8 |
| 20 | Mazda | 171 | 1.4% | 30.5% | 12 | 1,459 | 2.8% | 19.7% | 14 | 16 |
| 21 | MG | 111 | 0.9% | -1.8% | 23 | 429 | 0.8% | -11.4% | 22 | 21 |
| 22 | Fiat | 100 | 0.8% | -29.6% | 21 | 599 | 1.2% | 23.5% | 21 | 24 |
| 23 | Dacia | 79 | 0.7% | -55.6% | 22 | 405 | 0.8% | -49.4% | 23 | 20 |
| 24 | Polestar | 70 | 0.6% | -66.7% | 24 | 298 | 0.6% | -42.9% | 24 | 23 |
| 25 | Mini | 60 | 0.5% | -31.0% | 25 | 242 | 0.5% | -21.9% | 25 | 25 |
| 26 | Porsche | 30 | 0.2% | 42.9% | 29 | 95 | 0.2% | -18.8% | 30 | 27 |
| 27 | Mitsubishi | 26 | 0.2% | 1200.0% | 26 | 130 | 0.2% | 420.0% | 26 | 29 |
| 28 | Honda | 22 | 0.2% | -42.1% | 28 | 106 | 0.2% | -25.4% | 28 | 28 |
| 29 | Lexus | 12 | 0.1% | -42.9% | 32 | 45 | 0.1% | -29.7% | 31 | 33 |
| 30 | Land Rover | 10 | 0.1% | -58.3% | 39 | 23 | 0.0% | -62.9% | 35 | 32 |
| 31 | Maxus | 9 | 0.1% | 80.0% | 31 | 39 | 0.1% | 34.5% | 33 | 35 |
| 32 | Aiways | 7 | 0.1% | -58.8% | 30 | 118 | 0.2% | 110.7% | 27 | 31 |
| 33 | BYD | 7 | 0.1% | new | 35 | 41 | 0.1% | new | 32 | 37 |
| 34 | NIO | 7 | 0.1% | nw | 41 | 15 | 0.0% | new | 38 | 45 |
| 35 | DS | 6 | 0.0% | -87.2% | 27 | 101 | 0.2% | -64.6% | 29 | 26 |
| 36 | Jeep | 4 | 0.0% | -76.5% | 34 | 19 | 0.0% | -72.5% | 37 | 30 |
| 37 | Nilsson | 3 | 0.0% | 200.0% | 40 | 13 | 0.0% | 85.7% | 40 | 39 |
| 38 | Maserati | 3 | 0.0% | n/a | 49 | 5 | 0.0% | 150.0% | 45 | 48 |
| 39 | Subaru | 2 | 0.0% | 0.0% | 37 | 20 | 0.0% | 81.8% | 36 | 38 |
| 40 | HDK | 2 | 0.0% | n/a | 66 | 2 | 0.0% | n/a | 56 | 55 |
| 41 | Xpeng | 2 | 0.0% | new | 76 | 2 | 0.0% | new | 57 | 53 |
| 42 | Man | 1 | 0.0% | 0.0% | 33 | 28 | 0.1% | -20.0% | 34 | 34 |
| 43 | Hongqi | 1 | 0.0% | new | 36 | 13 | 0.0% | new | 39 |  – |
| 44 | Polaris | 1 | 0.0% | 0.0% | 38 | 7 | 0.0% | -30.0% | 41 | 40 |
| 45 | Lamborghini | 1 | 0.0% | 0.0% | 43 | 6 | 0.0% | 500.0% | 43 | 60 |
| 46 | Eagle | 1 | 0.0% | n/a | 44 | 5 | 0.0% | 66.7% | 44 | 56 |
| 47 | Jaguar | 1 | 0.0% | -90.0% | 55 | 3 | 0.0% | -89.3% | 47 | 36 |
| 48 | Lindebjerg | 1 | 0.0% | -75.0% | 48 | 3 | 0.0% | -50.0% | 48 | 42 |
| 49 | Xingyun | 1 | 0.0% | -66.7% | 50 | 3 | 0.0% | -40.0% | 49 | 43 |
| 50 | Ferrari | 1 | 0.0% | n/a | 51 | 2 | 0.0% | n/a | 52 | 51 |
| 51 | Regal Raptor | 1 | 0.0% | 0.0% | 53 | 2 | 0.0% | 100.0% | 54 | 50 |
Denmark April 2023 – models:
| | | | | | | | | | | |
| --- | --- | --- | --- | --- | --- | --- | --- | --- | --- | --- |
| Pos | Model | Apr-23 | % | /22 | Mar | 2023 | % | /22 | Pos | FY22 |
| 1 | Tesla Model Y | 626 | 5.2% | 6160.0% | 1 | 5,328 | 10.2% | 599.2% | 1 | 12 |
| 2 | Ford Kuga | 381 | 3.2% | 190.8% | 4 | 1,418 | 2.7% | 46.2% | 3 | 2 |
| 3 | Hyundai i10 | 295 | 2.4% | -22.4% | 6 | 1,242 | 2.4% | 41.0% | 4 | 7 |
| 4 | Tesla Model 3 | 289 | 2.4% | 4028.6% | 3 | 771 | 1.5% | 189.8% | 13 | 82 |
| 5 | Volvo XC40 | 271 | 2.2% | 48.9% | 5 | 984 | 1.9% | 50.9% | 5 | 16 |
| 6 | Toyota Yaris | 261 | 2.2% | 10.1% | 15 | 945 | 1.8% | -12.7% | 6 | 5 |
| 7 | Kia Ceed | 250 | 2.1% | -16.9% | 10 | 800 | 1.5% | -17.4% | 11 | 10 |
| 8 | Audi A5 | 239 | 2.0% | 528.9% | 45 | 411 | 0.8% | 221.1% | 41 | 112 |
| 9 | Hyundai i20 | 237 | 2.0% | 31.7% | 35 | 706 | 1.4% | 41.5% | 14 | 17 |
| 10 | Cupra Formentor | 236 | 2.0% | 17.4% | 42 | 559 | 1.1% | 10.9% | 26 | 33 |
| 11 | VW ID.4 | 223 | 1.8% | 643.3% | 16 | 789 | 1.5% | 255.4% | 12 | 11 |
| 12 | Renault Megane | 214 | 1.8% | 613.3% | 8 | 611 | 1.2% | 388.8% | 22 | 73 |
| 13 | Audi Q3 | 210 | 1.7% | 356.5% | 11 | 602 | 1.2% | 202.5% | 23 | 28 |
| 14 | Toyota Yaris Cross | 202 | 1.7% | 98.0% | 22 | 812 | 1.6% | 31.6% | 10 | 14 |
| 15 | Skoda Enyaq | 200 | 1.7% | 29.9% | 44 | 482 | 0.9% | 3.7% | 29 | 9 |
| 16 | VW T-Roc | 195 | 1.6% | -34.6% | 14 | 664 | 1.3% | -29.7% | 17 | 6 |
| 17 | Audi Q4 | 193 | 1.6% | 157.3% | 13 | 659 | 1.3% | 38.2% | 18 | 20 |
| 18 | Toyota Aygo X | 192 | 1.6% | new | 33 | 907 | 1.7% | new | 8 | 4 |
| 19 | Opel Corsa | 188 | 1.6% | 59.3% | 9 | 871 | 1.7% | 24.3% | 9 | 19 |
| 20 | Audi Q2 | 187 | 1.5% | 14.0% | 18 | 658 | 1.3% | 34.6% | 19 | 40 |
| 21 | Citroen C4 | 187 | 1.5% | 938.9% | 63 | 345 | 0.7% | 61.2% | 47 | 96 |
| 22 | VW Taigo | 170 | 1.4% | 14.1% | 48 | 477 | 0.9% | -17.0% | 31 | 21 |
| 23 | BMW i4 | 159 | 1.3% | 536.0% | 31 | 361 | 0.7% | 802.5% | 46 | 97 |
| 24 | Kia Picanto | 156 | 1.3% | 2128.6% | 20 | 477 | 0.9% | 190.9% | 30 | 59 |
| 25 | Skoda Octavia | 142 | 1.2% | 40.6% | 29 | 504 | 1.0% | -3.4% | 27 | 24 |
| 26 | Mercedes C Class | 138 | 1.1% | -46.5% | 27 | 422 | 0.8% | -53.6% | 39 | 8 |
| 27 | Seat Ibiza | 135 | 1.1% | 80.0% | 43 | 409 | 0.8% | 209.8% | 43 | 104 |
| 28 | Volvo XC60 | 131 | 1.1% | 47.2% | 34 | 450 | 0.9% | -6.6% | 35 | 34 |
| 29 | VW Polo | 127 | 1.1% | -47.5% | 36 | 693 | 1.3% | -12.1% | 15 | 18 |
| 30 | Audi Q5 | 125 | 1.0% | 92.3% | 23 | 485 | 0.9% | 400.0% | 28 | 74 |
| 31 | Skoda Fabia | 123 | 1.0% | 35.2% | 40 | 465 | 0.9% | 43.1% | 33 | 45 |
| 32 | Nissan Qashqai | 110 | 0.9% | -27.2% | 7 | 645 | 1.2% | -31.1% | 20 | 13 |
| 33 | Audi A6 | 110 | 0.9% | 233.3% | 38 | 639 | 1.2% | 263.1% | 21 | 37 |
| 34 | Audi A4 | 110 | 0.9% | 175.0% | 72 | 323 | 0.6% | 233.0% | 51 | 109 |
| 35 | VW T-Cross | 108 | 0.9% | -10.0% | 30 | 598 | 1.1% | 57.8% | 24 | 22 |
| 36 | Renault Clio | 101 | 0.8% | -24.1% | 21 | 420 | 0.8% | -11.8% | 40 | 53 |
| 37 | Fiat 500 | 99 | 0.8% | -30.3% | 24 | 577 | 1.1% | 21.5% | 25 | 60 |
| 38 | Renault Captur | 98 | 0.8% | -41.3% | 39 | 305 | 0.6% | -50.4% | 54 | 32 |
| 39 | VW ID.5 | 95 | 0.8% | 9400.0% | 54 | 317 | 0.6% | 10466.7% | 52 | 15 |
| 40 | Kia EV6 | 85 | 0.7% | 136.1% | 73 | 237 | 0.5% | -41.6% | 65 | 67 |
| 41 | Cupra Born | 81 | 0.7% | 478.6% | 70 | 363 | 0.7% | 92.1% | 45 | 42 |
| 42 | Skoda Kamiq | 80 | 0.7% | -13.0% | 26 | 449 | 0.9% | 3.2% | 36 | 44 |
| 43 | BMW 3 Series | 78 | 0.6% | -31.6% | 28 | 374 | 0.7% | -41.7% | 44 | 26 |
| 44 | Mercedes E Class | 77 | 0.6% | -13.5% | 61 | 210 | 0.4% | -14.6% | 76 | 61 |
| 45 | VW Tiguan | 76 | 0.6% | 660.0% | 75 | 197 | 0.4% | 101.0% | 80 | 92 |
| 46 | Peugeot 208 | 74 | 0.6% | -80.3% | 2 | 1,847 | 3.6% | 34.4% | 2 | 1 |
| 47 | Suzuki Ignis | 73 | 0.6% | -14.1% | 83 | 245 | 0.5% | -45.6% | 63 | 62 |
| 48 | Suzuki Swift | 71 | 0.6% | -26.8% | 53 | 431 | 0.8% | -5.5% | 37 | 47 |
| 49 | Mercedes CLA | 71 | 0.6% | 57.8% | 74 | 201 | 0.4% | 30.5% | 78 | 89 |
| 50 | BMW 5 Series | 71 | 0.6% | -30.4% | 95 | 159 | 0.3% | -69.6% | 91 | 38 |
| 51 | Polestar 2 | 70 | 0.6% | -66.7% | 51 | 298 | 0.6% | -42.9% | 55 | 30 |
| 52 | Toyota bZ4X | 69 | 0.6% | new | 199 | 76 | 0.1% | new | 124 | 156 |
| 53 | Suzuki Vitara | 68 | 0.6% | -21.8% | 49 | 344 | 0.7% | 12.8% | 48 | 58 |
| 54 | Hyundai Tucson | 67 | 0.6% | -51.8% | 55 | 274 | 0.5% | 10.9% | 58 | 41 |
| 55 | Suzuki SX4 | 67 | 0.6% | -23.0% | 62 | 269 | 0.5% | -2.2% | 59 | 54 |
| 56 | VW Passat | 66 | 0.5% | -8.3% | 58 | 237 | 0.5% | -16.0% | 66 | 66 |
| 57 | Mercedes EQA | 65 | 0.5% | 150.0% | 85 | 221 | 0.4% | 7.3% | 72 | 69 |
| 58 | Cupra Leon | 64 | 0.5% | 6300.0% | 41 | 311 | 0.6% | 15450.0% | 53 | 148 |
| 59 | Seat Arona | 63 | 0.5% | 50.0% | 52 | 298 | 0.6% | 134.6% | 56 | 85 |
| 60 | VW ID.3 | 61 | 0.5% | 48.8% | 57 | 265 | 0.5% | 62.6% | 60 | 84 |
| 61 | VW Touran | 61 | 0.5% | 454.5% | 71 | 188 | 0.4% | 144.2% | 83 | 108 |
| 62 | Volvo V60 | 61 | 0.5% | -36.5% | 78 | 177 | 0.3% | -60.8% | 86 | 50 |
| 63 | Skoda Scala | 60 | 0.5% | -13.0% | 69 | 231 | 0.4% | -0.9% | 69 | 94 |
| 64 | Toyota Corolla Cross | 58 | 0.5% | new | 19 | 673 | 1.3% | new | 16 | 124 |
| 65 | Opel Crossland X | 58 | 0.5% | 1.8% | 77 | 260 | 0.5% | -5.1% | 61 | 36 |
| 66 | Toyota Corolla | 57 | 0.5% | -47.7% | 47 | 339 | 0.7% | -39.6% | 49 | 31 |
| 67 | Kia Niro | 56 | 0.5% | -66.1% | 79 | 234 | 0.4% | -30.8% | 68 | 29 |
| 68 | Citroen C3 | 54 | 0.4% | -83.8% | 17 | 940 | 1.8% | -32.9% | 7 | 3 |
| 69 | Hyundai i30 | 54 | 0.4% | -11.5% | 92 | 222 | 0.4% | -4.3% | 71 | 71 |
| 70 | Kia Sportage | 54 | 0.4% | 54.3% | 67 | 208 | 0.4% | 77.8% | 77 | 39 |
| 71 | Citroen e-C4 X | 54 | 0.4% | new |  – | 54 | 0.1% | new | 140 |  – |
| 72 | BMW 1 Series | 52 | 0.4% | -24.6% | 46 | 325 | 0.6% | 98.2% | 50 | 100 |
| 73 | Skoda Kodiaq | 52 | 0.4% | 40.5% | 102 | 171 | 0.3% | -26.0% | 87 | 68 |
| 74 | Peugeot 2008 | 51 | 0.4% | -66.2% | 59 | 464 | 0.9% | -46.6% | 34 | 35 |
| 75 | Dacia Sandero | 48 | 0.4% | -43.5% | 84 | 188 | 0.4% | -35.2% | 82 | 83 |
| 76 | Mini | 47 | 0.4% | -7.8% | 81 | 192 | 0.4% | -14.3% | 81 | 91 |
| 77 | Audi A3 | 47 | 0.4% | 261.5% | 134 | 104 | 0.2% | 52.9% | 109 | 136 |
| 78 | Hyundai Ioniq 5 | 46 | 0.4% | 109.1% | 32 | 411 | 0.8% | 30.9% | 42 | 86 |
| 79 | Mercedes EQB | 46 | 0.4% | 12.2% | 60 | 216 | 0.4% | 55.4% | 75 | 90 |
| 80 | BMW ix1 | 46 | 0.4% | new | 99 | 152 | 0.3% | new | 92 | 224 |
| 81 | MG eHS | 43 | 0.4% | -42.7% | 108 | 112 | 0.2% | -70.6% | 106 | 51 |
| 82 | BMW ix3 | 42 | 0.3% | 740.0% | 56 | 250 | 0.5% | 1090.5% | 62 | 48 |
| 83 | Mercedes GLA | 42 | 0.3% | -48.8% | 98 | 119 | 0.2% | -55.9% | 102 | 55 |
| 84 | Mazda2 | 41 | 0.3% | -28.1% | 25 | 469 | 0.9% | 42.6% | 32 | 65 |
| 85 | Skoda Superb | 41 | 0.3% | -12.8% | 80 | 164 | 0.3% | -15.0% | 90 | 101 |
| 86 | Mercedes GLC | 41 | 0.3% | -63.7% | 91 | 145 | 0.3% | -47.5% | 95 | 57 |
| 87 | VW ID.Buzz | 40 | 0.3% | new | 111 | 133 | 0.3% | new | 98 | 252 |
| 88 | Nissan Ariya | 37 | 0.3% | new | 96 | 295 | 0.6% | new | 57 | 110 |
| 89 | BMW X1 | 37 | 0.3% | -37.3% | 65 | 223 | 0.4% | -26.4% | 70 | 81 |
| 90 | Hyundai Kona | 37 | 0.3% | 12.1% | 68 | 217 | 0.4% | -52.9% | 74 | 49 |
| 91 | Mercedes A Class | 37 | 0.3% | -73.4% | 127 | 135 | 0.3% | -68.8% | 97 | 27 |
| 92 | Toyota C-HR | 37 | 0.3% | -64.4% | 100 | 109 | 0.2% | -72.6% | 107 | 56 |
| 93 | Nissan Juke | 37 | 0.3% | 516.7% | 123 | 89 | 0.2% | 29.0% | 115 | 135 |
| 94 | Mazda CX-60 | 36 | 0.3% | new | 37 | 244 | 0.5% | new | 64 | 80 |
| 95 | MG 4 | 36 | 0.3% | new | 93 | 221 | 0.4% | new | 73 | 190 |
| 96 | Ford Fiesta | 36 | 0.3% | 157.1% | 50 | 181 | 0.3% | 86.6% | 85 | 70 |
| 97 | Mazda CX-30 | 36 | 0.3% | -14.3% | 120 | 106 | 0.2% | -77.3% | 108 | 76 |
| 98 | Seat Leon | 34 | 0.3% | 61.9% | 135 | 83 | 0.2% | -14.4% | 121 | 142 |
| 99 | Skoda Karoq | 32 | 0.3% | 357.1% | 106 | 146 | 0.3% | 21.7% | 94 | 120 |
| 100 | Mercedes EQE | 32 | 0.3% | 45.5% | 86 | 136 | 0.3% | 518.2% | 96 | 106 |
| 101 | Ford Mustang Mach-E | 32 | 0.3% | -75.0% | 154 | 53 | 0.1% | -88.1% | 141 | 43 |
| 102 | Hyundai Ioniq 6 | 32 | 0.3% | new | 164 | 40 | 0.1% | new | 153 |  – |
| 103 | Ford Focus | 31 | 0.3% | -67.4% | 113 | 197 | 0.4% | -42.9% | 79 | 75 |
| 104 | Opel Mokka | 31 | 0.3% | -38.0% | 76 | 182 | 0.3% | -48.1% | 84 | 63 |
| 105 | Ford Puma | 31 | 0.3% | 210.0% | 104 | 130 | 0.2% | -11.0% | 100 | 111 |
| 106 | Ford Transit/Tourneo Custom | 31 | 0.3% | -11.4% | 153 | 60 | 0.1% | -62.0% | 135 | 105 |
| 107 | Volvo C40 | 30 | 0.2% | new | 97 | 168 | 0.3% | new | 89 | 122 |
| 108 | Toyota RAV4 | 29 | 0.2% | -71.6% | 66 | 236 | 0.5% | -42.4% | 67 | 25 |
| 109 | Mercedes GLB | 29 | 0.2% | -35.6% | 117 | 85 | 0.2% | -61.7% | 119 | 52 |
| 110 | Mercedes Sprinter | 28 | 0.2% | 12.0% | 116 | 104 | 0.2% | -1.0% | 110 | 130 |
| 111 | Suzuki S-Cross | 25 | 0.2% | n/a | 109 | 103 | 0.2% | n/a | 111 | 187 |
| 112 | Mercedes EQC | 24 | 0.2% | 300.0% | 110 | 78 | 0.1% | 110.8% | 122 | 127 |
| 113 | Kia Rio | 22 | 0.2% | -40.5% | 107 | 89 | 0.2% | -36.9% | 114 | 132 |
| 114 | Hyundai Bayon | 21 | 0.2% | -73.4% | 64 | 152 | 0.3% | 19.7% | 93 | 102 |
| 115 | VW Golf | 21 | 0.2% | -74.1% | 115 | 87 | 0.2% | -68.8% | 117 | 64 |
| 116 | Volvo V90 | 21 | 0.2% | -12.5% | 133 | 77 | 0.1% | -36.4% | 123 | 128 |
| 117 | VW Arteon | 21 | 0.2% | 75.0% | 143 | 47 | 0.1% | -48.4% | 149 | 125 |
| 118 | Mazda CX-5 | 20 | 0.2% | 17.6% | 12 | 428 | 0.8% | 50.7% | 38 | 46 |
| 119 | BMW 2 Series | 20 | 0.2% | -77.3% | 88 | 170 | 0.3% | -9.6% | 88 | 93 |
| 120 | Mazda3 | 20 | 0.2% | 122.2% | 94 | 131 | 0.3% | 31.0% | 99 | 126 |
| 121 | Citroen C3 Aircross | 20 | 0.2% | 81.8% | 101 | 115 | 0.2% | 51.3% | 104 | 113 |
| 122 | Audi Q8 | 20 | 0.2% | 1900.0% | 112 | 56 | 0.1% | 2700.0% | 138 | 265 |
| 123 | Peugeot 3008 | 19 | 0.2% | -89.5% | 82 | 122 | 0.2% | -78.8% | 101 | 23 |
| 124 | Volvo XC90 | 19 | 0.2% | -59.6% | 128 | 65 | 0.1% | -49.2% | 128 | 119 |
| 125 | BMW 4 Series | 19 | 0.2% | -69.8% | 131 | 60 | 0.1% | -78.4% | 133 | 78 |
| 126 | Audi A1 | 19 | 0.2% | -13.6% | 118 | 58 | 0.1% | 28.9% | 137 | 163 |
| 127 | Ford Mustang | 19 | 0.2% | 137.5% | 185 | 39 | 0.1% | 225.0% | 154 | 206 |
| 128 | VW Multivan | 18 | 0.1% | -14.3% | 136 | 66 | 0.1% | -26.7% | 126 | 114 |
| 129 | BMW X3 | 18 | 0.1% | n/a | 124 | 60 | 0.1% | -29.4% | 134 | 107 |
| 130 | Peugeot 308 | 18 | 0.1% | 100.0% | 130 | 60 | 0.1% | -23.1% | 136 | 103 |
| 131 | MG Marvel R | 18 | 0.1% | 350.0% | 140 | 54 | 0.1% | 134.8% | 139 | 150 |
| 132 | Dacia Jogger | 17 | 0.1% | 13.3% | 159 | 96 | 0.2% | 71.4% | 112 | 116 |
| 133 | BMW iX | 17 | 0.1% | 142.9% | 125 | 75 | 0.1% | 435.7% | 125 | 117 |
| 134 | Mercedes GLE | 16 | 0.1% | -66.0% | 114 | 92 | 0.2% | -18.6% | 113 | 88 |
| 135 | Honda Jazz | 15 | 0.1% | -6.3% | 139 | 65 | 0.1% | -7.1% | 127 | 144 |
| 136 | Renault Arkana | 15 | 0.1% | -89.4% | 144 | 62 | 0.1% | -73.6% | 130 | 79 |
| 137 | Opel Grandland X | 15 | 0.1% | -25.0% | 105 | 61 | 0.1% | 7.0% | 132 | 145 |
| 138 | Porsche Taycan | 14 | 0.1% | 100.0% | 150 | 49 | 0.1% | -12.5% | 146 | 131 |
| 139 | Mitsubishi Eclipse Cross | 13 | 0.1% | 1200.0% | 89 | 85 | 0.2% | 254.2% | 120 | 161 |
| 140 | Mini Countryman | 13 | 0.1% | -61.8% | 149 | 50 | 0.1% | -35.1% | 143 | 141 |
| 141 | Mitsubishi Space Star | 13 | 0.1% | n/a | 147 | 45 | 0.1% | n/a | 151 | 157 |
| 142 | Toyota Proace/Verso | 13 | 0.1% | -48.0% | 157 | 38 | 0.1% | -32.1% | 158 | 153 |
| 143 | Peugeot 508 | 13 | 0.1% | -60.6% | 158 | 30 | 0.1% | -84.8% | 168 | 77 |
| 144 | Dacia Duster | 12 | 0.1% | -78.6% | 87 | 113 | 0.2% | -64.2% | 105 | 87 |
| 145 | BMW X5 | 12 | 0.1% | -52.0% | 170 | 27 | 0.1% | -77.1% | 173 | 118 |
| 146 | Tesla Model S | 11 | 0.1% | n/a | 126 | 44 | 0.1% | n/a | 152 | 205 |
| 147 | Kia Xceed | 10 | 0.1% | -85.5% | 138 | 87 | 0.2% | -46.3% | 116 | 98 |
| 148 | Mazda MX-5 | 9 | 0.1% | 50.0% | 122 | 47 | 0.1% | 42.4% | 148 | 176 |
| 149 | Mercedes Vito Tourer | 9 | 0.1% | -30.8% | 146 | 34 | 0.1% | 78.9% | 163 | 179 |
| 150 | Mazda MX-30 | 9 | 0.1% | n/a | 176 | 31 | 0.1% | n/a | 166 | 178 |
| 151 | MG 5 | 9 | 0.1% | 12.5% |  – | 12 | 0.0% | 20.0% | 192 | 174 |
| 152 | Citroen C5 Aircross | 8 | 0.1% | -74.2% | 148 | 49 | 0.1% | -64.0% | 144 | 72 |
| 153 | Seat Ateca | 8 | 0.1% | -50.0% | 167 | 39 | 0.1% | -23.5% | 155 | 140 |
| 154 | Maxus Euniq6 | 8 | 0.1% | 100.0% | 141 | 33 | 0.1% | 725.0% | 165 | 175 |
| 155 | Kia Sorento | 8 | 0.1% | 33.3% | 168 | 29 | 0.1% | 81.3% | 170 | 173 |
| 156 | Lexus NX | 8 | 0.1% | -27.3% | 163 | 23 | 0.0% | -32.4% | 175 | 170 |
| 157 | Porsche 911 | 8 | 0.1% | 0.0% | 191 | 14 | 0.0% | 0.0% | 185 | 211 |
| 158 | Nissan Leaf | 7 | 0.1% | -65.0% | 129 | 51 | 0.1% | -44.0% | 142 | 134 |
| 159 | Nio ET5 | 7 | 0.1% | new | 253 | 8 | 0.0% | new | 207 |  – |
| 160 | Peugeot 408 | 6 | 0.0% | new | 90 | 62 | 0.1% | new | 129 |  – |
| 161 | Kia Stonic | 6 | 0.0% | -33.3% | 165 | 45 | 0.1% | -40.8% | 150 | 143 |
| 162 | Opel Astra | 6 | 0.0% | n/a | 156 | 38 | 0.1% | n/a | 156 | 159 |
| 163 | VW Caddy | 6 | 0.0% | -25.0% | 194 | 30 | 0.1% | 20.0% | 169 | 158 |
| 164 | Mercedes EQS | 6 | 0.0% | -53.8% | 180 | 18 | 0.0% | -56.1% | 181 | 154 |
| 165 | Tesla Model X | 6 | 0.0% | n/a | 188 | 14 | 0.0% | n/a | 186 | 216 |
| 166 | VW Up! | 5 | 0.0% | -79.2% | 119 | 38 | 0.1% | -83.4% | 159 | 115 |
| 167 | BYD Atto 3 | 5 | 0.0% | new | 161 | 37 | 0.1% | new | 160 | 193 |
| 168 | MG ZS | 5 | 0.0% | -80.8% | 162 | 30 | 0.1% | -54.5% | 167 | 137 |
| 169 | Aiways U5 | 4 | 0.0% | -76.5% | 132 | 115 | 0.2% | 105.4% | 103 | 146 |
| 170 | Nissan X-Trail | 4 | 0.0% | n/a | 137 | 49 | 0.1% | 600.0% | 145 | 196 |
| 171 | Mercedes EQV | 4 | 0.0% | 33.3% | 177 | 25 | 0.0% | 38.9% | 174 | 166 |
| 172 | Jeep Compass | 4 | 0.0% | -73.3% | 151 | 19 | 0.0% | -65.5% | 179 | 147 |
| 173 | Mercedes S Class | 4 | 0.0% | 0.0% | 201 | 9 | 0.0% | -50.0% | 202 | 189 |
| 174 | Range Rover Evoque | 4 | 0.0% | -60.0% | 224 | 9 | 0.0% | -67.9% | 204 | 177 |
| 175 | DS 4 | 3 | 0.0% | -50.0% | 103 | 86 | 0.2% | 273.9% | 118 | 162 |
| 176 | Audi e-Tron | 3 | 0.0% | -88.0% | 152 | 61 | 0.1% | -11.6% | 131 | 95 |
| 177 | Toyota Proace City Verso | 3 | 0.0% | -62.5% | 166 | 38 | 0.1% | -41.5% | 157 | 167 |
| 178 | DS 7 Crossback | 3 | 0.0% | -92.7% | 179 | 15 | 0.0% | -93.8% | 183 | 99 |
| 179 | Nilsson Hearse | 3 | 0.0% | 200.0% | 196 | 13 | 0.0% | 85.7% | 190 | 225 |
| 180 | Mercedes V Class | 3 | 0.0% | -25.0% | 181 | 12 | 0.0% | -55.6% | 191 | 182 |
| 181 | Opel Zafira | 3 | 0.0% | n/a | 187 | 11 | 0.0% | n/a | 194 | 245 |
| 182 | Porsche Panamera | 3 | 0.0% | -50.0% | 222 | 11 | 0.0% | -56.0% | 195 | 165 |
| 183 | Lexus ES | 3 | 0.0% | n/a | 206 | 9 | 0.0% | 28.6% | 200 | 221 |
| 184 | Audi TT | 3 | 0.0% | 50.0% | 211 | 7 | 0.0% | 250.0% | 211 | 234 |
| 185 | Ford Tourneo Connect | 3 | 0.0% | n/a | 212 | 7 | 0.0% | 250.0% | 212 | 283 |
| 186 | Toyota Camry | 3 | 0.0% | 50.0% |  – | 5 | 0.0% | -58.3% | 226 | 218 |
| 187 | Land Rover Discovery Sport | 3 | 0.0% | -50.0% |  – | 3 | 0.0% | -82.4% | 248 | 192 |
| 188 | Aiways U6 | 3 | 0.0% | new |  – | 3 | 0.0% | new | 249 |  – |
| 189 | Ford S-Max | 2 | 0.0% | -86.7% | 175 | 34 | 0.1% | -58.0% | 162 | 123 |
| 190 | VW Caravelle | 2 | 0.0% | -75.0% | 169 | 20 | 0.0% | -4.8% | 177 | 171 |
| 191 | Honda CR-V | 2 | 0.0% | 0.0% | 172 | 14 | 0.0% | 0.0% | 184 | 172 |
| 192 | Honda HR-V | 2 | 0.0% | -90.0% | 186 | 13 | 0.0% | -77.2% | 188 | 160 |
| 193 | Porsche Macan | 2 | 0.0% | n/a | 221 | 10 | 0.0% | -37.5% | 198 | 199 |
| 194 | Audi A8 | 2 | 0.0% | n/a | 184 | 9 | 0.0% | n/a | 199 | 241 |
| 195 | Dacia Spring | 2 | 0.0% | -90.9% | 223 | 8 | 0.0% | -93.0% | 206 | 139 |
| 196 | Peugeot Rifter | 2 | 0.0% | -33.3% | 189 | 8 | 0.0% | 0.0% | 208 | 229 |
| 197 | Mercedes G Class | 2 | 0.0% | 0.0% | 225 | 6 | 0.0% | 50.0% | 219 | 250 |
| 198 | Mercedes GLS | 2 | 0.0% | 100.0% | 213 | 6 | 0.0% | 500.0% | 220 | 242 |
| 199 | Porsche Cayman | 2 | 0.0% | n/a | 193 | 6 | 0.0% | 500.0% | 221 | 282 |
| 200 | BMW i7 | 2 | 0.0% | new | 226 | 5 | 0.0% | new | 223 | 256 |
| 201 | VW Crafter | 2 | 0.0% | -75.0% |  – | 5 | 0.0% | -88.6% | 227 | 180 |
| 202 | Maserati Grecale | 2 | 0.0% | new | 234 | 4 | 0.0% | new | 229 | 284 |
| 203 | BMW XM | 2 | 0.0% | new | 252 | 3 | 0.0% | new | 231 |  – |
| 204 | Honda E | 2 | 0.0% | n/a |  – | 3 | 0.0% | 200.0% | 235 | 300 |
| 205 | Range Rover | 2 | 0.0% | n/a | 245 | 3 | 0.0% | 200.0% | 242 | 273 |
| 206 | VW Transporter | 2 | 0.0% | n/a | 248 | 3 | 0.0% | 200.0% | 246 | 255 |
| 207 | Kia Soul | 2 | 0.0% | -90.9% |  – | 2 | 0.0% | -95.1% | 266 | 188 |
| 208 | HDK NRG Car | 2 | 0.0% | n/a |  – | 2 | 0.0% | n/a | 267 | 293 |
| 209 | Xpeng P5 | 2 | 0.0% | new |  – | 2 | 0.0% | new | 268 |  – |
| 210 | Peugeot 5008 | 1 | 0.0% | -85.7% | 160 | 34 | 0.1% | -32.0% | 164 | 155 |
| 211 | MAN TGE | 1 | 0.0% | 0.0% | 145 | 28 | 0.1% | -20.0% | 172 | 151 |
| 212 | Mercedes B Class | 1 | 0.0% | -93.8% | 195 | 20 | 0.0% | -53.5% | 176 | 149 |
| 213 | Ford Transit | 1 | 0.0% | -85.7% | 178 | 19 | 0.0% | -60.4% | 178 | 164 |
| 214 | Fiat Ducato | 1 | 0.0% | n/a |  – | 18 | 0.0% | 1700.0% | 180 | 210 |
| 215 | Hongqi E-HS9 | 1 | 0.0% | new | 155 | 13 | 0.0% | new | 189 |  – |
| 216 | Honda Civic | 1 | 0.0% | n/a | 204 | 11 | 0.0% | n/a | 193 | 209 |
| 217 | Opel Combo | 1 | 0.0% | 0.0% | 182 | 9 | 0.0% | -18.2% | 203 | 220 |
| 218 | Subaru Outback | 1 | 0.0% | -50.0% | 205 | 9 | 0.0% | -18.2% | 205 | 214 |
| 219 | Volvo S60 | 1 | 0.0% | 0.0% | 183 | 8 | 0.0% | 0.0% | 210 | 226 |
| 220 | Mercedes SL | 1 | 0.0% | n/a | 174 | 7 | 0.0% | n/a | 213 | 308 |
| 221 | Polaris Ranger | 1 | 0.0% | 0.0% | 190 | 7 | 0.0% | -22.2% | 214 | 227 |
| 222 | Audi Q7 | 1 | 0.0% | n/a | 192 | 6 | 0.0% | 50.0% | 216 | 249 |
| 223 | Lamborghini Urus | 1 | 0.0% | 0.0% | 208 | 6 | 0.0% | 500.0% | 218 | 307 |
| 224 | Audi A7 | 1 | 0.0% | -90.0% | 210 | 5 | 0.0% | -79.2% | 222 | 200 |
| 225 | Eagle Golf Car | 1 | 0.0% | n/a | 214 | 4 | 0.0% | 33.3% | 228 | 295 |
| 226 | Porsche Cayenne | 1 | 0.0% | n/a | 215 | 4 | 0.0% | 0.0% | 230 | 223 |
| 227 | BYD Han | 1 | 0.0% | new | 216 | 3 | 0.0% | new | 232 | 341 |
| 228 | Lindebjerg S1 | 1 | 0.0% | -75.0% | 233 | 3 | 0.0% | -50.0% | 238 | 232 |
| 229 | Maxus Euniq5 | 1 | 0.0% | 0.0% | 235 | 3 | 0.0% | -81.3% | 239 | 198 |
| 230 | Peugeot Traveller | 1 | 0.0% | -80.0% |  – | 3 | 0.0% | -70.0% | 241 | 215 |
| 231 | Range Rover Sport | 1 | 0.0% | n/a | 237 | 3 | 0.0% | n/a | 243 | 260 |
| 232 | Subaru Forester | 1 | 0.0% | n/a |  – | 3 | 0.0% | n/a | 244 | 272 |
| 233 | Xingyun Utv | 1 | 0.0% | -66.7% | 232 | 3 | 0.0% | -40.0% | 247 | 233 |
| 234 | Audi e-Tron GT | 1 | 0.0% | -85.7% |  – | 2 | 0.0% | -91.3% | 250 | 185 |
| 235 | BMW 7 Series | 1 | 0.0% | n/a |  – | 2 | 0.0% | n/a | 252 | 314 |
| 236 | Hyundai Santa Fe | 1 | 0.0% | -87.5% |  – | 2 | 0.0% | -92.6% | 256 | 181 |
| 237 | Regal Raptor Rex Cargo | 1 | 0.0% | n/a | 246 | 2 | 0.0% | n/a | 262 | 285 |
| 238 | BMW 8 Series | 1 | 0.0% | n/a |  – | 1 | 0.0% | 0.0% | 292 | 276 |
| 239 | BYD Tang | 1 | 0.0% | new |  – | 1 | 0.0% | new | 293 | 274 |
| 240 | Citroen Spacetourer | 1 | 0.0% | n/a |  – | 1 | 0.0% | n/a | 294 | 275 |
| 241 | Ferrari 296 | 1 | 0.0% | new |  – | 1 | 0.0% | new | 295 | 296 |
| 242 | Jaguar E-Pace | 1 | 0.0% | 0.0% |  – | 1 | 0.0% | 0.0% | 296 | 268 |
| 243 | Kia Stinger | 1 | 0.0% | 0.0% |  – | 1 | 0.0% | 0.0% | 297 | 279 |
| 244 | Maserati MC20 | 1 | 0.0% | new |  – | 1 | 0.0% | new | 298 | 298 |
| 245 | VW Touareg | 1 | 0.0% | -50.0% |  – | 1 | 0.0% | -75.0% | 299 | 266 |
| 246 | Toyota Hilux | 1 | 0.0% | n/a |  – | 1 | 0.0% | n/a | 300 |  – |
| 247 | Lexus RZ | 1 | 0.0% | new |  – | 1 | 0.0% | new | 301 |  – |