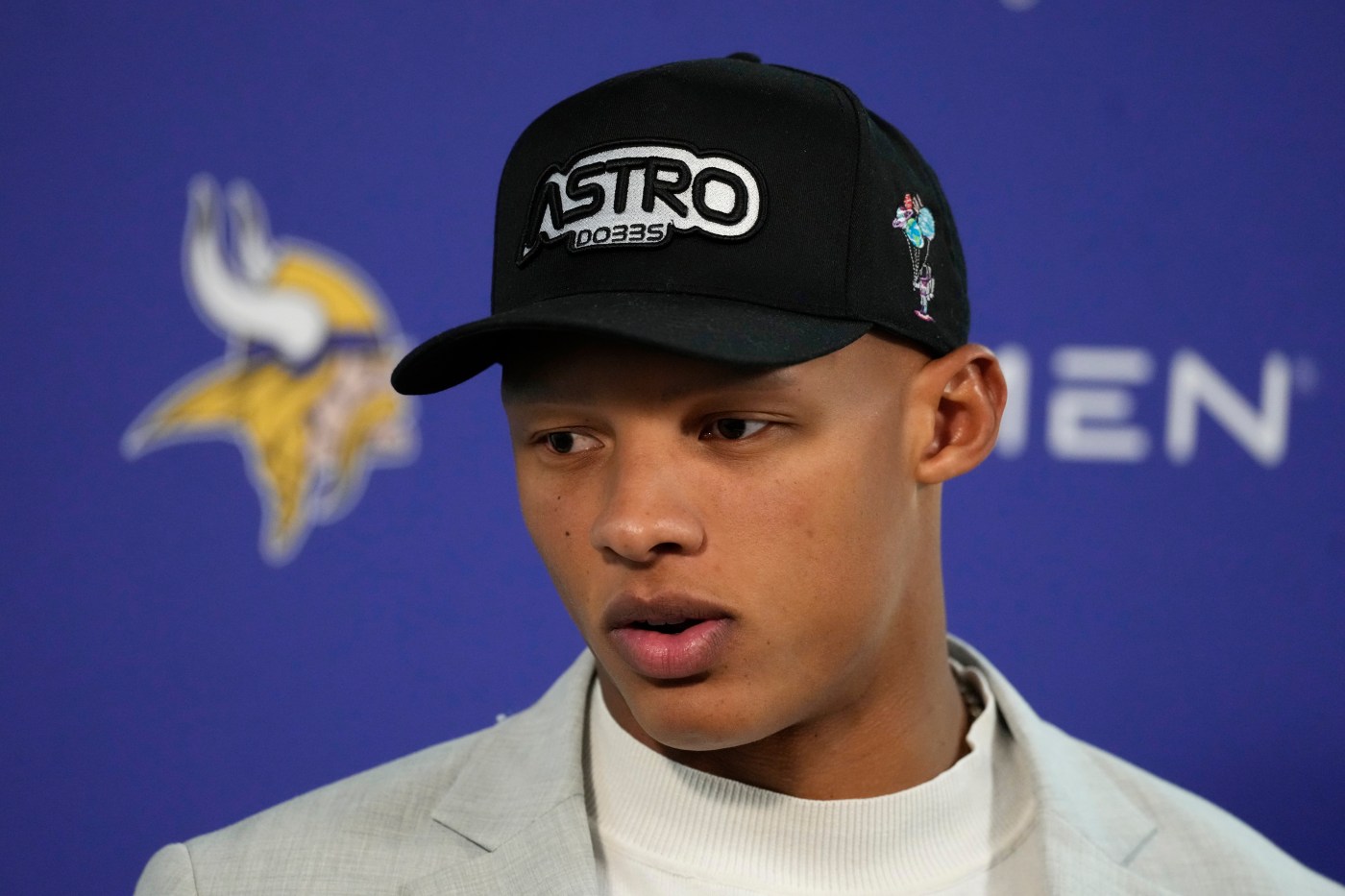 Was that a dirty hit on Vikings quarterback Josh Dobbs? It sure looked like it.
The play call from head coach Kevin O'Connell was too cute at the time. There was no reason to have quarterback Josh Dobbs take a quick toss from tight end T.J. Hockenson in a short-yardage situation. Frankly, it wouldn't have made much sense in any situation.
The fact that Dobbs absorbed a shot in the open field and fumbled the ball in the process added insult to injury. He shouldn't have been put in that position in the first place. Why willingly give him the ball way behind the line of scrimmage with defenders barreling down at him at 100 mph?
The decision was rightfully criticized in the immediate aftermath of the Vikings' 21-20 loss to the Denver Broncos on Sunday night at Empower Field. Taking a closer look at the sequence, however, the Vikings have every right to be upset with how the officials handled themselves in that moment.
There should have been a flag thrown as Dobbs appeared to be the victim of a dirty hit from Broncos safety Kareem Jackson. Not only did Dobbs get smoked in the helmet during the collision, Jackson lowered the crown of his helmet to deliver the blow. It was a penalty by definition, and the officials missed it.
"It seemed like a pretty direct helmet-to-helmet type," O'Connell said. "I'm sure they saw it differently."
Not surprisingly, the NFL is already reviewing Jackson's actions for potential discipline, according to NFL Network insider Tom Pelissero. This isn't the first time Jackson has been at the epicenter of controversy for his physicality on the field. He already has been suspended once this season for an illegal tackle on rookie tight end Luke Musgrave.
The seemingly dirty hit on Dobbs came on Jackson's first drive since returning from his suspension. The concussion spotter made Dobbs get checked out in the blue medical tent after he returned to the sideline. He was quickly cleared and returned to the game for the Vikings.
What did Dobbs think of the officials not calling a penalty on Jackson?
"Everybody else can figure that stuff out with officiating," he said. "I just have to take care of the football in that situation, especially to start the game."
Notably, if the official had called a penalty, the Vikings would have retained possession around midfield.
"The rule is what it is," O'Connell said. "They didn't throw the flag."
Related Articles

Josh Dobbs proves he's human as Vikings suffer frustrating 21-20 loss to Broncos

Vikings receiver Justin Jefferson misses sixth straight game with hamstring injury

The Loop Fantasy Football Update Week 11: Last-minute moves

Charley Walters: Vikings need to see more of Josh Dobbs before considering a contract

Vikings officially list receiver Justin Jefferson as questionable on injury report