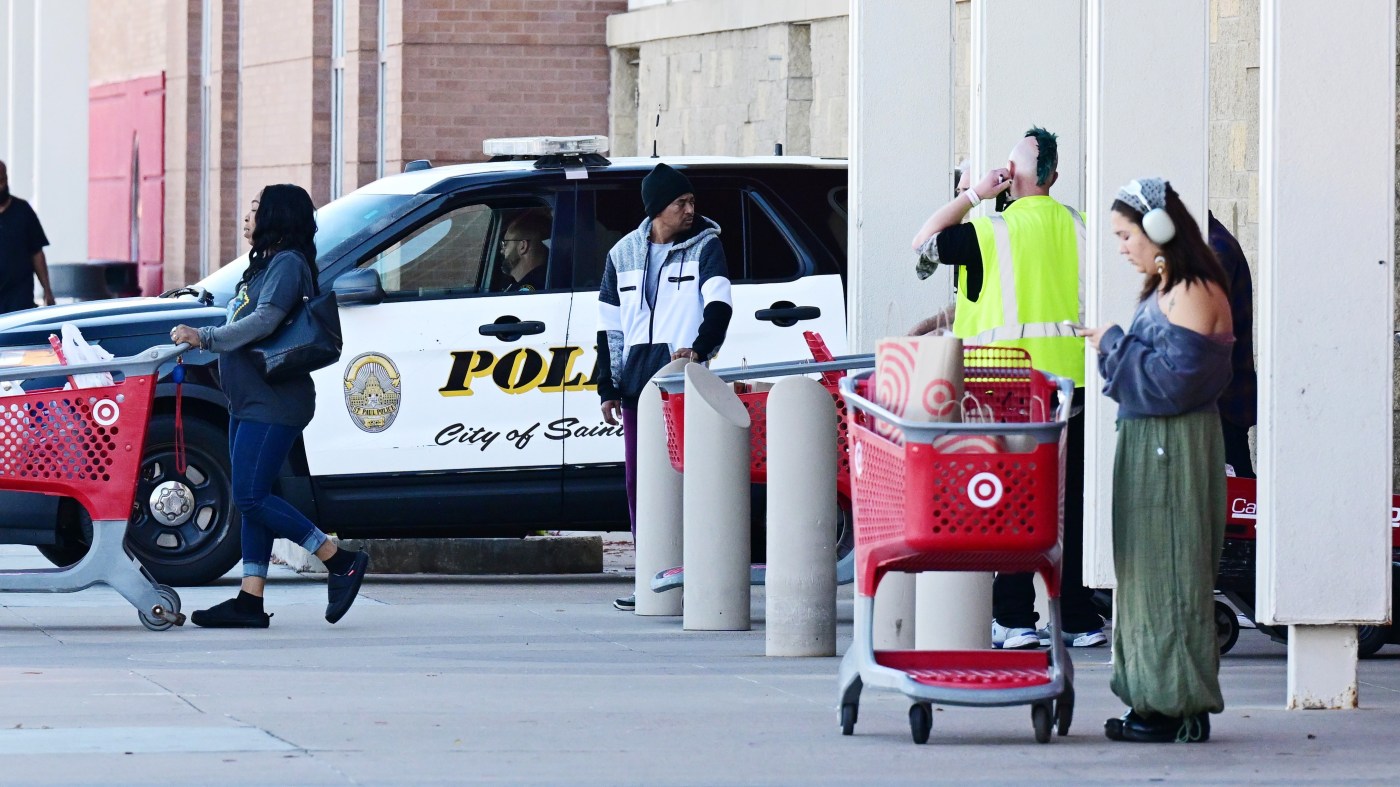 St. Paul and Minneapolis report among largest decreases in shoplifting, new study finds
A new study of shoplifting in 24 cities found reports were up in the first half of this year compared to the same time in 2019, but St. Paul and Minneapolis were among the cities with the biggest drops in shoplifting reports.
The Council on Criminal Justice notes in its report released Tuesday that it doesn't examine possible reasons for the trends.
"Potential factors include changes in retailers' anti-theft measures and changes in how retailers report shoplifting to law enforcement, which could be based on their perceptions of the extent to which local police or prosecutors will apprehend suspects and pursue criminal charges," the report says.
In St. Paul, for example, some big-box stores that were open in 2019 no longer have stores in the city, including Walmart and T.J. Maxx.
"There are many factors that contribute to crime trends in St. Paul, and we are encouraged that our numbers are down," said Alyssa Arcand, a St. Paul police spokeswoman.
"There have also been many changes as to what shopping looks like for our community. Businesses come and go, but strategies by businesses to address theft are ever evolving. In the future, we will continue to work with our local retailers and business owners to ensure the safety and security of everyone who shops and works in St. Paul."
Better data desired
The Council on Criminal Justice analyzed shoplifting reports in 24 cities where police consistently published data over the past five years. It found shoplifting reports were 16 percent higher during the first half of 2023 compared to the first half of 2019. But with New York City excluded, the reports were down 7 percent.
St. Petersburg marked the biggest decrease in reports at 78 percent, followed by St. Paul at 65 percent and Minneapolis at 57 percent.
The Council on Criminal Justice, a nonpartisan membership organization, has tracked changing rates of violent and property crime since the start of the COVID-19 pandemic, the protests after George Floyd's death in Minneapolis and other factors.
"Shoplifting, especially 'smash and grab' episodes caught on video, has received extensive attention from the media and policymakers, and retailers have cited theft concerns in closing stores and placing goods in locked cases," said CCJ Research Specialist Ernesto Lopez, co-author of the report. "Far better data from law enforcement and the retail industry is needed to help strengthen our grasp of shoplifting trends. For now, it's unclear if the increase is a result of increased shoplifting, increased reporting from businesses to police, or a combination of both."
Organized retail theft
Minneapolis-based Target announced in September it was closing nine stores in New York City, the San Francisco Bay Area, Seattle and Portland, Oregon, saying that theft and organized retail crime have threatened the safety of its workers and customers.
At the St. Paul Midway Target on University Avenue, a look at police calls for service categorized as shoplifting or theft shows ups and downs; it's not publicly known what the business's reporting practices are. From 2018 to 2019, shoplifting and theft reports at the store doubled from 154 to 306. Then, the numbers dropped to 133 in 2020, 101 in 2021 and 117 in 2022. This year, there were 197 calls for service for shoplifting or theft as of Monday.
Minnesota enacted a new law about organized retail theft — stealing to sell goods to other people — that took effect Aug. 1 and the Hennepin County attorney's office recently was the first in the state to bring charges under it.
Three people are accused of being associated with a retail theft enterprise. They allegedly stole more than $5,500 in clothes from Macy's stores at Mall of America, Southdale Center in Edina and Ridgedale Center in Minnetonka. They told officers they planned to sell the stolen clothing to make money to allow them to travel to Texas, the criminal complaints said.
The Council on Criminal Justice notes that organized retail theft isn't a reported offense type in official sources, so information about it can't be "reliably extracted from crime data."
Related Articles

Seven years after Minnesota hunter slain with own rifle, sheriff says investigation still active

Social media post leads to gun found at St. Paul high school, 15-year-old girl arrested

Former Mayo doctor accused of poisoning wife had complaint filed against him previously, new court docs claim

Olmsted County sheriff's deputy charged in online child sex sting

Motorist receives nearly 9-year prison sentence for high-speed crash in Arden Hills that killed physician