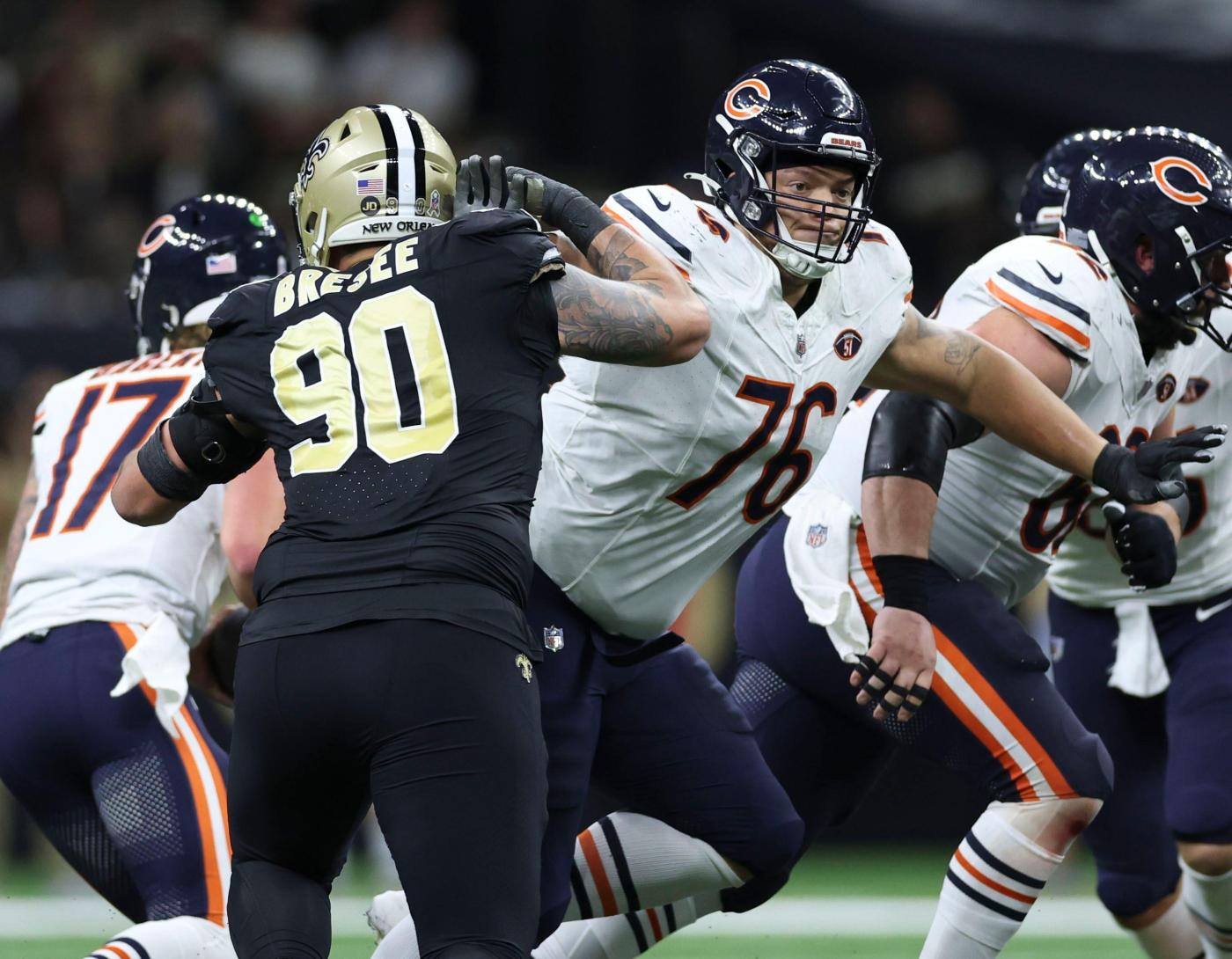 4 things we learned from the Chicago Bears, including contingency plans at QB and Velus Jones Jr.'s 'unacceptable' penalty
Coming off a 24-17 loss to the New Orleans Saints on Sunday, the Chicago Bears are now immersed in a short week as they work toward Thursday night's game against the Carolina Panthers at Soldier Field.
The Bears will be looking to get back on track against the 1-7 Panthers but will have to stay flexible as they sort through their quarterback situation. Here are four things we learned Tuesday at Halas Hall.
1. The Bears haven't offered clarity on their quarterback plans for Thursday.
They held a closed walk-through Tuesday and officially listed Justin Fields as a limited participant. Fields, who missed the last three games with a dislocated right thumb, is testing the thumb's grip strength and overall functionality.
On Monday, coach Matt Eberflus said Fields needs to pass three checkpoints to play. The first is getting clearance from the team's medical staff. Then Fields must express his own comfort and confidence in playing. Finally, Bears coaches will assess whether he can function well enough to perform at a high level.
If Fields doesn't get the green light, undrafted rookie Tyson Bagent would make his fourth consecutive start coming off a loss in New Orleans in which he threw three interceptions and lost a fumble.
Offensive coordinator Luke Getsy expressed confidence in being able to put together a plan — and a contingency plan — for Thursday that would allow the Bears to "take this thing in a few different directions."
"The guys feel really comfortable in doing that," Getsy said. "So from everybody else's perspective in that (offensive) room, other than the two quarterbacks, it's not going to feel like it's a different game plan by any means if we go one direction or the other."
2. Velus Jones Jr. was reprimanded for his fourth-quarter personal foul penalty.
Jones was flagged for a face-mask infraction with 2:45 remaining when he was engaged with Saints cornerback Isaac Yiadom during a Bears punt.
Special teams coordinator Richard Hightower called the foul "unacceptable," noting the Bears were punting from their end zone and got what he labeled a "phenomenal" kick from Trent Gill plus terrific coverage from Darrynton Evans and Roschon Johnson that limited Rashid Shaheed to a 6-yard return to the Saints 49.
But the Saints tacked on 15 yards after Jones' penalty. And even though the Bears defense came up with a stop and Saints kicker Blake Grupe missed a 47-yard field goal, Hightower was agitated by what he called "a bad penalty 20 yards away from the play."
"That is unacceptable," Hightower said. "It's an unacceptable penalty. And why? Because we pride ourselves on situational football. And in that situation, we could have had the ball at the 50-yard line against an outstanding punt returner.
"That was a beautiful punt by Trent and beautiful coverage. And it's unfortunate we have to talk about that part of the play because that's what happened. It's unacceptable."
As for Grupe's missed field goal, Hightower credited Kyler Gordon for affecting the kick as he came screaming off the left side of the line.
"For Kyler to have that pressure off the edge, I definitely believe it spooked (Grupe) and he yanked it," Hightower said. "That was outstanding and it gave us a chance to get the ball back and potentially go down and have a chance to win the game."
3. Teven Jenkins feels like he has found a groove.
Jenkins has played well since coming off injured reserve in Week 5 and continues to showcase his tenacity up front. He started the last three games at right guard and said Tuesday he is developing a valuable chemistry on that side with tackle Darnell Wright.
As for the groove Jenkins has discovered?
"I feel like I'm getting my steps down right, my hand placement's good, (I'm) rolling people off the ball," Jenkins said. "I'm just moving people A to B. It's just stuff where how I want to play (is) showing up."
Jenkins said he will be comfortable shifting back to the left side when Nate Davis returns from a high ankle sprain. On either side, he continues to impress the coaching staff with the way he has held up in pass protection and even more so with how he is setting a tone as a run blocker.
"He's firing off the rock," Getsy said. "He's playing physical. He's finishing as well as anybody on the field. All that stuff has been really good, really positive stuff for him to continue to build on."
4. Linebacker Tremaine Edmunds remains sidelined with a knee injury.
Edmunds suffered the injury in the second half of the Week 8 loss to the Chargers and was listed as a non-participant Tuesday. Other players listed as "did not participate" on the injury report were Davis, fullback Khari Blasingame (concussion) and cornerback Terell Smith (illness).
Running back Khalil Herbert, wide receiver Equanimeous St. Brown and cornerback Josh Blackwell were full participants after being designated Monday to return from IR. All three are eligible to be activated to the 53-man roster for Thursday's game.
()