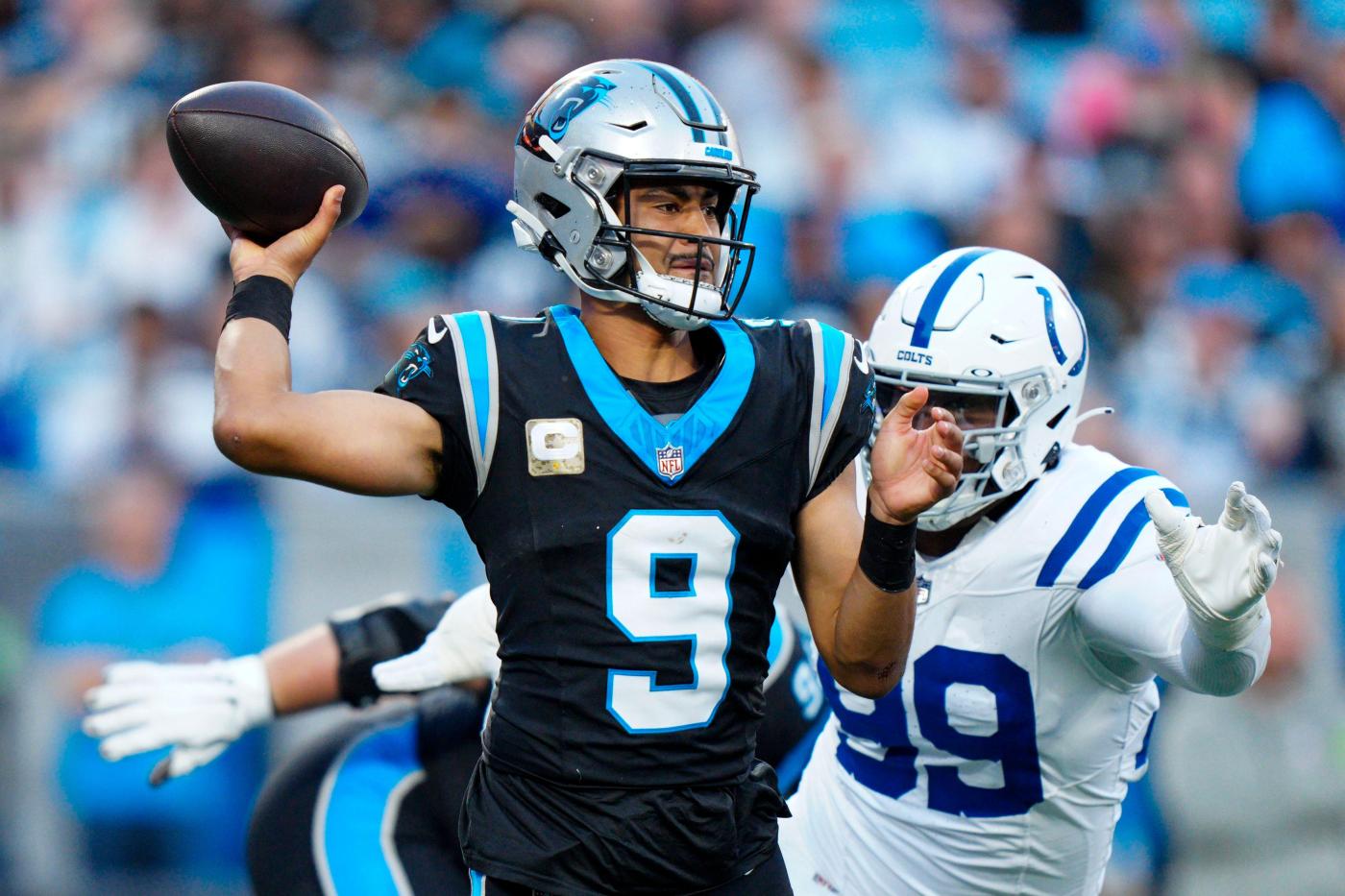 True or false: DE Montez Sweat's debut with the Chicago Bears was encouraging
The Chicago Bears lost their seventh game of the season Sunday in New Orleans, coming unraveled late and committing three of their five turnovers in the fourth quarter of a 24-17 loss to the Saints.
Rookie quarterback Tyson Bagent had three interceptions and a lost fumble in the game and no Bears player was able to deliver the game-on-the-line playmaking impact the team has lacked for the past two seasons.
The Bears will now make a quick turnaround before their Week 10 Thursday night home game against the Carolina Panthers.
As the dust settles from Week 9, Tribune writers Dan Wiederer and Colleen Kane sift through four notable topics in "true or false" format.
Kane: True or false? Montez Sweat's debut as a Bear was encouraging Sunday in New Orleans.
Wiederer: True. The "encouraging" label fits. Officially, Sweat played 41 of the team's 63 defensive snaps and flashed some of his most valuable gifts. He was credited with a pass defensed in the third quarter when he beat Saints right tackle Ryan Ramczyk around the edge and swatted Derek Carr's shoulder as he threw, forcing an incompletion and almost getting there early enough to cause a fumble. In the fourth quarter, Sweat's tackle on a 13-yard Taysom Hill run was H.I.T.S. principle teach tape with the 262-pound defensive end coming from the backside of the play and showcasing his speed to run Hill down from behind and perhaps save a touchdown. For a player who first walked into Halas Hall on Wednesday afternoon, Sweat handled himself well in his first game as a Bear and drew early raves from teammates for fitting in so quickly during such a chaotic and eventful week.
So, yes, this first game was encouraging. But now? With a $98 million contract extension? The Bears need Sweat to be productive. Every week. In fact, he needs to make an impact in every half of every game going forward. He has been rewarded with a star's salary which now brings expectations that he performs like a star for as long as he's with the Bears.
Kane: I'm glad you brought up that tackle against Hill because it was quite a play. He ran in a semicircle across the field and then closed with a huge burst over the final 5 yards to take Hill down, the kind of moment that makes you better understand the type of athlete Sweat is. And it was impressive that he and Bears coaches were able to get him ready to go for the game so quickly after just five days.
But you're absolutely right that there needs to be more ahead. The Bears paid Sweat because they need a playmaker, someone who is going to help them increase their totals of 10 sacks (ranked 32nd in the NFL) and nine takeaways (tied for 24th). The Bears got neither of those Saturday against the Saints and Derek Carr. Sweat, who joins the Bears with 35 1/2 career sacks and nine career forced fumbles, is going to be expected to provide them on a regular basis.
Wiederer: Sticking with a similar topic. True or false? Ryan Poles can feel good about what he accomplished just before and after the trade deadline.
Kane: True. I was of the belief that Poles' trade of a 2024 second-round pick to obtain Sweat made sense as long as Poles was able to sign Sweat to a long-term deal. And four days after making the trade, Sweat signed his $98 million extension with $73 million guaranteed. Would it have been better if Poles could have signed a player such as Sweat to that contract without giving up a draft pick? Of course. But Poles paid that draft capital to not miss his chance at securing an impact player for one of the Bears' biggest areas of need, reasoning the market for edge rushers could be depleted by the time free agency hits in March. The Sweat trade was a better decision than the Chase Claypool trade in 2022. Now, whether the contract was worth it is something we have to let play out.
Poles also signed nose tackle Andrew Billings to a two-year, $8.5 million extension last week, a good move to secure a player who has been key to the run defense this year. Because of those two deals, I think Poles can feel good — but maybe not great. The stalled contract negotiations with cornerback Jaylon Johnson are unfortunate, with a disconnect between the two sides. Poles should try his best to fix the situation as soon as he can.
Wiederer: At this point, Johnson may have added incentive to get to the open market of free agency to measure his true value to teams around the league. So it will be interesting to see if the Bears believe in his future enough to sweeten any possible extension offers between now and then.
As you mentioned with Sweat, Poles was certainly determined to get a jump on addressing some of this team's biggest needs before the 2024 offseason. Hence, the aggressive deal to acquire the standout pass rusher and the massive investment quickly made in Sweat via that four-year contract extension. Poles talks a lot about "moving the needle" and the hope is Sweat is the kind of player who will do just that. Poles calls him a "multiplier" and the contract reward shows faith that Sweat will become a major difference-maker and playmaker. That's a box checked.
But I'm also careful to offer much more than a nod of approval for these kinds of moves and to keep any celebration urges tempered until a profound impact is truly felt. Think back to the March trade for DJ Moore, which was justifiably lauded for addressing a need with a proven player. But the assessment of that trade also needed to account for some of the roster-building mistakes made — the drafting of Velus Jones Jr. and the trade for Chase Claypool among them — that made the addition of Moore a need-based move for the offense. Moore has been solid through his first two months. But his presence alone hasn't significantly elevated the offense or the team yet.
Kane: A big-picture question. True or false? The Bears' inability to regularly beat even middle-tier opponents is telling about the team's overall direction.
Wiederer: True. Telling and dispiriting. I was in my hotel room Sunday night catching up on all the day's highlights from around the NFL and it was wild to see so many ordinary or below-average teams having so much fun. The Vikings, who were just 1-4 when they came to Soldier Field last month, somehow stole a 31-28 win in Atlanta — their fourth consecutive victory — with an emergency quarterback in Josh Dobbs who didn't know his teammates' names, hadn't thrown a practice pass to any of his receivers and was teaching his offensive line his cadence on the sidelines during the game. The Washington Commanders, fresh off trading away a handful of key players including Sweat and Chase Young, went to New England and toppled the Patriots. The reeling Raiders, who fired general manager Dave Ziegler and coach Josh McDaniel last week, rallied behind interim coach Antonio Pierce and blasted the Giants to get back to .500 for the season. And those feisty Houston Texans, who foolishly won their way out of the No. 1 overall pick in last season's finale, improved to 4-4 behind explosive rookie quarterback C.J. Stroud. (More on that shortly.)
The Bears, meanwhile? They lost for the 17th time in their last 19 games. Read that again. Seventeen losses in the last 19 games. With stumbles this season against ordinary or below-average teams like the Packers, Buccaneers, Broncos, Vikings, Chargers and Saints, there's a mountain of evidence to show that this team doesn't have enough game-changing talent and/or strategic advantages to climb even one level in the NFL's pecking order. With eight games still remaining, this is another season that is circling the drain far too early. And yes, that's telling.
Kane: I don't think you are the only one around Chicago watching all those middle-tier matchups and wondering why the Bears haven't been able to cash in more often against a weak early-season schedule. It has been a surprise to me that the Bears haven't at least climbed into this very large tier of average teams this year. With offseason additions like DJ Moore and Tremaine Edmunds and the expected improvement of Justin Fields, I didn't think the Bears would be on pace for just four wins at the halfway point of the season. The Fields injury has made it harder to ascribe big-picture meaning over the last few weeks though. Backup quarterback Tyson Bagent has looked good at times and also has made too many mistakes, as you might expect from a rookie, and the Bears team around him hasn't been good enough to help make up for such errors.
But the big question as we consider the direction this team is headed: What will happen when Fields returns? Will he pick up the progress he showed in a couple of games this year and elevate this Bears team? Will his thumb injury hinder him at all as he tries to get back on track? And what if he and the Bears show more inconsistency? You can't pin the state of this team entirely on Fields, but the answers certainly will play a big part in how the rest of the season plays out.
Wiederer: One more on Poles. True or false? Bryce Young's early-season struggles for the Panthers validate Poles' decision to trade away the No. 1 pick last spring.
Kane: False. And I say that for a few reasons but mostly because I think the verdict is not something that can be determined yet. On Sunday, in a loss to the Indianapolis Colts, Young threw three interceptions, including two pick-sixes to Colts cornerback Kenny Moore. Young has had his struggles while throwing for 1,375 yards and eight touchdowns with seven interceptions, 26 sacks and a 1-6 record. But he still is just seven games into his career and should be given more time to grow and develop. Young also wasn't the only quarterback Poles could have picked at No. 1. He could have taken C.J. Stroud, whom the Houston Texans selected No. 2 in this year's draft. Stroud just set NFL rookie records as he threw for 470 yards and five touchdowns with a 147.8 passer rating in a win against the Tampa Bay Buccaneers.
And there's even more to consider when evaluating Poles' decision to stick with quarterback Justin Fields for this season and trade that No. 1 pick for DJ Moore and some draft picks. How will the rest of Fields' 2023 season play out? What will be the full scope of Moore's impact in Chicago? What will Poles do with the 2024 first-round pick he acquired from the Panthers in the trade? We are still a long way away from being able to properly evaluate the decision.
Wiederer: It's hard to disagree with any of that. And we need to watch the quarterback situation play out a little longer to truly know whether the Bears made a sound decision or a significant error. Poles said last winter that he'd have to be "blown away" to draft one of the Class of 2023 quarterbacks and pivot off Fields. And the early March trade with the Panthers cut short the Bears' evaluation opportunities late in the pre-draft process.
Sticking with Fields made sense given the flashes he showed in 2022 and the guesswork involved in trying to identify potential stars at quarterback in the draft class. But if Fields isn't part of the team's plans in 2024 and if Stroud or Young emerge as stars for their respective franchises, the second-guessing will be inevitable.
Stroud's explosion in the first eight games of his rookie season has been impressive. In eight starts as a rookie, he has already thrown for more yards than Fields did in 15 starts in his second season. He sure looks like the real deal. And when the Bears landed the No. 1 pick for the 2023 draft, they had the ability to choose any player in the class to change the fortunes of their franchise. In short, the moves they made with that No. 1 pick will continue to be judged over time and contextualized properly.
()