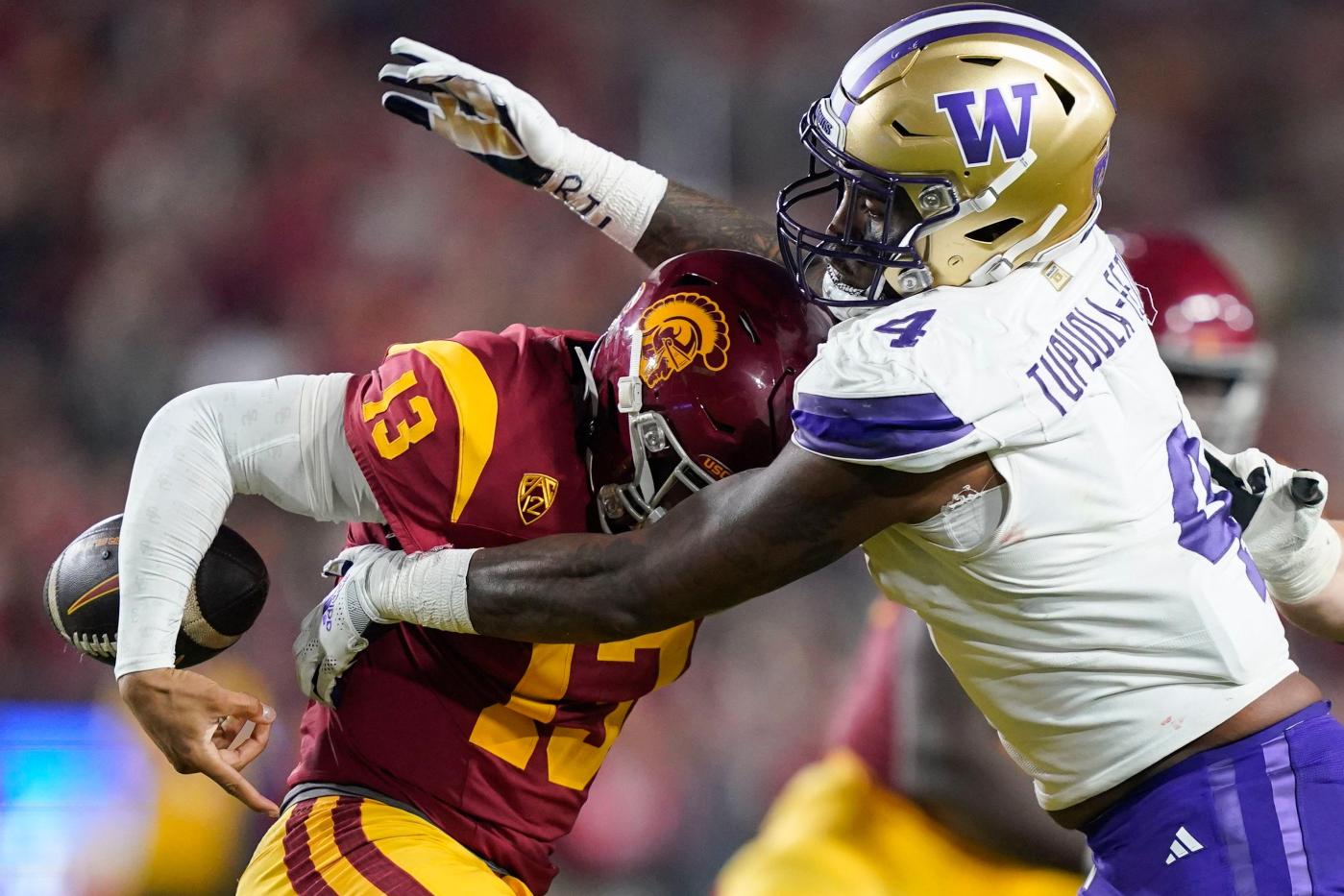 Column: USC quarterback Caleb Williams can cry if he wants to
In Saturday's Top 25 college football matchup between Washington and USC, quarterback Caleb Williams — a past Heisman Trophy winner and projected 2024 NFL draft first-round pick — passed for 312 yards and three touchdowns for the Trojans (7-3, 5-2 Pac-12) in the 52-42 loss.
He was strip-sacked late in the second quarter and three plays later, the Huskies went up 35-28 before the half. It was the fifth time in the last six games the Trojans defense gave up at least 40 points.
After the game, Williams, 21, was shown sitting on a railing in the stands and embracing his mother with his face covered by a poster. He was visibly overcome by emotion, likely from the frustration of seeing his conference championship hopes dissipate despite his own best efforts. As he cried in his mother's arms, the national broadcast cameras stayed there for a minute as ABC announcers Chris Fowler and Kirk Herbstreit, in tones suitable for the situation, provided context to what Williams could be feeling.
Disappointment, while not one of the more fun emotions, is something we all experience. You learn to live with it. Hopefully, you grow from it. But it comes. And sometimes it comes despite how hard we may have worked. It doesn't come alone and it can bring along any variety of feelings, including but not limited to anger, self-doubt and sadness.
To some viewers, Williams' vulnerability should've been saved for the locker room, far away from the cameras and the eyes of others. While I would agree maybe it wasn't a time for cameras, Williams should be allowed to cry if he wants to — and so should the rest of us.
Losing sucks. Everyone knows it, from fans to athletes.
Williams transferred to USC after coach Lincoln Riley left Oklahoma to lead the Trojans following the 2021 season. It was a move the QB made because of his relationship with Riley and their desire to win together. In the two seasons since, they haven't been able to win a Pac-12 conference championship and now their hopes for this year are gone after Saturday's loss.
Crying is a perfectly normal response to that and while I wasn't surprised to see those types of reactions, I humbly ask you to reconsider your stance if you don't think it is.
When a team wins a championship and players cry, no one cares. No one asks them to go do it somewhere else. We simply don't because we understand the joy of seeing the results of hard work. We understand sometimes people can be so overcome with joy that they cannot contain it, and crying can be an expression of it.
We watch athletes yell, chest bump, chant and cheer as they compete. We should be OK with the other side too. The impact of our passion hits us all in different ways. A good cry can be cathartic, cleansing. Encouraging others, or ourselves, to bottle up feelings and save them for another time keeps us emotionally unintelligent.
As a society, we should have positive responses to seeing other people's emotions. If Williams' reaction made you uncomfortable, perhaps that's something to think about and explore. We should welcome him being comfortable enough with how he feels to let it out in a healthy way. How can we encourage young people to take care of their mental and emotional wellness if we also tell them there is shame in crying?
A few months ago, I wrote about the emotional connection fans have to sports. We would be remiss if we didn't also acknowledge athletes have those connections as well.
College athletes are playing for their futures. They're living their dream while chasing another and doing it in front of thousands of fans each week. Fans who sometimes can be awful because of a mistake made on the playing field.
"I want to go home and cuddle with my dog and watch some shows," Williams said when asked how he felt after yet another big performance wasn't enough.
"Like, we lost the game," he added. "I work hard throughout months, years to have big games like this, try and go win and play your best, each and every one of us. We came out with a loss today, so emotionally I want to go home and I want to play with my dog."
Who among us hasn't?
()