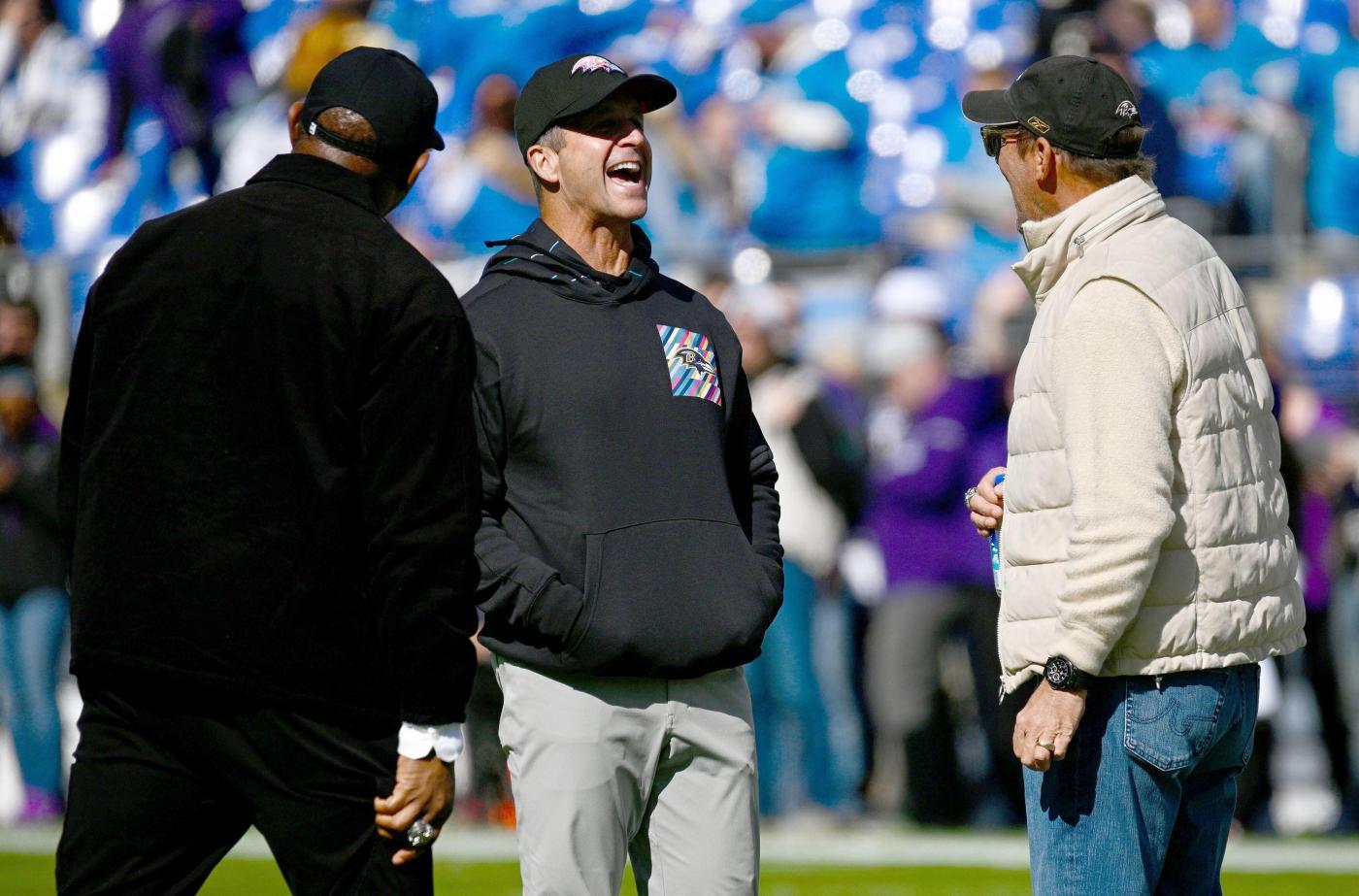 Five things we learned from the Ravens' 38-6 win over the Detroit Lions
The Ravens met their greatest test of the season with their best performance, beating the Detroit Lions, 38-6, thanks to imaginative offense and a vicious pass rush.
Here are five things we learned from the game.
This was the complete effort the Ravens had been after
They had chased this feeling.
The Ravens came into this season believing they were designed for greatness. For six weeks, however, every step in that direction was undercut — by injury, by carelessness, by lack of imagination. They outplayed each opponent, but their record, solid as it was, did not reflect this.
Tight end Mark Andrews called them a "sleeping giant."
They knew they could not afford to be their own worst enemies against the Lions. Strange as it sounds to fans who have followed football for the past 60 years, no team was playing better than Detroit on both sides of the ball. Every metric said a new NFL power had roared forth from the Motor City.
The Ravens, by contrast, seemed like an afterthought in discussions of possible Super Bowl contenders. They did not have a signature win to push them to the forefront.
Now, they do.
The score, against an opponent that had won each of its past four games by at least two touchdowns, was impressive enough. But the Ravens did so many things so well. That's what will resonate as we consider their potential going forward.
Their ballyhooed receivers dashed into open spaces. Their big men owned both lines of scrimmage. They shook the efficiency right out of the Lions' passing game with pressure. They finished each relentless drive in the end zone. Lamar Jackson was equal parts sharpshooter and puppet master.
Lions coach Dan Campbell put it more succinctly: "They kicked our [butts]. It's a credit to them."
Was it a grand statement? "We're just going to define it in terms of what we think we're capable of playing like," coach John Harbaugh said. A good answer.
Did the Ravens become a closer team in London, sifting through the ashes of their terrible collapse against the Pittsburgh Steelers? Several players suggested they came back from their overseas trip with more cohesion and purpose.
"I can tell you right now, the focus throughout the week — in walk-throughs and meetings, players asking questions, clarifying what needed to be done, things that need to be fixed — when you can do that as a collective group, you know you're always striving to get better," right tackle Morgan Moses said.
Many teams take a bye to recover from the long journey, but the Ravens were too concerned about the Lions, 5-1 thanks to an efficient offense and a punishing defense, to worry about jet lag. They knew that if they did not play with purpose, they could be embarrassed. Instead, they did the embarrassing.
The giant stayed wide awake for 60 minutes.
Execution matched design on a pristine day for Todd Monken's offense
Here, finally, the Ravens brought to vivid life the vision that had danced in fans' heads since Monken replaced Greg Roman as offensive coordinator.
Pass fed into run, fed back into pass. Every trick produced magic. Jackson had as much time and as many free targets as he needed.
The Lions had allowed 4.7 yards per play over their first six games. The Ravens averaged 9.6 in the first half. Jackson's full-game high coming in was 237 passing yards. He threw for 255 before halftime. Only his botched exchange with running back Justice Hill kept the Ravens from scoring on their first five drives.
Harbaugh gave Monken and his staff a game ball afterward.
"We took advantage of what Todd saw," Andrews said. "He called a really good game."
Jackson made a sharp read to get their initial drive going, pulling up on what looked like a run and flicking the ball to Odell Beckham Jr. for 11 yards. On the very next play, Zay Flowers found a vast opening in the middle of Detroit's zone, and Jackson found him for 46 yards. The Ravens were in danger of stalling in the red zone, as they had too often over the previous two weeks, but Harbaugh went for it on fourth-and-1, and Jackson scored easily off a bootleg.
By their third drive, the Ravens felt comfortable digging deep into their bag. Fullback Patrick Ricard rumbled 28 yards after Jackson found him with no defender in sight. Rookie running back Keaton Mitchell, playing the first offensive snaps of his career, lined up in the slot, then motioned toward Jackson to take a jet sweep for 9 yards.
The fourth time they had the ball, it was a running back party, with Gus Edwards and Hill gashing the Lions for gains of 20 and 27 yards, respectively.
On the Ravens' first drive of the second half, Jackson drew the Lions to him with the threat of a run, then lofted the ball to Edwards, who had run behind the entire defense, for an 80-yard gain to set up another touchdown. It was a nifty play that leveraged Jackson's best qualities, though he hinted there was improvisation involved.
"We had a success with it," Jackson said with an eyebrow raised. "So I'm gonna say it was schemed up."
Campbell watched Jackson toy with his defense in a way no quarterback, not even Patrick Mahomes, had all season. "Lamar beat us," he said. "He hammered us with his arm. He threw the ball extremely well. He ran when he needed to, and we did not handle it well."
Monken would be the first to say he merely sets up the canvas on which Jackson performs his artistry. Credit is irrelevant. Both men worked at their highest levels against Detroit.
The offensive line deserved its own game ball
Monken's designs could not have sprung to life if Jackson had no time to orchestrate them against a rugged Detroit front. He frequently had eons to dance around, waiting for a receiver to pop open.
The Lions, fifth in pass DVOA through six games, finished with no sacks and one quarterback hit. Their rising superstar, defensive end Aidan Hutchinson, hardly got near Jackson. You don't get much cleaner than that.
"Ten out of 10," Andrews said when asked to grade the offensive line's performance.
They had foreshadowed this effort with a stellar pass blocking performance in London against the Tennessee Titans. All five starters were healthy for the second week in a row, vital for a unit that depends on chemistry more than any other on the team.
"We're jelling, man," Moses said. "That's the part of offensive line, right, you've got to grow; you've got to jell. We operate as five, not as one individual. When Tyler [Linderbaum] gets up there and gives us the calls, and we're all in one sync, we can play a lot faster."
With five sacks against a top offensive line, the Ravens showed their pass rush can't be called a fluke
The Ravens came in tied for the league lead in sacks. Detroit's offensive line had pass blocked about as well as any in the league.
Defensive coordinator Mike Macdonald attacked this problem with his usual array of stunts and simulated pressures, at times loading his pass rushers on one side to create mismatches. His tactics worked like a charm, fueling talk that he will be a head coaching candidate sooner rather than later. The Ravens put immediate heat on Jared Goff, one of the league's most accurate passers when he's in rhythm.
"Mike [Macdonald] reiterated all the time throughout the week that if you startle Goff early, he starts to get panicky," defensive tackle Justin Madubuike said. "That's exactly what happened."
Madubuike sacked Goff to close out Detroit's first drive, continuing his quiet ascent as one of the league's most productive interior pass rushers. Cornerback Arthur Maulet picked up his second sack in the past three weeks off a blitz the Lions simply did not pick up. Odafe Oweh dropped Goff in his first game back from a bad ankle sprain. Kyle Van Noy, an astute free agent addition prompted by the injuries to Oweh and David Ojabo, picked up his second and third sacks of the season.
In this case, Harbaugh did not want the kudos going to his staff or the scheme. "Just give the guys credit," he said. "Start talking about them."
It's a fair point. Just because the Ravens do not have a Myles Garrett or a T.J. Watt (or a No. 2 overall pick such as Detroit's Hutchinson) does not mean they lack talented pass rushers. They have a lot of them, from Madubuike on the interior to Van Noy, Oweh and Jadeveon Clowney on the edges to Patrick Queen at inside linebacker to half the secondary. Their threat does not come from one point but from many, and opponents have yet to discover a counter. Only in their Week 2 win over the Cincinnati Bengals did they pile up fewer than three sacks. They have done it against so-so offensive lines and excellent ones.
Analysts looked at this defense before the season and saw the potential for mediocrity, noting a lack of proven talent on the edges and suspect depth in the secondary. Well, the Ravens had allowed 4 yards per pass attempt coming in, and they just rattled one of the hottest quarterbacks in the sport. Questions answered.
Now that the Ravens played the game they've chased, they have to forget it
This performance evoked memories of two others from earlier in Jackson's career.
The first was the Ravens' 45-6 annihilation of the Los Angeles Rams on "Monday Night Football" in which they rolled up more than 400 yards before halftime. That was the apotheosis of their 14-game winning streak to close out the 2019 regular season. The other, from 2021, was their 34-6 beatdown on the Los Angeles Chargers, who arrived in Baltimore 4-1, riding a wave of Justin Herbert hype. That victory did not foreshadow a wondrous streak; they lost 41-17 to the Cincinnati Bengals the next week.
The point is that for now, we should not treat this as anything more than an exceptionally good week. We know the Ravens are good enough to run away from a quality opponent, but they'll have to show they can do it twice.
They're well aware, hence the lack of euphoria from Jackson and his mates in the wake of their masterpiece. Asked why he wasn't bubbling over, Jackson said, "I'm all right with winning, but still it's [the] regular season. We made strides for improvement last week and earlier in the season. I believe we did, but it's just one regular-season game."
They will be heavily favored when they travel to Arizona to play the Cardinals next weekend, but they need only look back to their squandered opportunities against the Steelers and the Indianapolis Colts to remind themselves how little that means.
Harbaugh likes to say the story of the NFL changes every week, and it's a message his team takes to heart. They've answered questions about moving on from dreary weeks. Now, they must put a splendid one behind them.
"There's a lot of things we still think we can better at, and that's the beauty of it, right?" Moses said. "We fixed some things that we lacked last week in the red zone. Every week, there's something we've got to work on."
Week 8
Ravens at Cardinals
Sunday, 4:25 p.m.
TV: CBS
Radio: 97.9 FM, 101.5 FM, 1090 AM
()