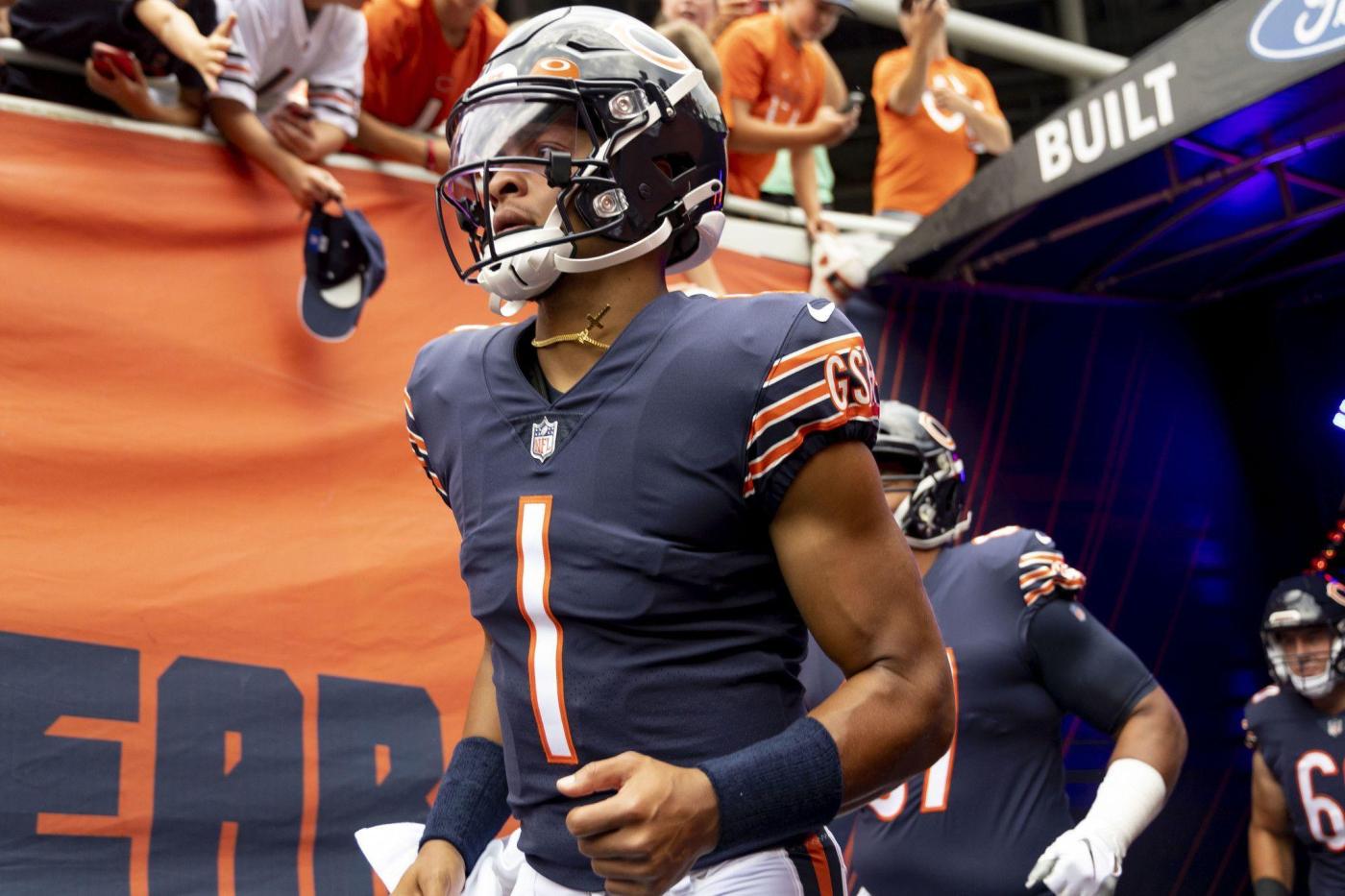 Chicago Bears Q&A: What would Tyson Bagent have to do to keep the starting QB job? Could they get an offer for Jaylon Johnson they couldn't refuse?
The Chicago Bears head to Southern California this weekend for a "Sunday Night Football" game against the Los Angeles Chargers, fresh off a dominant 30-12 home victory over the Las Vegas Raiders.
Not surprisingly, after rookie quarterback Tyson Bagent's solid performance in the win, many of the questions in Brad Biggs' weekly Bears mailbag are about Bagent and his potential upside.
Why is everyone so quick to pigeonhole Tyson Bagent as a good backup? — @kastri7x
No one whose opinion matters is pigeonholing Bagent. Maybe that's a talking point after the rookie's first career start in Sunday's victory over the Raiders. But inside the building and around the league, evaluators don't look at a player like Bagent and put him in a box or categorize him. Yes, it's possible front-office types might look at him and say his skill set profiles as a backup, but no one puts a ceiling on a player at any position whom they don't have much tape on and haven't seen play a lot.
We can debate for an hour what trajectory Bagent's career will take from here as he prepares for his second start Sunday night against the Chargers at SoFi Stadium, but we're only guessing. We can make logical comparisons based on Bagent's strengths and weaknesses, but he hasn't played enough to truly define what he's good at and where his game needs improvement.
Society tends to want to make snap judgments, and that's not the world NFL front-office executives and coaches live in. The debate could go on for quite some time. Look at Justin Fields. He has 31 career starts and there is still lively conversation on both sides about where his career will go from here. Let's see what Bagent can do.
I've never seen a more impressive NFL debut by a rookie QB than what Tyson Bagent did on Sunday. Have you? — @tmacnam
I'm not taking anything away from Bagent, who completed 21 of 29 passes for 162 yards and one touchdown in a turnover-free performance, when I say you can easily compile a list of debut starts that exceed that.
On Sept. 11, 2011, Cam Newton broke onto the scene as a superstar for the Carolina Panthers in the season opener at Arizona. Newton completed 24 of 37 passes for 422 yards with two touchdowns and one interception and ran for a touchdown in a 28-21 loss. Bears co-director of player personnel Jeff King had a 48-yard touchdown reception for the Cardinals in that game, but Newton was the star of the show.
A year later, Washington quarterback Robert Griffin III debuted to great fanfare in a 40-32 victory on Sept. 9 in New Orleans. He completed 19 of 26 passes for 320 yards with two touchdowns and no interceptions and ran for 42 yards.
The Cardinals' Kyler Murray passed for 308 yards and two touchdowns with one interception in a 27-27 tie with the Detroit Lions on Sept. 8, 2019.
Justin Herbert completed 22 of 33 passes for 311 yards with one touchdown and one pick in his first start for the Chargers on Sept. 20, 2020, in a 23-20 overtime loss to the Kansas City Chiefs.
If you go all the way back to 1961, Fran Tarkenton came off the bench for the Minnesota Vikings in the season opener against the Bears and completed 17 of 23 passes for 250 yards with four touchdown passes and no interceptions and ran for a fifth score in a 37-13 victory. While it wasn't a start, it was an amazing beginning to a Hall of Fame career.
As you can see, it's easy to compile a list of debuts that were more statistically impressive. Bagent did what the Bears asked him to do and led some impressive drives against the Raiders. It was a good start for him, no question.
What will Tyson Bagent have to do to keep the starting job when Justin Fields is healthy? — Dan B., Roselle
A handful of versions of this question appeared in the mailbag this week. My first reaction is we're getting a little ahead of ourselves. Bagent has one solid start to his credit and wasn't asked or forced to do a whole lot as the Bears relied on a quick passing game and a dominant running game.
Why didn't Bagent go downfield more? I think game flow sort of dictated that. The Bears were in control after building an early lead and quickly adding to it, and they weren't pressed into a lot of situations in which Bagent was required to drop back and look for something deep. Can he do that? I think so. How good will he be at it? I have no idea. But Bagent seems wired to want to play more aggressively, so I think we will see it at some point.
Coach Matt Eberflus was asked after the game if Fields was still the starter, and his immediate response was yes. That should come as a shock to no one. A coach isn't going to discuss possible depth chart changes immediately after a game. Is it possible Bagent wins the job with a better outing this week against the Chargers? I don't know. I guess there's a small chance but I wouldn't bet on it.
A likely best-case scenario for Bagent is he plays well and Fields' dislocated right thumb needs a little more time to heal and he gets another start the following week in New Orleans. If Bagent can string together three strong starts — and that's an IF considering the history of this offense — then the Bears probably have a discussion, especially entering a short week with a Thursday game at Soldier Field on Nov. 9 against the Panthers.
Never say never, but I still envision the Bears turning back to Fields when he's healthy. But they have to play the games, and the results will give us a much better clue.
The decision to remove Tyson Bagent for the final play of the first half Sunday seems very odd, something you might see at the college level but almost never in the NFL. I recall years ago wide receiver Marty Booker being moved to QB in a similar situation but only because Jim Miller's elbow was so sore that he wasn't even taking any practice reps during the week. Seems like this move just raises unnecessary questions, and they would have been better served just taking a knee or calling a screen. Were you surprised by this, and having watched Bagent in practice, is his arm so weak that they would need to make that change? — Tom N., Dayton, Ohio
It was surprising from the standpoint that you don't see in-game quarterback changes very often. The Bears were on their 46-yard line with two seconds remaining and facing fourth-and-17. An 8 mph wind at kickoff was blowing to the north — they were heading toward the south end zone — so they decided to insert Peterman. Could Bagent have gotten it to the end zone? I think he probably could have with a clean pocket and time to throw. Peterman was pressured and rolled out of the pocket to his left, then wound up fumbling out of bounds when he was hit. The Bears obviously believe he has a stronger arm for Hail Mary situations.
I know arm strength was one question about Bagent when he was coming out of Shepherd. It's never going to be a plus for him, but arm strength is a little ways down the checklist of things you're seeking in a passer. We've seen oodles of quarterbacks with cannons for arms fail miserably in the NFL. Anticipation, accuracy, pocket poise — all of those things are more important. Let's see what Bagent does with more opportunities in which he's asked to throw to the second and third levels of the defense.
What would be an offer the Bears couldn't turn down for Jaylon Johnson? — Marc B., Nashville Tenn.
I don't think an offer for Johnson will emerge that would make sense for the Bears unless a team deems cornerback an absolute need. Maybe the Buffalo Bills or Dallas Cowboys would be in the market for coverage help, but Bears general manager Ryan Poles wouldn't get a second-round pick like he did a year ago for linebacker Roquan Smith, who also was on an expiring contract. Maybe the Bears would be offered a fourth-round pick, and even that would require a team to be almost desperate for help.
If the Bears fail to re-sign Johnson after the season, they figure to be in line for a fourth-round compensatory pick in 2025. That's, of course, if they don't go big themselves in free agency, which might happen. I think trading Johnson would send a bad message to the locker room. He's one of the better players on the defense and the Bears are playing better on that side of the ball. They want this young roster to experience success through the remainder of the season, and swapping Johnson for a mid-round pick would undermine that goal.
I'd say there is a better chance Johnson is extended before the end of the season than traded, though I don't know the chances of that. The sides would have to find common ground, and with 10 games remaining, Johnson probably would have to receive something pretty close to what he is seeking to forgo free agency. In-season contract negotiations are always delicate, and the player gains more leverage as the season plays out and he gets closer to free agency.
How much of the improvement in the rushing attack came from the Raiders defense having to defend the pass and not crowd the line of scrimmage? I know there weren't deep passes, but that seemed to be a function of an early lead and not needing to go deep. — John R.
I don't think that played a lot into the success of the running game, which wasn't new. The Bears ran for 173 yards on 38 carries, and that was in line with what they accomplished in the previous three games.
162 yards, 36 carries vs. Vikings
178 yards, 32 carries at Commanders
171 yards, 31 carries vs. Broncos
The Bears did a nice job of mixing personnel against the Raiders. They ran well from heavy sets. They ran well with three wide receivers on the field. This wasn't a situation in which they repeatedly spread out the Raiders with 11 personnel (one running back, one tight end and three wide receivers). They did a little bit of everything to have a productive day on the ground with D'Onta Foreman and Darrynton Evans.
I expect the Bears to continue to be profitable running the ball for the remainder of the season. The Raiders were actually focused on stopping the run. That was their game plan as they wanted to force Tyson Bagent into more passing situations. The Bears won the battle up front.
Given his injury history and cap hit next year, is this Eddie Jackson's last year with the Bears? — @stephenclapp1
Jackson's injury history — he has a troublesome foot injury now — and his base salary for next season are the biggest indicators this could be his final season with the team. To me, it's more about cash than salary cap, especially for the Bears, who will be in an advantageous cap position again entering 2024. Jackson is due $14.05 million in base salary next season with a $100,000 workout bonus. It's unlikely the Bears would want to pay that unless he returns soon and plays lights out over the remainder of the season.
His cap hit for 2024 is $18.14 million. If he's playing at a high level, that's not a problem. But Jackson turns 30 on Dec. 10 and has missed considerable time since injuring the foot last November. He has played in three games this season, and while he provides good leadership for a young roster, your leaders need to be on the field to remain leaders. Maybe there's a scenario in which the Bears bring Jackson back at a reduced salary, but he'd have to play well for the remainder of the season and pay cut situations can be sticky.
I am not a fan of trading Justin Fields but what are the contract ramifications for the Bears and for the team that would trade for him? Would an acquiring team have to decide on the fifth-year option in his contract or does that rule no longer apply? — @rob_gonigam
Any team that traded for Fields would acquire his contract as it is written. So, yes, an acquiring team (provided the trade came before the deadline for a decision on the 2025 option, which is shortly after the draft) would have to make that decision. That fifth-year option is projected to be more than $20 million and would be fully guaranteed if executed. So, barring a turnaround in consistency when Fields gets back on the field, it seems unlikely the Bears or any other team would pick up that option.
I don't envision a situation in which the Bears would consider trading Fields before the deadline at 3 p.m. Tuesday. I definitely could see the Bears shopping Fields after the season and before the draft to a team seeking a quarterback that doesn't believe it will be in play to draft one. It's possible the Bears could get a mid-round pick in return, as Fields would be on a one-year deal if the fifth-year option was declined.
Is centre (Canadian spelling) the biggest area in need of improvement right now? — @raven65
Is it spelled "quartreback" in Canada? Or "edge rushre"?
The Bears need to address the offensive line in the offseason, and I took a deep dive into that in No. 2 in my 10 thoughts column after the victory over the Raiders. It would be a mistake to suggest center is the greatest need on the roster. There's a reason centers generally are not drafted in the first round, and many successful starters emerge from the middle rounds.
I'd like to see Justin Fields get a chance behind a better O-line, but failing that, he's such a good athlete, why not try him as a Taysom Hill-type player rather than trade him for a draft choice? — @edward_weise
You're referring to a unique situation in New Orleans, where Hill — a quarterback from BYU who signed with the Green Bay Packers as an undrafted free agent in 2017 — got into the mix on special teams with the Saints later that rookie season. The Saints had Drew Brees at quarterback and Hill wasn't going to unseat him, so they got creative and looked for ways to utilize Hill's athleticism. He returned kickoffs and covered kicks, and eventually they used him to run the ball, take occasional snaps at quarterback and play sort of a hybrid H-back/tight end role. Hill did whatever was needed to stick in the NFL.
Fields was drafted in the first round as a quarterback and no doubt identifies as a quarterback. A lot of folks posed this same question, and the problem is I don't think Fields would go for this and I wouldn't blame him at all. He's a quarterback.
Where have other teams found success going against the Chargers this year? I am surprised that they only have as many wins — two — as the Bears. — @ajlight315
The Chargers' 2-4 start is certainly a little surprising, and coach Brandon Staley said they needed to "reset" after Sunday's loss to the Chiefs. They have been particularly terrible defending the pass. They are 32nd in the league in both passing yards allowed per game (310) and yards allowed per pass attempt (8.09). Opponents have a 105.6 passer rating, which ranks 31st, ahead of only the Broncos (114.2).
While the Chargers have a formidable pass rush led by former Bear Khalil Mack and Joey Bosa, they have allowed big plays galore. That makes it interesting to see what kind of game plan offensive coordinator Luke Getsy hatches this week with undrafted rookie Tyson Bagent making his second career start. How much will Getsy ask Bagent to do knowing the Chargers have ongoing issues on defense?
Will the Bears have left tackle Braxton Jones back on Sunday? — Mike O., Owensboro, Ky.
It sure sounds like the Bears will start the 21-day window to evaluate Jones in practice with Wednesday's first practice of the week. He has missed five games on injured reserve with a neck issue. If they do start the window, and I'd lean that way, chances are decent he will start against the Chargers barring something unexpected.
()