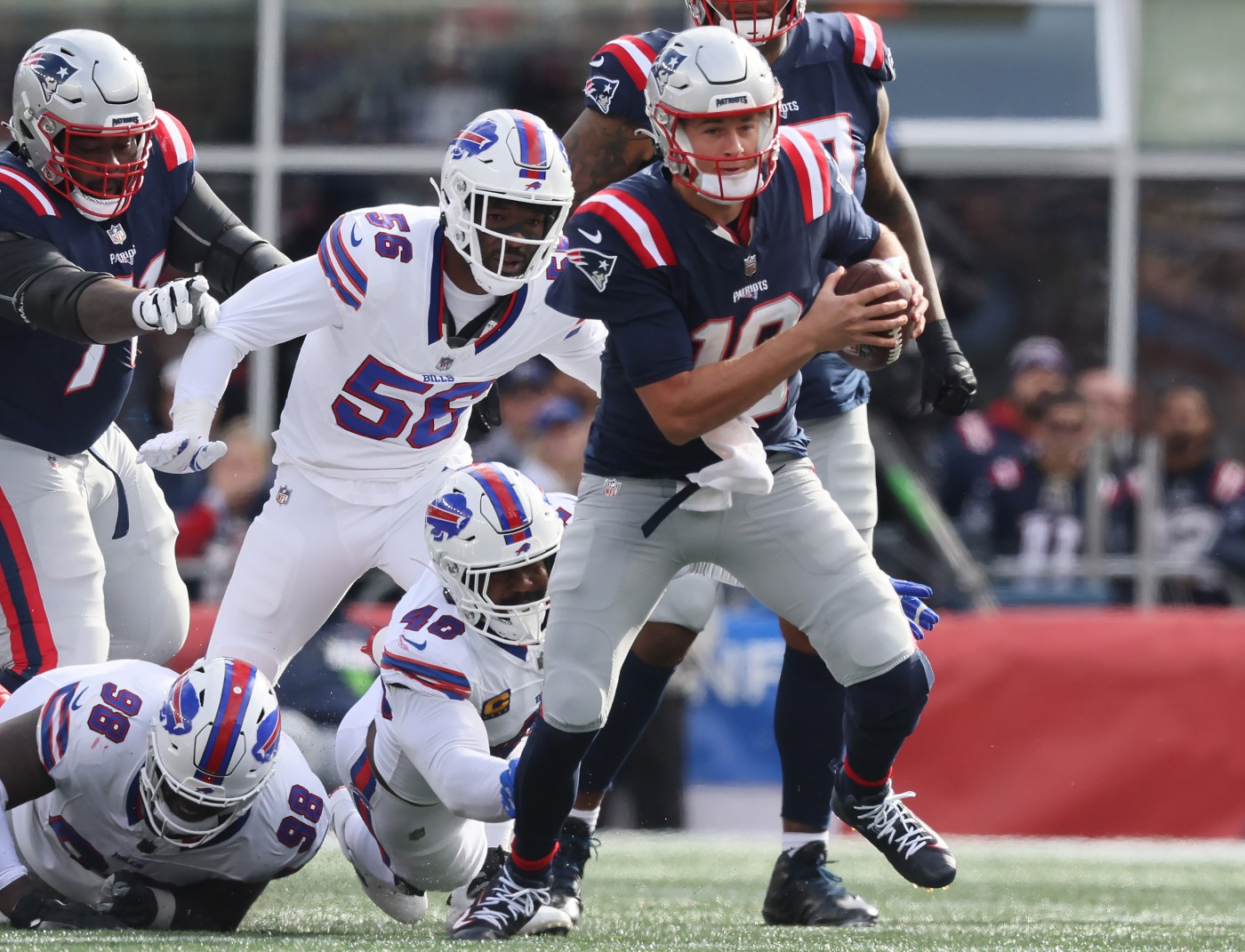 Mac Jones discloses 'word of the week' for Patriots after big win over Bills
FOXBORO — Patriots quarterback Mac Jones was unrecognizable in Sunday's win over the Bills.
After struggling mightily over the first six weeks of the season, including two mid-game benchings, Jones finally looked like the player who showed so much promise as a rookie in 2021.
Jones really didn't have a signature win on his resume through two-plus seasons in the NFL, and Sunday's win represented that. It featured just his second career fourth-quarter comeback and game-winning drive and his first since 2021.
It helped, of course, that the offense as a whole played much better Sunday. Jones was pressured on just seven dropbacks and was 4-of-4 for 42 yards with a touchdown on those plays. And the return of rookie slot receiver Demario Douglas gave the passing game a spark.
Related Articles

Bill Belichick divulges Patriots' future plans for Malik Cunningham

How Patriots could fill open spot on 53-man roster created by Malik Cunningham cut

Patriots and Revs join to help kids kick cancer

Patriots release backup QB, DL Trey Flowers on Tuesday

Will Patriots stick with Mike Onwenu at right tackle?
So, how do the Patriots make sure they now replicate that Sunday when they travel to Miami to play the Dolphins?
One way is staying consistent.
"That's really the word of the week for us," Jones said. "How can we do it over and over again and put good days and good plays together is what I'm going to say."
Jones has faced plenty of criticism — most of it fair — for his performance this season. After he was benched in Weeks 4 and 5 after the score got out of hand in losses to the Cowboys and Saints, even internally people within the organization were wondering how head coach Bill Belichick could stick with Jones as the starting quarterback.
The Patriots didn't have any better options in Bailey Zappe, Will Grier or Malik Cunningham, so Belichick stuck with Jones. It paid off in Week 7, but now the Patriots have to prove Sunday's win wasn't just an aberration.
"Really just want to build off the momentum and continue to do it," Jones said. "Do it over and over again, stick to the process, have expectations for yourself and don't pay attention to the other expectations. That's going to be big for me, and really starts in practice, right? Try to focus on how you can do it again, and how you can stack good days together, and that's going to be a very big focus for me this week."
The third-year pro has completed 66.7% of his passes this season for 1,480 yards with seven touchdowns and seven interceptions. He ranked third among qualified quarterbacks in expected points added (EPA) per play last week, fourth in success rate and eighth in completion percentage over expected. He had the second-lowest attempted air yards, however. And he still had just one big-time throw and one turnover-worthy play, per PFF's charting.
And one game ultimately doesn't prove anything. On the season, he still ranks 29th out of 33 qualified QBs in EPA per play, 18th in success rate and 25th in completion percentage over expected. He's attempted the 26th most air yards per passing attempt. He's PFF's 30th-highest graded passer.
Jones didn't attempt a single deep pass in Sunday's game, but the Patriots still generated four passing plays of 20-plus yards. They had just eight explosive passing plays coming into Week 7.
"Just want to try to do it again," Jones said. "What did we do well, and how can you replicate that. And what did we not do well? And how do we learn from it?"
Jones was asked if it's easier to prepare after coming off of a positive performance like Sunday's.
"I always talk about the process and kind of what I do each week, Monday, Tuesday, Wednesday, Thursday, Friday and then get ready for the game on Saturday," Jones said. "Regardless of what happens, it's a one-game season every week. And we understand that here, and that's important to understand, because you have to go do it every week."
Sunday's win has as much bearing on Jones' performance moving forward as the first six weeks of the season. But if the Patriots' new offensive line configuration of left tackle Trent Brown, left guard Cole Strange, center David Andrews, right guard Sidy Sow and right tackle Mike Onwenu can not only stay in place but continue to hold defenders at bay, then Jones will have much better shot at being efficient in Week 8.
Jones and wide receiver Kendrick Bourne have connected for six-plus receptions and over 60 yards in consecutive games. And Douglas has certainly earned consistent playing time moving forward.
It's possible that the Patriots have found the keys to their offensive success. But they'll have to keep proving it before anyone should believe it.