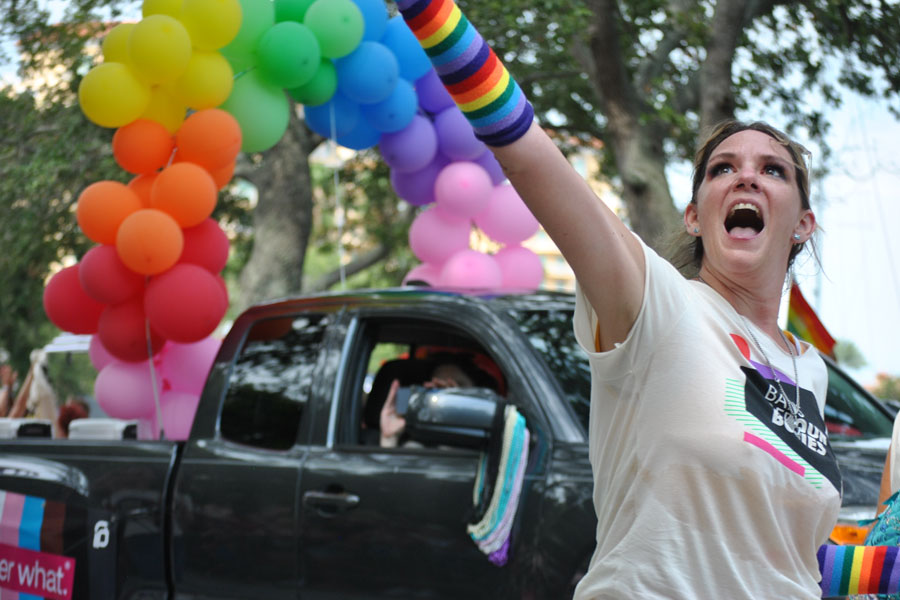 Sounds Like St. Pete Pride & Police Are Nose-Thumbing "Child Protection Act" & Siding With Drag Queens For June Event
TAMPA BAY, FL – Let me be very clear: Adult males (aka drag queens or strippers) or females strippers entertaining consenting adults in adult places is absolutely none of my business. Matters not whether they are heterosexual, homosexual, bisexual, or transsexual.
The May 5th article in the Tampa Bay Times concerning the "Child Protection Act" did not mention kids one time. What is wrong with this picture? The entire legislative proposal, bill, and law is about protecting CHILDREN.
St. Petersburg Police Chief Anthony Holloway, an assistant chief, two majors, a sergeant, an officer overseeing permitted events, police legal counsel and spokesperson Yolanda Fernandez, St. Petersburg's LGBTQ+ liaison Jim Nixon, St. Pete Pride president Tiffany Freisberg and executive director Nicole Berman, and the group's attorney attended the 30-minute meeting, the article noted.
So, not one adult expressed concern about the children. Are they pretending the legislation is targeting adult drag queens at private adult venues? Do any of these people in power even care about the kids?
My questions for law enforcement:
Did Holloway discuss why minors should not be exposed to half-naked men engaging in simulating sex acts while wearing mammoth phony breasts, thongs, and lipstick with twerking, jerking, and making obscene comments – in front of children?
Did Holloway even ask if Freisberg had a policy for appropriate attire and behaviors for drag queen participants at the Pride events with children present?
Did he discuss how some perverts, predators, and pedophiles sneak into events disguised as drag queen to sexualize children?
Is Holloway more concerned with appeasing the LGBTQ community than the developmental, mental, social, and cultural health of children?
Did he mention minors at all and the journalist did not include the info in her story?
Excerpts from the article:
St. Pete police, Pride leaders: Pride to continue as normal, with drag. Police and Pride leaders met to discuss how proposed legislation would affect Pride events if signed into law.
If you wouldn't get told to cover up at the beach, you won't be told to cover up at St. Pete Pride. That's the guidance St. Petersburg Police Chief Anthony Holloway offered St. Pete Pride organizers during a meeting Friday morning, according to the group's president, Tiffany Freisberg.
Excuse me, but do adult men at public beaches in Florida draw attention to their genitals in thong bathing suits and shake bare buns and giant fake breasts at children and families? Do beach-goers make raunchy comments about sexual organs to minors? And if so, do the police officers in St. Petersburg allow it? If this is the case, then I won't be visiting any of the beaches in your city.
St. Pete Pride president, Freisberg said "this year's Pride events will continue on as normal and will include drag performances…It's Pride as usual."
Is Freisberg implying she will disobey the forthcoming law and allow drag queens to entertain children?
Via the article, Freisberg said police are not interpreting the bill "as being specific to drag." Are the police going to ignore drag queens performing with children in the audience?
Libs of Tik-Tok, get ready to post videos.
My questions for Freisberg:
Will vendors be selling sex toys, phallic symbols/statues, lubricants, and butt plugs in the viewing vicinity of children?
Are kids invited to stuff dollar bills down the front of DQ's undergarments.
Are children allowed on stage with drag queens?
Wright, the reporter, concluded the story with a statement by Fernandez, the police spokesperson. "We prefer not to comment on the bill until we can see the version that (is) signed into law."
Smart move by Fernandez. Don't give the governor the middle finger.
Let's look at a certain advertised performance:
Join us as St. Pete Pride and the Tampa Bay Black Lesbians Group collab to bring you, "GET NUDE: Drippin' in Melanin." Dress to impress, the attire for the evening is Nudes & Earth tones to celebrate every shade of our Queer rainbow. All are welcome but we are centering the QTPOC community on this night.
Location: Savant on Second
Date & time: Jun 10, 2023, 9:00 pm – Jun 11, 2023 1:00 am
What other event is happening on June 10? Youth and Family Day. "Get Nude" did not list an age restriction.
Again, I ask the question: Did not one single adult at the aforementioned meeting verbalize any concerns, precautions, or policies for the children and adolescents?
Florida Related:
Gay Men In Florida Need To Keep Almost-Naked Bodies & Simulated Sexual Behaviors At Adult Gay Resorts – Not Public Parades & Events
Florida Gulfport Pride Advertises Drag Queen Performance For Outdoor Event On June 3 – Are Children Invited?
Will Gay Key West Pride In Florida Follow The "Protection Of Children" Legislation At June Event?
Vibrator Races, Underwear Glow Party, Dunken' Drag Brunch, BDSM, Nudity – What Is Happening At Annual Pride Parades & Events?
Militant Tampa Pride President Flips Middle Finger At "Protection Of Children Act" & Gov. DeSantis
Gay Pride Parade Canceled In South Florida After Bill To Protect Minors From Adult Entertainment Passes
Chris Caputo, Wilton Manors Commissioner, Worries About Being Charged For Drag Queens At Annual Pride Events
Florida Sen. Jones & Miami Beach Mayor Gelber Support Drag Queens Mixing With Minors
Chris Caputo, Wilton Manors City Commissioner, Calls On Drag Queens To March The Streets In "Family-Friendly" Protest
Equality Florida, It's Too Late For Drag Queens To Dress Like Grannies & Pretend Wholesomeness To Hang Out With Children
Manatee Pride & Momma Rose Drag Queen Thumb Noses At DeSantis With "Family-Friendly" Event
Pride Festival in Venice, Florida, Features Sexualized Dancing And Sex Toys With Children Present
Drag Queen In Thong, Mammoth Fake Breasts With Pasties, At Miami Brunch In Bar Holds Hand Of Young Child
"Drag Show" Performers At Orlando Venue Simulate Bloody Abortion in Front of Children
Florida: "A Drag Queen Christmas" And "All Ages Welcome" – Indoctrinating And Grooming Kids For The Holidays