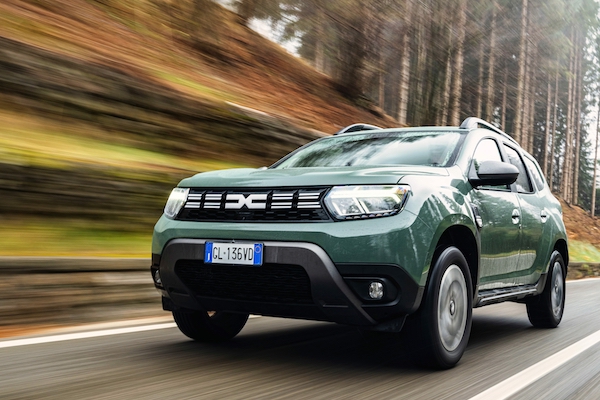 Portugal April 2023: Dacia signs first ever win, places Sandero and Duster on podium
The Portuguese new car market continues to rally back up in April at +29.1% to 16,107 units, however we are still way below the 21,121 sales of pre-pandemic April 2019. The year-to-date volume is now up 44.2% to 68,298. Dacia surges 126% year-on-year to snap its first ever win in Portugal with 9.9% share. It distances Peugeot (+31.6%) at 9.7% and still #1 year-to-date and Volkswagen (+140.7%) at #3 and accessing the #3 spot year-to-date also. Renault (+76%) and Mercedes (+56.2%) also beat the market as do Ford (+537.6%) and Kia (+37.2%) in the remainder of the Top 10. In contrast Toyota (-39.3%) and Seat (-21.3%) are hit hard. Further down, Tesla (+4600%!), Suzuki (+366.7%), Land Rover (+248.7%), Porsche (+168.9%) and Cupra (+76%) stand out. Chinese fare BYD lands at #37 with 10 sales.
Model-wise, the Renault Captur (+139.9%) soars to first place with a round 4% share and now ranks #4 year-to-date as it did over the Full Year 2022. The Dacia Sandero (+112%) is up four spots on March to #2 with the Dacia Duster (+49.4%) up 9 ranks to #3. The Dacia Jogger (+641.7%) scores the largest year-on-year gain in the Top 10 ahead of the VW T-Cross (+383.7%) and Nissan Qashqai (+262.2%). The Mercedes A-Class (+165.1%) and Renault Clio (+122.9%) also impress.
Previous month: Portugal March 2023: Peugeot 2008 reclaims control of market up 60.1%
One year ago: Portugal April 2022: Citroen C3 #1 for the first time, sales down -16.1%
Full April 2023 Top 46 All brands and Top 270 All models below.
Portugal April 2023 – brands:
| | | | | | | | | | | |
| --- | --- | --- | --- | --- | --- | --- | --- | --- | --- | --- |
| Pos | Brand | Apr-23 | % | /22 | Mar | 2023 | % | /22 | Pos | FY22 |
| 1 | Dacia | 1,589 | 9.9% | 126.0% | 6 | 4,727 | 6.9% | 106.8% | 4 | 4 |
| 2 | Peugeot | 1,556 | 9.7% | 31.6% | 1 | 7,666 | 11.2% | 35.1% | 1 | 1 |
| 3 | Volkswagen | 1,466 | 9.1% | 140.7% | 2 | 4,739 | 6.9% | 113.5% | 3 | 8 |
| 4 | Renault | 1,369 | 8.5% | 76.0% | 3 | 5,217 | 7.6% | 77.8% | 2 | 2 |
| 5 | Mercedes | 1,090 | 6.8% | 56.2% | 4 | 4,573 | 6.7% | 37.7% | 5 | 3 |
| 6 | BMW | 1,026 | 6.4% | 13.7% | 5 | 4,468 | 6.5% | 29.6% | 6 | 5 |
| 7 | Ford | 746 | 4.6% | 537.6% | 13 | 2,744 | 4.0% | 138.4% | 11 | 14 |
| 8 | Kia | 734 | 4.6% | 37.2% | 14 | 2,189 | 3.2% | 10.2% | 15 | 11 |
| 9 | Toyota | 712 | 4.4% | -39.3% | 7 | 3,935 | 5.8% | 9.8% | 7 | 6 |
| 10 | Seat | 655 | 4.1% | -21.3% | 9 | 3,027 | 4.4% | 34.4% | 9 | 13 |
| 11 | Nissan | 602 | 3.7% | 35.6% | 12 | 2,460 | 3.6% | 47.9% | 12 | 15 |
| 12 | Opel | 537 | 3.3% | 48.8% | 10 | 2,895 | 4.2% | 107.1% | 10 | 12 |
| 13 | Citroen | 478 | 3.0% | -58.6% | 8 | 3,179 | 4.7% | -4.6% | 8 | 7 |
| 14 | Hyundai | 466 | 2.9% | -20.2% | 16 | 2,130 | 3.1% | -15.1% | 16 | 9 |
| 15 | Audi | 375 | 2.3% | 2.2% | 18 | 1,477 | 2.2% | 15.8% | 18 | 16 |
| 16 | Volvo | 352 | 2.2% | -8.6% | 17 | 1,542 | 2.3% | 7.5% | 17 | 17 |
| 17 | Fiat | 344 | 2.1% | 30.3% | 15 | 2,196 | 3.2% | 44.2% | 14 | 10 |
| 18 | Skoda | 298 | 1.9% | 30.7% | 19 | 1,145 | 1.7% | 75.1% | 19 | 19 |
| 19 | Tesla | 282 | 1.8% | 4600.0% | 11 | 2,379 | 3.5% | 327.9% | 13 | 18 |
| 20 | Mitsubishi | 268 | 1.7% | -6.3% | 23 | 608 | 0.9% | -18.9% | 22 | 21 |
| 21 | Cupra | 227 | 1.4% | 76.0% | 20 | 779 | 1.1% | 82.9% | 20 | 22 |
| 22 | Mini | 142 | 0.9% | 2.9% | 22 | 632 | 0.9% | -7.3% | 21 | 20 |
| 23 | Land Rover | 136 | 0.8% | 248.7% | 26 | 467 | 0.7% | 121.3% | 24 | 28 |
| 24 | DS | 117 | 0.7% | 44.4% | 25 | 419 | 0.6% | 42.0% | 26 | 24 |
| 25 | Jeep | 87 | 0.5% | -14.7% | 24 | 442 | 0.6% | 27.4% | 25 | 23 |
| 26 | Porsche | 86 | 0.5% | 168.8% | 27 | 322 | 0.5% | 24.8% | 28 | 26 |
| 27 | MG | 77 | 0.5% | new | 28 | 323 | 0.5% | new | 27 | 40 |
| 28 | Mazda | 76 | 0.5% | 40.7% | 21 | 551 | 0.8% | 172.8% | 23 | 25 |
| 29 | Lexus | 29 | 0.2% | 3.6% | 31 | 155 | 0.2% | 14.0% | 30 | 30 |
| 30 | Suzuki | 28 | 0.2% | 366.7% | 32 | 113 | 0.2% | 253.1% | 34 | 33 |
| 31 | Alfa Romeo | 27 | 0.2% | 200.0% | 29 | 157 | 0.2% | 348.6% | 29 | 32 |
| 32 | Honda | 25 | 0.2% | -74.0% | 34 | 129 | 0.2% | -52.2% | 31 | 27 |
| 33 | Smart | 24 | 0.1% | -31.4% | 35 | 119 | 0.2% | -4.8% | 32 | 31 |
| 34 | Auto Ribeiro | 17 | 0.1% | new | 36 | 30 | 0.0% | new | 36 |  – |
| 35 | Polestar | 13 | 0.1% | new | 30 | 106 | 0.2% | new | 35 | 34 |
| 36 | Jaguar | 11 | 0.1% | -76.6% | 33 | 115 | 0.2% | -23.3% | 33 | 29 |
| 37 | BYD | 10 | 0.1% | new |  – | 10 | 0.0% | new | 44 |  – |
| 38 | Aston Martin | 5 | 0.0% | 150.0% | 41 | 21 | 0.0% | 50.0% | 38 | 38 |
| 39 | Ferrari | 5 | 0.0% | 66.7% | 42 | 16 | 0.0% | 45.5% | 41 | 39 |
| 40 | Man | 5 | 0.0% | n/a | 43 | 11 | 0.0% | 1000.0% | 43 | 43 |
| 41 | Aiways | 4 | 0.0% | n/a | 37 | 28 | 0.0% | 1300.0% | 37 | 37 |
| 42 | Bentley | 4 | 0.0% | -42.9% | 38 | 20 | 0.0% | -4.8% | 39 | 36 |
| 43 | Maserati | 3 | 0.0% | 0.0% | 39 | 19 | 0.0% | 5.6% | 40 | 35 |
| 44 | Lamborghini | 2 | 0.0% | n/a | 40 | 12 | 0.0% | 300.0% | 42 | 41 |
| 45 | Maxus | 1 | 0.0% | n/a |  – | 1 | 0.0% | n/a | 48 | 45 |
| 46 | Caterham | 1 | 0.0% | n/a |  – | 1 | 0.0% | n/a | 49 |  – |
Portugal April 2023 – models:
| | | | | | | | | | | |
| --- | --- | --- | --- | --- | --- | --- | --- | --- | --- | --- |
| Pos | Model | Apr-23 | % | /22 | Mar | 2023 | % | /22 | Pos | FY22 |
| 1 | Renault Captur | 650 | 4.0% | 139.9% | 6 | 1,839 | 2.7% | 91.0% | 4 | 4 |
| 2 | Dacia Sandero | 619 | 3.8% | 112.0% | 8 | 1,851 | 2.7% | 97.5% | 3 | 2 |
| 3 | Dacia Duster | 472 | 2.9% | 49.4% | 12 | 1,283 | 1.9% | 45.3% | 10 | 9 |
| 4 | Peugeot 208 | 449 | 2.8% | 22.7% | 2 | 2,200 | 3.2% | 27.1% | 2 | 3 |
| 5 | Renault Clio | 419 | 2.6% | 122.9% | 19 | 1,494 | 2.2% | 61.9% | 8 | 5 |
| 6 | VW T-Cross | 416 | 2.6% | 383.7% | 31 | 852 | 1.2% | 98.1% | 23 | 32 |
| 7 | Mercedes A-Class | 387 | 2.4% | 165.1% | 10 | 1,453 | 2.1% | 85.3% | 9 | 8 |
| 8 | Peugeot 308 | 370 | 2.3% | 62.3% | 21 | 1,227 | 1.8% | 84.8% | 13 | 11 |
| 9 | Dacia Jogger | 356 | 2.2% | 641.7% | 22 | 1,058 | 1.5% | 529.8% | 20 | 55 |
| 10 | Nissan Qashqai | 355 | 2.2% | 262.2% | 9 | 1,258 | 1.8% | 203.9% | 11 | 17 |
| 11 | Toyota Yaris | 346 | 2.1% | -38.9% | 17 | 1,020 | 1.5% | 10.4% | 21 | 12 |
| 12 | Ford Focus | 331 | 2.1% | 1738.9% | 20 | 1,174 | 1.7% | 441.0% | 14 | 34 |
| 13 | Peugeot 2008 | 288 | 1.8% | 21.0% | 1 | 2,327 | 3.4% | 30.9% | 1 | 1 |
| 14 | Seat Ibiza | 287 | 1.8% | -8.3% | 11 | 1,141 | 1.7% | 38.6% | 17 | 16 |
| 15 | Kia Stonic | 283 | 1.8% | 48.9% | 23 | 750 | 1.1% | 21.8% | 26 | 20 |
| 16 | Ford Puma | 268 | 1.7% | 624.3% | 64 | 677 | 1.0% | 16.3% | 29 | 19 |
| 17 | Peugeot 3008 | 256 | 1.6% | 3.6% | 13 | 1,162 | 1.7% | 19.4% | 15 | 22 |
| 18 | BMW 1 Series | 252 | 1.6% | 4.6% | 15 | 1,113 | 1.6% | 49.4% | 19 | 14 |
| 19 | Seat Arona | 247 | 1.5% | -33.1% | 7 | 1,586 | 2.3% | 61.0% | 6 | 13 |
| 20 | Fiat 500 | 231 | 1.4% | 7.9% | 35 | 1,142 | 1.7% | 46.0% | 16 | 10 |
| 21 | VW T-Roc | 220 | 1.4% | 66.7% | 4 | 1,242 | 1.8% | 211.3% | 12 | 30 |
| 22 | Tesla Model Y | 218 | 1.4% | 3533.3% | 5 | 1,726 | 2.5% | 464.1% | 5 | 24 |
| 23 | Mitsubishi Space Star | 212 | 1.3% | -5.8% | 49 | 441 | 0.6% | -28.2% | 44 | 40 |
| 24 | Citroen C3 | 211 | 1.3% | -64.4% | 14 | 1,131 | 1.7% | -34.7% | 18 | 6 |
| 25 | Opel Corsa | 185 | 1.1% | 35.0% | 3 | 1,556 | 2.3% | 135.4% | 7 | 7 |
| 26 | BMW 3 Series | 185 | 1.1% | 71.3% | 46 | 708 | 1.0% | 15.7% | 27 | 31 |
| 27 | VW Taigo | 185 | 1.1% | 198.4% | 28 | 682 | 1.0% | 205.8% | 28 | 45 |
| 28 | Kia Picanto | 168 | 1.0% | 1766.7% | 73 | 337 | 0.5% | 410.6% | 59 | 89 |
| 29 | VW Polo | 167 | 1.0% | 27.5% | 45 | 397 | 0.6% | 16.1% | 53 | 39 |
| 30 | BMW 2 Series | 162 | 1.0% | 52.8% | 26 | 656 | 1.0% | 110.9% | 31 | 54 |
| 31 | Cupra Formentor | 161 | 1.0% | 35.3% | 34 | 530 | 0.8% | 41.3% | 39 | 41 |
| 32 | Nissan Juke | 161 | 1.0% | -1.8% | 40 | 514 | 0.8% | -26.7% | 41 | 33 |
| 33 | Kia Rio | 158 | 1.0% | 45.0% | 76 | 304 | 0.4% | 0.0% | 65 | 56 |
| 34 | Toyota Corolla | 156 | 1.0% | -28.8% | 32 | 583 | 0.9% | -35.9% | 33 | 21 |
| 35 | Opel Astra | 150 | 0.9% | 733.3% | 52 | 403 | 0.6% | 295.1% | 49 | 90 |
| 36 | Volvo XC40 | 145 | 0.9% | -40.6% | 39 | 763 | 1.1% | -14.2% | 24 | 15 |
| 37 | Dacia Spring | 142 | 0.9% | 1675.0% | 69 | 530 | 0.8% | 404.8% | 40 | 63 |
| 38 | Mercedes C-Class | 138 | 0.9% | 24.3% | 41 | 426 | 0.6% | -27.1% | 46 | 28 |
| 39 | Hyundai Bayon | 135 | 0.8% | 145.5% | 56 | 422 | 0.6% | 46.5% | 48 | 51 |
| 40 | Opel Mokka | 125 | 0.8% | 27.6% | 60 | 423 | 0.6% | 33.4% | 47 | 43 |
| 41 | Hyundai Kauai | 115 | 0.7% | -42.2% | 54 | 397 | 0.6% | -52.8% | 52 | 18 |
| 42 | Volvo XC60 | 107 | 0.7% | 59.7% | 53 | 333 | 0.5% | 23.3% | 60 | 74 |
| 43 | Audi A3 | 100 | 0.6% | -22.5% | 44 | 428 | 0.6% | 60.3% | 45 | 49 |
| 44 | Peugeot 5008 | 97 | 0.6% | 212.9% | 37 | 374 | 0.5% | 52.7% | 55 | 80 |
| 45 | Mercedes CLA | 92 | 0.6% | 142.1% | 70 | 377 | 0.6% | 24.8% | 54 | 47 |
| 46 | Citroen C4 | 89 | 0.6% | -57.4% | 29 | 539 | 0.8% | -19.9% | 37 | 27 |
| 47 | VW ID.3 | 88 | 0.5% | 4300.0% | 57 | 352 | 0.5% | 966.7% | 57 | 154 |
| 48 | Renault Mégane E-Tech | 87 | 0.5% | new | 25 | 537 | 0.8% | new | 38 | 137 |
| 49 | Seat Leon | 81 | 0.5% | 17.4% | 162 | 114 | 0.2% | -49.6% | 122 | 58 |
| 50 | Hyundai Tucson | 80 | 0.5% | -37.0% | 51 | 401 | 0.6% | -7.8% | 50 | 38 |
| 51 | Mini | 75 | 0.5% | -3.8% | 48 | 352 | 0.5% | -12.9% | 56 | 42 |
| 52 | Skoda Scala | 75 | 0.5% | -50.3% | 93 | 178 | 0.3% | -18.7% | 93 | 109 |
| 53 | VW Golf | 74 | 0.5% | 76.2% | 102 | 181 | 0.3% | 0.0% | 92 | 60 |
| 54 | Hyundai i20 | 73 | 0.5% | 231.8% | 115 | 572 | 0.8% | 45.2% | 35 | 25 |
| 55 | BMW X3 | 73 | 0.5% | 65.9% | 129 | 137 | 0.2% | 41.2% | 111 | 85 |
| 56 | BMW i4 | 70 | 0.4% | 133.3% | 33 | 481 | 0.7% | 130.1% | 42 | 57 |
| 57 | Skoda Fabia | 70 | 0.4% | 775.0% | 113 | 190 | 0.3% | 1017.6% | 90 | 110 |
| 58 | Renault Arkana | 69 | 0.4% | 23.2% | 92 | 332 | 0.5% | 24.3% | 61 | 53 |
| 59 | Audi A1 | 67 | 0.4% | 378.6% | 88 | 201 | 0.3% | 113.8% | 85 | 87 |
| 60 | DS 7 Crossback | 66 | 0.4% | 46.7% | 130 | 173 | 0.3% | 17.7% | 95 | 95 |
| 61 | Audi Q2 | 66 | 0.4% | -8.3% | 112 | 150 | 0.2% | 10.3% | 106 | 105 |
| 62 | Mercedes GLC | 64 | 0.4% | 16.4% | 50 | 454 | 0.7% | 29.0% | 43 | 46 |
| 63 | Mercedes EQE | 64 | 0.4% | 137.0% | 65 | 208 | 0.3% | 670.4% | 84 | 122 |
| 64 | Fiat Tipo | 63 | 0.4% | 320.0% | 27 | 673 | 1.0% | 114.3% | 30 | 26 |
| 65 | Renault Mégane | 62 | 0.4% | -41.0% | 43 | 609 | 0.9% | 98.4% | 32 | 29 |
| 66 | Citroen C3 Aircross | 61 | 0.4% | -75.4% | 47 | 571 | 0.8% | 35.0% | 36 | 35 |
| 67 | Mini Countryman | 59 | 0.4% | 37.2% | 86 | 246 | 0.4% | 25.5% | 74 | 79 |
| 68 | VW ID.4 | 59 | 0.4% | 490.0% | 81 | 210 | 0.3% | 223.1% | 82 | 127 |
| 69 | Skoda Octavia | 59 | 0.4% | 195.0% | 106 | 156 | 0.2% | 5.4% | 103 | 88 |
| 70 | Jeep Compass | 58 | 0.4% | 26.1% | 42 | 298 | 0.4% | 175.9% | 66 | 107 |
| 71 | Cupra Born | 58 | 0.4% | 480.0% | 96 | 218 | 0.3% | 327.5% | 78 | 94 |
| 72 | BMW X2 | 58 | 0.4% | 286.7% | 80 | 162 | 0.2% | 200.0% | 101 | 134 |
| 73 | Tesla Model 3 | 57 | 0.4% | n/a | 18 | 578 | 0.8% | 131.2% | 34 | 59 |
| 74 | VW ID.5 | 56 | 0.3% | new | 100 | 166 | 0.2% | new | 100 | 153 |
| 75 | BMW 5 Series | 55 | 0.3% | -45.5% | 66 | 344 | 0.5% | -25.1% | 58 | 44 |
| 76 | Mercedes EQA | 55 | 0.3% | 83.3% | 78 | 211 | 0.3% | 83.5% | 81 | 76 |
| 77 | Mercedes GLA | 53 | 0.3% | 307.7% | 58 | 308 | 0.5% | 115.4% | 64 | 61 |
| 78 | Ford Fiesta | 52 | 0.3% | 550.0% | 61 | 261 | 0.4% | 569.2% | 70 | 50 |
| 79 | Opel Crossland X | 52 | 0.3% | -25.7% | 83 | 259 | 0.4% | 6.6% | 72 | 66 |
| 80 | Range Rover | 50 | 0.3% | 4900.0% | 185 | 89 | 0.1% | 4350.0% | 135 | 223 |
| 81 | Kia Xceed | 48 | 0.3% | -32.4% | 59 | 261 | 0.4% | -17.4% | 71 | 48 |
| 82 | Toyota Aygo X | 48 | 0.3% | new | 136 | 198 | 0.3% | new | 87 | 69 |
| 83 | Skoda Kamiq | 47 | 0.3% | 88.0% | 82 | 319 | 0.5% | 219.0% | 62 | 98 |
| 84 | VW Tiguan | 47 | 0.3% | 6.8% | 74 | 240 | 0.4% | 63.3% | 75 | 82 |
| 85 | Peugeot 508 | 47 | 0.3% | -17.5% | 131 | 143 | 0.2% | -21.4% | 109 | 86 |
| 86 | Volvo C40 | 46 | 0.3% | 170.6% | 99 | 195 | 0.3% | 174.6% | 88 | 147 |
| 87 | Audi Q4 | 46 | 0.3% | 1050.0% | 97 | 191 | 0.3% | 60.5% | 89 | 115 |
| 88 | VW Arteon | 46 | 0.3% | 206.7% | 145 | 95 | 0.1% | 206.5% | 129 | 106 |
| 89 | Toyota Yaris Cross | 45 | 0.3% | -70.6% | 16 | 997 | 1.5% | 60.0% | 22 | 37 |
| 90 | DS 4 | 43 | 0.3% | 65.4% | 63 | 213 | 0.3% | 85.2% | 80 | 93 |
| 91 | Renault Austral | 43 | 0.3% | new | 90 | 209 | 0.3% | new | 83 | 252 |
| 92 | Ford Kuga | 40 | 0.2% | 110.5% | 38 | 315 | 0.5% | 162.5% | 63 | 62 |
| 93 | Mercedes E-Class | 39 | 0.2% | -33.9% | 68 | 224 | 0.3% | -14.8% | 76 | 64 |
| 94 | Seat Ateca | 39 | 0.2% | -45.1% | 91 | 176 | 0.3% | -8.8% | 94 | 65 |
| 95 | Mitsubishi ASX | 39 | 0.2% | n/a | 127 | 78 | 0.1% | n/a | 140 |  – |
| 96 | BMW iX | 38 | 0.2% | 123.5% | 67 | 272 | 0.4% | 385.7% | 69 | 113 |
| 97 | Mercedes GLB | 37 | 0.2% | -11.9% | 103 | 189 | 0.3% | 57.5% | 91 | 91 |
| 98 | BMW X1 | 37 | 0.2% | -41.3% | 79 | 151 | 0.2% | -37.9% | 105 | 92 |
| 99 | Toyota RAV4 | 36 | 0.2% | -7.7% | 62 | 147 | 0.2% | -35.8% | 107 | 81 |
| 100 | VW Up! | 36 | 0.2% | 176.9% | 199 | 47 | 0.1% | 56.7% | 169 | 191 |
| 101 | Fiat Panda | 35 | 0.2% | 84.2% | 30 | 285 | 0.4% | 1.1% | 67 | 23 |
| 102 | Audi Q3 | 35 | 0.2% | 66.7% | 98 | 166 | 0.2% | 232.0% | 99 | 125 |
| 103 | MG EHS | 35 | 0.2% | new | 141 | 94 | 0.1% | new | 130 | 265 |
| 104 | Citroen e-C4 | 34 | 0.2% | -43.3% | 24 | 400 | 0.6% | 129.9% | 51 | 71 |
| 105 | Range Rover Evoque | 33 | 0.2% | 200.0% | 84 | 200 | 0.3% | 217.5% | 86 | 129 |
| 106 | Peugeot 408 | 33 | 0.2% | new | 125 | 114 | 0.2% | new | 121 | 291 |
| 107 | Toyota C-HR | 32 | 0.2% | -78.4% | 36 | 754 | 1.1% | 21.8% | 25 | 36 |
| 108 | Volvo V60 | 31 | 0.2% | -27.9% | 101 | 135 | 0.2% | 26.2% | 112 | 97 |
| 109 | Toyota bZ4X | 31 | 0.2% | new | 77 | 115 | 0.2% | new | 118 | 184 |
| 110 | Kia Sportage | 30 | 0.2% | -28.6% | 71 | 273 | 0.4% | 90.9% | 68 | 73 |
| 111 | Mercedes EQB | 30 | 0.2% | 66.7% | 107 | 111 | 0.2% | 91.4% | 124 | 114 |
| 112 | Mercedes B-Class | 30 | 0.2% | 30.4% | 121 | 108 | 0.2% | 31.7% | 126 | 124 |
| 113 | Porsche Cayenne Coupe | 30 | 0.2% | 650.0% | 186 | 66 | 0.1% | 17.9% | 152 | 139 |
| 114 | Ford Transit | 29 | 0.2% | 866.7% | 165 | 46 | 0.1% | 119.0% | 170 | 169 |
| 115 | Jeep Renegade | 28 | 0.2% | -37.8% | 104 | 127 | 0.2% | -31.7% | 114 | 83 |
| 116 | Nissan Leaf | 27 | 0.2% | -59.1% | 133 | 173 | 0.3% | -44.0% | 96 | 67 |
| 117 | BMW 4 Series | 27 | 0.2% | -67.1% | 105 | 169 | 0.2% | -51.2% | 97 | 68 |
| 118 | Nissan Ariya | 27 | 0.2% | new | 89 | 157 | 0.2% | new | 102 | 188 |
| 119 | Alfa Romeo Tonale | 27 | 0.2% | new | 95 | 146 | 0.2% | new | 108 | 152 |
| 120 | Range Rover Sport | 27 | 0.2% | 92.9% | 192 | 76 | 0.1% | 18.8% | 143 | 160 |
| 121 | Skoda Kodiaq | 26 | 0.2% | 225.0% | 114 | 140 | 0.2% | 89.2% | 110 | 118 |
| 122 | Audi Q8 | 26 | 0.2% | 766.7% | 197 | 37 | 0.1% | 270.0% | 189 | 246 |
| 123 | BMW X4 | 25 | 0.2% | 78.6% | 157 | 47 | 0.1% | 56.7% | 166 | 194 |
| 124 | Citroen Berlingo | 24 | 0.1% | 26.3% | 128 | 114 | 0.2% | 107.3% | 119 | 146 |
| 125 | Kia Niro | 24 | 0.1% | -51.0% | 117 | 92 | 0.1% | -52.8% | 132 | 77 |
| 126 | VW Multivan | 24 | 0.1% | 14.3% | 191 | 44 | 0.1% | -61.7% | 177 | 117 |
| 127 | Hyundai i30 | 23 | 0.1% | -77.2% | 75 | 126 | 0.2% | -56.6% | 115 | 72 |
| 128 | Smart Fortwo | 23 | 0.1% | -17.9% | 148 | 117 | 0.2% | 56.0% | 116 | 131 |
| 129 | Nissan X-Trail | 22 | 0.1% | n/a | 116 | 110 | 0.2% | n/a | 125 | 193 |
| 130 | Porsche Taycan | 22 | 0.1% | 633.3% | 175 | 69 | 0.1% | -11.5% | 149 | 126 |
| 131 | Mazda MX-30 | 21 | 0.1% | n/a | 119 | 113 | 0.2% | 1783.3% | 123 | 156 |
| 132 | Opel Grandland X | 20 | 0.1% | -16.7% | 85 | 223 | 0.3% | 431.0% | 77 | 84 |
| 133 | Citroen C5 Aircross | 20 | 0.1% | 400.0% | 55 | 213 | 0.3% | 110.9% | 79 | 70 |
| 134 | VW Passat | 19 | 0.1% | -38.7% | 167 | 82 | 0.1% | -12.8% | 137 | 130 |
| 135 | Mazda2 | 18 | 0.1% | 20.0% | 72 | 168 | 0.2% | 273.3% | 98 | 150 |
| 136 | Citroen e-C4 X | 18 | 0.1% | new | 154 | 90 | 0.1% | new | 133 |  – |
| 137 | Mercedes Vito | 18 | 0.1% | 63.6% | 134 | 64 | 0.1% | 113.3% | 154 | 135 |
| 138 | Mitsubishi Eclipse Cross | 17 | 0.1% | -72.1% | 124 | 89 | 0.1% | -34.6% | 134 | 99 |
| 139 | Renault Zoe | 17 | 0.1% | -71.7% | 151 | 58 | 0.1% | -71.6% | 158 | 104 |
| 140 | Auto Ribeiro Transit Custom | 17 | 0.1% | new | 195 | 30 | 0.0% | new | 199 |  – |
| 141 | BMW iX3 | 15 | 0.1% | 400.0% | 163 | 115 | 0.2% | 125.5% | 117 | 119 |
| 142 | Porsche Macan | 15 | 0.1% | 200.0% | 142 | 74 | 0.1% | 105.6% | 145 | 164 |
| 143 | Volvo XC90 | 15 | 0.1% | 150.0% | 126 | 72 | 0.1% | 10.8% | 148 | 158 |
| 144 | Fiat 500X | 15 | 0.1% | 25.0% | 122 | 67 | 0.1% | -41.2% | 150 | 138 |
| 145 | Hyundai Santa Fe | 15 | 0.1% | 200.0% | 190 | 39 | 0.1% | 21.9% | 185 | 195 |
| 146 | Ford Mustang (incl. Mach E) | 14 | 0.1% | -12.5% | 87 | 152 | 0.2% | 58.3% | 104 | 102 |
| 147 | MG4 | 14 | 0.1% | new | 120 | 93 | 0.1% | new | 131 | 306 |
| 148 | Polestar 2 | 13 | 0.1% | new | 94 | 106 | 0.2% | new | 127 | 170 |
| 149 | Citroen C5X | 13 | 0.1% | n/a | 132 | 84 | 0.1% | 663.6% | 136 | 144 |
| 150 | VW ID.Buzz | 13 | 0.1% | new | 200 | 67 | 0.1% | new | 151 | 298 |
| 151 | Mazda CX-60 | 13 | 0.1% | new | 160 | 57 | 0.1% | new | 159 | 201 |
| 152 | Mercedes Sprinter | 13 | 0.1% | 116.7% | 212 | 36 | 0.1% | 71.4% | 192 | 177 |
| 153 | Kia EV6 | 13 | 0.1% | -43.5% | 209 | 30 | 0.0% | -84.2% | 200 | 111 |
| 154 | Hyundai i10 | 12 | 0.1% | 0.0% | 123 | 114 | 0.2% | 15.2% | 120 | 120 |
| 155 | Lexus UX | 12 | 0.1% | 100.0% | 161 | 51 | 0.1% | 4.1% | 163 | 165 |
| 156 | Mazda MX-5 | 12 | 0.1% | 140.0% | 171 | 45 | 0.1% | 150.0% | 173 | 178 |
| 157 | Skoda Enyaq | 12 | 0.1% | 200.0% | 188 | 45 | 0.1% | -13.5% | 175 | 159 |
| 158 | Land Rover Discovery Sport | 12 | 0.1% | 500.0% | 196 | 40 | 0.1% | -20.0% | 182 | 183 |
| 159 | Hyundai Ioniq 6 | 12 | 0.1% | new |  – | 12 | 0.0% | new | 233 |  – |
| 160 | Porsche 911 | 11 | 0.1% | -31.3% | 118 | 77 | 0.1% | 45.3% | 141 | 157 |
| 161 | Mercedes S-Class | 11 | 0.1% | -31.3% | 172 | 40 | 0.1% | -48.7% | 184 | 143 |
| 162 | Suzuki S-Cross | 11 | 0.1% | n/a | 153 | 39 | 0.1% | 457.1% | 187 | 219 |
| 163 | MG5 | 11 | 0.1% | new | 228 | 19 | 0.0% | new | 219 |  – |
| 164 | Nissan Micra | 10 | 0.1% | -91.4% | 135 | 248 | 0.4% | 4.2% | 73 | 52 |
| 165 | Peugeot Traveller | 10 | 0.1% | 11.1% | 108 | 79 | 0.1% | 146.9% | 138 | 163 |
| 166 | Audi A6 | 10 | 0.1% | -28.6% | 137 | 72 | 0.1% | -1.4% | 146 | 142 |
| 167 | MG ZS | 10 | 0.1% | new | 159 | 63 | 0.1% | new | 155 | 257 |
| 168 | Mercedes EQC | 10 | 0.1% | 400.0% | 169 | 47 | 0.1% | 67.9% | 168 | 136 |
| 169 | Mercedes V-Class | 10 | 0.1% | -37.5% | 164 | 38 | 0.1% | 0.0% | 188 | 162 |
| 170 | Lexus NX | 9 | 0.1% | -50.0% | 155 | 65 | 0.1% | 1.6% | 153 | 149 |
| 171 | Mercedes EQS | 9 | 0.1% | 125.0% | 156 | 62 | 0.1% | 82.4% | 156 | 171 |
| 172 | Toyota Corolla Cross | 9 | 0.1% | new | 143 | 55 | 0.1% | new | 161 | 206 |
| 173 | Ford Tourneo/Transit Connect | 9 | 0.1% | 28.6% | 181 | 43 | 0.1% | 0.0% | 178 | 182 |
| 174 | Land Rover Defender | 9 | 0.1% | 50.0% | 194 | 37 | 0.1% | 117.6% | 190 | 235 |
| 175 | BMW 7 Series | 9 | 0.1% | 200.0% | 214 | 24 | 0.0% | 140.0% | 210 | 245 |
| 176 | Renault Trafic | 8 | 0.0% | -69.2% | 146 | 49 | 0.1% | 19.5% | 165 | 140 |
| 177 | Honda Jazz | 8 | 0.0% | -72.4% | 216 | 40 | 0.1% | -51.2% | 180 | 133 |
| 178 | Mini Clubman | 8 | 0.0% | -52.9% | 173 | 34 | 0.0% | -58.5% | 195 | 148 |
| 179 | Cupra Leon | 8 | 0.0% | n/a | 140 | 31 | 0.0% | n/a | 197 | 253 |
| 180 | Suzuki Swift | 8 | 0.0% | 300.0% | 223 | 30 | 0.0% | 200.0% | 201 | 199 |
| 181 | Kia Ceed | 7 | 0.0% | -75.0% | 111 | 99 | 0.1% | 22.2% | 128 | 128 |
| 182 | Mercedes GLE | 7 | 0.0% | -87.9% | 166 | 76 | 0.1% | -53.9% | 142 | 75 |
| 183 | MG Marvel R | 7 | 0.0% | new | 215 | 54 | 0.1% | new | 162 |  – |
| 184 | Honda HR-V | 7 | 0.0% | -86.3% | 203 | 46 | 0.1% | -56.2% | 171 | 101 |
| 185 | VW Caddy | 7 | 0.0% | 40.0% | 189 | 36 | 0.1% | 71.4% | 193 | 214 |
| 186 | Volvo V90 | 7 | 0.0% | 0.0% | 149 | 35 | 0.1% | 25.0% | 194 | 187 |
| 187 | Citroen Jumpy | 7 | 0.0% | 16.7% | 177 | 33 | 0.0% | 3.1% | 196 | 175 |
| 188 | Audi A4 | 7 | 0.0% | -83.7% | 206 | 28 | 0.0% | -89.4% | 204 | 100 |
| 189 | BMW X5 | 7 | 0.0% | -75.9% | 217 | 26 | 0.0% | -67.1% | 205 | 121 |
| 190 | Porsche Panamera | 7 | 0.0% | 133.3% | 218 | 24 | 0.0% | 0.0% | 211 | 181 |
| 191 | BYD Atto 3 | 7 | 0.0% | new |  – | 7 | 0.0% | new | 248 |  – |
| 192 | Skoda Karoq | 6 | 0.0% | 0.0% | 150 | 57 | 0.1% | 200.0% | 160 | 236 |
| 193 | Audi Q5 | 6 | 0.0% | -53.8% | 193 | 45 | 0.1% | 87.5% | 172 | 174 |
| 194 | Mercedes Citan | 6 | 0.0% | 0.0% | 147 | 45 | 0.1% | 150.0% | 174 | 205 |
| 195 | Peugeot Rifter | 6 | 0.0% | 0.0% | 170 | 39 | 0.1% | 5.4% | 186 | 155 |
| 196 | Tesla Model X | 6 | 0.0% | n/a | 138 | 31 | 0.0% | n/a | 198 | 247 |
| 197 | Suzuki Ignis | 6 | 0.0% | 200.0% | 178 | 29 | 0.0% | 314.3% | 202 | 224 |
| 198 | Honda Civic | 6 | 0.0% | -14.3% | 208 | 23 | 0.0% | -46.5% | 214 | 180 |
| 199 | DS 3 | 6 | 0.0% | n/a | 183 | 20 | 0.0% | n/a | 217 |  – |
| 200 | Audi A5 | 6 | 0.0% | 50.0% | 221 | 19 | 0.0% | -40.6% | 218 | 172 |
| 201 | Audi e-Tron | 5 | 0.0% | -89.8% | 184 | 129 | 0.2% | -32.5% | 113 | 78 |
| 202 | Renault Twingo | 5 | 0.0% | -89.1% | 210 | 76 | 0.1% | -53.4% | 144 | 108 |
| 203 | Mazda CX-5 | 5 | 0.0% | -61.5% | 168 | 50 | 0.1% | -24.2% | 164 | 145 |
| 204 | Mazda3 | 5 | 0.0% | -28.6% | 152 | 40 | 0.1% | 150.0% | 183 | 203 |
| 205 | Mercedes SL-Class | 5 | 0.0% | n/a | 174 | 25 | 0.0% | n/a | 208 | 200 |
| 206 | Range Rover Velar | 5 | 0.0% | 0.0% | 207 | 25 | 0.0% | 66.7% | 209 | 220 |
| 207 | Toyota Proace City Verso | 5 | 0.0% | 400.0% | 225 | 18 | 0.0% | -28.0% | 221 | 196 |
| 208 | Mercedes G-Class | 5 | 0.0% | n/a | 231 | 15 | 0.0% | 50.0% | 226 | 233 |
| 209 | BMW Z4 | 5 | 0.0% | -50.0% | 235 | 12 | 0.0% | -64.7% | 230 | 189 |
| 210 | Man TGE | 5 | 0.0% | n/a | 250 | 11 | 0.0% | 1000.0% | 237 | 272 |
| 211 | Renault Scénic | 5 | 0.0% | n/a | 243 | 8 | 0.0% | 100.0% | 246 | 242 |
| 212 | Aiways U5 | 4 | 0.0% | n/a | 204 | 28 | 0.0% | 1300.0% | 203 | 211 |
| 213 | Opel Zafira Life | 4 | 0.0% | -33.3% | 179 | 26 | 0.0% | 85.7% | 207 | 198 |
| 214 | Honda CR-V | 4 | 0.0% | -33.3% | 219 | 18 | 0.0% | -40.0% | 220 | 202 |
| 215 | Jaguar F-Pace | 4 | 0.0% | -63.6% | 245 | 15 | 0.0% | -54.5% | 225 | 204 |
| 216 | VW Kombi | 4 | 0.0% | -33.3% | 202 | 12 | 0.0% | 0.0% | 232 | 207 |
| 217 | Skoda Superb | 3 | 0.0% | -50.0% | 158 | 60 | 0.1% | 140.0% | 157 | 151 |
| 218 | Jaguar E-Pace | 3 | 0.0% | -40.0% | 144 | 40 | 0.1% | 344.4% | 181 | 185 |
| 219 | Toyota Proace Verso | 3 | 0.0% | -93.6% | 187 | 37 | 0.1% | -74.8% | 191 | 103 |
| 220 | Lexus ES | 3 | 0.0% | 0.0% | 213 | 22 | 0.0% | 15.8% | 215 | 229 |
| 221 | Maserati Grecale | 3 | 0.0% | new | 220 | 17 | 0.0% | new | 223 | 215 |
| 222 | Suzuki Vitara | 3 | 0.0% | 50.0% | 198 | 14 | 0.0% | 75.0% | 228 | 208 |
| 223 | Mercedes AMG GT | 3 | 0.0% | -25.0% | 248 | 11 | 0.0% | -45.0% | 238 | 212 |
| 224 | BMW X7 | 3 | 0.0% | 50.0% | 249 | 10 | 0.0% | 100.0% | 240 | 237 |
| 225 | Bentley Bentayga | 3 | 0.0% | 50.0% | 240 | 8 | 0.0% | -20.0% | 244 | 234 |
| 226 | VW Touran | 3 | 0.0% | 0.0% | 242 | 7 | 0.0% | 40.0% | 247 | 232 |
| 227 | Aston Martin Vantage | 3 | 0.0% | 200.0% | 263 | 6 | 0.0% | 50.0% | 250 | 260 |
| 228 | Lexus RZ | 3 | 0.0% | new | 259 | 5 | 0.0% | new | 260 |  – |
| 229 | BYD Tang EV | 3 | 0.0% | new |  – | 3 | 0.0% | new | 277 |  – |
| 230 | Mazda CX-30 | 2 | 0.0% | -85.7% | 110 | 78 | 0.1% | 52.9% | 139 | 141 |
| 231 | Ford Tourneo/Transit Custom | 2 | 0.0% | -75.0% | 139 | 72 | 0.1% | 188.0% | 147 | 186 |
| 232 | VW Crafter | 2 | 0.0% | -33.3% | 205 | 24 | 0.0% | -57.1% | 212 | 176 |
| 233 | Kia Sorento | 2 | 0.0% | -60.0% | 244 | 16 | 0.0% | 0.0% | 224 | 209 |
| 234 | BMW X6 | 2 | 0.0% | -81.8% | 201 | 13 | 0.0% | -13.3% | 229 | 227 |
| 235 | Lexus RX | 2 | 0.0% | n/a | 247 | 12 | 0.0% | 1100.0% | 231 | 288 |
| 236 | BMW i7 | 2 | 0.0% | new | 226 | 11 | 0.0% | new | 235 | 264 |
| 237 | Lamborghini Urus | 2 | 0.0% | n/a | 227 | 11 | 0.0% | 1000.0% | 236 | 274 |
| 238 | Mercedes CLS | 2 | 0.0% | 0.0% | 232 | 11 | 0.0% | -47.6% | 239 | 217 |
| 239 | Jaguar XE | 2 | 0.0% | n/a | 233 | 10 | 0.0% | 100.0% | 242 | 254 |
| 240 | Ferrari Roma | 2 | 0.0% | n/a | 264 | 5 | 0.0% | 66.7% | 258 | 267 |
| 241 | Ferrari SF90 Stradale | 2 | 0.0% | 100.0% |  – | 4 | 0.0% | 100.0% | 264 | 287 |
| 242 | DS 9 | 2 | 0.0% | 0.0% | 271 | 3 | 0.0% | -40.0% | 270 | 268 |
| 243 | Renault Master | 2 | 0.0% | 100.0% |  – | 3 | 0.0% | -78.6% | 275 | 228 |
| 244 | Hyundai Ioniq 5 | 1 | 0.0% | -97.7% | 176 | 47 | 0.1% | -50.0% | 167 | 123 |
| 245 | Tesla Model S | 1 | 0.0% | n/a | 109 | 44 | 0.1% | n/a | 176 | 241 |
| 246 | Kia ProCeed | 1 | 0.0% | -88.9% | 182 | 26 | 0.0% | -55.9% | 206 | 161 |
| 247 | Mercedes GLS | 1 | 0.0% | -83.3% | 229 | 22 | 0.0% | 69.2% | 216 | 230 |
| 248 | Jeep Wrangler | 1 | 0.0% | -90.9% | 230 | 17 | 0.0% | -67.9% | 222 | 167 |
| 249 | BMW 8 Series | 1 | 0.0% | -80.0% | 224 | 14 | 0.0% | -26.3% | 227 | 222 |
| 250 | Aston Martin DBX | 1 | 0.0% | n/a | 246 | 11 | 0.0% | 120.0% | 234 | 251 |
| 251 | Seat Tarraco | 1 | 0.0% | -90.0% | 222 | 10 | 0.0% | -60.0% | 243 | 190 |
| 252 | Bentley Continental | 1 | 0.0% | -80.0% | 234 | 8 | 0.0% | -11.1% | 245 | 243 |
| 253 | Audi A7 | 1 | 0.0% | n/a | 239 | 6 | 0.0% | -33.3% | 251 | 255 |
| 254 | Mercedes eVito | 1 | 0.0% | 0.0% |  – | 6 | 0.0% | 0.0% | 253 | 256 |
| 255 | Porsche Cayman | 1 | 0.0% | n/a | 260 | 6 | 0.0% | 200.0% | 255 | 262 |
| 256 | Jaguar F-Type | 1 | 0.0% | -66.7% | 252 | 5 | 0.0% | -37.5% | 259 | 244 |
| 257 | Volvo S90 | 1 | 0.0% | 0.0% | 255 | 5 | 0.0% | 0.0% | 261 | 249 |
| 258 | Toyota Camry | 1 | 0.0% | n/a | 265 | 4 | 0.0% | 300.0% | 265 | 276 |
| 259 | Aston Martin DB11 | 1 | 0.0% | n/a |  – | 3 | 0.0% | 0.0% | 268 | 282 |
| 260 | Citroen Spacetourer | 1 | 0.0% | n/a | 258 | 3 | 0.0% | n/a | 269 |  – |
| 261 | Ford Explorer | 1 | 0.0% | n/a |  – | 3 | 0.0% | 50.0% | 273 | 303 |
| 262 | Jaguar XF | 1 | 0.0% | n/a | 266 | 3 | 0.0% | -25.0% | 274 | 273 |
| 263 | Opel Combo | 1 | 0.0% | 0.0% | 269 | 2 | 0.0% | -66.7% | 284 | 221 |
| 264 | Renault Espace | 1 | 0.0% | -66.7% | 267 | 2 | 0.0% | -33.3% | 285 | 275 |
| 265 | Smart Fortfour | 1 | 0.0% | -85.7% |  – | 2 | 0.0% | -96.0% | 286 | 216 |
| 266 | Renault Kangoo | 1 | 0.0% | n/a |  – | 1 | 0.0% | n/a | 308 | 290 |
| 267 | Ferrari 812 GTS | 1 | 0.0% | n/a |  – | 1 | 0.0% | -50.0% | 309 | 297 |
| 268 | Maxus eDeliver 9 | 1 | 0.0% | new |  – | 1 | 0.0% | new | 310 | 316 |
| 269 | Caterham Seven S3 | 1 | 0.0% | n/a |  – | 1 | 0.0% | n/a | 311 |  – |