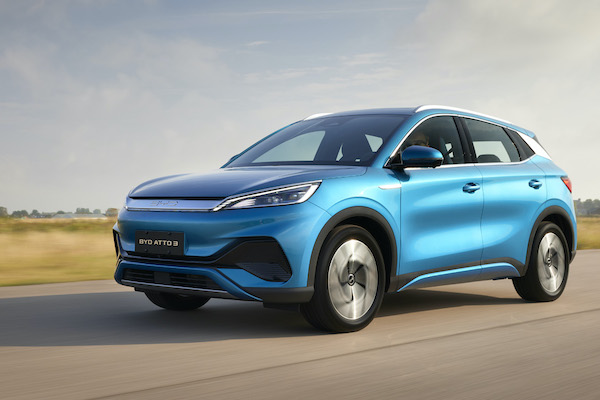 Netherlands August 2022: Kia and Peugeot 208 lead in dynamic market (+9.2%), BYD, NIO, Xpeng and JAC join the charts
The BYD Atto 3 has now landed in the Dutch charts.
The Dutch new car market is up for the first time since last March with 23,638 sales in August, up 9.2% year-on-year. The year-to-date tally however remains in negative at 199,297 units, down -5.6% on the same period a year ago. The brands podium is unchanged on last month: Kia (+4.6%) easily keeps the lead with 11.6% share, distancing Volkswagen (+9.3%) and Toyota (-9.1%). Volkswagen snaps the 2nd spot YTD but is almost 5,000 units below Kia. Hyundai (+43%), Peugeot (+24.1%) and Opel (+17.3%) follow with market-beating gains, while Renault (+57.3%) is the best performer in the Top 15. All other Top 10 brands are in negative. Below, notice Cupra (+1237.5%), Dacia (+140.9%), Fiat (+96.6%), Lynk & Co (+58.9%) and Mini (+19.5%) all in great shape. Notice Chinese fares BYD (#38), NIO (#42), XPeng (#44) and JAC (#45) are now included in the charts albeit with tiny numbers.
Model-wise, the Peugeot 208 (+256%) shoots up year-on-year to hold onto the pole position for the 4th consecutive month, cementing its YTD lead. The Opel Corsa (+175.1%) jumps 11 spots on July to and at #2 and progresses to #4 year-to-date as a result. The VW Polo (+5.4%) trails the market growth but gains one spot on last month to #3 while the Kia Picanto (+23.5%) is down two to #4. Last year's leader and this year's #2, the Kia Niro (-45.5%) crashes in 5th place. The Renault Captur (+224%) is up to #6, the Toyota Aygo X celebrates four straight months in the Top 10 at #7 while the Lynk & Co 01 (+58.9%) is up a whopping 40 rank on July to #8, marking a very impressive 7th month inside the Dutch Top 10 after 17 months in market. The Ford Focus (+346.8%) and Kia Ceed (+63%) close the Top 10 in spectacular fashion.
Previous month: Netherlands July 2022: Kia breaks share record, Peugeot 208 3peats at #1, market off -17.9%
One year ago: Netherlands August 2021: Kia and Niro dominate, Lynk & Co 01 up to #12
Full August 2022 Top 45 all brands and Top 275 all models below.
Netherlands August 2022 – brands:
| | | | | | | | | | | |
| --- | --- | --- | --- | --- | --- | --- | --- | --- | --- | --- |
| Pos | Brand | Aug-22 | % | /21 | Jul | 2022 | % | /21 | Pos | FY21 |
| 1 | Kia | 2,741 | 11.6% | 4.6% | 1 | 20,016 | 10.0% | 2.0% | 1 | 2 |
| 2 | Volkswagen | 2,237 | 9.5% | 9.3% | 2 | 15,275 | 7.7% | -21.5% | 2 | 1 |
| 3 | Toyota | 1,671 | 7.1% | -9.1% | 3 | 15,223 | 7.6% | -1.0% | 4 | 3 |
| 4 | Hyundai | 1,546 | 6.5% | 43.0% | 5 | 11,578 | 5.8% | 74.6% | 5 | 11 |
| 5 | Peugeot | 1,536 | 6.5% | 24.1% | 4 | 15,257 | 7.7% | 9.8% | 3 | 4 |
| 6 | Opel | 1,306 | 5.5% | 17.3% | 7 | 9,029 | 4.5% | -12.7% | 9 | 10 |
| 7 | BMW | 1,109 | 4.7% | -10.7% | 10 | 11,267 | 5.7% | -14.9% | 6 | 6 |
| 8 | Renault | 1,109 | 4.7% | 57.3% | 8 | 9,169 | 4.6% | -10.8% | 8 | 8 |
| 9 | Skoda | 1,070 | 4.5% | -27.7% | 6 | 10,305 | 5.2% | -27.7% | 7 | 5 |
| 10 | Ford | 985 | 4.2% | -5.2% | 14 | 8,254 | 4.1% | -30.9% | 11 | 7 |
| 11 | Mercedes | 979 | 4.1% | 5.4% | 12 | 8,729 | 4.4% | -4.2% | 10 | 13 |
| 12 | Audi | 957 | 4.0% | 14.7% | 11 | 8,229 | 4.1% | 6.6% | 12 | 12 |
| 13 | Volvo | 689 | 2.9% | 2.5% | 9 | 7,945 | 4.0% | -27.6% | 13 | 9 |
| 14 | Mini | 564 | 2.4% | 19.5% | 17 | 4,126 | 2.1% | -2.8% | 16 | 19 |
| 15 | Mazda | 554 | 2.3% | -0.4% | 21 | 3,381 | 1.7% | -31.4% | 19 | 16 |
| 16 | Citroen | 519 | 2.2% | -7.0% | 13 | 6,458 | 3.2% | -1.3% | 14 | 14 |
| 17 | Fiat | 515 | 2.2% | 96.6% | 18 | 3,730 | 1.9% | 32.6% | 17 | 20 |
| 18 | Lynk & Co | 502 | 2.1% | 58.9% | 26 | 2,987 | 1.5% | 336.1% | 22 | 23 |
| 19 | Dacia | 489 | 2.1% | 140.9% | 16 | 3,323 | 1.7% | 62.1% | 20 | 24 |
| 20 | Seat | 467 | 2.0% | -13.7% | 19 | 3,197 | 1.6% | -44.3% | 21 | 15 |
| 21 | Nissan | 427 | 1.8% | -14.1% | 15 | 4,593 | 2.3% | 5.9% | 15 | 17 |
| 22 | Suzuki | 322 | 1.4% | -7.5% | 20 | 3,404 | 1.7% | -26.2% | 18 | 18 |
| 23 | Cupra | 214 | 0.9% | 1237.5% | 23 | 1,177 | 0.6% | 1964.9% | 26 | 27 |
| 24 | Porsche | 154 | 0.7% | 30.5% | 24 | 1,723 | 0.9% | 24.9% | 23 | 26 |
| 25 | Mitsubishi | 150 | 0.6% | -38.8% | 22 | 1,655 | 0.8% | -33.9% | 24 | 22 |
| 26 | Tesla | 142 | 0.6% | -29.0% | 27 | 1,336 | 0.7% | 14.3% | 25 | 21 |
| 27 | Land Rover | 110 | 0.5% | 26.4% | 25 | 1,037 | 0.5% | 5.0% | 28 | 28 |
| 28 | Polestar | 83 | 0.4% | 15.3% | 29 | 1,054 | 0.5% | 72.8% | 27 | 25 |
| 29 | MG | 81 | 0.3% | 252.2% | 32 | 1,024 | 0.5% | 43.6% | 29 | 30 |
| 30 | Honda | 80 | 0.3% | 21.2% | 28 | 822 | 0.4% | 55.4% | 30 | 31 |
| 31 | Alfa Romeo | 49 | 0.2% | 226.7% | 34 | 168 | 0.1% | 19.1% | 35 | 36 |
| 32 | Jeep | 36 | 0.2% | -64.7% | 31 | 536 | 0.3% | -31.4% | 32 | 29 |
| 33 | DS | 34 | 0.1% | 9.7% | 30 | 596 | 0.3% | 162.6% | 31 | 33 |
| 34 | Lexus | 30 | 0.1% | -18.9% | 33 | 281 | 0.1% | -26.8% | 33 | 32 |
| 35 | Jaguar | 14 | 0.1% | 55.6% | 35 | 172 | 0.1% | -1.7% | 34 | 35 |
| 36 | Bentley | 8 | 0.0% | 33.3% | 36 | 106 | 0.1% | 43.2% | 36 | 38 |
| 37 | Lamborghini | 4 | 0.0% | 100.0% | 37 | 36 | 0.0% | 12.5% | 40 | 40 |
| 38 | BYD | 4 | 0.0% | new | – | 24 | 0.0% | 2300.0% | 41 | n/a |
| 39 | Maserati | 3 | 0.0% | 50.0% | 39 | 20 | 0.0% | 53.8% | 43 | 43 |
| 40 | Ferrari | 2 | 0.0% | -77.8% | 38 | 56 | 0.0% | -9.7% | 38 | 39 |
| 41 | Morgan | 2 | 0.0% | 100.0% | – | 7 | 0.0% | -12.5% | 47 | 45 |
| 42 | NIO | 2 | 0.0% | new | – | 2 | 0.0% | new | 50 | – |
| 43 | Aston Martin | 1 | 0.0% | 0.0% | 41 | 23 | 0.0% | 15.0% | 42 | 41 |
| 44 | XPeng | 1 | 0.0% | new | – | 10 | 0.0% | new | 45 | – |
| 45 | JAC | 1 | 0.0% | 0.0% | – | 5 | 0.0% | -68.8% | 48 | n/a |
| 46 | Smart | 0 | 0.0% | -100.0% | 43 | 106 | 0.1% | -10.9% | 37 | 34 |
| 47 | Subaru | 0 | 0.0% | -100.0% | 40 | 53 | 0.0% | -62.4% | 39 | 37 |
| 48 | Alpine | 0 | 0.0% | -100.0% | 42 | 19 | 0.0% | 18.8% | 44 | 42 |
| 49 | Rolls Royce | 0 | 0.0% | -100.0% | 44 | 9 | 0.0% | -30.8% | 46 | 44 |
| 50 | SsangYong | 0 | 0.0% | n/a | – | 3 | 0.0% | 200.0% | 49 | 47 |
| 51 | Aiways | 0 | 0.0% | #DIV/0! | 45 | 1 | 0.0% | -87.5% | 51 | 46 |
| – | Others | 139 | 0.6% | -39.0% | – | 1,761 | 0.9% | -29.3% | – | – |
Netherlands August 2022 – models:
| | | | | | | | | | | |
| --- | --- | --- | --- | --- | --- | --- | --- | --- | --- | --- |
| Pos | Model | Aug-22 | % | /21 | Jul | 2022 | % | /21 | Pos | FY21 |
| 1 | Peugeot 208 | 865 | 3.7% | 256.0% | 1 | 6,664 | 3.3% | 74.8% | 1 | 7 |
| 2 | Opel Corsa | 850 | 3.6% | 175.1% | 13 | 4,384 | 2.2% | 14.6% | 4 | 8 |
| 3 | VW Polo | 680 | 2.9% | 5.4% | 4 | 3,907 | 2.0% | -24.8% | 7 | 3 |
| 4 | Kia Picanto | 663 | 2.8% | 23.5% | 2 | 4,547 | 2.3% | -21.2% | 3 | 4 |
| 5 | Kia Niro | 642 | 2.7% | -45.5% | 11 | 4,697 | 2.4% | -29.7% | 2 | 1 |
| 6 | Renault Captur | 593 | 2.5% | 224.0% | 10 | 3,175 | 1.6% | -7.9% | 11 | 11 |
| 7 | Toyota Aygo X | 583 | 2.5% | new | 8 | 2,360 | 1.2% | new | 19 | – |
| 8 | Lynk & Co 01 | 502 | 2.1% | 58.9% | 48 | 2,987 | 1.5% | 336.1% | 12 | 24 |
| 9 | Kia Ceed | 494 | 2.1% | 63.0% | 3 | 2,938 | 1.5% | 37.2% | 15 | 32 |
| 10 | Ford Focus | 487 | 2.1% | 346.8% | 21 | 2,862 | 1.4% | 12.7% | 16 | 12 |
| 11 | Volvo XC40 | 456 | 1.9% | 28.8% | 5 | 4,224 | 2.1% | -27.5% | 5 | 2 |
| 12 | Skoda Enyaq | 451 | 1.9% | -7.4% | 7 | 3,686 | 1.8% | 21.7% | 8 | 5 |
| 13 | Hyundai Tucson | 424 | 1.8% | 37.2% | 12 | 2,572 | 1.3% | 39.3% | 18 | 37 |
| 14 | Mini | 396 | 1.7% | 20.0% | 23 | 2,960 | 1.5% | 10.0% | 14 | 20 |
| 15 | Toyota Yaris | 393 | 1.7% | -41.2% | 18 | 3,597 | 1.8% | -31.7% | 9 | 6 |
| 16 | Peugeot 2008 | 374 | 1.6% | 39.0% | 19 | 3,945 | 2.0% | 19.9% | 6 | 10 |
| 17 | Kia Sportage | 353 | 1.5% | 1312.0% | 9 | 2,332 | 1.2% | 369.2% | 20 | 135 |
| 18 | Hyundai i10 | 324 | 1.4% | 49.3% | 20 | 2,621 | 1.3% | 65.4% | 17 | 34 |
| 19 | Toyota Yaris Cross | 323 | 1.4% | new | 6 | 3,378 | 1.7% | new | 10 | 75 |
| 20 | VW T-Roc | 280 | 1.2% | 26.7% | 15 | 2,296 | 1.2% | -18.6% | 21 | 19 |
| 21 | Kia EV6 | 278 | 1.2% | new | 16 | 2,062 | 1.0% | new | 26 | 70 |
| 22 | Fiat 500 | 277 | 1.2% | 38.5% | 22 | 2,970 | 1.5% | 32.1% | 13 | 23 |
| 23 | Audi e-Tron | 262 | 1.1% | 274.3% | 29 | 842 | 0.4% | 157.5% | 76 | 91 |
| 24 | Skoda Octavia | 245 | 1.0% | -38.4% | 26 | 1,445 | 0.7% | -59.4% | 40 | 15 |
| 25 | VW ID.3 | 238 | 1.0% | 60.8% | 132 | 1,005 | 0.5% | 139.9% | 66 | 51 |
| 26 | Opel Mokka | 233 | 1.0% | 41.2% | 14 | 1,713 | 0.9% | 105.6% | 30 | 62 |
| 27 | Hyundai Kona | 231 | 1.0% | 14.9% | 31 | 2,137 | 1.1% | 47.0% | 24 | 36 |
| 28 | Seat Leon | 230 | 1.0% | 46.5% | 137 | 820 | 0.4% | -53.3% | 80 | 52 |
| 29 | Ford Puma | 229 | 1.0% | 36.3% | 101 | 1,608 | 0.8% | -13.5% | 35 | 50 |
| 30 | Hyundai Ioniq5 | 226 | 1.0% | 253.1% | 24 | 1,157 | 0.6% | 539.2% | 55 | 66 |
| 31 | Mercedes CLA-Class | 218 | 0.9% | 51.4% | 41 | 1,384 | 0.7% | -13.7% | 46 | 56 |
| 32 | VW ID.4 | 215 | 0.9% | 18.8% | 36 | 1,280 | 0.6% | -24.6% | 49 | 16 |
| 33 | Mazda CX-5 | 202 | 0.9% | 149.4% | 56 | 952 | 0.5% | -31.6% | 71 | 69 |
| 34 | Cupra Born | 197 | 0.8% | new | 46 | 990 | 0.5% | new | 68 | 86 |
| 35 | Fiat Panda | 196 | 0.8% | 833.3% | 78 | 571 | 0.3% | 102.5% | 107 | 149 |
| 36 | Citroen C4 | 187 | 0.8% | 171.0% | 17 | 2,087 | 1.0% | 149.3% | 25 | 76 |
| 37 | Peugeot 308 | 184 | 0.8% | 217.2% | 27 | 1,648 | 0.8% | 105.7% | 32 | 100 |
| 38 | Dacia Spring | 182 | 0.8% | 3540.0% | 98 | 767 | 0.4% | 936.5% | 83 | 170 |
| 39 | Mazda CX-30 | 181 | 0.8% | 31.2% | 113 | 997 | 0.5% | -26.0% | 67 | 60 |
| 40 | VW Taigo | 176 | 0.7% | new | 28 | 1,110 | 0.6% | new | 58 | 233 |
| 41 | Citroen C3 | 175 | 0.7% | 22.4% | 45 | 1,666 | 0.8% | -17.4% | 31 | 38 |
| 42 | Toyota Corolla | 174 | 0.7% | -35.6% | 35 | 1,865 | 0.9% | -34.3% | 27 | 14 |
| 43 | Kia Stonic | 165 | 0.7% | -54.3% | 25 | 1,763 | 0.9% | -20.7% | 28 | 29 |
| 44 | VW Golf | 160 | 0.7% | -23.8% | 71 | 1,457 | 0.7% | -46.6% | 39 | 22 |
| 45 | Hyundai i20 | 160 | 0.7% | 11.1% | 55 | 1,418 | 0.7% | 47.7% | 43 | 71 |
| 46 | Nissan Qashqai | 157 | 0.7% | 141.5% | 33 | 2,227 | 1.1% | 30.8% | 23 | 43 |
| 47 | Audi A1 | 144 | 0.6% | 311.4% | 61 | 554 | 0.3% | -50.3% | 112 | 79 |
| 48 | BMW i4 | 142 | 0.6% | new | 44 | 826 | 0.4% | new | 79 | 214 |
| 49 | Mercedes C-Class | 137 | 0.6% | 4.6% | 47 | 1,420 | 0.7% | 24.9% | 42 | 77 |
| 50 | BMW IX3 | 137 | 0.6% | new | 93 | 1,082 | 0.5% | new | 59 | n/a |
| 51 | Renault Megane | 137 | 0.6% | 71.3% | 155 | 679 | 0.3% | -50.7% | 94 | 65 |
| 52 | Suzuki Swift | 131 | 0.6% | 2.3% | 66 | 843 | 0.4% | -41.7% | 75 | 64 |
| 53 | VW ID.5 | 131 | 0.6% | new | 89 | 264 | 0.1% | new | 151 | – |
| 54 | Audi A3 | 130 | 0.5% | -49.4% | 38 | 2,227 | 1.1% | -5.3% | 22 | 30 |
| 55 | Dacia Sandero | 127 | 0.5% | -17.5% | 43 | 1,208 | 0.6% | 1.6% | 54 | 61 |
| 56 | Nissan Micra | 119 | 0.5% | -39.3% | 34 | 1,221 | 0.6% | 49.8% | 52 | 92 |
| 57 | Mercedes A-Class | 118 | 0.5% | -33.0% | 62 | 1,542 | 0.8% | -10.8% | 37 | 58 |
| 58 | Mini Countryman | 118 | 0.5% | 32.6% | 76 | 758 | 0.4% | -25.0% | 85 | 84 |
| 59 | BMW 1-Series | 117 | 0.5% | -41.8% | 50 | 1,441 | 0.7% | -38.3% | 41 | 33 |
| 60 | Toyota C-HR | 116 | 0.5% | -50.0% | 82 | 1,219 | 0.6% | -14.6% | 53 | 48 |
| 61 | VW Tiguan | 110 | 0.5% | 4.8% | 37 | 1,288 | 0.6% | -36.4% | 48 | 47 |
| 62 | Audi Q3 | 110 | 0.5% | 57.1% | 77 | 681 | 0.3% | -1.2% | 92 | 103 |
| 63 | BMW 5-Series | 108 | 0.5% | 28.6% | 54 | 1,076 | 0.5% | -13.2% | 61 | 74 |
| 64 | Ford Fiesta | 107 | 0.5% | -5.3% | 85 | 1,504 | 0.8% | -46.7% | 38 | 26 |
| 65 | BMW iX | 107 | 0.5% | 10600.0% | 144 | 573 | 0.3% | 57200.0% | 105 | 156 |
| 66 | Seat Ibiza | 105 | 0.4% | -38.6% | 59 | 1,082 | 0.5% | -31.5% | 60 | 57 |
| 67 | Skoda Fabia | 104 | 0.4% | 15.6% | 42 | 1,037 | 0.5% | -8.6% | 63 | 80 |
| 68 | BMW 2-Series Tourer | 104 | 0.4% | 147.6% | 105 | 585 | 0.3% | 17.0% | 101 | 119 |
| 69 | Renault Clio | 100 | 0.4% | -23.1% | 128 | 1,624 | 0.8% | -42.2% | 33 | 13 |
| 70 | Skoda Kamiq | 97 | 0.4% | -11.0% | 67 | 779 | 0.4% | -41.8% | 82 | 68 |
| 71 | Mitsubishi Space Star | 95 | 0.4% | -36.7% | 52 | 928 | 0.5% | -31.9% | 72 | 54 |
| 72 | Tesla Model Y | 95 | 0.4% | -25.2% | 64 | 908 | 0.5% | 615.0% | 73 | 73 |
| 73 | Dacia Jogger | 93 | 0.4% | new | 60 | 618 | 0.3% | new | 98 | – |
| 74 | Dacia Duster | 87 | 0.4% | 112.2% | 75 | 688 | 0.3% | -0.7% | 91 | 93 |
| 75 | Renault Twingo | 86 | 0.4% | 95.5% | 109 | 696 | 0.3% | -24.1% | 90 | 78 |
| 76 | Citroen C3 Aircross | 85 | 0.4% | 84.8% | 74 | 906 | 0.5% | 65.9% | 74 | 116 |
| 77 | Ford Kuga | 83 | 0.4% | -53.6% | 125 | 1,270 | 0.6% | -36.9% | 50 | 35 |
| 78 | Polestar 2 | 83 | 0.4% | 15.3% | 92 | 1,042 | 0.5% | 72.5% | 62 | 42 |
| 79 | Hyundai i30 | 83 | 0.4% | 822.2% | 88 | 441 | 0.2% | 194.0% | 124 | 154 |
| 80 | Renault Arkana | 80 | 0.3% | -41.6% | 40 | 1,415 | 0.7% | 442.1% | 45 | 105 |
| 81 | Suzuki Ignis | 80 | 0.3% | -45.9% | 70 | 840 | 0.4% | -52.6% | 78 | 55 |
| 82 | Volvo V60 | 79 | 0.3% | -18.6% | 30 | 1,369 | 0.7% | -39.2% | 47 | 25 |
| 83 | Mazda2 | 78 | 0.3% | -4.9% | 108 | 754 | 0.4% | 10.1% | 87 | 96 |
| 84 | Opel Astra | 75 | 0.3% | -58.8% | 126 | 965 | 0.5% | -48.6% | 70 | 39 |
| 85 | Nissan Leaf | 75 | 0.3% | -29.2% | 130 | 559 | 0.3% | -28.2% | 111 | 90 |
| 86 | Skoda Kodiaq | 73 | 0.3% | -52.0% | 32 | 1,553 | 0.8% | -28.3% | 36 | 45 |
| 87 | Audi Q2 | 73 | 0.3% | -8.8% | 114 | 583 | 0.3% | -29.2% | 102 | 97 |
| 88 | Audi Q4 | 72 | 0.3% | -31.4% | 51 | 1,717 | 0.9% | 595.1% | 29 | 46 |
| 89 | BMW 3-Series | 71 | 0.3% | -70.9% | 53 | 1,610 | 0.8% | -33.7% | 34 | 28 |
| 90 | VW Passat | 71 | 0.3% | 173.1% | 65 | 473 | 0.2% | -25.9% | 120 | 111 |
| 91 | VW T-Cross | 69 | 0.3% | -61.5% | 49 | 1,014 | 0.5% | -41.4% | 65 | 44 |
| 92 | Seat Arona | 69 | 0.3% | 23.2% | 73 | 606 | 0.3% | -34.4% | 99 | 87 |
| 93 | Audi A4 | 64 | 0.3% | 45.5% | 96 | 604 | 0.3% | -14.6% | 100 | 104 |
| 94 | Hyundai Bayon | 62 | 0.3% | -29.5% | 69 | 789 | 0.4% | 317.5% | 81 | 129 |
| 95 | BMW 4-Series | 62 | 0.3% | 31.9% | 83 | 762 | 0.4% | -4.2% | 84 | 94 |
| 96 | MG ZS | 62 | 0.3% | 463.6% | 145 | 564 | 0.3% | 7.6% | 108 | 108 |
| 97 | Mercedes EQB | 62 | 0.3% | new | 123 | 316 | 0.2% | new | 142 | – |
| 98 | Volvo XC60 | 60 | 0.3% | -56.8% | 90 | 1,155 | 0.6% | -22.8% | 56 | 59 |
| 99 | Opel Crossland X | 58 | 0.2% | -65.3% | 63 | 984 | 0.5% | -47.7% | 69 | 40 |
| 100 | Nissan Ariya | 58 | 0.2% | new | – | 58 | 0.0% | new | 219 | – |
| 101 | Suzuki Vitara | 57 | 0.2% | 72.7% | 79 | 1,018 | 0.5% | 15.4% | 64 | 85 |
| 102 | Renault Zoe | 56 | 0.2% | -20.0% | 143 | 620 | 0.3% | -31.5% | 97 | 72 |
| 103 | BMW X5 | 56 | 0.2% | -50.4% | 146 | 577 | 0.3% | -44.5% | 104 | 81 |
| 104 | Mitsubishi Eclipse Cross | 55 | 0.2% | 31.0% | 57 | 727 | 0.4% | 86.9% | 88 | 122 |
| 105 | Range Rover Evoque | 54 | 0.2% | 260.0% | 124 | 252 | 0.1% | 38.5% | 154 | 163 |
| 106 | Toyota RAV4 | 53 | 0.2% | -64.9% | 58 | 1,139 | 0.6% | -1.0% | 57 | 63 |
| 107 | VW Up! | 51 | 0.2% | -81.5% | 102 | 758 | 0.4% | -57.0% | 86 | 31 |
| 108 | Peugeot 508 | 51 | 0.2% | -10.5% | 121 | 318 | 0.2% | -19.7% | 141 | 133 |
| 109 | Porsche Taycan | 50 | 0.2% | 66.7% | 103 | 487 | 0.2% | 52.7% | 116 | 121 |
| 110 | Mini Clubman | 50 | 0.2% | -5.7% | 136 | 407 | 0.2% | -25.0% | 128 | 117 |
| 111 | Mercedes EQE | 50 | 0.2% | new | 120 | 234 | 0.1% | new | 158 | – |
| 112 | Ford Mustang Mach-E | 49 | 0.2% | -88.8% | 72 | 559 | 0.3% | -73.2% | 110 | 17 |
| 113 | Mazda CX-60 | 49 | 0.2% | new | 246 | 51 | 0.0% | new | 223 | – |
| 114 | Skoda Karoq | 48 | 0.2% | -50.5% | 80 | 842 | 0.4% | -52.2% | 77 | 53 |
| 115 | Opel Grandland X | 47 | 0.2% | -75.9% | 87 | 620 | 0.3% | -55.6% | 96 | 67 |
| 116 | Mercedes EQA | 47 | 0.2% | -55.7% | 106 | 464 | 0.2% | -22.7% | 121 | 82 |
| 117 | BMW X3 | 46 | 0.2% | -79.8% | 97 | 583 | 0.3% | -68.5% | 103 | 21 |
| 118 | Tesla Model 3 | 45 | 0.2% | -38.4% | 193 | 421 | 0.2% | -59.4% | 126 | 41 |
| 119 | Porsche 911/Carrera | 45 | 0.2% | 150.0% | 147 | 361 | 0.2% | 12.1% | 134 | 143 |
| 120 | Mercedes E-Class | 45 | 0.2% | 114.3% | 140 | 315 | 0.2% | -41.9% | 143 | 112 |
| 121 | Mercedes EQS | 45 | 0.2% | new | 164 | 287 | 0.1% | new | 147 | 227 |
| 122 | Renault Megane E-Tech | 44 | 0.2% | new | 39 | 226 | 0.1% | new | 163 | – |
| 123 | Honda HR-V | 42 | 0.2% | 366.7% | 162 | 359 | 0.2% | 317.4% | 135 | 196 |
| 124 | Peugeot 3008 | 41 | 0.2% | -75.6% | 81 | 1,418 | 0.7% | -5.7% | 44 | 49 |
| 125 | Seat Ateca | 41 | 0.2% | 41.4% | 152 | 314 | 0.2% | -54.3% | 144 | 109 |
| 126 | Mercedes GLA-Class | 40 | 0.2% | 11.1% | 131 | 334 | 0.2% | -37.1% | 138 | 120 |
| 127 | Porsche Cayenne | 39 | 0.2% | -31.6% | 99 | 572 | 0.3% | 14.9% | 106 | 128 |
| 128 | Suzuki SX4 S-Cross | 38 | 0.2% | 52.0% | 86 | 632 | 0.3% | 95.1% | 95 | 142 |
| 129 | Audi A5 | 38 | 0.2% | -7.3% | 111 | 322 | 0.2% | -36.5% | 140 | 124 |
| 130 | Kia Proceed | 37 | 0.2% | -19.6% | 134 | 462 | 0.2% | -26.2% | 122 | 106 |
| 131 | Kia Rio | 37 | 0.2% | -37.3% | 91 | 381 | 0.2% | -8.2% | 132 | 134 |
| 132 | BMW Z4 | 37 | 0.2% | 131.3% | 179 | 190 | 0.1% | -5.9% | 168 | 169 |
| 133 | Opel Vivaro | 36 | 0.2% | -55.6% | 118 | 260 | 0.1% | -19.0% | 152 | 147 |
| 134 | Alfa Romeo Tonale | 36 | 0.2% | new | 173 | 71 | 0.0% | new | 206 | – |
| 135 | Mercedes Sprinter | 34 | 0.1% | -10.5% | 153 | 286 | 0.1% | -0.7% | 148 | 139 |
| 136 | Kia Xceed | 33 | 0.1% | 10.0% | 107 | 427 | 0.2% | -27.5% | 125 | 110 |
| 137 | Skoda Scala | 33 | 0.1% | -59.3% | 110 | 394 | 0.2% | -45.7% | 131 | 99 |
| 138 | Citroen C5 X | 33 | 0.1% | new | 112 | 229 | 0.1% | new | 160 | – |
| 139 | Mercedes EQC | 33 | 0.1% | -23.3% | 170 | 85 | 0.0% | -22.7% | 202 | 172 |
| 140 | Mazda3 | 32 | 0.1% | -39.6% | 149 | 411 | 0.2% | -19.3% | 127 | 113 |
| 141 | Mercedes GLE-Class | 31 | 0.1% | 29.2% | 141 | 275 | 0.1% | -22.8% | 149 | 140 |
| 142 | Volvo XC90 | 29 | 0.1% | 3.6% | 100 | 518 | 0.3% | -7.2% | 113 | 107 |
| 143 | Honda Jazz | 28 | 0.1% | -26.3% | 139 | 334 | 0.2% | 11.0% | 137 | 138 |
| 144 | Audi Q5 | 28 | 0.1% | -31.7% | 148 | 156 | 0.1% | -3.1% | 174 | 161 |
| 145 | Mercedes GLC-Class | 27 | 0.1% | -62.0% | 138 | 481 | 0.2% | 3.0% | 117 | 127 |
| 146 | Hyundai Santa Fe | 27 | 0.1% | 58.8% | 151 | 326 | 0.2% | 219.6% | 139 | 165 |
| 147 | Kia Sorento | 26 | 0.1% | -13.3% | 115 | 267 | 0.1% | -36.9% | 150 | 130 |
| 148 | Ford Ecosport | 26 | 0.1% | 36.8% | 178 | 219 | 0.1% | -18.3% | 164 | 145 |
| 149 | Volvo V90 | 25 | 0.1% | 150.0% | 117 | 255 | 0.1% | -23.9% | 153 | 141 |
| 150 | Volvo S60 | 24 | 0.1% | -42.9% | 203 | 169 | 0.1% | -65.0% | 171 | 125 |
| 151 | BMW X1 | 23 | 0.1% | -61.0% | 127 | 681 | 0.3% | -24.6% | 93 | 89 |
| 152 | Audi A6 | 23 | 0.1% | 9.5% | 122 | 226 | 0.1% | -7.0% | 162 | 159 |
| 153 | Seat Tarraco | 22 | 0.1% | -12.0% | 68 | 369 | 0.2% | -21.2% | 133 | 132 |
| 154 | VW Multivan | 22 | 0.1% | n/a | 160 | 117 | 0.1% | 3800.0% | 189 | 301 |
| 155 | Citroen C5 Aircross | 21 | 0.1% | -70.0% | 95 | 404 | 0.2% | -42.1% | 129 | 98 |
| 156 | Jeep Compass | 20 | 0.1% | -61.5% | 163 | 304 | 0.2% | -35.6% | 145 | 123 |
| 157 | Land Rover Defender | 20 | 0.1% | -63.0% | 142 | 297 | 0.1% | 100.7% | 146 | 157 |
| 158 | Mercedes GLB | 20 | 0.1% | -45.9% | 187 | 194 | 0.1% | -68.1% | 167 | 114 |
| 159 | Fiat Ducato | 20 | 0.1% | n/a | – | 23 | 0.0% | 1050.0% | 247 | 316 |
| 160 | Peugeot 5008 | 19 | 0.1% | -84.6% | 129 | 709 | 0.4% | -18.2% | 89 | 83 |
| 161 | Skoda Superb | 19 | 0.1% | -70.8% | 104 | 562 | 0.3% | 14.5% | 109 | 118 |
| 162 | Mercedes Vito | 19 | 0.1% | -5.0% | 156 | 236 | 0.1% | 112.6% | 157 | 162 |
| 163 | BMW 2-Series | 19 | 0.1% | 850.0% | 172 | 102 | 0.1% | 61.9% | 195 | 219 |
| 164 | Fiat Ulysse | 19 | 0.1% | new | – | 49 | 0.0% | new | 225 | – |
| 165 | Nissan Juke | 18 | 0.1% | -85.4% | 116 | 501 | 0.3% | -44.4% | 115 | 88 |
| 166 | Mercedes B-Class | 16 | 0.1% | -69.8% | 133 | 504 | 0.3% | -33.1% | 114 | 102 |
| 167 | VW Arteon | 16 | 0.1% | 6.7% | 157 | 142 | 0.1% | 4.4% | 177 | 174 |
| 168 | Cupra Formentor | 15 | 0.1% | -6.3% | 119 | 158 | 0.1% | 177.2% | 172 | 204 |
| 169 | BMW X2 | 15 | 0.1% | 0.0% | 175 | 137 | 0.1% | -14.9% | 180 | 176 |
| 170 | Lexus NX | 15 | 0.1% | 650.0% | 250 | 95 | 0.0% | 265.4% | 196 | 241 |
| 171 | DS 4 | 14 | 0.1% | new | 183 | 232 | 0.1% | new | 159 | 278 |
| 172 | BMW X4 | 14 | 0.1% | -33.3% | 158 | 134 | 0.1% | -15.7% | 182 | 178 |
| 173 | Kia Soul | 13 | 0.1% | -75.0% | 169 | 140 | 0.1% | -41.7% | 178 | 153 |
| 174 | VW California | 13 | 0.1% | -27.8% | 168 | 85 | 0.0% | -50.0% | 203 | 181 |
| 175 | Volvo C40 | 12 | 0.1% | new | 177 | 219 | 0.1% | new | 165 | 151 |
| 176 | DS 7 Crossback | 12 | 0.1% | -20.0% | 195 | 190 | 0.1% | 54.5% | 169 | 186 |
| 177 | Citroen C4 Spacetourer | 12 | 0.1% | -25.0% | 166 | 182 | 0.1% | -38.5% | 170 | 150 |
| 178 | Jeep Wrangler | 12 | 0.1% | -42.9% | 180 | 120 | 0.1% | 46.3% | 187 | 190 |
| 179 | Mercedes S-Class | 11 | 0.0% | 57.1% | 165 | 132 | 0.1% | -2.2% | 183 | 185 |
| 180 | Land Rover Discovery Sport | 11 | 0.0% | 83.3% | 181 | 110 | 0.1% | -27.2% | 192 | 180 |
| 181 | Suzuki Swace | 11 | 0.0% | 22.2% | 217 | 58 | 0.0% | -61.6% | 218 | 158 |
| 182 | BMW 2-Series Gran Coupe | 10 | 0.0% | -90.4% | 161 | 335 | 0.2% | -59.7% | 136 | 95 |
| 183 | Range Rover Velar | 10 | 0.0% | 900.0% | 150 | 158 | 0.1% | 69.9% | 173 | 201 |
| 184 | Lexus UX | 10 | 0.0% | -47.4% | 197 | 89 | 0.0% | -36.0% | 201 | 173 |
| 185 | Toyota Proace | 9 | 0.0% | -85.5% | 84 | 242 | 0.1% | 25.4% | 155 | 166 |
| 186 | MG 5 | 9 | 0.0% | new | 219 | 196 | 0.1% | new | 166 | – |
| 187 | MG Marvel R | 9 | 0.0% | n/a | 204 | 143 | 0.1% | 3475.0% | 176 | 270 |
| 188 | Range Rover | 9 | 0.0% | 800.0% | 182 | 62 | 0.0% | -11.4% | 213 | 207 |
| 189 | Alfa Romeo Giulia | 9 | 0.0% | 0.0% | 234 | 60 | 0.0% | -29.4% | 214 | 200 |
| 190 | BMW 7-Series | 8 | 0.0% | -57.9% | 214 | 125 | 0.1% | -2.3% | 184 | 183 |
| 191 | Mercedes EQV | 8 | 0.0% | -33.3% | 167 | 117 | 0.1% | 290.0% | 188 | 208 |
| 192 | BMW X6 | 8 | 0.0% | 33.3% | 189 | 75 | 0.0% | -18.5% | 205 | 199 |
| 193 | BMW X7 | 8 | 0.0% | 60.0% | 190 | 69 | 0.0% | 25.5% | 209 | 218 |
| 194 | Hyundai Ioniq | 8 | 0.0% | -74.2% | 220 | 54 | 0.0% | -65.6% | 222 | 137 |
| 195 | Mazda MX-30 | 8 | 0.0% | -94.2% | 256 | 42 | 0.0% | -81.7% | 230 | 136 |
| 196 | BMW 8-Series | 7 | 0.0% | -12.5% | 207 | 49 | 0.0% | -38.8% | 224 | 198 |
| 197 | Jaguar E-Pace | 7 | 0.0% | 75.0% | 201 | 39 | 0.0% | -26.4% | 231 | 222 |
| 198 | Mercedes G-Class | 7 | 0.0% | 250.0% | 263 | 19 | 0.0% | 5.6% | 254 | 253 |
| 199 | BMW i3 | 6 | 0.0% | -76.0% | 248 | 238 | 0.1% | -29.6% | 156 | 115 |
| 200 | Porsche Panamera | 6 | 0.0% | 100.0% | 185 | 138 | 0.1% | 17.9% | 179 | 187 |
| 201 | Porsche Macan | 6 | 0.0% | 20.0% | 171 | 115 | 0.1% | 66.7% | 190 | 203 |
| 202 | Audi e-Tron GT | 6 | 0.0% | -85.4% | 176 | 107 | 0.1% | -31.8% | 194 | 160 |
| 203 | Honda CR-V | 6 | 0.0% | -53.8% | 188 | 89 | 0.0% | 4.7% | 199 | 193 |
| 204 | Toyota Proace City Verso | 6 | 0.0% | -25.0% | 200 | 39 | 0.0% | -2.5% | 232 | 206 |
| 205 | DS 9 | 6 | 0.0% | n/a | 192 | 38 | 0.0% | 1166.7% | 233 | 288 |
| 206 | Toyota Aygo | 5 | 0.0% | -98.8% | 213 | 1,225 | 0.6% | -70.9% | 51 | 9 |
| 207 | Audi Q8 | 5 | 0.0% | -61.5% | 215 | 108 | 0.1% | -43.8% | 193 | 168 |
| 208 | Suzuki Across | 5 | 0.0% | 0.0% | 212 | 11 | 0.0% | -50.0% | 276 | 223 |
| 209 | Renault Kadjar | 4 | 0.0% | -60.0% | 174 | 396 | 0.2% | 24.5% | 130 | 144 |
| 210 | Renault Scénic | 4 | 0.0% | -88.6% | 194 | 229 | 0.1% | 108.2% | 161 | 152 |
| 211 | Jeep Renegade | 4 | 0.0% | -86.2% | 159 | 112 | 0.1% | -50.7% | 191 | 155 |
| 212 | Toyota Highlander | 4 | 0.0% | -60.0% | 191 | 65 | 0.0% | -27.8% | 211 | 195 |
| 213 | Opel Insignia | 4 | 0.0% | -69.2% | 198 | 58 | 0.0% | -68.1% | 217 | 167 |
| 214 | Bentley Continental | 4 | 0.0% | 0.0% | 206 | 55 | 0.0% | 48.6% | 221 | 234 |
| 215 | Alfa Romeo Stelvio | 4 | 0.0% | -33.3% | 218 | 37 | 0.0% | 23.3% | 235 | 238 |
| 216 | Volvo S90 | 4 | 0.0% | 100.0% | – | 36 | 0.0% | 33.3% | 239 | 232 |
| 217 | Porsche 718 Boxster | 4 | 0.0% | -20.0% | 221 | 33 | 0.0% | -15.4% | 242 | 231 |
| 218 | Honda Civic | 4 | 0.0% | -20.0% | – | 24 | 0.0% | -42.9% | 245 | 216 |
| 219 | Mercedes AMG GT | 4 | 0.0% | n/a | 209 | 24 | 0.0% | 71.4% | 246 | 265 |
| 220 | BMW 6-Series | 4 | 0.0% | 100.0% | 227 | 17 | 0.0% | -34.6% | 258 | 236 |
| 221 | Porsche 718 Cayman | 4 | 0.0% | n/a | 210 | 17 | 0.0% | 6.3% | 262 | 260 |
| 222 | Renault Koleos | 4 | 0.0% | 33.3% | 271 | 9 | 0.0% | -43.8% | 280 | 261 |
| 223 | Citroen Jumpy | 3 | 0.0% | n/a | 94 | 446 | 0.2% | n/a | 123 | – |
| 224 | Range Rover Sport | 3 | 0.0% | -62.5% | 184 | 145 | 0.1% | -56.3% | 175 | 146 |
| 225 | Mazda6 | 3 | 0.0% | -81.3% | 251 | 68 | 0.0% | -60.2% | 210 | 179 |
| 226 | Lexus ES | 3 | 0.0% | -62.5% | 205 | 60 | 0.0% | -27.7% | 215 | 194 |
| 227 | Citroen Berlingo | 3 | 0.0% | 200.0% | 233 | 57 | 0.0% | 171.4% | 220 | 252 |
| 228 | Toyota Prius | 3 | 0.0% | -70.0% | 253 | 44 | 0.0% | -4.3% | 228 | 212 |
| 229 | Fiat Tipo | 3 | 0.0% | -80.0% | 154 | 38 | 0.0% | -72.1% | 234 | 177 |
| 230 | Bentley Bentayga | 3 | 0.0% | 50.0% | 208 | 37 | 0.0% | 76.2% | 236 | 244 |
| 231 | Mercedes GLS-Class | 3 | 0.0% | 50.0% | 224 | 22 | 0.0% | -29.0% | 248 | 237 |
| 232 | VW Caddy | 3 | 0.0% | -50.0% | 260 | 19 | 0.0% | 26.7% | 257 | 256 |
| 233 | Land Rover Discovery | 3 | 0.0% | 50.0% | 266 | 13 | 0.0% | 8.3% | 269 | 276 |
| 234 | BYD Atto 3 | 3 | 0.0% | new | – | 3 | 0.0% | new | 317 | – |
| 235 | DS 3 Crossback | 2 | 0.0% | -87.5% | 135 | 136 | 0.1% | 34.7% | 181 | 189 |
| 236 | Ford Explorer | 2 | 0.0% | -33.3% | 249 | 89 | 0.0% | -16.0% | 198 | 192 |
| 237 | Jaguar F-Pace | 2 | 0.0% | 100.0% | 196 | 89 | 0.0% | 67.9% | 200 | 220 |
| 238 | VW Transporter | 2 | 0.0% | -60.0% | 199 | 48 | 0.0% | -18.6% | 226 | 221 |
| 239 | Opel Combo | 2 | 0.0% | 100.0% | 235 | 37 | 0.0% | 60.9% | 237 | 240 |
| 240 | Lexus RX | 2 | 0.0% | -66.7% | 202 | 33 | 0.0% | -31.3% | 241 | 217 |
| 241 | Cupra Leon | 2 | 0.0% | n/a | 257 | 29 | 0.0% | n/a | 244 | 215 |
| 242 | Lamborghini Urus | 2 | 0.0% | 100.0% | 225 | 20 | 0.0% | 5.3% | 251 | 255 |
| 243 | Mercedes V-Class | 2 | 0.0% | -33.3% | 238 | 20 | 0.0% | -20.0% | 252 | 245 |
| 244 | Jaguar F-Type | 2 | 0.0% | 100.0% | 261 | 17 | 0.0% | -22.7% | 260 | 246 |
| 245 | Jaguar XF | 2 | 0.0% | 0.0% | – | 17 | 0.0% | -10.5% | 261 | 254 |
| 246 | Lamborghini Huracan | 2 | 0.0% | n/a | 229 | 12 | 0.0% | 100.0% | 273 | 285 |
| 247 | Maserati Grecale | 2 | 0.0% | new | 230 | 7 | 0.0% | new | 287 | – |
| 248 | NIO ET7 | 2 | 0.0% | new | – | 2 | 0.0% | new | 325 | – |
| 249 | MG eHS | 1 | 0.0% | -91.7% | 186 | 121 | 0.1% | -34.6% | 185 | 164 |
| 250 | Audi Q7 | 1 | 0.0% | -88.9% | 216 | 69 | 0.0% | -56.1% | 208 | 184 |
| 251 | Hyundai Nexo | 1 | 0.0% | 0.0% | – | 62 | 0.0% | 933.3% | 212 | 235 |
| 252 | Mazda MX-5 | 1 | 0.0% | -88.9% | 254 | 36 | 0.0% | -60.4% | 238 | 202 |
| 253 | Peugeot Rifter | 1 | 0.0% | -50.0% | 236 | 32 | 0.0% | 52.4% | 243 | 249 |
| 254 | BYD Tang | 1 | 0.0% | new | – | 21 | 0.0% | new | 249 | – |
| 255 | Audi A8 | 1 | 0.0% | -50.0% | 223 | 20 | 0.0% | 0.0% | 250 | 259 |
| 256 | Toyota Mirai | 1 | 0.0% | -66.7% | 258 | 19 | 0.0% | -62.7% | 256 | 210 |
| 257 | Toyota Camry | 1 | 0.0% | -66.7% | 240 | 17 | 0.0% | -60.5% | 263 | 226 |
| 258 | Bentley Flying Spur | 1 | 0.0% | n/a | 241 | 14 | 0.0% | -6.7% | 267 | 263 |
| 259 | Mercedes SL-Class | 1 | 0.0% | n/a | 211 | 13 | 0.0% | n/a | 270 | – |
| 260 | Ferrari SF90 | 1 | 0.0% | -50.0% | – | 12 | 0.0% | 9.1% | 272 | 271 |
| 261 | Peugeot Traveller | 1 | 0.0% | n/a | 267 | 10 | 0.0% | 0.0% | 278 | 274 |
| 262 | Ferrari F8 | 1 | 0.0% | 0.0% | – | 7 | 0.0% | -65.0% | 285 | 257 |
| 263 | Jaguar i-Pace | 1 | 0.0% | 0.0% | 268 | 7 | 0.0% | -50.0% | 286 | 264 |
| 264 | Ford Tourneo/Transit Custom | 1 | 0.0% | n/a | – | 6 | 0.0% | -40.0% | 290 | 267 |
| 265 | Opel Zafira Life | 1 | 0.0% | n/a | 270 | 6 | 0.0% | -25.0% | 292 | 283 |
| 266 | Tesla Model X | 1 | 0.0% | n/a | – | 5 | 0.0% | 400.0% | 295 | 314 |
| 267 | JAC IEV7S | 1 | 0.0% | -80.0% | – | 5 | 0.0% | -68.8% | 297 | – |
| 268 | XPeng P7 | 1 | 0.0% | new | – | 5 | 0.0% | new | 299 | – |
| 269 | Ford Mustang | 1 | 0.0% | n/a | – | 4 | 0.0% | 300.0% | 302 | 298 |
| 270 | Morgan Plus-4 | 1 | 0.0% | n/a | – | 4 | 0.0% | 0.0% | 305 | 293 |
| 271 | Aston Martin DBS | 1 | 0.0% | n/a | 276 | 3 | 0.0% | -57.1% | 309 | 291 |
| 272 | Morgan Plus-6 | 1 | 0.0% | 0.0% | – | 3 | 0.0% | -25.0% | 315 | 300 |
| 273 | Maserati MC20 | 1 | 0.0% | new | – | 2 | 0.0% | new | 319 | 310 |
| 274 | Tesla Model S | 1 | 0.0% | n/a | – | 2 | 0.0% | -33.3% | 321 | 303 |
| 275 | Renault Trafic | 1 | 0.0% | n/a | – | 1 | 0.0% | n/a | 340 | 313 |
Source: Bovag