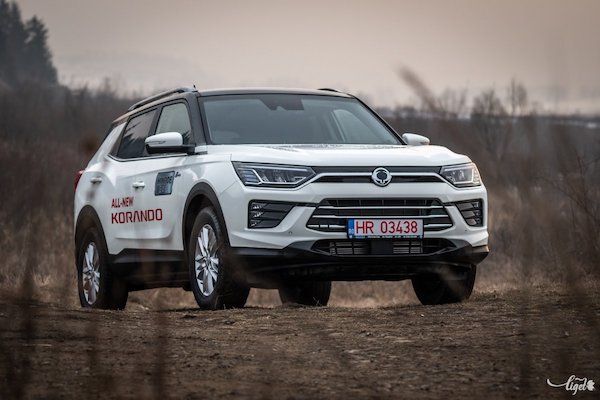 Romania August 2022: Ssangyong smashes records, Dacia Sandero repeats at #1, registrations down -22.3%
Ssangyong sales are up 11-fold year-on-year in August. Picture liget.ro
12,539 new cars hit Romanian roads in August, that's a harsh -22.3% year-on-year fall. The year-to-date tally however remains in positive at +5.1% and 83,350 units. Dacia (-32.1%) falls faster than the market but due to a high year-ago comparison base its share remains buoyant at 34.1% vs. 29% so far this year. Toyota (-0.2%) edges down to improve its market share to 8.7%. Hyundai (-17.6%) contains its fall somewhat at #3 while Ford (+5%) signs the only year-on-year gain in the Top 7 and jumps three spots on July to #4. Skoda (-12%) and Volkswagen (-21.2%) increase their market share year-on-year but Renault (-33.1%) isn't that lucky. The hero of the month is Ssangyong (+1012.5%) up 11-fold year-on-year to smash its record ranking, volume and share at #8, 445 units and 3.5% with previous bests at #14, 183 and 1.5% hit just last month. This performance is particularly striking as the company is currently in dire straits.
In the models ranking, the Dacia Sandero (-9.8%) resists relatively well to repeat at #1 with 10.5% of the market vs. 6.2% year-to-date. The Dacia Logan (-56.1%) follows at #2 vs. #3 last month, yet another proof that the Logan's once indestructible reign has come to an end. After 189 consecutive months of domination ever since its launch back in September 2004, the Logan has now missed the top spot 6 times in the past 18 months: beaten by the Duster in March 2021, by the Spring in November and December 2021, by both the Duster and Spring in March 2022, by the Sandero and Duster in July 2022 and by the Sandero this month. Even though the Logan remains the #1 vehicle YTD with a large margin, this has shaped up to be a middle-term trend of more volatility atop the Romanian sales charts. The Dacia Duster (-55.9%) is also in great difficulty at #3 followed by the Dacia Spring. At #5, the Hyundai Tucson (+10.2%) is the only non-Dacia model in the Top 6 with the Jogger staying at #6. The Ford Focus (+735.3%) and Ssangyong Tivoli (+1707.1%) sport surreal gains in the remainder of the Top 10.
Previous month: Romania July 2022: Dacia Sandero scores first ever win in market off -21.9%
One year ago: Romania August 2021: Dacia Duster breaks share record in market up 44.6%
Full August 2022 Top 45 all brands and Top 255 all models below.
Romania August 2022 – brands:
| | | | | | | | | | | |
| --- | --- | --- | --- | --- | --- | --- | --- | --- | --- | --- |
| Pos | Brand | Aug-22 | % | /21 | Jul | 2022 | % | /21 | Pos | FY21 |
| 1 | Dacia | 4,277 | 34.1% | -32.1% | 1 | 24,158 | 29.0% | 13.3% | 1 | 1 |
| 2 | Toyota | 1,095 | 8.7% | -0.2% | 2 | 6,770 | 8.1% | 16.1% | 2 | 7 |
| 3 | Hyundai | 995 | 7.9% | -17.6% | 3 | 6,607 | 7.9% | 17.6% | 3 | 6 |
| 4 | Ford | 817 | 6.5% | 5.0% | 7 | 6,082 | 7.3% | 9.4% | 4 | 5 |
| 5 | Volkswagen | 777 | 6.2% | -21.2% | 6 | 5,242 | 6.3% | -7.1% | 6 | 4 |
| 6 | Skoda | 669 | 5.3% | -12.0% | 4 | 5,508 | 6.6% | -8.7% | 5 | 2 |
| 7 | Renault | 602 | 4.8% | -33.1% | 5 | 4,630 | 5.6% | -6.7% | 7 | 3 |
| 8 | SsangYong | 445 | 3.5% | 1012.5% | 14 | 1,377 | 1.7% | 339.9% | 15 | 27 |
| 9 | Mercedes | 307 | 2.4% | -7.3% | 12 | 2,523 | 3.0% | 0.3% | 8 | 10 |
| 10 | Kia | 300 | 2.4% | -27.4% | 11 | 1,982 | 2.4% | 13.9% | 10 | 17 |
| 11 | Peugeot | 291 | 2.3% | -29.9% | 9 | 2,469 | 3.0% | 4.9% | 9 | 9 |
| 12 | BMW | 283 | 2.3% | 19.4% | 10 | 1,978 | 2.4% | -18.7% | 11 | 11 |
| 13 | Mazda | 215 | 1.7% | -36.6% | 13 | 1,538 | 1.8% | -9.8% | 13 | 16 |
| 14 | Audi | 212 | 1.7% | 17.1% | 16 | 1,550 | 1.9% | 37.9% | 12 | 19 |
| 15 | Suzuki | 194 | 1.5% | -72.6% | 15 | 1,439 | 1.7% | -59.0% | 14 | 8 |
| 16 | Citroen | 153 | 1.2% | -23.5% | 8 | 1,344 | 1.6% | -13.4% | 16 | 15 |
| 17 | Opel | 143 | 1.1% | -43.9% | 17 | 1,233 | 1.5% | 0.4% | 18 | 12 |
| 18 | Jeep | 108 | 0.9% | -28.5% | 24 | 1,286 | 1.5% | 44.7% | 17 | 18 |
| 19 | Honda | 106 | 0.8% | -30.7% | 19 | 699 | 0.8% | 30.4% | 20 | 20 |
| 20 | Fiat | 96 | 0.8% | -8.6% | 18 | 982 | 1.2% | 58.4% | 19 | 14 |
| 21 | Volvo | 86 | 0.7% | -19.6% | 20 | 654 | 0.8% | -4.5% | 21 | 21 |
| 22 | Seat | 81 | 0.6% | 22.7% | 25 | 411 | 0.5% | -15.4% | 24 | 22 |
| 23 | Nissan | 79 | 0.6% | -57.3% | 23 | 641 | 0.8% | -43.7% | 22 | 13 |
| 24 | Land Rover | 39 | 0.3% | -4.9% | 22 | 340 | 0.4% | -11.9% | 25 | 23 |
| 25 | Cupra | 27 | 0.2% | 35.0% | 26 | 210 | 0.3% | 156.1% | 27 | 42 |
| 26 | Mini | 24 | 0.2% | 0.0% | 30 | 166 | 0.2% | -7.8% | 29 | 26 |
| 27 | Porsche | 23 | 0.2% | 43.8% | 27 | 260 | 0.3% | 31.3% | 26 | 25 |
| 28 | Mitsubishi | 14 | 0.1% | -54.8% | 29 | 157 | 0.2% | 20.8% | 30 | 24 |
| 29 | Lexus | 14 | 0.1% | -26.3% | 28 | 132 | 0.2% | 5.6% | 31 | 28 |
| 30 | DS | 12 | 0.1% | -29.4% | 31 | 180 | 0.2% | 239.6% | 28 | 33 |
| 31 | Tesla | 10 | 0.1% | 233.3% | 21 | 435 | 0.5% | 1712.5% | 23 | 32 |
| 32 | Smart | 10 | 0.1% | 0.0% | 32 | 62 | 0.1% | 63.2% | 33 | 31 |
| 33 | Jaguar | 9 | 0.1% | -40.0% | 33 | 46 | 0.1% | -57.0% | 34 | 30 |
| 34 | Ferrari | 5 | 0.0% | 66.7% | 38 | 37 | 0.0% | 68.2% | 36 | 37 |
| 35 | Bentley | 4 | 0.0% | 0.0% | 37 | 41 | 0.0% | 70.8% | 35 | 36 |
| 36 | Subaru | 4 | 0.0% | 0.0% | 34 | 28 | 0.0% | 0.0% | 37 | 35 |
| 37 | Maserati | 4 | 0.0% | 300.0% | 40 | 20 | 0.0% | 53.8% | 39 | 38 |
| 38 | Alfa Romeo | 3 | 0.0% | -50.0% | 36 | 81 | 0.1% | 62.0% | 32 | 29 |
| 39 | Rolls-Royce | 3 | 0.0% | n/a | 41 | 7 | 0.0% | -22.2% | 40 | 39 |
| 40 | Lamborghini | 1 | 0.0% | 0.0% | 35 | 22 | 0.0% | 29.4% | 38 | 34 |
| 41 | Aston Martin | 1 | 0.0% | 0.0% | – | 6 | 0.0% | -40.0% | 41 | 41 |
Romania August 2022 – models:
| | | | | | | | | | | |
| --- | --- | --- | --- | --- | --- | --- | --- | --- | --- | --- |
| Pos | Model | Aug-22 | % | /21 | Jul | 2022 | % | /21 | Pos | FY21 |
| 1 | Dacia Sandero | 1,322 | 10.5% | -9.8% | 1 | 5,179 | 6.2% | -6.5% | 3 | 3 |
| 2 | Dacia Logan | 1,071 | 8.5% | -56.1% | 3 | 7,511 | 9.0% | -10.0% | 1 | 1 |
| 3 | Dacia Duster | 1,013 | 8.1% | -55.9% | 2 | 5,868 | 7.0% | -10.4% | 2 | 2 |
| 4 | Dacia Spring | 544 | 4.3% | n/a | 4 | 3,526 | 4.2% | 5324.6% | 4 | 5 |
| 5 | Hyundai Tucson | 346 | 2.8% | 10.2% | 5 | 2,002 | 2.4% | 7.6% | 6 | 7 |
| 6 | Dacia Jogger | 320 | 2.6% | new | 6 | 1,600 | 1.9% | new | 8 | – |
| 7 | Toyota Corolla | 295 | 2.4% | -10.3% | 9 | 1,830 | 2.2% | 6.5% | 7 | 9 |
| 8 | Ford Focus | 284 | 2.3% | 735.3% | 37 | 878 | 1.1% | -10.9% | 20 | 17 |
| 9 | Ssangyong Tivoli | 253 | 2.0% | 1707.1% | 28 | 766 | 0.9% | 622.6% | 26 | 100 |
| 10 | Ford Puma | 240 | 1.9% | -41.0% | 13 | 2,395 | 2.9% | 2.5% | 5 | 4 |
| 11 | Toyota C-HR | 215 | 1.7% | -14.7% | 11 | 1,390 | 1.7% | 5.3% | 9 | 10 |
| 12 | Hyundai i30 | 211 | 1.7% | 9.9% | 14 | 969 | 1.2% | 22.7% | 15 | 21 |
| 13 | Toyota RAV4 | 194 | 1.5% | -6.3% | 8 | 1,297 | 1.6% | 18.2% | 11 | 13 |
| 14 | Skoda Octavia | 189 | 1.5% | -18.2% | 10 | 1,380 | 1.7% | -35.8% | 10 | 8 |
| 15 | Ssangyong Korando | 183 | 1.5% | 662.5% | 47 | 573 | 0.7% | 192.3% | 42 | 79 |
| 16 | Toyota Yaris | 170 | 1.4% | 41.7% | 17 | 776 | 0.9% | 30.2% | 23 | 35 |
| 17 | VW Golf | 153 | 1.2% | 255.8% | 27 | 686 | 0.8% | -12.2% | 36 | 28 |
| 18 | Peugeot 208 | 152 | 1.2% | 133.8% | 20 | 803 | 1.0% | 50.9% | 22 | 46 |
| 19 | VW Tiguan | 152 | 1.2% | 11.8% | 21 | 687 | 0.8% | -21.7% | 35 | 24 |
| 20 | Ford Kuga | 137 | 1.1% | 20.2% | 29 | 900 | 1.1% | 20.3% | 19 | 26 |
| 21 | Kia Sportage | 132 | 1.1% | -45.7% | 18 | 933 | 1.1% | -18.1% | 17 | 15 |
| 22 | Renault Captur | 122 | 1.0% | -25.6% | 15 | 908 | 1.1% | -25.9% | 18 | 11 |
| 23 | Skoda Fabia | 114 | 0.9% | 20.0% | 12 | 764 | 0.9% | 23.2% | 27 | 39 |
| 24 | Hyundai i20 | 113 | 0.9% | 0.9% | 43 | 766 | 0.9% | -8.2% | 25 | 18 |
| 25 | Renault Mégane | 112 | 0.9% | -64.4% | 19 | 1,147 | 1.4% | -8.1% | 13 | 14 |
| 26 | Renault Kadjar | 110 | 0.9% | 307.4% | 24 | 406 | 0.5% | 196.4% | 53 | 104 |
| 27 | Renault Arkana | 106 | 0.8% | 65.6% | 16 | 666 | 0.8% | 445.9% | 38 | 68 |
| 28 | Renault Clio | 104 | 0.8% | -44.1% | 34 | 995 | 1.2% | -44.1% | 14 | 6 |
| 29 | Skoda Kamiq | 100 | 0.8% | -24.2% | 23 | 713 | 0.9% | -9.4% | 32 | 25 |
| 30 | Suzuki SX4 | 96 | 0.8% | -37.3% | 40 | 622 | 0.7% | -26.0% | 39 | 33 |
| 31 | Skoda Kodiaq | 93 | 0.7% | 69.1% | 25 | 962 | 1.2% | 53.7% | 16 | 43 |
| 32 | Citroen C3 | 91 | 0.7% | -4.2% | 7 | 754 | 0.9% | -1.7% | 29 | 27 |
| 33 | Hyundai Kona | 90 | 0.7% | -63.7% | 22 | 1,227 | 1.5% | 12.0% | 12 | 16 |
| 34 | Toyota Yaris Cross | 90 | 0.7% | new | 41 | 548 | 0.7% | new | 45 | 227 |
| 35 | Mazda CX-30 | 87 | 0.7% | -43.9% | 39 | 704 | 0.8% | 4.3% | 33 | 31 |
| 36 | VW T-Roc | 77 | 0.6% | -9.4% | 46 | 736 | 0.9% | 29.6% | 30 | 44 |
| 37 | Skoda Superb | 77 | 0.6% | 126.5% | 32 | 459 | 0.6% | 19.8% | 50 | 50 |
| 38 | Jeep Renegade | 75 | 0.6% | 102.7% | 121 | 761 | 0.9% | 334.9% | 28 | 51 |
| 39 | Hyundai Elantra | 73 | 0.6% | -53.8% | 31 | 844 | 1.0% | 108.4% | 21 | 29 |
| 40 | VW Taigo | 70 | 0.6% | new | 42 | 368 | 0.4% | new | 58 | – |
| 41 | Ford Ecosport | 69 | 0.6% | 16.9% | 30 | 767 | 0.9% | 96.7% | 24 | 38 |
| 42 | VW Passat | 66 | 0.5% | -8.3% | 38 | 576 | 0.7% | -23.1% | 41 | 30 |
| 43 | VW Polo | 65 | 0.5% | -81.3% | 67 | 550 | 0.7% | -42.5% | 44 | 19 |
| 44 | VW Up! | 64 | 0.5% | 16.4% | 50 | 332 | 0.4% | 5.4% | 63 | 57 |
| 45 | Skoda Scala | 63 | 0.5% | -46.6% | 36 | 690 | 0.8% | -18.9% | 34 | 23 |
| 46 | Kia Ceed | 63 | 0.5% | -19.2% | 48 | 384 | 0.5% | 90.1% | 57 | 71 |
| 47 | Hyundai Ioniq | 63 | 0.5% | 80.0% | 55 | 243 | 0.3% | 140.6% | 74 | 109 |
| 48 | VW T-Cross | 60 | 0.5% | -51.2% | 33 | 682 | 0.8% | 2.6% | 37 | 34 |
| 49 | Suzuki Vitara | 58 | 0.5% | -78.4% | 54 | 514 | 0.6% | -67.3% | 46 | 12 |
| 50 | Ford Fiesta | 57 | 0.5% | -17.4% | 45 | 501 | 0.6% | 0.0% | 48 | 48 |
| 51 | Opel Crossland | 57 | 0.5% | -40.6% | 62 | 387 | 0.5% | 15.2% | 56 | 56 |
| 52 | Nissan Qashqai | 51 | 0.4% | -65.5% | 49 | 429 | 0.5% | -52.8% | 52 | 20 |
| 53 | Fiat 500 | 51 | 0.4% | 10.9% | 26 | 289 | 0.3% | 79.5% | 70 | 78 |
| 54 | Mercedes GLE | 50 | 0.4% | -37.5% | 44 | 592 | 0.7% | 1.9% | 40 | 36 |
| 55 | Audi Q3 | 50 | 0.4% | 47.1% | 66 | 328 | 0.4% | 71.7% | 64 | 82 |
| 56 | Peugeot 2008 | 47 | 0.4% | -71.9% | 63 | 513 | 0.6% | -27.9% | 47 | 22 |
| 57 | Mazda3 | 47 | 0.4% | -40.5% | 56 | 399 | 0.5% | 3.4% | 54 | 49 |
| 58 | Mercedes GLC | 47 | 0.4% | 14.6% | 57 | 359 | 0.4% | -1.1% | 59 | 55 |
| 59 | Hyundai Bayon | 46 | 0.4% | -30.3% | 79 | 217 | 0.3% | 161.4% | 79 | 72 |
| 60 | Kia Xceed | 45 | 0.4% | 21.6% | 65 | 334 | 0.4% | 81.5% | 62 | 74 |
| 61 | Fiat Tipo | 45 | 0.4% | -8.2% | 100 | 195 | 0.2% | -36.7% | 84 | 63 |
| 62 | BMW 1 Series | 45 | 0.4% | 114.3% | 70 | 172 | 0.2% | 59.3% | 90 | 127 |
| 63 | Opel Corsa | 42 | 0.3% | -51.2% | 71 | 316 | 0.4% | -36.5% | 66 | 42 |
| 64 | Audi A4 | 42 | 0.3% | 50.0% | 90 | 290 | 0.3% | 77.9% | 68 | 86 |
| 65 | BMW X5 | 42 | 0.3% | -12.5% | 53 | 288 | 0.3% | -25.2% | 71 | 53 |
| 66 | Honda CR-V | 41 | 0.3% | -10.9% | 58 | 290 | 0.3% | 124.8% | 69 | 91 |
| 67 | Volvo XC60 | 39 | 0.3% | 30.0% | 75 | 272 | 0.3% | 16.7% | 72 | 73 |
| 68 | Mazda CX-5 | 39 | 0.3% | -18.8% | 68 | 230 | 0.3% | -34.1% | 76 | 60 |
| 69 | BMW 3 Series | 39 | 0.3% | 95.0% | 61 | 229 | 0.3% | -44.3% | 77 | 58 |
| 70 | Mazda2 | 38 | 0.3% | 100.0% | 74 | 142 | 0.2% | 82.1% | 99 | 140 |
| 71 | Peugeot 3008 | 37 | 0.3% | -65.1% | 35 | 731 | 0.9% | 21.6% | 31 | 32 |
| 72 | Toyota Highlander | 37 | 0.3% | 85.0% | 96 | 132 | 0.2% | 109.5% | 106 | 130 |
| 73 | Hyundai i10 | 36 | 0.3% | -35.7% | 98 | 223 | 0.3% | -32.4% | 78 | 52 |
| 74 | Audi Q5 | 33 | 0.3% | 6.5% | 78 | 237 | 0.3% | 61.2% | 75 | 80 |
| 75 | Honda HR-V | 33 | 0.3% | n/a | 82 | 149 | 0.2% | 473.1% | 96 | 188 |
| 76 | Peugeot 308 | 31 | 0.2% | 106.7% | 51 | 197 | 0.2% | -10.5% | 83 | 93 |
| 77 | Seat Arona | 31 | 0.2% | 63.2% | 138 | 138 | 0.2% | -24.6% | 103 | 81 |
| 78 | Seat Ateca | 29 | 0.2% | 625.0% | 163 | 72 | 0.1% | 44.0% | 141 | 161 |
| 79 | Mercedes S Class | 28 | 0.2% | 115.4% | 103 | 157 | 0.2% | -8.2% | 94 | 96 |
| 80 | Citroen C5 Aircross | 28 | 0.2% | 100.0% | 88 | 111 | 0.1% | -59.8% | 114 | 62 |
| 81 | BMW X6 | 26 | 0.2% | -18.8% | 76 | 182 | 0.2% | -39.7% | 85 | 64 |
| 82 | Volvo XC90 | 26 | 0.2% | -36.6% | 77 | 160 | 0.2% | -19.2% | 93 | 87 |
| 83 | Opel Mokka | 25 | 0.2% | -34.2% | 60 | 357 | 0.4% | 466.7% | 60 | 98 |
| 84 | BMW X3 | 25 | 0.2% | -13.8% | 83 | 211 | 0.3% | 0.5% | 80 | 76 |
| 85 | Cupra Formentor | 25 | 0.2% | 31.6% | 72 | 206 | 0.2% | 160.8% | 81 | 118 |
| 86 | Jeep Compass | 24 | 0.2% | -78.8% | 64 | 439 | 0.5% | -34.0% | 51 | 45 |
| 87 | Toyota Camry | 24 | 0.2% | -44.2% | 81 | 201 | 0.2% | -19.9% | 82 | 61 |
| 88 | Kia Stonic | 24 | 0.2% | -7.7% | 106 | 152 | 0.2% | 47.6% | 95 | 107 |
| 89 | Renault Trafic | 22 | 0.2% | -65.6% | 59 | 143 | 0.2% | -15.4% | 98 | 89 |
| 90 | Honda Jazz | 22 | 0.2% | 29.4% | 84 | 117 | 0.1% | 200.0% | 111 | 171 |
| 91 | Toyota Aygo X | 22 | 0.2% | new | 92 | 44 | 0.1% | new | 165 | – |
| 92 | Mercedes V Class | 21 | 0.2% | 75.0% | 126 | 143 | 0.2% | 60.7% | 97 | 122 |
| 93 | Renault Zoe | 20 | 0.2% | -70.6% | 85 | 180 | 0.2% | 5.9% | 86 | 70 |
| 94 | Mini | 20 | 0.2% | 33.3% | 120 | 107 | 0.1% | -18.3% | 118 | 108 |
| 95 | Toyota Aygo | 19 | 0.2% | -79.3% | 161 | 321 | 0.4% | -44.5% | 65 | 37 |
| 96 | Mercedes GLA | 19 | 0.2% | 26.7% | 140 | 102 | 0.1% | -48.5% | 121 | 88 |
| 97 | Skoda Karoq | 18 | 0.1% | -74.6% | 89 | 395 | 0.5% | -26.2% | 55 | 47 |
| 98 | Peugeot 5008 | 18 | 0.1% | -5.3% | 145 | 141 | 0.2% | 88.0% | 100 | 138 |
| 99 | Suzuki Swift | 18 | 0.1% | -90.8% | 116 | 127 | 0.2% | -80.9% | 107 | 41 |
| 100 | Suzuki Ignis | 18 | 0.1% | -76.6% | 102 | 126 | 0.2% | -68.4% | 108 | 59 |
| 101 | Mercedes G Class | 18 | 0.1% | -5.3% | 131 | 112 | 0.1% | 2.8% | 112 | 117 |
| 102 | Opel Grandland X | 18 | 0.1% | 12.5% | 86 | 67 | 0.1% | -2.9% | 144 | 132 |
| 103 | Audi Q8 | 17 | 0.1% | 30.8% | 118 | 163 | 0.2% | 3.2% | 92 | 101 |
| 104 | Audi A6 | 17 | 0.1% | 6.3% | 124 | 101 | 0.1% | 11.0% | 122 | 133 |
| 105 | Mercedes E Class | 17 | 0.1% | 54.5% | 148 | 93 | 0.1% | -19.1% | 127 | 114 |
| 106 | Citroen C4 | 16 | 0.1% | -63.6% | 69 | 245 | 0.3% | 19.5% | 73 | 65 |
| 107 | Audi A3 | 16 | 0.1% | 14.3% | 91 | 172 | 0.2% | 62.3% | 89 | 113 |
| 108 | Volvo XC40 | 16 | 0.1% | -23.8% | 110 | 140 | 0.2% | -10.8% | 102 | 94 |
| 109 | Skoda Enyaq | 15 | 0.1% | -16.7% | 101 | 140 | 0.2% | 197.9% | 101 | 126 |
| 110 | Nissan Juke | 15 | 0.1% | 0.0% | 146 | 96 | 0.1% | 35.2% | 125 | 128 |
| 111 | Mercedes GLB | 14 | 0.1% | -6.7% | 125 | 96 | 0.1% | -46.7% | 124 | 99 |
| 112 | BMW X4 | 14 | 0.1% | 16.7% | 113 | 92 | 0.1% | -33.8% | 128 | 106 |
| 113 | Mercedes C Class | 13 | 0.1% | -43.5% | 111 | 132 | 0.2% | 48.3% | 105 | 119 |
| 114 | Porsche Cayenne | 13 | 0.1% | 62.5% | 127 | 111 | 0.1% | 18.1% | 115 | 123 |
| 115 | Seat Leon | 13 | 0.1% | -48.0% | 95 | 111 | 0.1% | -27.9% | 116 | 102 |
| 116 | Mercedes EQB | 13 | 0.1% | new | 197 | 34 | 0.0% | new | 188 | – |
| 117 | BMW X1 | 12 | 0.1% | -42.9% | 109 | 176 | 0.2% | -28.7% | 87 | 77 |
| 118 | VW Touareg | 12 | 0.1% | -45.5% | 99 | 174 | 0.2% | -27.2% | 88 | 75 |
| 119 | BMW 4 Series | 12 | 0.1% | 71.4% | 112 | 104 | 0.1% | 116.7% | 120 | 158 |
| 120 | Range Rover Evoque | 12 | 0.1% | 71.4% | 93 | 84 | 0.1% | -15.2% | 135 | 121 |
| 121 | Toyota Proace | 12 | 0.1% | 100.0% | 183 | 80 | 0.1% | 15.9% | 137 | 131 |
| 122 | BMW 5 Series | 12 | 0.1% | 20.0% | 129 | 78 | 0.1% | -40.9% | 139 | 112 |
| 123 | Kia Rio | 12 | 0.1% | 20.0% | 134 | 68 | 0.1% | 183.3% | 143 | 153 |
| 124 | VW Arteon | 11 | 0.1% | 10.0% | 122 | 91 | 0.1% | 4.6% | 131 | 116 |
| 125 | Mercedes A Class | 10 | 0.1% | -28.6% | 104 | 121 | 0.1% | -32.4% | 109 | 84 |
| 126 | Toyota Land Cruiser 150/200 | 10 | 0.1% | -50.0% | 128 | 90 | 0.1% | -16.7% | 132 | 124 |
| 127 | Audi Q7 | 10 | 0.1% | -28.6% | 162 | 82 | 0.1% | -16.3% | 136 | 129 |
| 128 | Hyundai Ioniq 5 | 10 | 0.1% | new | 142 | 63 | 0.1% | new | 147 | 200 |
| 129 | VW ID.4 | 9 | 0.1% | -75.0% | 132 | 90 | 0.1% | -21.1% | 133 | 90 |
| 130 | Jeep Wrangler | 9 | 0.1% | 800.0% | 147 | 86 | 0.1% | 79.2% | 134 | 163 |
| 131 | Range Rover | 9 | 0.1% | 350.0% | 108 | 46 | 0.1% | 17.9% | 160 | 180 |
| 132 | Kia EV6 | 9 | 0.1% | new | 144 | 41 | 0.0% | new | 170 | – |
| 133 | Audi A5 | 9 | 0.1% | -25.0% | 195 | 40 | 0.0% | -23.1% | 174 | 162 |
| 134 | Ssangyong Rexton | 9 | 0.1% | 350.0% | 117 | 38 | 0.0% | 245.5% | 181 | 218 |
| 135 | BMW 7 Series | 9 | 0.1% | 80.0% | 137 | 35 | 0.0% | -10.3% | 186 | 178 |
| 136 | DS 4 | 9 | 0.1% | new | 246 | 19 | 0.0% | new | 216 | – |
| 137 | VW ID.5 | 9 | 0.1% | new | 208 | 14 | 0.0% | new | 232 | – |
| 138 | Dacia Lodgy | 8 | 0.1% | -91.6% | 87 | 554 | 0.7% | 21.8% | 43 | 40 |
| 139 | Citroen C3 Aircross | 8 | 0.1% | -80.5% | 80 | 169 | 0.2% | -39.4% | 91 | 69 |
| 140 | VW ID.3 | 8 | 0.1% | -78.9% | 119 | 112 | 0.1% | -13.8% | 113 | 83 |
| 141 | Mercedes EQA | 8 | 0.1% | 100.0% | 159 | 96 | 0.1% | 146.2% | 123 | 151 |
| 142 | Nissan Micra | 8 | 0.1% | 0.0% | 150 | 64 | 0.1% | 128.6% | 146 | 170 |
| 143 | VW Kombi | 8 | 0.1% | 166.7% | 135 | 60 | 0.1% | -11.8% | 148 | 150 |
| 144 | Range Rover Velar | 8 | 0.1% | -33.3% | 105 | 55 | 0.1% | -20.3% | 151 | 149 |
| 145 | Mercedes Sprinter | 8 | 0.1% | -27.3% | 211 | 49 | 0.1% | -15.5% | 156 | 144 |
| 146 | BMW i4 | 8 | 0.1% | new | 143 | 41 | 0.0% | new | 169 | – |
| 147 | Mercedes Citan | 8 | 0.1% | 700.0% | 196 | 39 | 0.0% | 3800.0% | 178 | 263 |
| 148 | Mitsubishi Eclipse Cross | 7 | 0.1% | -22.2% | 107 | 105 | 0.1% | 87.5% | 119 | 148 |
| 149 | Land Rover Defender | 7 | 0.1% | -12.5% | 97 | 91 | 0.1% | 21.3% | 130 | 139 |
| 150 | Ford Mustang Mach-E | 7 | 0.1% | new | 141 | 73 | 0.1% | new | 140 | 241 |
| 151 | Hyundai Santa Fe | 7 | 0.1% | -74.1% | 170 | 53 | 0.1% | -55.5% | 152 | 111 |
| 152 | Mitsubishi Space Star | 7 | 0.1% | -53.3% | 210 | 50 | 0.1% | 51.5% | 154 | 168 |
| 153 | BMW 2 Series Tourer | 7 | 0.1% | 0.0% | 152 | 46 | 0.1% | -13.2% | 158 | 164 |
| 154 | Lexus UX | 7 | 0.1% | 600.0% | 154 | 39 | 0.0% | 105.3% | 177 | 201 |
| 155 | Smart Forfour | 7 | 0.1% | 75.0% | 180 | 28 | 0.0% | 55.6% | 198 | 196 |
| 156 | Mercedes EQE | 7 | 0.1% | new | 157 | 19 | 0.0% | new | 217 | – |
| 157 | Ford Mondeo | 6 | 0.0% | -88.2% | 94 | 309 | 0.4% | 8.8% | 67 | 66 |
| 158 | Honda Civic | 6 | 0.0% | -93.2% | 230 | 118 | 0.1% | -65.2% | 110 | 54 |
| 159 | Mercedes CLA | 6 | 0.0% | -64.7% | 114 | 79 | 0.1% | -16.0% | 138 | 125 |
| 160 | Mercedes GLS | 6 | 0.0% | -45.5% | 149 | 69 | 0.1% | -21.6% | 142 | 120 |
| 161 | Peugeot 508 | 6 | 0.0% | -14.3% | 184 | 55 | 0.1% | 139.1% | 150 | 194 |
| 162 | BMW iX | 6 | 0.0% | new | 185 | 40 | 0.0% | new | 175 | 259 |
| 163 | Ford Explorer | 6 | 0.0% | 500.0% | 177 | 31 | 0.0% | 342.9% | 193 | 226 |
| 164 | VW Multivan | 6 | 0.0% | 500.0% | 178 | 29 | 0.0% | 52.6% | 196 | 216 |
| 165 | Tesla Model 3 | 5 | 0.0% | 66.7% | 52 | 340 | 0.4% | 1689.5% | 61 | 97 |
| 166 | Ford Transit Custom | 5 | 0.0% | -80.8% | 168 | 133 | 0.2% | -28.5% | 104 | 85 |
| 167 | Tesla Model Y | 5 | 0.0% | new | 73 | 95 | 0.1% | nw | 126 | 280 |
| 168 | Porsche Macan | 5 | 0.0% | 150.0% | 133 | 65 | 0.1% | 91.2% | 145 | 179 |
| 169 | BMW X7 | 5 | 0.0% | 25.0% | 169 | 58 | 0.1% | -34.1% | 149 | 135 |
| 170 | Seat Tarraco | 5 | 0.0% | -58.3% | 164 | 46 | 0.1% | -32.4% | 161 | 142 |
| 171 | BMW 2 Series | 5 | 0.0% | -28.6% | 136 | 45 | 0.1% | -48.3% | 162 | 136 |
| 172 | Nissan Leaf | 5 | 0.0% | 0.0% | 213 | 41 | 0.0% | 28.1% | 171 | 166 |
| 173 | BMW iX3 | 5 | 0.0% | 25.0% | 165 | 40 | 0.0% | 110.5% | 176 | 181 |
| 174 | Kia Niro | 5 | 0.0% | -44.4% | 160 | 24 | 0.0% | -41.5% | 202 | 159 |
| 175 | Audi A1 | 5 | 0.0% | 150.0% | 217 | 22 | 0.0% | 57.1% | 206 | 220 |
| 176 | Jaguar F-Pace | 5 | 0.0% | -16.7% | 202 | 21 | 0.0% | -44.7% | 212 | 186 |
| 177 | Citroen C5 X | 5 | 0.0% | new | 209 | 8 | 0.0% | new | 254 | – |
| 178 | Mercedes Vito | 4 | 0.0% | -84.0% | 139 | 92 | 0.1% | -7.1% | 129 | 115 |
| 179 | Citroen E-C4 | 4 | 0.0% | 33.3% | 155 | 33 | 0.0% | 230.0% | 190 | 185 |
| 180 | VW Touran | 4 | 0.0% | 100.0% | 188 | 33 | 0.0% | 57.1% | 191 | 212 |
| 181 | Honda E | 4 | 0.0% | 100.0% | 216 | 25 | 0.0% | 733.3% | 199 | 233 |
| 182 | Audi A8 | 4 | 0.0% | -33.3% | 167 | 22 | 0.0% | -24.1% | 207 | 199 |
| 183 | Mercedes AMG GT | 4 | 0.0% | 100.0% | 218 | 21 | 0.0% | 61.5% | 213 | 204 |
| 184 | Mercedes EQS | 3 | 0.0% | new | 193 | 47 | 0.1% | new | 157 | 303 |
| 185 | Porsche 911 | 3 | 0.0% | 0.0% | – | 46 | 0.1% | 2.2% | 159 | 172 |
| 186 | Seat Ibiza | 3 | 0.0% | -50.0% | 172 | 43 | 0.1% | 30.3% | 166 | 147 |
| 187 | Lexus RX | 3 | 0.0% | -40.0% | 153 | 42 | 0.1% | -4.5% | 167 | 155 |
| 188 | BMW i3 | 3 | 0.0% | 50.0% | 174 | 41 | 0.0% | -40.6% | 168 | 141 |
| 189 | Suzuki Swace | 3 | 0.0% | -70.0% | 194 | 38 | 0.0% | 22.6% | 182 | 137 |
| 190 | BMW 8 Series | 3 | 0.0% | -50.0% | 186 | 36 | 0.0% | -10.0% | 184 | 174 |
| 191 | Lexus NX | 3 | 0.0% | -76.9% | 166 | 36 | 0.0% | -21.7% | 185 | 152 |
| 192 | Mini Countryman | 3 | 0.0% | -66.7% | 176 | 35 | 0.0% | -12.5% | 187 | 169 |
| 193 | Smart Fortwo | 3 | 0.0% | -50.0% | 130 | 34 | 0.0% | 70.0% | 189 | 191 |
| 194 | Mazda MX-30 | 3 | 0.0% | -62.5% | 232 | 28 | 0.0% | -46.2% | 197 | 146 |
| 195 | Audi e-Tron | 3 | 0.0% | -40.0% | 200 | 21 | 0.0% | 75.0% | 210 | 210 |
| 196 | Ford Mustang | 3 | 0.0% | -25.0% | 203 | 18 | 0.0% | -10.0% | 219 | 198 |
| 197 | BMW Z4 | 3 | 0.0% | n/a | 239 | 17 | 0.0% | 183.3% | 222 | 242 |
| 198 | Kia Proceed | 3 | 0.0% | 50.0% | 190 | 17 | 0.0% | 13.3% | 223 | 208 |
| 199 | Kia Picanto | 3 | 0.0% | n/a | 182 | 12 | 0.0% | 500.0% | 238 | 262 |
| 200 | Alfa Romeo Tonale | 3 | 0.0% | new | – | 3 | 0.0% | new | 280 | – |
| 201 | Maserati Grecale | 3 | 0.0% | new | – | 3 | 0.0% | new | 281 | – |
| 202 | Toyota BZ4X | 3 | 0.0% | new | – | 3 | 0.0% | new | 282 | – |
| 203 | DS 7 Crossback | 2 | 0.0% | -81.8% | 151 | 52 | 0.1% | 36.8% | 153 | 173 |
| 204 | BMW X2 | 2 | 0.0% | 0.0% | 123 | 45 | 0.1% | -2.2% | 163 | 160 |
| 205 | Toyota Proace City Verso | 2 | 0.0% | -50.0% | 173 | 41 | 0.0% | 412.5% | 172 | 206 |
| 206 | Renault Master | 2 | 0.0% | -33.3% | 187 | 32 | 0.0% | 39.1% | 192 | 192 |
| 207 | Volvo S90 | 2 | 0.0% | -71.4% | 156 | 29 | 0.0% | -9.4% | 195 | 183 |
| 208 | Audi Q4 | 2 | 0.0% | 0.0% | 179 | 24 | 0.0% | 1100.0% | 200 | 229 |
| 209 | Ford Transit | 2 | 0.0% | -66.7% | 214 | 24 | 0.0% | -50.0% | 201 | 157 |
| 210 | Renault Talisman | 2 | 0.0% | -33.3% | 198 | 23 | 0.0% | 64.3% | 205 | 213 |
| 211 | Volvo S60 | 2 | 0.0% | 0.0% | 189 | 22 | 0.0% | 0.0% | 209 | 203 |
| 212 | VW Caddy | 2 | 0.0% | -84.6% | 236 | 21 | 0.0% | -61.1% | 214 | 167 |
| 213 | Land Rover Discovery Sport | 2 | 0.0% | -60.0% | 237 | 18 | 0.0% | -43.8% | 220 | 189 |
| 214 | Bentley Continental GT | 2 | 0.0% | n/a | 241 | 15 | 0.0% | 114.3% | 227 | 223 |
| 215 | Jaguar E-Pace | 2 | 0.0% | -71.4% | 219 | 15 | 0.0% | -70.0% | 228 | 176 |
| 216 | Toyota GR Yaris | 2 | 0.0% | new | 245 | 13 | 0.0% | new | 237 | – |
| 217 | Bentley Continental Flying Spur | 2 | 0.0% | 0.0% | 248 | 10 | 0.0% | 100.0% | 246 | 257 |
| 218 | Kia Sorento | 2 | 0.0% | -71.4% | 251 | 9 | 0.0% | -64.0% | 251 | 202 |
| 219 | Subaru Forester | 2 | 0.0% | 100.0% | 191 | 9 | 0.0% | -25.0% | 253 | 238 |
| 220 | Jaguar i-Pace | 2 | 0.0% | 100.0% | 252 | 8 | 0.0% | -11.1% | 256 | 235 |
| 221 | Mercedes B Class | 2 | 0.0% | -80.0% | – | 7 | 0.0% | -56.3% | 261 | 205 |
| 222 | Rolls-Royce Cullinan | 2 | 0.0% | n/a | 259 | 4 | 0.0% | -20.0% | 273 | 253 |
| 223 | Audi E-Tron GT | 2 | 0.0% | new | 260 | 3 | 0.0% | new | 275 | – |
| 224 | Kia Stinger | 2 | 0.0% | n/a | – | 3 | 0.0% | -25.0% | 277 | 251 |
| 225 | DS 3 Crossback | 1 | 0.0% | -83.3% | 158 | 108 | 0.1% | 620.0% | 117 | 207 |
| 226 | Audi Q2 | 1 | 0.0% | -66.7% | 175 | 36 | 0.0% | -36.8% | 183 | 154 |
| 227 | Renault Koleos | 1 | 0.0% | -75.0% | 115 | 29 | 0.0% | -40.8% | 194 | 143 |
| 228 | Mini Clubman | 1 | 0.0% | n/a | – | 24 | 0.0% | 166.7% | 203 | 250 |
| 229 | Mazda6 | 1 | 0.0% | -66.7% | 233 | 23 | 0.0% | -34.3% | 204 | 182 |
| 230 | Porsche Taycan | 1 | 0.0% | 0.0% | 199 | 20 | 0.0% | 150.0% | 215 | 222 |
| 231 | Mercedes CLS | 1 | 0.0% | 0.0% | 201 | 18 | 0.0% | 100.0% | 221 | 236 |
| 232 | Lamborghini Urus | 1 | 0.0% | 0.0% | 242 | 14 | 0.0% | 16.7% | 229 | 217 |
| 233 | Citroen Berlingo | 1 | 0.0% | -50.0% | 181 | 13 | 0.0% | 62.5% | 233 | 224 |
| 234 | Opel Combo | 1 | 0.0% | 0.0% | – | 13 | 0.0% | -53.6% | 235 | 193 |
| 235 | Suzuki Across | 1 | 0.0% | -66.7% | 244 | 12 | 0.0% | 140.0% | 240 | 215 |
| 236 | Ferrari Roma | 1 | 0.0% | n/a | – | 11 | 0.0% | 266.7% | 242 | 269 |
| 237 | Porsche 718 Cayman | 1 | 0.0% | 0.0% | 223 | 11 | 0.0% | 22.2% | 244 | 239 |
| 238 | Subaru Outback | 1 | 0.0% | -66.7% | – | 11 | 0.0% | 37.5% | 245 | 243 |
| 239 | Volvo V90 | 1 | 0.0% | 0.0% | 224 | 10 | 0.0% | -61.5% | 247 | 197 |
| 240 | Audi A7 | 1 | 0.0% | 0.0% | 247 | 9 | 0.0% | 125.0% | 248 | 252 |
| 241 | Ferrari SF90 Stradale | 1 | 0.0% | n/a | – | 9 | 0.0% | 350.0% | 249 | 260 |
| 242 | Ford Tourneo Connect | 1 | 0.0% | n/a | – | 9 | 0.0% | -10.0% | 250 | 246 |
| 243 | Ferrari Portofino | 1 | 0.0% | 0.0% | 250 | 8 | 0.0% | 700.0% | 255 | 289 |
| 244 | Subaru XV | 1 | 0.0% | n/a | 227 | 8 | 0.0% | 14.3% | 258 | 247 |
| 245 | Land Rover Discovery | 1 | 0.0% | -50.0% | 207 | 7 | 0.0% | -53.3% | 260 | 219 |
| 246 | Aston Martin DBX | 1 | 0.0% | 0.0% | – | 6 | 0.0% | -25.0% | 266 | 248 |
| 247 | Ferrari 812 Superfast | 1 | 0.0% | 0.0% | – | 5 | 0.0% | 0.0% | 267 | 256 |
| 248 | Ferrari F8 | 1 | 0.0% | 0.0% | 256 | 4 | 0.0% | -42.9% | 270 | 249 |
| 249 | Cupra Leon | 1 | 0.0% | 0.0% | – | 3 | 0.0% | 200.0% | 276 | 301 |
| 250 | Maserati Ghibli | 1 | 0.0% | n/a | – | 3 | 0.0% | 50.0% | 278 | 268 |
| 251 | Rolls-Royce Ghost | 1 | 0.0% | n/a | – | 3 | 0.0% | 50.0% | 279 | 284 |
| 252 | Cupra Born | 1 | 0.0% | new | 263 | 2 | 0.0% | new | 285 | – |
| 253 | McLaren 765LT | 1 | 0.0% | n/a | – | 1 | 0.0% | n/a | 301 | – |
| 254 | VW Sharan | 1 | 0.0% | n/a | – | 1 | 0.0% | n/a | 302 | – |
Source: DRPCIV