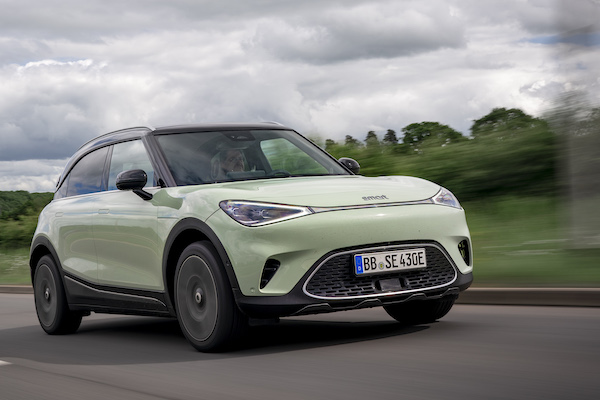 Germany August 2022: VW T-Roc topples Golf in market up 3%
The VW T-Roc is the best-selling vehicle at home in August.
At +3% and 199,183 units, the German new car market lodges its first year-on-year uptick since last February. The year-to-date tally is now down -9.7% to 1,643,069. The Top 3 manufacturers all beat the market: Volkswagen is up 5% to 19.1% share vs. 18.4% YTD, Mercedes is up a formidable 31.2% to 9.2% share vs. 8.9% and Audi gains an equally impressive 21.7% to 8.8% share vs. 8.2%. BMW (-1.3%) edges down to #4 while Skoda (+21%) surges ahead and now ranks #5 YTD, overtaking Opel (+3.1%). Ford (+12.6%) is the only remaining Top 10 brand to outpace the market. Just outside, Dacia up one spot on July to #11, equalling last month's 2.8% share and signing its highest ranking since December 2019 (#10). Tesla (+38.9%) is also in excellent shape at #12 and 2.7% share vs. #19 and 1.5% YTD. Land Rover (+121.2%), Porsche (+47.9%), Mini (+39.1%), Cupra (+33.2%) and Peugeot (+26.6%) also shine below.
The Smart #1 has landed in the German sales charts.
Over in the models ranking, we have history happen before our eyes with the VW T-Roc (+55.7%) toppling the VW Golf (-19.7%) at 3.3% share vs. 3%. It is the 2nd time the T-Roc takes the lead of its home sales charts after last October, but at the time the Golf was handicapped by supply issues. This month's win is obtained in a more normalised context and therefore a lot more significant. Also, given Germany's weight in European sales this month (almost 200,000 registrations vs. 91,000 in France, 71,000 in Italy, 69,000 in the UK and 52,000 in Spain), this could well mean a 2nd consecutive European pole position for the VW T-Roc. The VW Tiguan (+50.7%) also surges ahead to return to the third place it holds YTD. The Tesla Model Y (+388%) is up 64 spots on July to smash its German ranking record at #4 vs. a previous best of #20 last February. The Opel Corsa (+103.2%), Skoda Octavia (+74.4%) and Ford Kuga (+58.2%) follow, all showing tremendous year-on-year progress. We welcome the Smart #1 at #256.
Previous month: Germany July 2022: Market falls another -12.9%, Dacia, Porsche, Toyota, Kia among gainers
One year ago: Germany August 2021: VW Up, Fiat 500, Tesla Model 3 break records in market off -23%
Full August 2022 Top 50 brands and Top 312 models below.
Germany August 2022 – brands:
| | | | | | | | | | | |
| --- | --- | --- | --- | --- | --- | --- | --- | --- | --- | --- |
| Pos | Brand | Aug-22 | % | /21 | Jul | 2022 | % | /21 | Pos | FY21 |
| 1 | Volkswagen | 38,049 | 19.1% | 5.0% | 1 | 302,118 | 18.4% | -16.7% | 1 | 1 |
| 2 | Mercedes | 18,300 | 9.2% | 31.2% | 3 | 146,299 | 8.9% | -3.8% | 2 | 2 |
| 3 | Audi | 17,499 | 8.8% | 21.7% | 4 | 134,862 | 8.2% | -2.5% | 4 | 4 |
| 4 | BMW | 15,931 | 8.0% | -1.3% | 2 | 136,855 | 8.3% | -11.7% | 3 | 3 |
| 5 | Skoda | 11,634 | 5.8% | 21.0% | 5 | 94,116 | 5.7% | -12.2% | 5 | 6 |
| 6 | Opel | 10,562 | 5.3% | 3.1% | 6 | 93,454 | 5.7% | -13.9% | 6 | 5 |
| 7 | Ford | 10,232 | 5.1% | 12.6% | 8 | 80,493 | 4.9% | -10.1% | 7 | 7 |
| 8 | Hyundai | 9,307 | 4.7% | -7.7% | 7 | 66,733 | 4.1% | -3.9% | 8 | 8 |
| 9 | Kia | 5,963 | 3.0% | -1.4% | 10 | 48,982 | 3.0% | 13.5% | 10 | 13 |
| 10 | Toyota | 5,871 | 2.9% | -17.5% | 9 | 50,638 | 3.1% | 4.6% | 9 | 12 |
| 11 | Dacia | 5,627 | 2.8% | 76.1% | 12 | 36,102 | 2.2% | 45.0% | 14 | 18 |
| 12 | Tesla | 5,291 | 2.7% | 38.9% | 26 | 24,734 | 1.5% | 36.9% | 19 | 19 |
| 13 | Seat | 5,005 | 2.5% | -26.5% | 11 | 48,492 | 3.0% | -31.9% | 11 | 10 |
| 14 | Fiat | 4,986 | 2.5% | -27.4% | 13 | 47,977 | 2.9% | -18.6% | 12 | 11 |
| 15 | Renault | 3,976 | 2.0% | -48.0% | 14 | 46,114 | 2.8% | -31.8% | 13 | 9 |
| 16 | Peugeot | 3,699 | 1.9% | 26.6% | 16 | 28,618 | 1.7% | -22.8% | 15 | 14 |
| 17 | Mini | 3,303 | 1.7% | 39.1% | 17 | 26,556 | 1.6% | -9.6% | 17 | 16 |
| 18 | Citroen | 3,247 | 1.6% | 11.0% | 15 | 26,766 | 1.6% | -18.1% | 16 | 17 |
| 19 | Cupra | 2,748 | 1.4% | 33.2% | 18 | 25,069 | 1.5% | 109.2% | 18 | 26 |
| 20 | Mazda | 2,511 | 1.3% | -33.5% | 25 | 19,745 | 1.2% | -25.3% | 22 | 21 |
| 21 | Porsche | 1,894 | 1.0% | 47.9% | 19 | 19,109 | 1.2% | 6.6% | 23 | 22 |
| 22 | Mitsubishi | 1,817 | 0.9% | -46.4% | 21 | 21,471 | 1.3% | -5.7% | 20 | 20 |
| 23 | Volvo | 1,799 | 0.9% | -21.5% | 20 | 21,061 | 1.3% | -25.5% | 21 | 15 |
| 24 | Nissan | 1,584 | 0.8% | -0.4% | 23 | 16,494 | 1.0% | -13.9% | 24 | 24 |
| 25 | Land Rover | 1,336 | 0.7% | 121.2% | 24 | 8,262 | 0.5% | -2.6% | 27 | 28 |
| 26 | Suzuki | 997 | 0.5% | -61.1% | 22 | 9,089 | 0.6% | -42.1% | 25 | 23 |
| 27 | MG Roewe | 888 | 0.4% | new | 28 | 5,737 | 0.3% | new | 29 | 32 |
| 28 | Jeep | 645 | 0.3% | -21.1% | 27 | 8,966 | 0.5% | 3.5% | 26 | 27 |
| 29 | Honda | 515 | 0.3% | -23.8% | 30 | 5,191 | 0.3% | 8.9% | 30 | 29 |
| 30 | Lynk & Co | 433 | 0.2% | new | 29 | 2,429 | 0.1% | new | 33 | – |
| 31 | DS | 288 | 0.1% | 176.9% | 32 | 1,656 | 0.1% | 21.1% | 37 | 36 |
| 32 | Alfa Romeo | 269 | 0.1% | 14.5% | 33 | 2,048 | 0.1% | -2.3% | 35 | 34 |
| 33 | Jaguar | 247 | 0.1% | 2.9% | 31 | 2,282 | 0.1% | -31.8% | 34 | 31 |
| 34 | Subaru | 244 | 0.1% | -21.0% | 34 | 2,623 | 0.2% | -13.5% | 32 | 30 |
| 35 | Polestar | 241 | 0.1% | 40.1% | 36 | 2,712 | 0.2% | 109.9% | 31 | 35 |
| 36 | Man | 203 | 0.1% | 46.0% | 35 | 1,120 | 0.1% | 111.7% | 40 | 41 |
| 37 | SsangYong | 183 | 0.1% | -0.5% | 40 | 1,296 | 0.1% | 22.5% | 38 | 39 |
| 38 | Lexus | 158 | 0.1% | -31.9% | 39 | 1,660 | 0.1% | -7.2% | 36 | 33 |
| 39 | Ferrari | 149 | 0.1% | -22.4% | 38 | 1,169 | 0.1% | -6.7% | 39 | 38 |
| 40 | Smart | 130 | 0.1% | -84.1% | 37 | 7,806 | 0.5% | -45.5% | 28 | 25 |
| 41 | Iveco | 90 | 0.0% | 42.9% | 42 | 693 | 0.0% | -1.6% | 43 | 40 |
| 42 | Lamborghini | 81 | 0.0% | 47.3% | 43 | 732 | 0.0% | 27.5% | 41 | 42 |
| 43 | Maserati | 78 | 0.0% | 200.0% | 41 | 594 | 0.0% | 36.2% | 45 | 44 |
| 44 | Bentley | 72 | 0.0% | 38.5% | 44 | 696 | 0.0% | 70.2% | 42 | 43 |
| 45 | Aston Martin | 37 | 0.0% | -14.0% | 45 | 257 | 0.0% | -6.2% | 46 | 45 |
| 46 | Alpine | 24 | 0.0% | 20.0% | 48 | 215 | 0.0% | 68.0% | 47 | 47 |
| 47 | Cadillac | 23 | 0.0% | 130.0% | 49 | 150 | 0.0% | -11.8% | 49 | 46 |
| 48 | Lada | 17 | 0.0% | -91.3% | 46 | 673 | 0.0% | -35.9% | 44 | 37 |
| 49 | Rolls-Royce | 16 | 0.0% | 0.0% | 47 | 163 | 0.0% | 50.9% | 48 | 49 |
| 50 | Morgan | 10 | 0.0% | 100.0% | 50 | 54 | 0.0% | 14.9% | 51 | 50 |
| 51 | Lotus | 0 | 0.0% | -100.0% | – | 94 | 0.0% | -34.7% | 50 | 48 |
| – | Others | 967 | 0.5% | -43.7% | – | 11,837 | 0.7% | 42.9% | – | – |
Germany August 2022 – models:
| | | | | | | | | | | |
| --- | --- | --- | --- | --- | --- | --- | --- | --- | --- | --- |
| Pos | Model | Aug-22 | % | /21 | Jul | 2022 | % | /21 | Pos | FY21 |
| 1 | VW T-Roc | 6,490 | 3.3% | 55.7% | 2 | 39,261 | 2.4% | -1.9% | 2 | 2 |
| 2 | VW Golf | 6,066 | 3.0% | -19.7% | 1 | 56,009 | 3.4% | -22.1% | 1 | 1 |
| 3 | VW Tiguan | 4,408 | 2.2% | 50.7% | 4 | 33,714 | 2.1% | -24.5% | 3 | 3 |
| 4 | Tesla Model Y | 4,216 | 2.1% | 388.0% | 68 | 12,709 | 0.8% | 1370.9% | 37 | 137 |
| 5 | Opel Corsa | 4,125 | 2.1% | 103.2% | 3 | 33,403 | 2.0% | 3.8% | 4 | 4 |
| 6 | Skoda Octavia | 3,933 | 2.0% | 74.4% | 5 | 20,361 | 1.2% | -32.1% | 14 | 10 |
| 7 | Ford Kuga | 3,358 | 1.7% | 58.2% | 48 | 19,056 | 1.2% | -7.2% | 15 | 19 |
| 8 | Fiat 500 lineup | 3,353 | 1.7% | 1.8% | 9 | 27,089 | 1.6% | 22.1% | 5 | 11 |
| 9 | Mini All | 3,303 | 1.7% | 39.1% | 7 | 26,556 | 1.6% | -9.6% | 7 | 7 |
| 10 | Audi Q3 | 3,136 | 1.6% | 29.7% | 10 | 18,968 | 1.2% | 9.2% | 17 | 31 |
| 11 | Audi A3 | 2,818 | 1.4% | 52.2% | 12 | 23,461 | 1.4% | 3.5% | 10 | 21 |
| 12 | VW Passat | 2,753 | 1.4% | 23.0% | 6 | 26,728 | 1.6% | -26.7% | 6 | 6 |
| 13 | Mercedes C-Klasse | 2,747 | 1.4% | 129.5% | 23 | 22,115 | 1.3% | 30.5% | 11 | 35 |
| 14 | VW Polo | 2,606 | 1.3% | 2.6% | 25 | 17,339 | 1.1% | -28.6% | 21 | 14 |
| 15 | Toyota Yaris/Yaris Cross | 2,529 | 1.3% | 20.1% | 14 | 19,036 | 1.2% | 40.8% | 16 | 39 |
| 16 | BMW 3er | 2,473 | 1.2% | -34.8% | 8 | 23,883 | 1.5% | -24.8% | 8 | 8 |
| 17 | VW Transporter | 2,441 | 1.2% | 36.4% | 11 | 23,880 | 1.5% | 6.4% | 9 | 16 |
| 18 | BMW X3 | 2,365 | 1.2% | 14.8% | 26 | 16,762 | 1.0% | 4.4% | 22 | 32 |
| 19 | Audi Q5 | 2,303 | 1.2% | 16.6% | 30 | 14,897 | 0.9% | 33.5% | 30 | 48 |
| 20 | Opel Mokka | 2,039 | 1.0% | 2.4% | 13 | 17,957 | 1.1% | 20.1% | 20 | 23 |
| 21 | Audi A6 | 1,952 | 1.0% | 7.3% | 53 | 13,902 | 0.8% | -41.2% | 34 | 24 |
| 22 | VW Taigo | 1,945 | 1.0% | new | 35 | 11,829 | 0.7% | new | 47 | 241 |
| 23 | VW T-Cross | 1,860 | 0.9% | -22.0% | 19 | 20,779 | 1.3% | -8.6% | 12 | 13 |
| 24 | Hyundai Tucson | 1,829 | 0.9% | 29.1% | 31 | 11,506 | 0.7% | -1.1% | 50 | 42 |
| 25 | Mercedes V-Klasse/EQV | 1,821 | 0.9% | 64.6% | 15 | 14,349 | 0.9% | 14.8% | 33 | 44 |
| 26 | Skoda Fabia | 1,801 | 0.9% | 35.0% | 24 | 15,710 | 1.0% | 21.4% | 29 | 47 |
| 27 | Audi A4 | 1,768 | 0.9% | 31.6% | 40 | 16,740 | 1.0% | -14.5% | 23 | 33 |
| 28 | BMW 5er | 1,758 | 0.9% | 13.3% | 20 | 14,643 | 0.9% | -8.0% | 32 | 34 |
| 29 | Seat Leon | 1,754 | 0.9% | -39.6% | 18 | 18,048 | 1.1% | -16.3% | 19 | 20 |
| 30 | Ford Focus | 1,732 | 0.9% | 48.9% | 36 | 13,047 | 0.8% | 1.7% | 36 | 36 |
| 31 | Mercedes CLA-Klasse | 1,725 | 0.9% | 63.5% | 69 | 7,651 | 0.5% | -41.0% | 74 | 41 |
| 32 | Mercedes E-Klasse | 1,724 | 0.9% | 63.3% | 29 | 16,119 | 1.0% | -6.2% | 27 | 27 |
| 33 | VW Up! | 1,706 | 0.9% | -54.7% | 21 | 16,266 | 1.0% | -47.1% | 25 | 5 |
| 34 | Mercedes A-Klasse | 1,687 | 0.8% | 9.6% | 64 | 11,075 | 0.7% | -35.3% | 53 | 29 |
| 35 | VW ID.4, ID.5 | 1,601 | 0.8% | 25.3% | 39 | 10,229 | 0.6% | 24.9% | 56 | 75 |
| 36 | Kia Ceed/Xceed | 1,576 | 0.8% | -28.7% | 16 | 16,656 | 1.0% | 0.3% | 24 | 26 |
| 37 | Dacia Duster | 1,561 | 0.8% | 26.0% | 38 | 10,297 | 0.6% | 19.7% | 55 | 70 |
| 38 | Kia Sportage | 1,548 | 0.8% | 148.9% | 22 | 12,328 | 0.8% | 130.5% | 41 | 103 |
| 39 | Hyundai i10 | 1,529 | 0.8% | -2.5% | 45 | 8,620 | 0.5% | -12.1% | 65 | 72 |
| 40 | Hyundai Kona | 1,517 | 0.8% | -44.7% | 27 | 16,050 | 1.0% | -22.2% | 28 | 18 |
| 41 | Cupra Formentor | 1,491 | 0.7% | -27.7% | 17 | 20,390 | 1.2% | 70.2% | 13 | 50 |
| 42 | VW ID.3 | 1,489 | 0.7% | -60.3% | 49 | 8,956 | 0.5% | -52.5% | 62 | 22 |
| 43 | BMW X5 | 1,471 | 0.7% | 115.7% | 75 | 9,794 | 0.6% | 15.4% | 58 | 76 |
| 44 | Dacia Spring | 1,447 | 0.7% | 736.4% | 59 | 6,220 | 0.4% | 468.6% | 92 | 148 |
| 45 | Citroen Jumper | 1,418 | 0.7% | 6.1% | 34 | 12,389 | 0.8% | 11.9% | 40 | 68 |
| 46 | Skoda Karoq | 1,399 | 0.7% | 21.0% | 28 | 14,738 | 0.9% | 4.8% | 31 | 40 |
| 47 | Seat Ateca | 1,383 | 0.7% | 64.1% | 42 | 11,340 | 0.7% | -23.3% | 52 | 51 |
| 48 | Dacia Sandero | 1,371 | 0.7% | -2.9% | 47 | 11,974 | 0.7% | 1.8% | 46 | 43 |
| 49 | VW Caddy | 1,352 | 0.7% | 9.6% | 46 | 12,208 | 0.7% | -2.5% | 43 | 56 |
| 50 | Audi Q4 | 1,332 | 0.7% | 287.2% | 58 | 6,674 | 0.4% | 380.5% | 85 | 136 |
| 51 | Ford Transit, Tourneo | 1,319 | 0.7% | 3.3% | 52 | 11,659 | 0.7% | -2.5% | 49 | 55 |
| 52 | BMW 4er | 1,287 | 0.6% | 90.7% | 37 | 11,034 | 0.7% | 95.5% | 54 | 93 |
| 53 | Fiat Ducato | 1,285 | 0.6% | -57.6% | 32 | 18,127 | 1.1% | -44.7% | 18 | 9 |
| 54 | BMW 1er | 1,266 | 0.6% | -27.3% | 44 | 11,467 | 0.7% | -39.2% | 51 | 25 |
| 55 | BMW i3 | 1,262 | 0.6% | 106.2% | 54 | 8,040 | 0.5% | 14.4% | 68 | 79 |
| 56 | Skoda Kamiq | 1,259 | 0.6% | 5.3% | 43 | 9,921 | 0.6% | -22.5% | 57 | 46 |
| 57 | Cupra Born | 1,257 | 0.6% | new | 70 | 4,679 | 0.3% | new | 107 | 243 |
| 58 | Dacia Jogger | 1,192 | 0.6% | new | 50 | 5,811 | 0.4% | new | 97 | – |
| 59 | BMW 2er | 1,190 | 0.6% | 14.6% | 56 | 9,271 | 0.6% | -29.8% | 60 | 49 |
| 60 | VW Touran | 1,176 | 0.6% | 15.4% | 51 | 8,164 | 0.5% | -35.7% | 67 | 60 |
| 61 | Skoda Kodiaq | 1,175 | 0.6% | 19.9% | 33 | 12,265 | 0.7% | 1.2% | 42 | 58 |
| 62 | Opel Crossland | 1,138 | 0.6% | -1.6% | 41 | 12,554 | 0.8% | -1.3% | 38 | 53 |
| 63 | Toyota Aygo/X | 1,134 | 0.6% | 14.7% | 55 | 5,948 | 0.4% | -29.3% | 94 | 82 |
| 64 | Renault Captur | 1,116 | 0.6% | -21.6% | 86 | 7,378 | 0.4% | -41.5% | 76 | 45 |
| 65 | Hyundai i20 | 1,095 | 0.5% | 7.4% | 82 | 6,315 | 0.4% | -19.2% | 90 | 80 |
| 66 | Hyundai i30 | 1,094 | 0.5% | -19.9% | 81 | 8,872 | 0.5% | -13.6% | 64 | 65 |
| 67 | Ford Puma | 1,088 | 0.5% | -40.0% | 91 | 11,792 | 0.7% | -30.5% | 48 | 38 |
| 68 | Tesla Model 3 | 1,075 | 0.5% | -63.5% | 182 | 12,023 | 0.7% | -29.9% | 45 | 12 |
| 69 | Peugeot 208 | 1,050 | 0.5% | 72.1% | 61 | 8,883 | 0.5% | -1.9% | 63 | 63 |
| 70 | Opel Grandland X | 1,040 | 0.5% | -11.8% | 98 | 6,570 | 0.4% | -44.8% | 86 | 64 |
| 71 | Hyundai Ioniq5 | 989 | 0.5% | 26.3% | 57 | 7,220 | 0.4% | 213.0% | 80 | 110 |
| 72 | VW Arteon | 985 | 0.5% | 16.3% | 60 | 7,958 | 0.5% | 7.8% | 69 | 81 |
| 73 | Mercedes GLA | 950 | 0.5% | 100.8% | 119 | 6,152 | 0.4% | -25.6% | 93 | 78 |
| 74 | Mitsubishi Eclipse Cross | 948 | 0.5% | 121.0% | 62 | 9,322 | 0.6% | 126.9% | 59 | 117 |
| 75 | Skoda Enyaq | 940 | 0.5% | -29.1% | 88 | 7,701 | 0.5% | 15.9% | 73 | 73 |
| 76 | Audi A1 | 918 | 0.5% | -6.1% | 67 | 7,368 | 0.4% | -13.6% | 77 | 83 |
| 77 | Mercedes GLE | 886 | 0.4% | -9.5% | 77 | 8,605 | 0.5% | -12.6% | 66 | 62 |
| 78 | Mercedes GLC | 883 | 0.4% | -65.3% | 74 | 16,178 | 1.0% | -12.3% | 26 | 17 |
| 79 | Mitsubishi Space Star | 866 | 0.4% | -61.9% | 80 | 12,141 | 0.7% | -6.9% | 44 | 37 |
| 80 | Audi e-Tron | 797 | 0.4% | 24.0% | 79 | 7,323 | 0.4% | 37.7% | 79 | 92 |
| 81 | Opel Astra | 757 | 0.4% | -61.9% | 71 | 12,394 | 0.8% | -40.1% | 39 | 15 |
| 82 | Peugeot 308 | 755 | 0.4% | 374.8% | 93 | 3,800 | 0.2% | 16.2% | 123 | 147 |
| 83 | Mercedes Vito | 747 | 0.4% | 1.2% | 85 | 5,746 | 0.3% | -0.5% | 99 | 102 |
| 84 | Skoda Superb | 721 | 0.4% | 17.0% | 66 | 9,194 | 0.6% | -8.5% | 61 | 67 |
| 85 | Mercedes B-Klasse | 720 | 0.4% | 21.6% | 109 | 6,508 | 0.4% | -9.6% | 88 | 87 |
| 86 | Peugeot 2008 | 716 | 0.4% | 10.7% | 73 | 5,939 | 0.4% | -23.7% | 95 | 85 |
| 87 | Ford Ecosport | 714 | 0.4% | 159.6% | 125 | 4,606 | 0.3% | 83.8% | 108 | 127 |
| 88 | Kia Picanto | 699 | 0.4% | -7.2% | 123 | 4,307 | 0.3% | -12.6% | 114 | 108 |
| 89 | Volvo XC40 | 654 | 0.3% | -1.7% | 83 | 6,524 | 0.4% | -25.1% | 87 | 71 |
| 90 | Ford Fiesta | 642 | 0.3% | 8.1% | 105 | 7,941 | 0.5% | -27.4% | 70 | 74 |
| 91 | Audi Q2 | 633 | 0.3% | -36.8% | 102 | 7,449 | 0.5% | -10.4% | 75 | 86 |
| 92 | BMW X2 | 632 | 0.3% | 27.2% | 111 | 4,309 | 0.3% | -22.9% | 113 | 96 |
| 93 | Renault Twingo | 629 | 0.3% | -41.5% | 124 | 7,211 | 0.4% | -34.4% | 81 | 57 |
| 94 | Seat Arona | 626 | 0.3% | -38.0% | 84 | 7,359 | 0.4% | -40.2% | 78 | 59 |
| 95 | Nissan Qashqai | 616 | 0.3% | 27.8% | 90 | 7,058 | 0.4% | -20.1% | 83 | 84 |
| 96 | Kia Niro | 614 | 0.3% | -17.8% | 115 | 4,993 | 0.3% | -9.7% | 102 | 94 |
| 97 | Volvo XC60 | 611 | 0.3% | -11.6% | 72 | 7,725 | 0.5% | -18.8% | 72 | 66 |
| 98 | Opel Zafira Life | 611 | 0.3% | 58.7% | 103 | 4,011 | 0.2% | -12.6% | 120 | 119 |
| 99 | Mercedes Sprinter | 596 | 0.3% | 18.7% | 96 | 4,255 | 0.3% | -14.7% | 116 | 107 |
| 100 | Audi A5 | 593 | 0.3% | -16.4% | 89 | 6,472 | 0.4% | -7.7% | 89 | 91 |
| 101 | Citroen C3/C3 Aircross | 591 | 0.3% | 63.7% | 94 | 4,280 | 0.3% | -21.1% | 115 | 104 |
| 102 | Mazda CX-5 | 590 | 0.3% | -29.9% | 151 | 4,488 | 0.3% | -19.0% | 111 | 105 |
| 103 | BMW X1 | 580 | 0.3% | -61.8% | 63 | 13,762 | 0.8% | -20.0% | 35 | 28 |
| 104 | Porsche 911 | 580 | 0.3% | 107.1% | 92 | 6,280 | 0.4% | 12.3% | 91 | 100 |
| 105 | Renault Megane | 557 | 0.3% | 14.6% | 76 | 4,026 | 0.2% | -26.9% | 119 | 109 |
| 106 | Seat Ibiza | 550 | 0.3% | -29.9% | 99 | 5,757 | 0.4% | -46.8% | 98 | 69 |
| 107 | Mercedes GLB | 543 | 0.3% | 32.4% | 87 | 4,883 | 0.3% | -18.8% | 103 | 97 |
| 108 | Toyota Corolla | 540 | 0.3% | -69.6% | 97 | 7,925 | 0.5% | -14.6% | 71 | 61 |
| 109 | Mazda2 | 531 | 0.3% | 9.9% | 136 | 3,985 | 0.2% | 9.4% | 121 | 126 |
| 110 | Mercedes EQB | 523 | 0.3% | new | 179 | 3,183 | 0.2% | new | 128 | 283 |
| 111 | Toyota C-HR | 504 | 0.3% | -48.9% | 65 | 6,777 | 0.4% | 11.6% | 84 | 88 |
| 112 | Opel Insignia | 496 | 0.2% | -63.4% | 114 | 4,682 | 0.3% | -43.3% | 106 | 77 |
| 113 | Citroen C4/Spacetourer | 491 | 0.2% | 33.1% | 118 | 4,548 | 0.3% | 12.0% | 110 | 121 |
| 114 | Renault Zoe | 478 | 0.2% | -69.7% | 104 | 7,145 | 0.4% | -41.5% | 82 | 30 |
| 115 | Toyota RAV4 | 478 | 0.2% | -37.6% | 128 | 4,756 | 0.3% | -11.7% | 104 | 90 |
| 116 | Seat Tarraco | 473 | 0.2% | -23.5% | 100 | 3,816 | 0.2% | -41.2% | 122 | 101 |
| 117 | Porsche Macan | 470 | 0.2% | 195.6% | 101 | 4,343 | 0.3% | 34.5% | 112 | 124 |
| 118 | Kia EV6 | 466 | 0.2% | new | 144 | 2,823 | 0.2% | new | 137 | 227 |
| 119 | Mazda CX-30 | 464 | 0.2% | -42.8% | 139 | 5,178 | 0.3% | -10.9% | 101 | 89 |
| 120 | Mazda CX-60 | 449 | 0.2% | new | 240 | 550 | 0.0% | new | 238 | – |
| 121 | Kia Stonic | 444 | 0.2% | 11.3% | 160 | 2,701 | 0.2% | -8.8% | 141 | 141 |
| 122 | Mercedes S-Klasse | 436 | 0.2% | 7.9% | 134 | 3,197 | 0.2% | -13.4% | 127 | 123 |
| 123 | Lynk & Co 01 | 433 | 0.2% | new | 113 | 2,425 | 0.1% | new | 151 | – |
| 124 | Mercedes Citan | 424 | 0.2% | n/a | 95 | 2,262 | 0.1% | 2592.9% | 156 | 257 |
| 125 | Ford Mustang Mach-E | 422 | 0.2% | 2.7% | 107 | 3,141 | 0.2% | 144.1% | 130 | 175 |
| 126 | Range Rover Evoque | 416 | 0.2% | 328.9% | 132 | 2,013 | 0.1% | -2.3% | 166 | 170 |
| 127 | Skoda Scala | 404 | 0.2% | -18.7% | 120 | 4,204 | 0.3% | -24.9% | 117 | 106 |
| 128 | Mercedes EQC | 398 | 0.2% | 8.4% | 187 | 1,679 | 0.1% | -39.6% | 176 | 153 |
| 129 | Ford S-Max | 395 | 0.2% | 0.8% | 174 | 1,918 | 0.1% | -45.8% | 169 | 140 |
| 130 | MG 5 | 394 | 0.2% | new | 263 | 624 | 0.0% | new | 231 | – |
| 131 | Porsche Cayenne | 380 | 0.2% | 31.0% | 108 | 3,063 | 0.2% | 4.1% | 133 | 125 |
| 132 | VW Sharan | 369 | 0.2% | 61.1% | 153 | 2,143 | 0.1% | 6.6% | 158 | 178 |
| 133 | Toyota Proace | 360 | 0.2% | 31.9% | 106 | 4,155 | 0.3% | 43.8% | 118 | 134 |
| 134 | VW Touareg | 360 | 0.2% | 23.3% | 127 | 3,713 | 0.2% | -13.3% | 125 | 120 |
| 135 | Mercedes EQA | 356 | 0.2% | -38.6% | 173 | 2,849 | 0.2% | 2.8% | 136 | 122 |
| 136 | Opel Combo | 355 | 0.2% | 133.6% | 159 | 1,878 | 0.1% | -41.9% | 171 | 155 |
| 137 | Suzuki Vitara | 354 | 0.2% | -34.7% | 78 | 2,919 | 0.2% | -21.3% | 134 | 95 |
| 138 | BMW X4 | 351 | 0.2% | -1.4% | 131 | 2,612 | 0.2% | -8.4% | 144 | 138 |
| 139 | Citroen C5 X/Aircross | 347 | 0.2% | 77.9% | 122 | 2,337 | 0.1% | -10.3% | 153 | 163 |
| 140 | Audi Q8 | 337 | 0.2% | 7.0% | 140 | 2,719 | 0.2% | -26.9% | 139 | 132 |
| 141 | Peugeot 3008 | 327 | 0.2% | -24.1% | 138 | 4,713 | 0.3% | -6.4% | 105 | 98 |
| 142 | Nissan Leaf | 326 | 0.2% | -5.0% | 154 | 2,486 | 0.2% | 0.7% | 148 | 130 |
| 143 | Land Rover Defender | 319 | 0.2% | 45.0% | 121 | 2,356 | 0.1% | 15.2% | 152 | 171 |
| 144 | Jeep Renegade | 309 | 0.2% | 37.9% | 112 | 3,080 | 0.2% | 7.5% | 131 | 150 |
| 145 | Suzuki Swift | 307 | 0.2% | -62.8% | 133 | 2,083 | 0.1% | -55.9% | 163 | 114 |
| 146 | Volvo XC90 | 302 | 0.2% | -21.8% | 117 | 3,623 | 0.2% | -6.1% | 126 | 112 |
| 147 | Hyundai Nexo | 302 | 0.2% | 3255.6% | 278 | 424 | 0.0% | 417.1% | 245 | 286 |
| 148 | MG RX6 | 298 | 0.1% | new | 150 | 3,146 | 0.2% | new | 129 | 229 |
| 149 | Mercedes EQS | 297 | 0.1% | new | 152 | 1,916 | 0.1% | new | 170 | 251 |
| 150 | Renault Kangoo | 295 | 0.1% | 25.0% | 192 | 2,510 | 0.2% | 123.9% | 146 | 184 |
| 151 | Mercedes G-Klasse | 292 | 0.1% | 97.3% | 135 | 3,073 | 0.2% | 5.3% | 132 | 157 |
| 152 | Kia Sorento | 261 | 0.1% | -47.7% | 165 | 1,796 | 0.1% | -42.9% | 174 | 144 |
| 153 | Peugeot Rifter | 259 | 0.1% | 59.9% | 223 | 925 | 0.1% | -61.5% | 209 | 173 |
| 154 | Hyundai Santa Fe | 253 | 0.1% | -7.3% | 166 | 1,400 | 0.1% | -34.4% | 186 | 160 |
| 155 | Peugeot Boxer | 243 | 0.1% | 153.1% | 175 | 883 | 0.1% | 18.8% | 214 | 228 |
| 156 | Nissan Micra | 242 | 0.1% | -3.6% | 162 | 2,640 | 0.2% | -8.3% | 143 | 152 |
| 157 | BMW X6 | 241 | 0.1% | 33.1% | 167 | 1,831 | 0.1% | 2.6% | 173 | 174 |
| 158 | Ford Transit Connect | 239 | 0.1% | 218.7% | 146 | 2,895 | 0.2% | 74.3% | 135 | 191 |
| 159 | Audi Q7 | 239 | 0.1% | -18.2% | 176 | 2,465 | 0.2% | -30.9% | 149 | 135 |
| 160 | Polestar 2 | 237 | 0.1% | 38.6% | 170 | 2,688 | 0.2% | 109.8% | 142 | 177 |
| 161 | VW Crafter | 235 | 0.1% | 50.6% | 110 | 2,142 | 0.1% | 19.9% | 159 | 182 |
| 162 | Jeep Compass | 234 | 0.1% | -39.8% | 116 | 4,583 | 0.3% | 15.1% | 109 | 118 |
| 163 | Fiat Panda | 234 | 0.1% | -23.8% | 219 | 2,013 | 0.1% | -20.2% | 165 | 161 |
| 164 | Audi A8 | 233 | 0.1% | 47.5% | 205 | 1,439 | 0.1% | 9.8% | 185 | 196 |
| 165 | Toyota Land Cruiser | 231 | 0.1% | 230.0% | 208 | 873 | 0.1% | 59.0% | 216 | 234 |
| 166 | Kia Rio | 229 | 0.1% | -46.4% | 142 | 2,270 | 0.1% | -10.2% | 155 | 154 |
| 167 | BMW Z4 | 227 | 0.1% | -19.5% | 129 | 2,701 | 0.2% | -19.5% | 140 | 146 |
| 168 | Nissan Juke | 226 | 0.1% | -24.7% | 178 | 2,100 | 0.1% | -35.9% | 161 | 143 |
| 169 | Renault Arkana | 219 | 0.1% | -66.2% | 137 | 3,738 | 0.2% | 61.4% | 124 | 142 |
| 170 | Seat Alhambra | 219 | 0.1% | -2.7% | 145 | 2,127 | 0.1% | 20.2% | 160 | 176 |
| 171 | Citroen Berlingo | 218 | 0.1% | 0.0% | 157 | 1,267 | 0.1% | -69.3% | 194 | 131 |
| 172 | Suzuki Ignis | 216 | 0.1% | -76.9% | 158 | 2,318 | 0.1% | -59.3% | 154 | 99 |
| 173 | BMW iX | 215 | 0.1% | -23.8% | 195 | 1,927 | 0.1% | 269.9% | 168 | 223 |
| 174 | Audi TT | 215 | 0.1% | -8.1% | 161 | 1,639 | 0.1% | -4.7% | 178 | 183 |
| 175 | Renault Kadjar | 208 | 0.1% | -47.1% | 148 | 2,496 | 0.2% | -50.2% | 147 | 116 |
| 176 | Hyundai Bayon | 202 | 0.1% | -49.5% | 155 | 1,935 | 0.1% | 69.9% | 167 | 179 |
| 177 | Man TGE | 199 | 0.1% | 49.6% | 171 | 1,085 | 0.1% | 118.3% | 196 | 239 |
| 178 | Hyundai Staria | 187 | 0.1% | new | 149 | 928 | 0.1% | new | 208 | 264 |
| 179 | Honda Jazz | 186 | 0.1% | -40.2% | 183 | 1,615 | 0.1% | -26.5% | 180 | 158 |
| 180 | BMW 8er | 180 | 0.1% | 39.5% | 168 | 1,184 | 0.1% | -21.0% | 195 | 195 |
| 181 | Citroen Jumpy | 179 | 0.1% | -23.2% | 184 | 1,538 | 0.1% | -39.8% | 182 | 156 |
| 182 | BMW 7er | 174 | 0.1% | 12.3% | 130 | 1,606 | 0.1% | 4.3% | 181 | 185 |
| 183 | Porsche Taycan | 173 | 0.1% | -34.2% | 126 | 2,527 | 0.2% | -3.1% | 145 | 129 |
| 184 | Range Rover Velar | 170 | 0.1% | 73.5% | 169 | 1,395 | 0.1% | 25.0% | 187 | 211 |
| 185 | Mazda6 | 169 | 0.1% | -3.4% | 254 | 670 | 0.0% | -47.4% | 227 | 202 |
| 186 | Mazda3 | 165 | 0.1% | -58.4% | 172 | 2,458 | 0.1% | -25.1% | 150 | 133 |
| 187 | Renault Trafic | 165 | 0.1% | 13.8% | 201 | 1,355 | 0.1% | 23.6% | 190 | 204 |
| 188 | Renault Clio | 162 | 0.1% | -83.8% | 180 | 5,850 | 0.4% | -50.2% | 96 | 54 |
| 189 | Land Rover Discovery Sport | 159 | 0.1% | 93.9% | 185 | 794 | 0.0% | -26.0% | 221 | 214 |
| 190 | Range Rover | 159 | 0.1% | 622.7% | 215 | 635 | 0.0% | -17.9% | 230 | 226 |
| 191 | Honda HR-V | 157 | 0.1% | 503.8% | 193 | 1,846 | 0.1% | 672.4% | 172 | 266 |
| 192 | Hyundai Ioniq | 154 | 0.1% | -62.8% | 143 | 2,781 | 0.2% | -16.8% | 138 | 128 |
| 193 | Peugeot 508 | 151 | 0.1% | -54.1% | 181 | 1,060 | 0.1% | -64.5% | 197 | 149 |
| 194 | Mercedes EQE | 147 | 0.1% | new | 156 | 1,514 | 0.1% | new | 183 | – |
| 195 | VW ID. Buzz | 144 | 0.1% | new | 253 | 204 | 0.0% | new | 270 | – |
| 196 | Porsche Panamera | 142 | 0.1% | -18.4% | 194 | 984 | 0.1% | -24.2% | 203 | 189 |
| 197 | Mercedes GLS | 141 | 0.1% | -15.1% | 218 | 969 | 0.1% | -24.9% | 205 | 198 |
| 198 | Nissan Townstar | 140 | 0.1% | new | 163 | 1,381 | 0.1% | new | 188 | – |
| 199 | Ford Mustang | 129 | 0.1% | 38.7% | 220 | 911 | 0.1% | -16.8% | 210 | 207 |
| 200 | BMW X7 | 124 | 0.1% | 34.8% | 222 | 1,019 | 0.1% | -4.0% | 202 | 210 |
| 201 | Honda CR-V | 118 | 0.1% | -35.5% | 197 | 974 | 0.1% | -25.2% | 204 | 190 |
| 202 | Subaru Forester | 116 | 0.1% | 1.8% | 228 | 903 | 0.1% | -22.5% | 212 | 200 |
| 203 | DS 4 | 116 | 0.1% | new | 211 | 427 | 0.0% | new | 244 | 317 |
| 204 | Volvo S/V90 | 111 | 0.1% | 15.6% | 189 | 843 | 0.1% | -37.4% | 219 | 186 |
| 205 | Peugeot 5008 | 109 | 0.1% | -36.6% | 196 | 1,510 | 0.1% | -30.0% | 184 | 172 |
| 206 | Ford Galaxy | 109 | 0.1% | 21.1% | 202 | 1,023 | 0.1% | 8.4% | 201 | 224 |
| 207 | SsangYong Tivoli | 106 | 0.1% | 8.2% | 245 | 610 | 0.0% | 17.8% | 232 | 237 |
| 208 | Jaguar F-Pace | 105 | 0.1% | 75.0% | 213 | 796 | 0.0% | -17.0% | 220 | 222 |
| 209 | Kia Soul | 103 | 0.1% | -71.2% | 210 | 889 | 0.1% | -46.0% | 213 | 181 |
| 210 | MG ZS | 102 | 0.1% | new | 141 | 1,646 | 0.1% | new | 177 | 270 |
| 211 | Jeep Wrangler | 102 | 0.1% | -49.3% | 206 | 1,300 | 0.1% | -22.1% | 192 | 166 |
| 212 | Fiat Tipo | 101 | 0.1% | -56.5% | 164 | 694 | 0.0% | -48.1% | 226 | 187 |
| 213 | Mercedes AMG GT | 98 | 0.0% | 63.3% | 186 | 1,044 | 0.1% | 9.1% | 198 | 220 |
| 214 | Alfa Romeo Stelvio | 97 | 0.0% | 9.0% | 209 | 963 | 0.1% | -0.8% | 206 | 212 |
| 215 | MG Marvel | 94 | 0.0% | new | 236 | 321 | 0.0% | new | 258 | 305 |
| 216 | Mercedes SL | 93 | 0.0% | n/a | 277 | 251 | 0.0% | 2410.0% | 264 | 324 |
| 217 | Alfa Romeo Giulia | 91 | 0.0% | 19.7% | 216 | 747 | 0.0% | 20.7% | 223 | 230 |
| 218 | Iveco Daily | 86 | 0.0% | 50.9% | 224 | 656 | 0.0% | 2.3% | 229 | 235 |
| 219 | DS 7 Crossback | 85 | 0.0% | 13.3% | 198 | 767 | 0.0% | -24.7% | 222 | 215 |
| 220 | Porsche Cayman | 84 | 0.0% | 265.2% | 217 | 601 | 0.0% | -9.8% | 234 | 233 |
| 221 | Smart Fortwo | 83 | 0.0% | -84.9% | 177 | 5,557 | 0.3% | -45.3% | 100 | 52 |
| 222 | Peugeot Expert | 83 | 0.0% | -25.9% | 232 | 708 | 0.0% | -40.4% | 224 | 203 |
| 223 | Alfa Romeo Tonale | 81 | 0.0% | new | 212 | 335 | 0.0% | new | 254 | – |
| 224 | DS 3 Crossback | 80 | 0.0% | 196.3% | 227 | 377 | 0.0% | 10.9% | 250 | 249 |
| 225 | Audi e-Tron GT | 79 | 0.0% | -4.8% | 204 | 1,365 | 0.1% | 31.1% | 189 | 206 |
| 226 | Audi A7 | 77 | 0.0% | -54.2% | 231 | 1,028 | 0.1% | -32.5% | 199 | 197 |
| 227 | Mazda MX-5 | 76 | 0.0% | -60.0% | 235 | 872 | 0.1% | -42.0% | 217 | 193 |
| 228 | Lexus NX | 75 | 0.0% | -21.1% | 237 | 561 | 0.0% | 7.3% | 236 | 238 |
| 229 | Land Rover Discovery | 75 | 0.0% | 226.1% | 207 | 371 | 0.0% | 3.9% | 251 | 259 |
| 230 | Volvo S/V60 | 72 | 0.0% | -84.1% | 203 | 2,032 | 0.1% | -58.0% | 164 | 111 |
| 231 | Subaru XV | 62 | 0.0% | -34.7% | 230 | 910 | 0.1% | -6.7% | 211 | 205 |
| 232 | Jaguar E-Pace | 62 | 0.0% | -10.1% | 226 | 467 | 0.0% | -50.9% | 241 | 218 |
| 233 | Mercedes CLS | 59 | 0.0% | 168.2% | 188 | 937 | 0.1% | 84.4% | 207 | 232 |
| 234 | Mazda MX-30 | 58 | 0.0% | -85.8% | 286 | 660 | 0.0% | -64.8% | 228 | 162 |
| 235 | Dacia Lodgy | 55 | 0.0% | -84.9% | 191 | 1,792 | 0.1% | -5.2% | 175 | 169 |
| 236 | Subaru Outback | 55 | 0.0% | -38.2% | 234 | 608 | 0.0% | -12.8% | 233 | 225 |
| 237 | Renault Scenic | 51 | 0.0% | -78.8% | 199 | 1,628 | 0.1% | -28.5% | 179 | 164 |
| 238 | Suzuki SX4 | 51 | 0.0% | -70.0% | 147 | 1,276 | 0.1% | 7.0% | 193 | 180 |
| 239 | Porsche Boxster | 48 | 0.0% | -38.5% | 200 | 876 | 0.1% | -32.4% | 215 | 199 |
| 240 | Bentley Continental | 48 | 0.0% | 50.0% | 239 | 459 | 0.0% | 83.6% | 242 | 256 |
| 241 | Volvo C40 | 48 | 0.0% | new | 262 | 308 | 0.0% | new | 260 | 284 |
| 242 | BMW 6er | 46 | 0.0% | 48.4% | 256 | 323 | 0.0% | -6.1% | 257 | 254 |
| 243 | Suzuki Swace | 45 | 0.0% | -40.8% | 229 | 354 | 0.0% | 13.8% | 253 | 201 |
| 244 | Lamborghini Coupe | 43 | 0.0% | 95.5% | 247 | 335 | 0.0% | -33.0% | 255 | 250 |
| 245 | SsangYong Rexton | 42 | 0.0% | 55.6% | 242 | 318 | 0.0% | 44.5% | 259 | 267 |
| 246 | Maserati Grecale | 41 | 0.0% | new | 246 | 87 | 0.0% | new | 292 | – |
| 247 | Ford Mondeo | 39 | 0.0% | -93.6% | 214 | 2,091 | 0.1% | -38.5% | 162 | 145 |
| 248 | Lexus RX | 39 | 0.0% | 178.6% | 272 | 406 | 0.0% | 26.5% | 247 | 244 |
| 249 | Range Rover Sport | 38 | 0.0% | -38.7% | 238 | 697 | 0.0% | -33.9% | 225 | 209 |
| 250 | Lamborghini Urus | 38 | 0.0% | 15.2% | 248 | 397 | 0.0% | 436.5% | 248 | 277 |
| 251 | Ferrari F8 | 38 | 0.0% | -38.7% | 243 | 380 | 0.0% | -23.2% | 249 | 247 |
| 252 | Jaguar i-Pace | 36 | 0.0% | 2.9% | 233 | 292 | 0.0% | -24.7% | 261 | 252 |
| 253 | SsangYong Korando | 35 | 0.0% | -40.7% | 259 | 367 | 0.0% | 14.7% | 252 | 258 |
| 254 | Jaguar F-Type | 33 | 0.0% | -32.7% | 225 | 441 | 0.0% | -7.0% | 243 | 245 |
| 255 | Nissan Primastar | 30 | 0.0% | new | 190 | 556 | 0.0% | new | 237 | – |
| 256 | Smart #1 | 30 | 0.0% | new | – | 30 | 0.0% | new | 303 | – |
| 257 | Renault Talisman | 29 | 0.0% | -74.8% | 251 | 1,026 | 0.1% | 12.7% | 200 | 216 |
| 258 | Renault Koleos | 28 | 0.0% | -87.3% | 221 | 1,332 | 0.1% | 15.5% | 191 | 194 |
| 259 | Honda E | 28 | 0.0% | -60.0% | 271 | 476 | 0.0% | -0.6% | 240 | 219 |
| 260 | Lexus UX | 27 | 0.0% | -69.3% | 244 | 493 | 0.0% | -8.4% | 239 | 221 |
| 261 | Toyota Highlander | 27 | 0.0% | -28.9% | 241 | 327 | 0.0% | -26.4% | 256 | 246 |
| 262 | Ferrari Roma | 27 | 0.0% | 3.8% | 261 | 201 | 0.0% | -4.3% | 271 | 271 |
| 263 | Honda Civic | 25 | 0.0% | -69.5% | 304 | 262 | 0.0% | -51.2% | 263 | 236 |
| 264 | Bentley Bentayga | 24 | 0.0% | 20.0% | 265 | 235 | 0.0% | 49.7% | 266 | 273 |
| 265 | Alpine A110 | 24 | 0.0% | 20.0% | 269 | 215 | 0.0% | 68.0% | 268 | 276 |
| 266 | Toyota Supra | 24 | 0.0% | 14.3% | 282 | 215 | 0.0% | -39.9% | 269 | 261 |
| 267 | Suzuki Across | 24 | 0.0% | 84.6% | 268 | 126 | 0.0% | 152.0% | 284 | 288 |
| 268 | Ford Explorer | 21 | 0.0% | -82.9% | 279 | 151 | 0.0% | -86.7% | 281 | 188 |
| 269 | Toyota Prius | 21 | 0.0% | 61.5% | 273 | 135 | 0.0% | -26.6% | 283 | 272 |
| 270 | Ferrari Portofino | 21 | 0.0% | 200.0% | 275 | 116 | 0.0% | 141.7% | 288 | 301 |
| 271 | Kia Stinger | 20 | 0.0% | 53.8% | 252 | 187 | 0.0% | -46.3% | 273 | 260 |
| 272 | Aston Martin V8 | 20 | 0.0% | -4.8% | 276 | 109 | 0.0% | -16.2% | 290 | 285 |
| 273 | Audi R8 | 19 | 0.0% | -52.5% | 257 | 240 | 0.0% | -22.3% | 265 | 255 |
| 274 | Renault Espace | 19 | 0.0% | -70.8% | 267 | 233 | 0.0% | -36.5% | 267 | 253 |
| 275 | Ferrari SF90/Stradale | 19 | 0.0% | -13.6% | 260 | 185 | 0.0% | 30.3% | 274 | 280 |
| 276 | Renault Master | 19 | 0.0% | 5.6% | 264 | 185 | 0.0% | -25.4% | 275 | 265 |
| 277 | Cadillac XT4 | 18 | 0.0% | 80.0% | 274 | 124 | 0.0% | -20.5% | 285 | 278 |
| 278 | Smart Forfour | 17 | 0.0% | -93.6% | 281 | 2,219 | 0.1% | -46.8% | 157 | 115 |
| 279 | Maserati Levante | 16 | 0.0% | 0.0% | 250 | 287 | 0.0% | 25.3% | 262 | 262 |
| 280 | Ford Transit Courier | 15 | 0.0% | -61.5% | 258 | 170 | 0.0% | -73.7% | 279 | 240 |
| 281 | Lexus ES | 15 | 0.0% | -21.1% | 291 | 117 | 0.0% | -10.7% | 287 | 279 |
| 282 | Toyota Mirai | 13 | 0.0% | -65.8% | 255 | 183 | 0.0% | -17.6% | 276 | 268 |
| 283 | Lada Niva | 12 | 0.0% | -93.1% | 249 | 570 | 0.0% | -39.1% | 235 | 217 |
| 284 | Subaru Impreza | 11 | 0.0% | 22.2% | 293 | 179 | 0.0% | 33.6% | 277 | 281 |
| 285 | Aston Martin DBX | 11 | 0.0% | 37.5% | 266 | 80 | 0.0% | -5.9% | 294 | 291 |
| 286 | Maserati Ghibli | 10 | 0.0% | 25.0% | 283 | 151 | 0.0% | -14.7% | 282 | 275 |
| 287 | Ferrari 296 GTB | 9 | 0.0% | new | 289 | 32 | 0.0% | new | 302 | – |
| 288 | Mazda CX-3 | 8 | 0.0% | -98.3% | 285 | 855 | 0.1% | -75.7% | 218 | 139 |
| 289 | Jaguar XE | 8 | 0.0% | -42.9% | 270 | 168 | 0.0% | -47.7% | 280 | 263 |
| 290 | Fiat Ulysse | 8 | 0.0% | new | 296 | 41 | 0.0% | new | 300 | – |
| 291 | Maserati Quattroporte | 8 | 0.0% | 300.0% | 300 | 29 | 0.0% | -3.3% | 304 | 310 |
| 292 | Toyota Camry | 7 | 0.0% | -77.4% | 288 | 109 | 0.0% | -48.8% | 291 | 274 |
| 293 | DS 9 | 7 | 0.0% | n/a | 280 | 85 | 0.0% | 1600.0% | 293 | 308 |
| 294 | Rolls-Royce Cullinan | 7 | 0.0% | 75.0% | 294 | 43 | 0.0% | 79.2% | 299 | 307 |
| 295 | Aston Martin DB11 | 6 | 0.0% | -57.1% | 287 | 67 | 0.0% | 15.5% | 295 | 298 |
| 296 | Cadillac Escalade | 5 | 0.0% | n/a | – | 26 | 0.0% | 136.4% | 306 | 309 |
| 297 | Fiat Doblo | 5 | 0.0% | n/a | – | 7 | 0.0% | 16.7% | 316 | 331 |
| 298 | Iveco Eurocargo | 4 | 0.0% | 0.0% | 292 | 35 | 0.0% | -34.0% | 301 | 302 |
| 299 | Polestar 1 | 4 | 0.0% | n/a | 307 | 24 | 0.0% | 140.0% | 307 | 319 |
| 300 | Citroen C1 | 3 | 0.0% | -98.6% | 290 | 407 | 0.0% | -85.1% | 246 | 159 |
| 301 | Jaguar XF | 3 | 0.0% | -76.9% | 284 | 118 | 0.0% | -52.8% | 286 | 269 |
| 302 | Rolls-Royce Dawn | 3 | 0.0% | 200.0% | 309 | 9 | 0.0% | -30.8% | 314 | 320 |
| 303 | Peugeot 108 | 2 | 0.0% | -99.0% | 305 | 193 | 0.0% | -92.2% | 272 | 168 |
| 304 | Lexus LC | 2 | 0.0% | -77.8% | 295 | 63 | 0.0% | -45.2% | 296 | 289 |
| 305 | Toyota bZ4X | 1 | 0.0% | new | 299 | 178 | 0.0% | new | 278 | – |
| 306 | Nissan NV200 | 1 | 0.0% | -91.7% | 298 | 63 | 0.0% | -52.6% | 297 | 282 |
| 307 | Nissan NV300 | 1 | 0.0% | -99.1% | – | 46 | 0.0% | -87.3% | 298 | 248 |
| 308 | Man TGM | 1 | 0.0% | new | 297 | 14 | 0.0% | new | 312 | – |
| 309 | Rolls-Royce Wraith | 1 | 0.0% | n/a | 301 | 9 | 0.0% | 28.6% | 315 | 327 |
| 310 | Nissan GT-R | 1 | 0.0% | -50.0% | 302 | 7 | 0.0% | -87.0% | 317 | 303 |
| 311 | Ferrari 488 | 1 | 0.0% | -97.1% | – | 4 | 0.0% | -96.1% | 318 | 295 |
| 312 | Mercedes SLS AMG | 1 | 0.0% | n/a | – | 1 | 0.0% | n/a | 320 | – |
Source: KBA