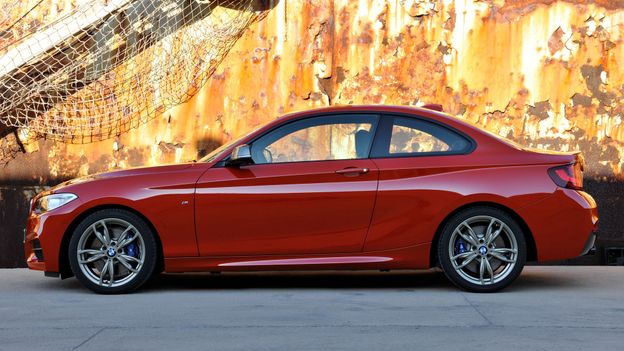 Is The BMW M235i The Best Car You Could Buy For Less Than $30k?
It's never the wrong time to look at buying a fun weekend car, or possibly a daily driver that's not going to clean out your bank account. Sometimes it's easier said than done, especially if you have high standards in terms of luxury features, performance, or even the badges found throughout the car. One sports coupe that has flown below the radar it's entire life cycle is the BMW M235i, as some brand loyalists and enthusiasts will always look at this car as being inferior to the M2. Whether you're new to the car community or a seasoned veteran, BMW buyers take the M badge very seriously, to a point where M-Performance models are disregarded and never given the recognition they actually deserve. But is the M235i one of those rare exceptions?
Being the successor to the beloved E82 1 Series, initially the 2 Series received a luke-warm welcome from enthusiasts just prior to the M2's arrival, and that's due impart to the changes BMW was making to the lineup around 2014. The mid 2010's saw the introduction of the F-Series, including the highly controversial F30 3 Series and F32 4 Series, which lacked the driving and handling characteristics of BMW's of the past. Whether for better or worse, these cars were becoming more computerized and electronic, losing the soul and passion that enthusiasts have loved about "The Ultimate Driving Machine" for decades. Interestingly enough though, it's the F22 2 Series, the forgotten sibling in the lineup, that quietly received high praise when it first started hitting showrooms.
Deemed as the spiritual successor to the E46 M3 by many journalists, the M235i is a small, agile ,and quick sports coupe that could make tedious weekday commutes enjoyable, and back road driving an absolute blast. Even better, on the used car market you can find a number of 2014-2016 models below $30k, making them a great alterative to the Volkswagen GTI, Golf R, Audi S3, and Mercedes Benz CLA 45 AMG. What all these cars have in common is being attainable, modifiable, practical, great handling, and a great bang for your buck if you're on a budget, and the M235i fits right with this group, but as a 2 door coupe.
Under the hood the M235i is powered by a 3 liter turbocharged inline 6 cylinder engine that puts out 320 hp and 330 lb ft of torque, and can be paired with either a 6-speed manual or a ZF 8-speed automatic transmission. For even more fun, you can opt for RWD, but for better year round drivability, BMW's xDrive AWD system would probably be the better fit if you live in colder regions of the US. With that AWD system, the M235i is capable of going from 0-60 in right around 4.5 seconds, which is certainly not something to overlook in terms of performance, despite falling just a bit short when compared to the CLA 45 AMG. However, it does fill a void in this price range, as there aren't too many relatively new 2 door sports coupes from Europe priced below $30k. For fuel economy, the M235i offers a reasonable 20 mpg in the city and 31 mpg on the highway. So while it may not be as practical as a sedan or hatchback, it does retain some form of efficiency.
It's been debated whether you could own an M235i and use it as your daily driver, and while this little coupe offers 13 cubic ft of rear cargo space, it's not likely this car will be conducive for a family. Legroom for passengers in the back is minimal, and we'd use those rear seats for groceries or additional storage if there's no space left in the trunk. However, because the M235i can be equipped with AWD, you could most certainly drive this car year round and take on snow covered roads.
The M235i does have a weak spot despite being mostly flawless, and that's the interior layout. Even in 2015, buyers would criticize the quality of the cabin, as technology was certainly lacking early on. But when you compare the 2 Series interior to the Audi A3/S3 and Mercedes Benz CLA it's not egregiously worse than it's rivals. For a sports coupe that was introduced to the lineup last decade, we'd argue it's one of the last old school and raw BMW's since the E92 M3, which is why the M235i shouldn't be overlooked because it doesn't have an M2 badge.
When you factor in pricing, the turbocharged inline 6 cylinder engine, and an optional manual transmission with RWD, the M235i quickly becomes one of the greatest bargains on the used car market today. It might not be the flashiest, but it's a true driver's car that deserves far more recognition and respect than most enthusiasts are willing to give it.
The post Is The BMW M235i The Best Car You Could Buy For Less Than $30k? appeared first on Boston Auto Blog.