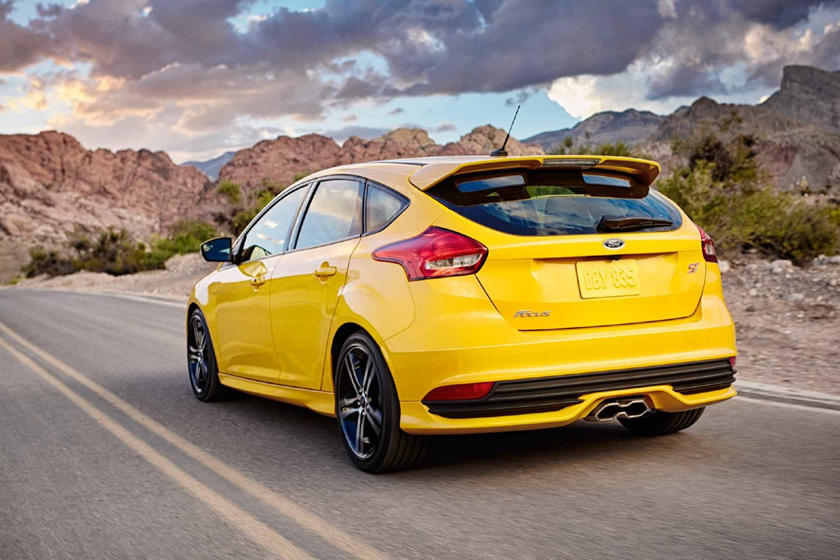 5 Cars Under $20k Every Young Enthusiast Should Buy
Driving shouldn't be a chore or a dreadful experience, especially if you're a young enthusiast looking to be a part of your local car community or you just want a fun daily driver. Most likely, you're on a strict budget so exotic and high performance cars are out of the question, but there's plenty of other options that are not only affordable, but sensible and practical as well. So here are 5 cars under $20k every young enthusiast should buy.
Ford Fiesta ST
As the old saying goes, it's more fun to drive a slow car fast rather than a fast car slow, but this doesn't mean you're immune to getting in trouble behind the wheel. No longer in production in 2021 for the US market, the Ford Fiesta ST is actually a rare commodity these days and is a relic of the past when Ford wasn't committed to a full lineup of crossovers. The true definition of a hot hatch, the Fiesta ST is powered by a 1.6L turbocharged 4 cylinder engine that puts out 197 hp and 214 lb ft of torque and comes standard with a 6 speed manual transmission. While not the most impressive performance numbers on paper, keep in mind that this little hatchback only weights 2,750 lbs, so it's lightness is going to allow you to throw the Fiesta ST around in corners for an engaging driving experience on winding backroads.
Even better the fun you'll have during your weekday commutes doesn't come at the expense of practicality and efficiency, as you can expect to receive 26 mpg in the city and 33 mpg on the highway, and with the Fiesta ST being a hatch you'll have more plenty of room for groceries and smaller items. So what is all of this going to cost you?
According to CarGurus you're looking at spending in the ballpark of $15k.
Ford Focus ST
If the Fiesta ST isn't enough car for you and you're looking for something a bit larger, more practical, and overall better when it comes to performance, then taking a look at the Ford Focus ST and paying a little extra might be a great decision for you. Just like it's smaller sibling, the Focus lineup is no longer sold in the US, so if you want a sporty hatchback from Ford you'll have to buy used. Under the hood the Focus ST is powered by a 2 liter, turbocharged 4 cylinder engine that puts out 252 hp and 270 lb ft of torque and is also paired with a 6 speed manual transmission. When compared to rivals, it does outperform the competition when it comes to power, and for 0-60 times you're looking at right around 6 seconds.
With the bigger dimensions, the Focus ST is also more practical than the Fiesta ST, as passengers will be a bit more comfortable in the second row. For fuel economy you can expect a reasonable 22 mpg in the city and 30 mpg on the highway, and once again with this being a hatchback it's going to be fun but practical option for you if your budget is below $20k.
For pricing you can find Focus ST's anywhere from $12-$20k, with 2018 models now being priced just below $19k.
Volkswagen GTI
Throughout the last 20 years, the Volkswagen GTI has always been a hatchback that's drawn in enthusiasts of all ages, and that's because it's one of the best all around great cars you can buy both new or used. The only German car on this list, the GTI brings a sense of refinement and enhanced driving dynamics that makes it one of the more appealing options in this price range. It can also be seen as a stepping stone that introduces you to European luxury and performance cars at a younger age, as most likely this won't be your last vehicle from the VW/Audi family. With a sports tuned suspension and tight and direct steering, the GTI is going to provide plenty of fun on backroads while also doubling as a responsible daily driver when cruising around town.
Under the hood the Mk7 GTI will have a 2 liter turbocharged 4 cylinder engine that will either put out 210 or 220 hp depending on whether your model has the performance package if you go with the S trim, and 258 lb ft of torque and will be paired with a 6 speed manual transmission or a 6 speed DSG. In some ways, the GTI is the more mature and adult car in this price range as this hatch has been beloved by many enthusiasts throughout the decades, and for those who are eager to modify their first performance car, there's plenty of aftermarket support to help you make your GTI unique.
Pricing for the Mk7 GTI is very similar to the Focus ST, so expect paying anywhere between $15k-$20k
Scion FR-S/Subaru BRZ
Maybe not the most practical or responsible car you could buy if this will be your daily driver and you're in high school or college, but it's most certainly affordable and a 2 door coupe that embodies everything that made JDM cars popular among young enthusiasts back in the 90's. It's small, agile, and RWD which together not only makes it fun to cruise around in, but it's also a car that will make you a better driver, as you'll learn how to be in full control behind the wheel, and of course with the optional manual transmission you'll master shifting through gears.
The Scion FRS and Subaru BRZ brings simplicity back to the automotive world in a time when everything is about big touchscreens and upscale interiors, as the cabin is a flashback to the past when you step inside. Under the hood the BRZ and FRS is powered by a 2 liter naturally aspirated 4 cylinder engine that puts out 200 hp and 151 lb ft of torque, and while numbers most certainly don't impress on paper, keep in mind that this 2 door coupe is extremely light so the cornering ability will definitely put a smile on your face.
Since the FR-S and BRZ have been in production for so long, variety on the used car market is plentiful. You can easily find these for around $15k if not less, and if you're on a strict budget this two door sports car is definitely a great option to go with.
Honda Civic Si
The last car on this list is none other than the Honda Civic Si, which might not be the flashiest vehicle on this list, nor is it the most powerful. However, if you're looking for a practical and reliable car that can be fun to drive as well, then the Civic Si could fit the bill. Honda has always been a brand that's appealed to a younger demographic, especially the Civic as it's easy to maintain and offers a decent amount of performance. In the price range below $20k, you can find both sedan and coupe variants with relatively low mileage, and thanks to depreciation 2018 and 2019 model years are now within budget.
As with most of the vehicles on this list, you will have modern day amenities such as heated seats and smartphone compatibility. While it may not draw the most amount of attention, the Civic Si does come with a 2 liter turbocharged 4 cylinder engine that puts out 205 hp and 191 lb ft of torque and is paired with a 6 speed manual transmission. As manufacturers abandon the manual, there's not many newer cars that allow you to row through the gears yourself, but the Civic Si is one of those exceptions. 0-60 times come in at right around 6.8 seconds, which isn't the quickest car out of the 5 on our list, but it's probably the most sensible for a younger driver as fuel efficiency is very impressive with 26 mpg in the city and 36 mpg on the highway.
All in all, it's a car that you can depend on. Sure there's other options out there in this price range that could easily take the Civic's spot, but for buyers on a budget who want to make a responsible purchasing decision that gives them a bit of everything enthusiasts love, there's no better car on the market.
Let us know what cars you think should be on this list. Leave a comment below and make sure to follow us on YouTube to check out our latest reviews to help you find your next vehicle!