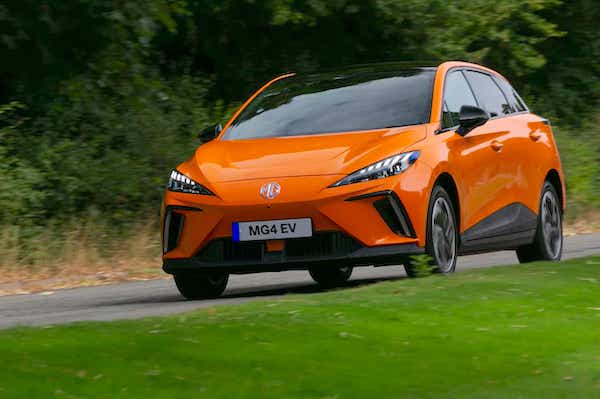 Ireland October 2023: MG 4 #1, BYD Atto 3 in Top 10
The MG 4 is the best-selling vehicle in Ireland in October.
As the year comes to an end, the Irish new car market traditionally dwindle to just a trickle of sales, awaiting January's licence plate change. Worse, volumes accelerate their fall in October to -16.9% year-on-year and 2,174 units vs. -11% in September. The year-to-date tally however is assured to stay in positive by the time the year comes to an end at +15.6% and 120,491 units. This month Volkswagen (-29.2%) freefalls year-on-year but notches the brands top spot nevertheless with 13.7% share. Toyota (+120.4%) is euphoric year-on-year at #2 vs. a particularly low year-ago basis as it only manages a 10.4% share vs. 13.6% YTD. BMW (+78.5%) is up three spots on last month to #3 ahead of Audi (+6.6%) and Kia (-31.9%). Tesla (+561.1%) and MG (+816.7%) boast the largest gains in the entire market, ranking #6 and #8 respectively. BYD is up to #16 with 1.9% share vs 0.4% so far this year.
We have surprise leader in the models ranking: the new MG 4 lurches up 17 ranks on last month to #1 with 4% share. Launched in January, its previous best was #8 and 2.2% reached in August. The VW T-Roc (+97.6%) is up 39 spots on September to #3 while the Tesla Model 3 (+386.7%) stays in third place. In fact the entire Top 5 beats the market with the Toyota Corolla (+103.7%) and VW Polo (+50%) also in outstanding shape. The Tesla Model Y (+1433.3%) was #1 in September and is down to #7 this month but still sports a surreal year-on-year lift. Finally the BYD Atto 3 breaks into the Top 10 for the first time at #9.
Previous month: Ireland September 2023: BMW, Toyota shine in negative market
One year ago: Ireland October 2022: Renault Arkana up to #2 in market back in negative  (-2.1%)
Full October 2023 Top 35 All brands and Top 187 All models below.
Ireland October 2023 – brands:
PosBrandOct-23%/22Sep2023%/22PosFY221Volkswagen29813.7%– 29.2%313,30411.0%+ 14.5%232Toyota22710.4%+ 120.4%216,38013.6%+ 3.8%113BMW1667.6%+ 78.5%64,7573.9%+ 17.4%8104Audi1306.0%+ 6.6%95,2464.4%+ 21.8%785Kia1245.7%– 31.9%19,1097.6%+ 14.7%546Tesla1195.5%+ 561.1%53,0842.6%+ 135.1%13187Skoda1175.4%– 36.4%410,0988.4%+ 33.6%458MG1105.1%+ 816.7%161,7261.4%+ 237.8%19239Hyundai964.4%– 42.5%811,7909.8%– 6.7%3210Ford853.9%– 42.2%75,9665.0%+ 18.8%6611Peugeot813.7%– 6.9%104,4913.7%– 3.9%10712Mercedes693.2%– 52.1%172,8602.4%– 23.2%141213Suzuki693.2%+ 43.8%112,0811.7%+ 64.5%181914Volvo502.3%– 33.3%212,1241.8%+ 19.9%171515Dacia432.0%– 69.5%134,7213.9%+ 41.3%91316BYD411.9%new235000.4%new27 –17Fiat391.8%+ 550.0%265870.5%+ 61.7%262718Mini331.5%– 45.9%226940.6%+ 12.1%242219Renault321.5%– 86.9%144,0973.4%+ 2.1%121120Citroen321.5%– 43.9%241,2361.0%– 14.1%221721Land Rover321.5%+ 146.2%257240.6%+ 58.4%232422Opel301.4%+ 3.4%182,7672.3%– 2.5%151423Porsche271.2%+ 35.0%294630.4%+ 81.6%282824Nissan261.2%– 71.4%204,4813.7%+ 10.0%11925Seat261.2%– 23.5%152,7622.3%+ 69.4%161626Cupra190.9%– 42.4%121,6501.4%+ 154.6%202127Lexus150.7%+ 150.0%276100.5%+ 43.2%252528Mazda140.6%– 53.3%191,3091.1%+ 18.0%212029Polestar80.4%– 68.0%282970.2%+ 175.0%293030Honda60.3%– 50.0%302350.2%– 34.9%302631DS30.1%+ 0.0%352090.2%+ 80.2%313132Jaguar30.1%– 62.5%31890.1%– 46.4%322933Jeep20.1%+ 0.0%33760.1%+ 100.0%333334Ora20.1%new –320.0%new373835Alfa Romeo00.0%– 100.0%32640.1%+ 326.7%3434
Ireland October 2023 – models:
PosModelOct-23%/22Sep2023%/22PosFY221MG4874.0%new181,1531.0%new31 –2VW T-Roc813.7%+ 97.6%412,0131.7%+ 24.2%12133Tesla Model 3733.4%+ 386.7%31,0880.9%+ 4.8%33264Toyota Corolla552.5%+ 103.7%43,2002.7%– 22.8%325VW Polo542.5%+ 50.0%171,2211.0%– 7.2%29196Kia Sportage462.1%– 9.8%23,6423.0%+ 2.8%237Tesla Model Y462.1%+ 1433.3%11,9901.7%+ 626.3%131418VW ID.4432.0%– 72.3%92,9122.4%– 0.6%559BYD Atto 3401.8%new274990.4%new75 –10Toyota Yaris Cross381.7%+ 171.4%403,0272.5%+ 33.5%4811Toyota Yaris371.7%+ 76.2%262,7352.3%+ 2.7%6712BMW X3361.7%+ 200.0%83880.3%+ 42.1%889313Fiat 500361.7%+ 800.0%513670.3%+ 56.2%9310314BMW iX3351.6%– 7.9%693020.3%+ 45.9%10711215Hyundai Kona341.6%– 63.4%72,2271.8%+ 5.3%10916Ford Puma311.4%– 18.4%61,7511.5%+ 15.8%181617Audi A4311.4%+ 210.0%398450.7%+ 39.9%465818Hyundai Tucson301.4%– 25.0%345,2284.3%– 18.0%1119Toyota C-HR301.4%+ 200.0%292,5672.1%– 17.3%8420Peugeot 3008281.3%– 37.8%381,1270.9%– 31.1%321421Skoda Octavia271.2%– 47.1%122,5052.1%+ 42.6%91122Suzuki Vitara271.2%+ 3.8%218460.7%+ 39.6%455623Dacia Sandero261.2%+ 271.4%101,9461.6%+ 49.9%152124VW T-Cross261.2%+ 13.0%989260.8%+ 52.3%405725Kia Sorento261.2%+ 271.4%59030.7%+ 56.8%426026BMW 3-Series261.2%n/a374690.4%+ 12.7%797227Skoda Kodiaq221.0%+ 4.8%251,8541.5%– 10.9%161028Ford Kuga221.0%+ 0.0%131,5261.3%+ 15.2%202029Mini Hatch221.0%– 48.8%463780.3%– 17.8%916730Skoda Superb211.0%+ 31.3%471,3221.1%+ 78.9%234131VW Arteon211.0%+ 31.3%537710.6%+ 83.6%537132BMW i4211.0%+ 2000.0%845340.4%+ 13250.0%7210433Suzuki SX4 S-Cross211.0%+ 162.5%434790.4%+ 305.9%7613634Porsche Cayenne211.0%+ 90.9%1181800.1%+ 100.0%12914235VW Tiguan200.9%– 33.3%281,9571.6%+ 27.6%141536Kia Ceed200.9%+ 300.0%118600.7%+ 16.4%444337Mercedes GLB190.9%– 17.4%772630.2%+ 17.9%11410738VW Golf180.8%– 64.7%661,4451.2%+ 14.3%212239Audi A6180.8%+ 20.0%686800.6%+ 0.4%614740Volvo XC90180.8%+ 80.0%724730.4%+ 23.2%777541Ford Focus170.8%– 58.5%151,5911.3%+ 16.7%191842Skoda Enyaq170.8%– 59.5%231,2401.0%+ 103.6%285543Audi Q4170.8%+ 112.5%716080.5%+ 201.0%6511344Toyota Corolla Cross160.7%new161,2931.1%new2516345VW ID.3160.7%+ 33.3%358040.7%– 12.8%513046Volvo XC40160.7%– 60.0%815420.4%– 16.9%705047Skoda Karoq150.7%– 11.8%311,2611.0%+ 88.8%264848Suzuki Ignis150.7%+ 50.0%443570.3%+ 66.8%9410949Toyota RAV4140.6%+ 27.3%302,0481.7%– 29.4%11650Peugeot 2008140.6%+ 55.6%361,1811.0%+ 22.0%302851Kia EV6140.6%+ 100.0%249170.8%– 4.0%412952BMW 5-Series140.6%+ 180.0%617490.6%– 18.1%553153Cupra Formentor140.6%– 39.1%496840.6%+ 32.0%596454MG ZS140.6%+ 55.6%742700.2%+ 47.5%11211855Land Rover Defender140.6%+ 1300.0%701210.1%+ 317.2%14621056Nissan Qashqai130.6%– 7.1%642,5782.1%+ 47.7%71257Dacia Duster130.6%– 85.9%751,7661.5%+ 23.5%171758Kia Niro130.6%– 85.7%141,3391.1%+ 65.9%223759Volvo XC60130.6%– 35.0%899440.8%+ 51.5%395460Audi A3130.6%– 38.1%577160.6%+ 7.7%564961Toyota Aygo/X130.6%+ 8.3%975180.4%+ 51.9%748262Mercedes CLA130.6%+ 30.0%564720.4%+ 4.9%786963Audi Q5130.6%+ 85.7%733880.3%+ 29.8%879064Opel Grandland X120.6%+ 71.4%1243200.3%+ 28.0%1049865Audi Q3110.5%– 63.3%457640.6%– 0.1%544066Mercedes GLC110.5%+ 57.1%913420.3%– 6.6%967767Range Rover Sport110.5%+ 83.3%1011750.1%– 20.8%1329668Peugeot Rifter110.5%+ 120.0%103860.1%– 1.1%16314569Hyundai Ioniq 5100.5%– 16.7%1041,2531.0%+ 7.9%272570Opel Mokka100.5%+ 150.0%679820.8%+ 32.3%374271Skoda Kamiq100.5%– 9.1%328930.7%+ 9.2%433572Toyota Prius100.5%n/a791120.1%+ 646.7%15021173Renault Arkana90.4%– 91.6%191,3171.1%+ 7.6%242374Peugeot 500890.4%– 30.8%607900.7%– 5.5%523375BMW X590.4%+ 80.0%227110.6%– 0.7%574576Toyota bZ4X90.4%n/a1086530.5%+ 21666.7%6212777Peugeot 20890.4%+ 350.0%506150.5%– 24.3%643678Seat Tarraco90.4%+ 200.0%1125280.4%+ 130.6%7310579Hyundai Santa Fe90.4%+ 125.0%523970.3%– 26.1%856280Ford Fiesta80.4%– 78.4%558130.7%+ 57.9%506381Citroen C5 Aircross80.4%– 33.3%833900.3%+ 10.2%867982Polestar 280.4%– 68.0%582970.2%+ 175.0%10913383Audi Q280.4%+ 0.0%1342630.2%+ 11.9%11310284Citroen C5 X80.4%– 11.1%156840.1%+ 211.1%16419185Renault Clio70.3%– 93.0%1529470.8%– 19.8%382486Nissan Juke70.3%+ 40.0%828150.7%+ 29.4%485387Seat Ateca70.3%– 63.2%428150.7%+ 138.3%498188BMW 2-Series70.3%– 30.0%854450.4%+ 41.7%818789Audi A570.3%– 30.0%1093230.3%+ 22.3%1019590Lexus ES70.3%+ 133.3%1251690.1%+ 36.3%13513291Renault Captur60.3%– 81.3%998370.7%– 13.3%472792Hyundai i1060.3%+ 50.0%906840.6%+ 37.9%606593VW Taigo60.3%– 76.0%1055530.5%+ 118.6%689794Suzuki Swift60.3%+ 100.0%633320.3%+ 36.1%9810095VW ID.560.3%– 75.0%1273170.3%+ 40.3%10610696Hyundai Ioniq 660.3%new1462950.2%new110 –97Renault Austral60.3%new872710.2%new111 –98Mercedes GLE60.3%– 25.0%1472010.2%– 34.7%1248899MG560.3%n/a1071940.2%– 11.8%126110100Lexus RX60.3%n/a1021460.1%+ 758.8%141204101Citroen Berlingo60.3%– 66.7%1191170.1%+ 4.5%148135102Mini Convertible60.3%– 14.3%941070.1%+ 148.8%153170103Audi Q8 E-Tron60.3%new120910.1%new159 –104BMW i560.3%new96230.0%new206 –105Nissan X-Trail50.2%n/a863710.3%n/a92246106Seat Ibiza50.2%– 44.4%1063330.3%– 0.3%9783107Cupra Leon50.2%n/a653190.3%+ 1893.8%105205108Mazda CX-6050.2%– 28.6%1002220.2%+ 753.8%121192109Toyota Camry50.2%+ 400.0%1621900.2%+ 1.6%127117110Seat Arona40.2%+ 33.3%761,0350.9%+ 61.7%3451111Dacia Jogger40.2%– 90.5%1161,0090.8%+ 64.3%3652112Skoda Fabia40.2%– 81.8%625630.5%+ 13.3%6766113Renault Megane40.2%n/a1325440.5%+ 6700.0%69197114Kia Picanto40.2%+ 0.0%545390.4%+ 43.4%7176115Mazda CX-540.2%– 20.0%923300.3%– 9.1%10078116Citroen C440.2%– 55.6%882510.2%– 43.0%11570117Porsche Taycan40.2%– 33.3%1281870.2%+ 107.8%128140118Mini Countryman40.2%– 55.6%1491710.1%+ 119.2%134149119VW Caddy40.2%+ 0.0%1291690.1%+ 397.1%136179120Mercedes A Class40.2%– 75.0%1651090.1%– 62.7%15191121Land Rover Discovery Sport40.2%n/a167770.1%– 3.8%165160122Peugeot 40830.1%new804060.3%new84 –123BMW X130.1%n/a1333820.3%+ 38.4%8994124Opel Crossland X30.1%– 50.0%1233790.3%– 47.4%9044125Opel Astra30.1%– 25.0%1133230.3%+ 88.9%103124126Peugeot 30830.1%– 62.5%1382230.2%+ 31.2%120119127Mazda330.1%n/a1141220.1%– 17.0%145126128MG HS30.1%+ 0.0%1761090.1%+ 0.9%152139129DS 730.1%+ 50.0% –920.1%+ 35.3%158154130Honda Civic30.1%n/a142720.1%+ 18.0%166159131Peugeot 50830.1%– 25.0% –590.0%– 55.0%172129132Ford unidentified30.1%n/a143160.0%n/a220 –133Opel Corsa20.1%– 71.4%487020.6%+ 3.1%5846134Mercedes GLA20.1%– 90.9%1264350.4%+ 24.6%8380135BMW 4-Series20.1%+ 100.0%1612380.2%– 37.4%116114136Audi A120.1%– 60.0%1172370.2%+ 33.1%117120137Mercedes E Class20.1%– 83.3% –2070.2%– 73.2%12339138Mercedes C Class20.1%– 85.7%1481950.2%– 39.1%12585139Fiat Panda20.1%n/a1631650.1%+ 400.0%137181140Volvo C4020.1%– 60.0%1741410.1%+ 60.2%142144141BMW iX20.1%– 77.8%1641320.1%– 33.0%143111142Mercedes EQB20.1%– 50.0%1751180.1%– 10.6%147128143Citroen C3 Aircross20.1%n/a1771050.1%– 6.3%154137144BMW IX120.1%new1101040.1%new155 –145Honda Jazz20.1%– 80.0%130990.1%– 42.8%156122146Mercedes S Class20.1%n/a193380.0%– 40.6%185156147Ora Funky Cat20.1%new –320.0%new192245148VW T720.1%+ 0.0%180320.0%+ 28.0%193193149Citroen Spacetourer20.1%+ 100.0%196290.0%+ 26.1%195189150Ford Mustang Mach-E20.1%new121270.0%new198 –151Audi A720.1%n/a182240.0%+ 60.0%202213152Mercedes V Class20.1%n/a201150.0%+ 25.0%222217153BMW XM20.1%new184140.0%new224 –154Jaguar E-Pace20.1%n/a14490.0%n/a232 –155Jeep Avenger20.1%new17160.0%new241 –156Hyundai i2010.0%– 92.3%1591,0180.8%+ 22.2%3534156Kia Stonic10.0%– 88.9%335790.5%+ 3.0%6661157Skoda Scala10.0%– 75.0%1224600.4%+ 17.9%8074158Mazda CX-3010.0%– 87.5%953230.3%+ 12.2%10292159Lexus NX10.0%+ 0.0%1372340.2%+ 4.5%118108160Mazda210.0%+ 0.0%932330.2%+ 77.9%119130161Citroen C310.0%– 50.0%1732160.2%+ 9.1%122115162Mercedes EQE10.0%– 91.7%1531790.1%+ 411.4%130173163Nissan Ariya10.0%– 93.8%1541530.1%+ 163.8%138162164Range Rover 10.0%– 75.0%1391470.1%+ 406.9%140220165Range Rover Evoque10.0%– 50.0%1551170.1%+ 67.1%149150166Audi e-Tron GT10.0%n/a1561010.1%+ 57.8%156157167Mercedes EQA10.0%– 85.7%141910.1%– 53.3%160116168Ford Transit Custom10.0%– 50.0% –880.1%+ 83.3%161167169Lexus UX10.0%– 50.0%157610.1%+ 3.4%169158170Audi Q810.0%+ 0.0%178570.0%+ 159.1%173199171BMW 7 Series10.0%n/a168530.0%+ 51.4%176172172Porsche Panamera10.0%– 50.0% –420.0%+ 44.8%182184173Ford Tourneo10.0%– 50.0%150390.0%+ 21.9%183182174Mini Clubman10.0%– 50.0%179380.0%+ 0.0%186176175Porsche 911/Carrera10.0%+ 0.0% –340.0%+ 41.7%189194176VW Touareg10.0%n/a181290.0%+ 123.1%196216177Fiat 500X10.0%+ 0.0%199220.0%– 35.3%209180178Volvo V6010.0%n/a200220.0%+ 144.4%210219179Jaguar F-Pace10.0%+ 0.0%151190.0%– 61.2%212166180Land Rover Discovery10.0%n/a –190.0%+ 280.0%214207181Mercedes AMG GT10.0%+ 0.0% –180.0%+ 12.5%217222182Honda E10.0%+ 0.0% –170.0%– 52.8%218178183Citroen Dispatch10.0%n/a –130.0%n/a226 –184Seat Altea10.0%n/a14570.0%n/a239 –185Mercedes EQE SUV10.0%new20460.0%new242 –186Peugeot Expert10.0%+ 0.0% –40.0%– 87.1%248185187BYD Dolphin10.0%new –10.0%new268 –
Source: SIMI