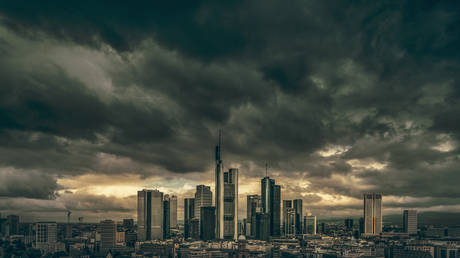 Eurozone risks recession – S&P Global data
The 20-country bloc's economy has suffered its worst month since the pandemic
The Eurozone economy contracted at the fastest pace in nearly three years in October as demand across the single currency union deteriorates, according to a new report by S&P Global released on Monday. 
The purchasing managers' index (PMI) of business activity dropped to 46.5 last month, down from 47.2 in September, signaling a significant and accelerating contraction in output. October marked the fifth month in a row in which the index came in below the critical 50 threshold that separates expansion from contraction.
Also pointing to a "darkened economic outlook" was the stagnation of employment, as a 32-month run of job creation came to a halt, the S&P wrote.
"October's sharper downturn in activity reflected a worsening performance by service providers, as the decrease in factory production levels remained on par with that seen in September. Still, the latest survey data signaled the third month in succession in which output has fallen in both monitored sectors," the report highlighted.
The research also showed that the declines in output were broad-based across the euro area, with the exception of Spain, where private sector activity came in flat in October. Germany and France continued to contract sharply, while Italy posted its fastest downturn since last year. Ireland registered its first decline in output in 11 months.
Excluding the pandemic-hit months, the recent drop in new business was the steepest since September 2012, during which time the Eurozone was embroiled in a sovereign debt crisis.

READ MORE: German companies cut investment plans – survey

"It looks like the service sector in the Eurozone is stumbling out of the gates for this final quarter. October marks the third straight month of business activity taking a hit. With new business diving steeply, it is not painting a rosy picture for what is ahead," said Cyrus de la Rubia, chief economist at Hamburg Commercial Bank.
Economists have warned that economic output in the Eurozone could fall again in the fourth quarter of 2023, which would indicate a recession.
For more stories on economy & finance visit RT's business section