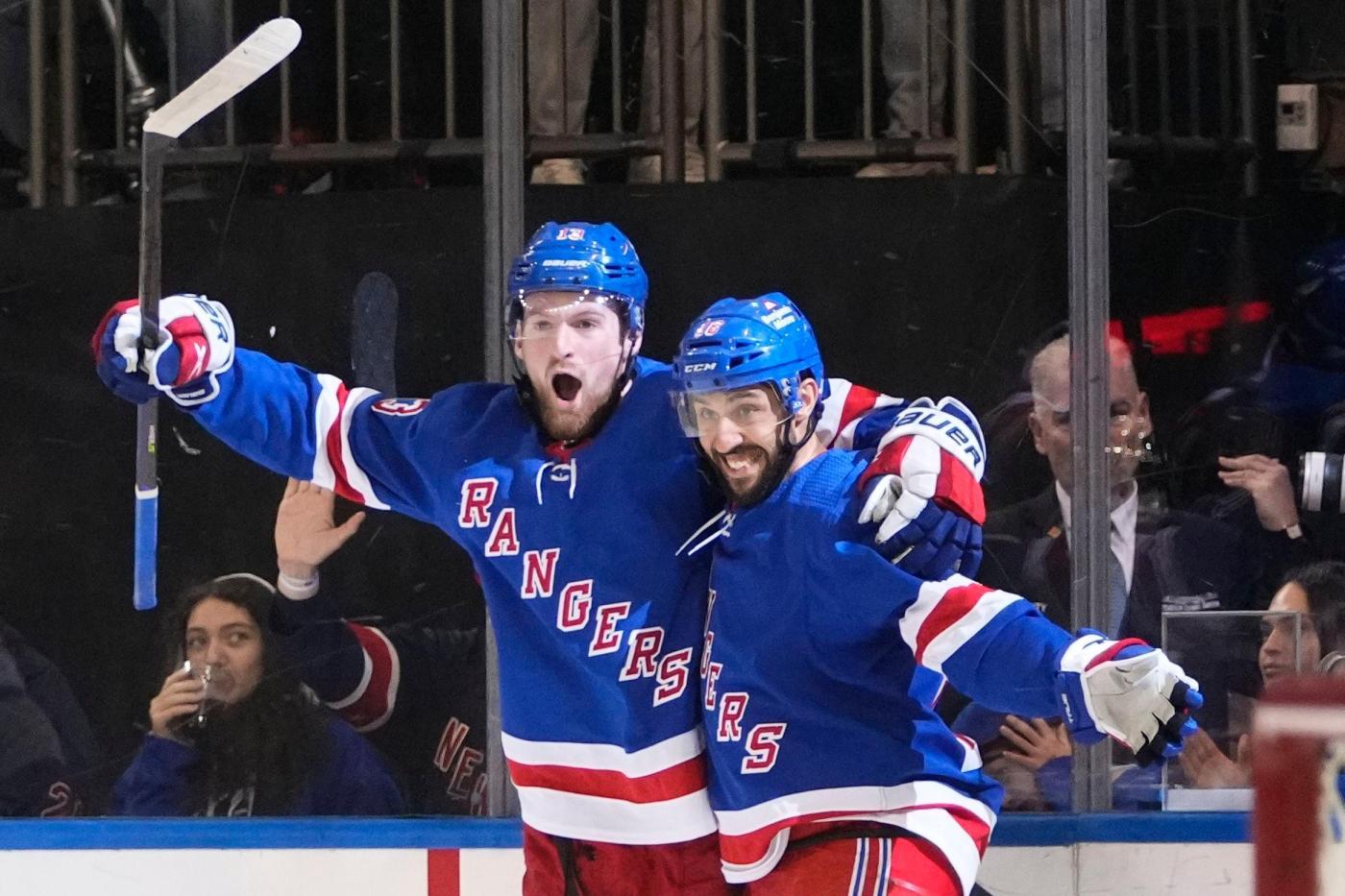 Bruins near the top in Herald power rankings
We are only a month into the 2023-24 season and already the preseason power rankings have been blown to smithereens. Projected contenders have morphed into pretenders. Potential also-rans are making a run at the playoffs. There is still time for the hockey world to right itself, at least as we saw it a month ago, but there will undoubtedly be some disappointments and pleasant surprises. Here are the first month's rankings. Tuesday's results not included.
1. Vegas Golden Knights – No Stanley Cup hangover for Bruce Cassidy's boys. They finally lost in regulation on Sunday but they were coming off a very impressive walloping of a good Colorado Avalanche team. It wouldn't be surprising if they dip a bit after having the bubble burst.
2. Boston Bruins – They might be a .500 team with just average goaltending. But the goalie is part of the team, too. Maybe their ability to grind out tight wins will help them in the spring, but they need do need to lighten the load on Jeremy Swayman and Linus Ullmark a bit for the good times to continue rolling.
3. Vancouver Canucks – The 'Nucks have themselves a good goalie, too, in Thatcher Demko, but they're also pumping pucks into the net with a league-best plus-30 goal differential. Quinn Hughes could be the next 100-point defenseman. No, we didn't see all this coming.
4. New York Rangers – Peter Laviolette almost always has an immediate positive effect on a team, and there is talent with which to work in Gotham. Like the B's, the Blueshirts aren't exactly lighting it up offensively but they're limiting chances against. Igor Shesterkin hasn't had to be great.
5. New Jersey Devils – We'll see how well the Devils can thrive without Jack Hughes for a while. Unlike other top teams, Jersey needs to score a lot to succeed. The Devils went into Tuesday with a 3.51 GAA. It's not the best formula.
6. Dallas Stars – The Stars are the flipside of the Devils. They're solid defensively and have excellent goaltending in Jake Oettinger, but they're ranked 22nd in goals scored. They need better balance, but they'll win a lot of games with what they give up.
7. Colorado Avalanche – Getting smoked 7-0, as the Avs did by Vegas last Saturday, is not great for the power ranking. They'd also lost three of four by shutout. Hard to figure, but the guess here is it's just a bump in the road.
8. Los Angeles Kings – They might be at the top of the rankings if they could play all their games on the road. At 6-0, they're the only undefeated road warriors in the league. The Kings boast a terrific 1-2-3 punch down the middle.
9. Detroit Red Wings – The Wings can heat up quickly, as we saw both in the loss in Boston and in their win over the B's at Little Caesars. They're a little too reliant on the power play for their offense, and they took a few dives on Saturday to get those man advantages.
10. Florida Panthers – The Cats remain a tough team that gives you little breathing space, forcing you into turnovers. They're treading water right now as they wait for two of their best defensemen (Aaron Ekblad, Brandon Montour) to return from injury, but they will be a pain in the spring.
11. Toronto Maple Leafs – The Leafs were right at the edge of the cliff on Monday before erasing a three-goal lead and coming back to beat Tampa. The strengths and weaknesses of this team have not changed. And the weaknesses will keep them from reaching the mountaintop.
12. Carolina Hurricanes – To compound a disappointing start, the Canes now have an unsettling health issue (blood clotting problem) for No. 1 goalie Freddy Andersen to deal with. The return of Tony DeAngelo (minus-7) hasn't been a happy one and the signing of Dmitry Orlov (minus-8) has yet to pay dividends.
13. Tampa Bay Lightning – It was a bad loss in Toronto, but the Bolts have been keeping their head above water while Andrei Vasilevskiy recuperates from back surgery. He's expected to be back just after Thanksgiving, so they've put themselves in a good spot to make a run once he returns. They, too, are overly reliant on special teams.
14. Anaheim Ducks – New coach Greg Cronin added some accountability to the young talent and – voila! – the Ducks are winning games. Who knows if this can last, but they've beaten some good teams, including the Bruins and Golden Knights.
15. New York Islanders – Nothing fancy or the least bit exciting about the Islanders. They were giving up 2.70 goals a game, and scoring 2.70 goals a game. Perfectly mediocre, yet they're winning more than losing.
16. Winnipeg Jets – The Jets were happy to be able to lock up Mark Scheifele and Connor Hellebuyck long-term and that's understandable, given the difficulty in attracting high-end free agents. But signing your own players, no matter how good they are, without adding doesn't do much to push your team forward.
17. Montreal Canadiens – More competitive than expected, thanks in part to a resurgent Sean Monahan. Whether the Habs can make a serious push for the playoffs remains to be seen, but the matches with the B's – we'll see two in the next 10 days – should be spicier than they've been in the last couple of seasons.
18. St. Louis Blues – The Blues, without much of a tangible identity, aren't scoring much (2.40) but aren't giving up much (2.70). They're stuck in the middle, with no visible path to a higher station.
19. Washington Capitals – Another team that seems to be on a slow decline, which has not been helped with Nick Backstrom not able to regain his desired level of play after hip surgery.
20. Arizona Coyotes – The 'Yotes are winning and losing at the same rate as teams like the Caps and Blues, but they are an ascendant team with some young talent like Logan Cooley and Matias Maccelli.
21. Philadelphia Flyers – As expected, the Flyers are a tougher out in John Tortorella's second season. But after a strong start, they've slowly been regressing.
22. Nashville Predators – Juuse Saros can keep them in most games and Ryan O'Reilly has added a little spark. Like the Islanders, the Preds give up (2.91) as much as they put up (2.91).
23. Buffalo Sabres – This is not where we expected the Sabres to be with all the young talent that they have. But it's hard to learn how to win when you've been losing for so long. No counting them out just yet.
24. Pittsburgh Penguins – The Erik Karlsson Experience hasn't moved the needle when it comes to winning and losing yet. We'll see if it ever does. Maybe the 10-spot they were able to put against the Sharks will help right the ship.
25. Minnesota Wild – The Wild should be better and they may yet be. But when you give up more for than four goals a game, you're not going to win consistently.
26. Ottawa Senators – The feeling here is that D.J. Smith is a good coach. But after the GM was shown the door by new ownership, it feels like Smith is dangling in an untenable situation .The Sens can still turn this around, but if it doesn't happen quickly, Smith may pay the price.
27. Seattle Kraken – Matty Beniers has been cursed with a sophomore slump (no goals through 12 games) and the Kraken, last year's Cinderella team, are paying the price for it.
28. Columbus Blue Jackets – Pascal Vincent is teaching some tough lessons, benching even the Jackets' best players. Time will tell if that produces more wins down the road.
29. Chicago Blackhawks – The Hawks will be in the lottery again, but there hasn't been an acceptance of losing and the Connor Bedard-led Hawks have scored some wins against good teams.
30. Edmonton Oilers – Far and away the biggest disappointment of the first month, the Oilers are too talented not to get back in the mix. But it may take some broken eggs like a coaching change to get there.
31. Calgary Flames – Feels like a few key players have a foot out the door.
32. San Jose Sharks – The 1974-75 Washington Capitals went 8-67-5. The Sharks might threaten that mark.