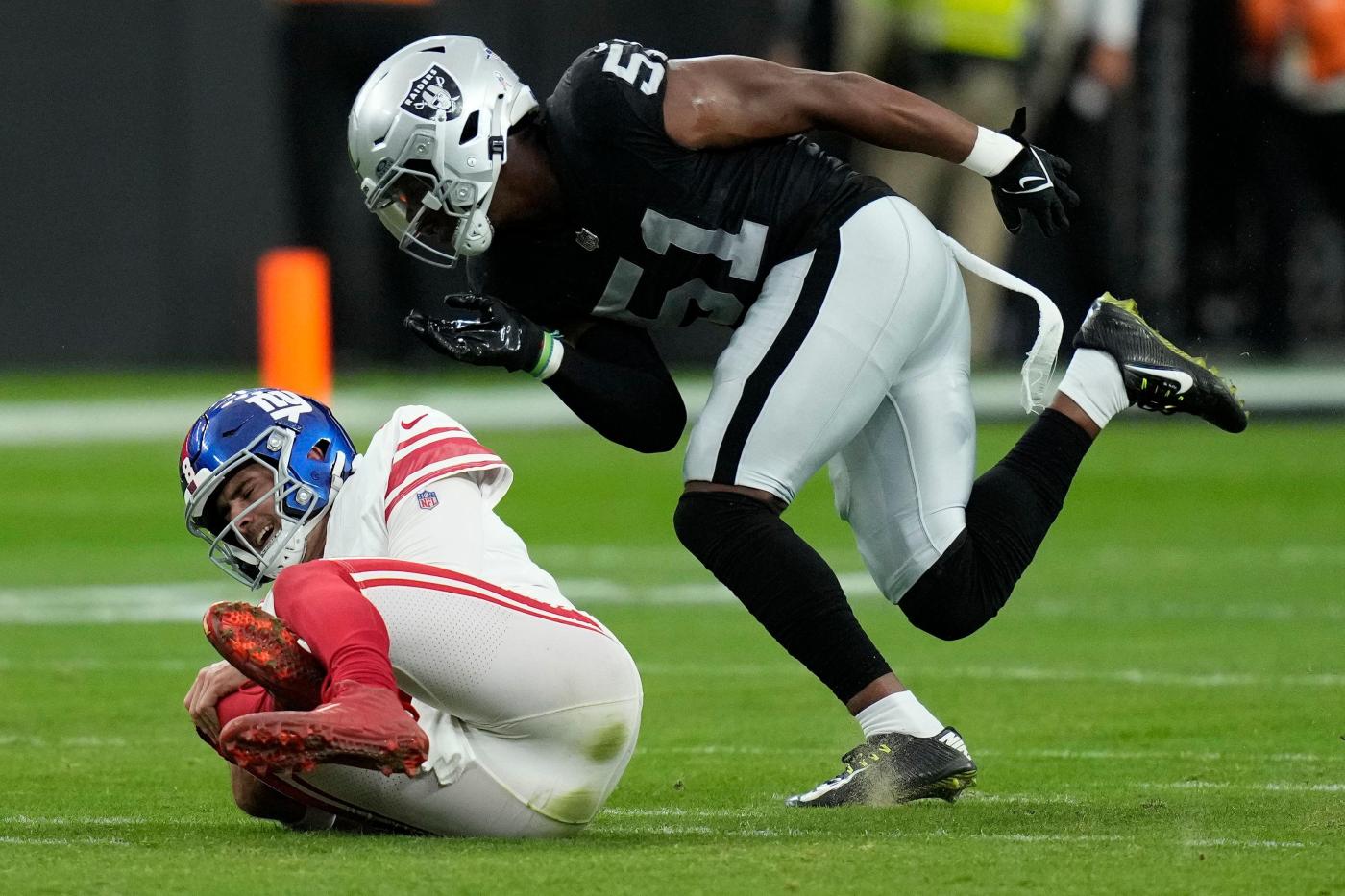 NFL power rankings, Week 10: Ravens are the best team in football
Each week of the NFL season, The Baltimore Sun will rank all 32 NFL teams. The rankings will take into account not just weekly performance, injuries and roster depth, but how well each team measures up as Super Bowl contenders.
Here are the rankings heading into Week 10:
1. Ravens (7-2, No. 3 last week)
Last week: Win vs. Seahawks, 37-3
Up next: vs. Browns
There isn't a more complete team than Baltimore. Led by a dominant defense and an MVP-caliber quarterback, the Ravens have completely dismantled two NFC title contenders at home over the past three weeks. Coordinator Mike Macdonald's defense is playing at a historically high level, getting a combined 16 sacks from Justin Madubuike, Jadeveon Clowney and Kyle Van Noy and a league-leading six interceptions from safety Geno Stone to pair with the league's best linebacker tandem in Roquan Smith and Patrick Queen and dangerous Swiss Army knife Kyle Hamilton. On offense, the Ravens have the most versatile attack in the league, capable of gashing opponents on the ground with sledgehammer Gus Edwards and breakout star Keaton Mitchell and picking them apart through the air with a ruthlessly efficient Lamar Jackson, who leads the league in completion rate (71.5%) while rushing for 48.9 yards per game, tops among quarterbacks. Time will tell if this promising start will lead to better postseason results, but the Ravens have the look of a potential Super Bowl champion.
2. Philadelphia Eagles (8-1, No. 1)
Last week: Win vs. Cowboys, 28-23
Up next: Bye
Led by star quarterback Jalen Hurts, there's a calmness to the Eagles that stands out in close games. Despite trailing 17-14 at halftime with Hurts seemingly hobbled by a lingering knee injury, Philadelphia took control with two straight touchdown drives to open the second half and held on late behind a huge sack from Josh Sweat with 27 seconds left. The Eagles are 5-1 in one-score games this season, and while that's usually asking for trouble, they've proved more than capable of making big plays in big moments.
3. Kansas City Chiefs (7-2, No. 2)
Last week: Win vs. Dolphins, 21-14, in Germany
Up next: Bye
The Chiefs' first meeting against star wide receiver Tyreek Hill since trading him to Miami highlighted why that deal should be considered a win for Kansas City. While the Chiefs have struggled to replace Hill's explosiveness, one of the picks they acquired for him turned into cornerback Trent McDuffie, who's playing at an All-Pro level and forced a fumble by Hill late in the first half Sunday that was returned for what proved to be the decisive touchdown. The Kansas City defense actually outranks its offense (No. 5 vs. No. 6) in FTN Fantasy's DVOA this season, giving Andy Reid and Patrick Mahomes a different kind of weapon in the race for the top seed in the AFC.
4. Cincinnati Bengals (5-3, No. 11)
Last week: Win vs. Bills, 24-18
Up next: vs. Texans
That 1-3 start feels like a distant memory, doesn't it? With Joe Burrow back to playing at an elite level, the Bengals are starting to resemble the Super Bowl contender everyone expected to see this season. The reemergence of wide receiver Tee Higgins (eight catches for 110 yards) and a promising tight end group of Irv Smith Jr., Drew Sample and Tanner Hudson (combined 10 catches for 101 yards and two touchdowns against Buffalo) — not to mention a defense that has few weak spots — creates plenty of optimism about the Bengals' chances in a loaded AFC.
5. Jacksonville Jaguars (6-2, No. 6)
Last week: Bye
Up next: vs. 49ers
6. Detroit Lions (6-2, No. 9)
Last week: Bye
Up next: at Chargers
7. San Francisco 49ers (5-3, No. 7)
Last week: Bye
Up next: at Jaguars
8. Miami Dolphins (5-3, No. 4)
Last week: Loss vs. Chiefs, 21-14, in Germany
Up next: Bye
As encouraging as that second-half comeback bid was against Kansas City, the Dolphins have yet to beat a team with a winning record this season. That's telling, particularly during a time when the top teams are starting to separate from the pack. Injuries on the offensive line have made life difficult for Tua Tagovailoa, but he hasn't looked capable of carrying the team the way an elite quarterback should against top competition. Vic Fangio's defense has been the bigger disappointment, but a solid performance against Mahomes with cornerback Jalen Ramsey back in the lineup could signal brighter days ahead.
9. Dallas Cowboys (5-3, No. 5)
Last week: Loss vs. Eagles, 28-23
Up next: vs. Giants
Like the Dolphins, the Cowboys continue to come up short in their biggest tests. This time, it was agonizingly close. Tight end Luke Schoonmaker being tackled inches short of a touchdown, Dak Prescott stepping out of bounds on a 2-point conversion attempt, an incomplete pass to Jalen Tolbert on fourth-and-8 in Eagles territory and Prescott's final pass to CeeDee Lamb short of the goal line on the final play ultimately made the difference. Until the Cowboys start making those plays in big games, they'll continue to be bridesmaids in the postseason.
10. Buffalo Bills (5-4, No. 8)
Last week: Loss vs. Bengals, 24-18
Up next: vs. Broncos
The Bills are still right in the mix for a playoff spot, but so much more was expected of a team that entered the season with Super Bowl hopes. That 48-20 win over the Dolphins in Week 4 seemed to establish Buffalo as one of the best teams in the AFC, but they've followed with alternating wins and losses and have been far from dominant. The emergence of rookie tight end Dalton Kincaid (10 catches for 81 yards) on Sunday night is encouraging, but there are big questions about a defense that is among the league leaders in missed tackles and has just three takeaways since Week 5.
11. Cleveland Browns (5-3, No. 12)
Last week: Win vs. Cardinals, 27-0
Up next: at Ravens
With Deshaun Watson back from a shoulder injury, the Browns have to be taken seriously. While his performance against Arizona (19-for-30 for 219 yards and 2 TDs; 41.7 QBR) was not exceptional, his ceiling is much higher than P.J. Walker's. He'll have to be better to overcome injuries along the offensive line, which lost left tackle Jedrick Wills Jr. for at least four weeks to a knee injury and is already without right tackle Jack Conklin. The defense, which ranks No. 1 above the Ravens in DVOA and pitched its first shutout since 2007, gives Cleveland a fighting chance.
12. Pittsburgh Steelers (5-3, No. 14)
Last week: Win vs. Titans, 20-16
Up next: vs. Packers
Mike Tomlin has never won NFL Coach of the Year, but this season could change that. There has never been a louder campaign to fire an offensive coordinator than the one aimed at Matt Canada, and yet Pittsburgh is sitting two games above .500. According to the Elias Sports Bureau and ESPN Stats & Info, the Steelers are the 34th team in NFL history to be outgained in their first eight games and the only one to have a winning record. Credit Tomlin and the defense for finding a way to keep this team afloat despite injuries to key players and some truly awful offensive performances.
13. Seattle Seahawks (5-3, No. 10)
Last week: Loss vs. Ravens, 37-3
Up next: vs. Commanders
There's no shame in getting blown out in Baltimore this season, but this recent stretch from quarterback Geno Smith is cause for concern. He's thrown six interceptions over his past four games and could easily have tossed another one that Hamilton dropped Sunday. The offensive line is doing him no favors, either, with injuries forcing 41-year-old Jason Peters into the lineup and left tackle Charles Cross struggling after a promising rookie season.
14. Los Angeles Chargers (4-4, No. 13)
Last week: Win vs. Jets, 27-6
Up next: vs. Lions
The Chargers have their defense and special teams to thank for Monday night's win, getting an 87-yard punt return for a touchdown by Derius Davis as well as eight sacks and three turnovers. The offense made plays when it needed to, going 7-for-16 on third down and converting on short fields, but the Chargers only averaged 3.4 yards per play and were extremely fortunate to recover six fumbles. Los Angeles is still a tier below the Ravens, Chiefs and Bengals in the AFC.
15. Houston Texans (4-4, No. 20)
Last week: Win vs. Buccaneers, 39-37
Up next: at Bengals
This team is serious, folks. C.J. Stroud delivered a rookie-record 470 passing yards and five touchdowns Sunday, including the winning 15-yard pass to fellow rookie Tank Dell with six seconds left. According to ESPN Stats & Info, Stroud is the sixth player in NFL history to record at least 450 passing yards, five passing touchdowns and zero interceptions in a game. With a quarterback capable of putting up those kinds of numbers, Houston must be considered a playoff contender.
16. Minnesota Vikings (5-4, No. 18)
Last week: Win vs. Falcons, 31-28
Up next: vs. Saints
Have no fear, Joshua Dobbs is here. With rookie Jaren Hall knocked out of the game with a concussion in the first quarter, Dobbs stepped in and rallied the Vikings to victory just five days after being acquired from the Cardinals at Tuesday's trade deadline. While all hope seemed lost after Kirk Cousins' season-ending Achilles tendon injury, Dobbs is more than capable of keeping this hot streak going, which includes five wins in the past six games. If and when wide receiver Justin Jefferson returns from injured reserve, Minnesota could be a dangerous wild-card team.
17. New Orleans Saints (5-4, No. 15)
Last week: Win vs. Bears, 24-17
Up next: at Vikings
The Saints barely got past a bad Bears team starting a backup quarterback, but they've reached the midseason point in first place in the NFC South. They can thank a defense that has forced a league-high 18 turnovers, including three interceptions — two by cornerback Paulson Adebo — and two fumble recoveries Sunday. The offense, thanks to a generous sprinkling of quarterback-tight end Taysom Hill, at least looks ready to hold up its end of the bargain.
18. Indianapolis Colts (4-5, No. 24)
Last week: Win vs. Panthers, 27-13
Up next: vs. Patriots in Germany
Panthers rookie quarterback Bryce Young is going to be having nightmares about Colts cornerback Kenny Moore II, who tied a franchise record by returning two interceptions for touchdowns. Moore fueled a bounce-back performance for the defense, which had allowed 38 points per game during a three-game losing streak. Backup quarterback Gardner Minshew has been solid in relief, but the Colts need to see more from running back Jonathan Taylor, who is averaging fewer yards per carry (4.1) than teammate Zack Moss (4.7).
19. New York Jets (4-4, No. 17)
Last week: Loss vs. Chargers, 27-6
Up next: at Raiders
The Jets' three-game winning streak ended with a thud in what could be a pivotal game for playoff seeding. The defense has been carrying quarterback Zach Wilson all season, but it couldn't force the turnover it desperately needed to swing Monday night's game. Wilson throwing 49 times is not a recipe for success, and there was plenty of visible frustration from the offense with missed throws and dropped passes. It feels like another slide is coming.
20. Atlanta Falcons (4-5, No. 16)
Last week: Loss vs. Vikings, 31-28
Up next: at Cardinals
Taylor Heinicke didn't win his first start in Atlanta, but he showed enough in coach Arthur Smith's eyes to earn another shot next week after completing 21 of 38 passes for 268 yards with one touchdown and one interception. The lack of touches for running back Bijan Robinson and tight end Kyle Pitts remains maddening, however. Tight end Jonnu Smith is a solid veteran, but there's no reason he should have more catches than Pitts, the No. 4 overall pick in 2021.
21. Denver Broncos (3-5, No. 23)
Last week: Bye
Up next: at Bills
22. Washington Commanders (4-5, No. 25)
Last week: Win vs. Patriots, 20-17
Up next: at Seahawks
Don't count out the Commanders just yet. While trading away starting defensive ends Chase Young and Montez Sweat signaled a focus on the future, Washington still has a puncher's chance of climbing into the postseason race after a win in New England. Even if they fall short, the Commanders might have found their quarterback of the future in Sam Howell, who has looked impressive in recent weeks.
23. Tennessee Titans (3-5, No. 19)
Last week: Loss vs. Steelers, 20-16
Up next: at Buccaneers
A banged-up offensive line did him no favors, but rookie quarterback Will Levis looked like he belonged in Thursday night's loss in Pittsburgh. The second-round pick showed toughness in hanging in the pocket and delivering throws downfield, perhaps earning enough of the coaching staff's trust to give him the permanent job over Ryan Tannehill.
24. Tampa Bay Buccaneers (3-5, No. 22)
Last week: Loss vs. Texans, 39-37
Up next: vs. Titans
Baker Mayfield's blank expression on the sideline at the end of Sunday's loss says it all. A once-promising season has been derailed by four straight losses, the latest coming after a blown 20-10 lead in the second half. A defense that was expected to keep Tampa Bay in the NFC South race was shredded by a rookie quarterback, perhaps signaling it's time for a rebuild after a few years of going all-in with Tom Brady.
25. Las Vegas Raiders (4-5, No. 26)
Last week: Win vs. Giants, 30-6
Up next: vs. Jets
Maybe interim coach Antonio Pierce is exactly who the Raiders needed. It came against a reeling Giants team down to its third-string quarterback, but Sunday's performance at least creates some hope that Las Vegas can be competitive down the stretch. Rookie quarterback Aidan O'Connell looked solid, and playmakers such as running back Josh Jacobs and wide receiver Jakobi Meyers finally showed some life. Given their backloaded schedule, the Raiders could play a large role in the playoff race.
26. Green Bay Packers (3-5, No. 29)
Last week: Win vs. Rams, 20-3
Up next: at Steelers
The Packers ended a four-game losing streak in impressive fashion, outgaining the Rams and backup quarterback Brett Rypien 391-187. The offense looked much better, piling up 184 rushing yards and going 7-for-14 on third down as Jordan Love averaged 8.8 yards per pass. A defense that started a pair of seventh-round picks in cornerback Carrington Valentine and safety Anthony Johnson Jr. also played well. Perhaps this win gives Green Bay some confidence to turn around its season.
27. Los Angeles Rams (3-6, No. 21)
Last week: Loss vs. Packers, 20-3
Up next: Bye
Coach Sean McVay believes quarterback Matthew Stafford will be back after the bye week, but it might be too late to save the season. The Rams looked lifeless on offense against Green Bay, as Rypien finished 13 of 28 for 130 yards with an interception and a fumble. At one point in the first half, he went three straight drives without a completion. That should be impossible with Cooper Kupp and Puka Nacua running routes and McVay calling the plays.
28. Chicago Bears (2-7, No. 27)
Last week: Loss vs. Saints, 24-17
Up next: vs. Panthers
Backup quarterback Tyson Bagent's four turnovers were too much to overcome, but the Bears moved the ball pretty well against a good Saints defense, averaging 5.8 yards per play while rushing for 156 yards. When Justin Fields returns, Chicago should at least be able to get a good assessment of what it has in the 2021 first-round pick before deciding on his future with the team.
29. New England Patriots (2-7, No. 28)
Last week: Loss vs. Commanders, 20-17
Up next: vs. Colts in Germany
It's bizarre to watch a Bill Belichick-coached team struggle so much. Whether it's a defense that can't generate any pressure, an offense that's barely scoring any points (15.0 per game) or a special teams unit that ranks among the worst in the NFL (No. 29 in DVOA), there are problems all over the field. It's hard to find many bright spots this season.
30. New York Giants (2-7, No. 30)
Last week: Loss vs. Raiders, 30-6
Up next: at Cowboys
A season-ending torn ACL might signal the end of quarterback Daniel Jones' tenure in New York. While he's owed a guaranteed $35.5 million in 2024 after signing a new deal in the offseason, the Giants can get out of the deal after next season with $22.2 million in dead money. With Tyrod Taylor on injured reserve, undrafted rookie Tommy DeVito and veteran Matt Barkley are expected to compete for the starting job. With New York likely headed for a top pick in the draft, general manager Joe Schoen and the front office will have an important decision to make.
31. Carolina Panthers (1-7, No. 31)
Last week: Loss vs. Colts, 27-13
Up next: at Bears
If the season ended today, the 2024 first-round pick the Panthers traded to Chicago as part of the package for the 2023 No. 1 overall selection would be No. 2. That's a steep price to pay for rookie quarterback Bryce Young, who took a major step backward Sunday with three interceptions, including two pick-sixes. While Carolina's decision seemed like a smart bet at the time, it might have miscalculated how quickly Young and the roster could compete for a playoff spot.
32. Arizona Cardinals (1-8, No. 32)
Last week: Loss vs. Browns, 27-0
Up next: vs. Falcons
Kyler Murray could be on his way back. Coach Jonathan Gannon said the two-time Pro Bowl quarterback will start Sunday "if the week goes well," and that's music to the ears of everyone who saw Murray go down with a torn ACL last December. It's also a bit unsettling, given that Arizona just allowed seven sacks. Regardless, it will be fascinating to see whether Murray looks like the same player who earned a five-year, $230.5 million contract in 2022.
()