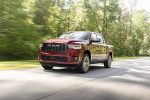 New Car Preview: 2025 Ram 1500
Ram has unveiled its 2025 Ram 1500 pickup, introducing several noteworthy changes to its flagship truck model. The latest iteration of the Ram 1500 boasts updates in powertrain options, design, and an enriched tech-filled cabin, making it an enticing prospect for pickup enthusiasts.
One of the most significant changes in the 2025 Ram 1500 is the introduction of a new powerplant, replacing the previous 5.7-liter Hemi V8. Ram has replaced it with a powerful twin-turbocharged 3.0-liter straight-six engine named the Hurricane. This engine is acclaimed as the "strongest Ram engine ever" and comes in two distinct output configurations. The Hurricane engine boasts impressive features such as a cast aluminum block, cross-bolted steel main bearing caps, a forged steel crankshaft, and forged steel connecting rods. During its development, the powertrain engineers managed to achieve a remarkable 28 pounds of boost for this engine.
The standard output of the Straight-Six Turbo (SST) engine is 420 horsepower and 469 pound-feet of torque, while the high-output version cranks out a staggering 540 hp and 521 lb-ft of torque. In addition to the Hurricane engine, the 3.6-liter V6 remains available for the 2025 Ram 1500. All three engine options are paired with the automaker's eight-speed automatic transmission. Furthermore, in a nod to the evolving automotive landscape, Ram is introducing the 2025 1500 Ramcharger, an all-new battery-electric truck with an on-board generator, demonstrating their commitment to embracing electrification.
For those opting for the high-output Hurricane engine, there will be a new high-torque rear axle available, accommodating both two- and four-wheel drive configurations with options for an open or limited-slip differential. An electronic-locking rear differential is also available to enhance off-road capabilities.
Ram is also expanding the 2025 lineup with two new trims: Tungsten and RHO. The Tungsten is positioned as a luxury grade, featuring opulent 24-way power massaging front seats draped in Natura Plus leather, complete with heating and ventilation. Suede is used to elegantly cover the headliner and A- and B-pillars, and a unique Tungsten badge adorns the center console, displaying the vehicle's VIN. The Tungsten trim also offers a premium 23-speaker Klipsch Reference audio system, ensuring a top-tier audio experience for passengers.
Accompanying these powertrain and trim updates is a refreshed design, inside and out. The 2025 Ram 1500's grille is larger and positioned more prominently, showcasing a new Ram badge. Premium LED headlights and taillights, along with a crisp character body line running along the side, contribute to the truck's fresh appearance. Inside, the Ram 1500 sees improvements in material quality and technology, including a 12.3-inch digital instrument cluster for the driver, complemented by a center-mounted Uconnect 5 infotainment screen that can extend up to 14.5 inches. Passengers also benefit from a 10.25-inch passenger screen, eliminating the need to look out the window. The cabin now offers a head-up display, dual wireless charging, and a digital rearview mirror for added convenience.
The 2025 Ram 1500 doesn't skimp on technology, featuring a power tailgate with obstacle detection and a versatile four-corner air suspension system with five distinct modes: entry/exit, aero, normal, off-road 1, and off-road 2. Models equipped with the Hurricane engine are equipped with an onboard inverter that can provide up to 1.8 kilowatts of power through two covered outlets in the bed, making it a valuable tool for various applications.
The lineup for the 2025 Ram 1500 includes familiar trims like the Tradesman, Big Horn/Lone Star, Laramie, Rebel, Limited Longhorn, and Limited, with the RHO model set to join the roster in Q3 2024. Additionally, the Ram REV and the new Ramcharger will make their debut in Q4 2024.
While Ram has yet to reveal pricing information, production is set to commence in the first quarter of the upcoming year. The 2025 Ram 1500 will be available in a selection of nine attractive colors, including Diamond Black, Bright White, Ivory White Tri-coat, Delmonico Red, Flame Red, Hydro Blue, River Rock, Baltic Grey, and Billet Silver, offering a wide range of options to suit various tastes and preferences.