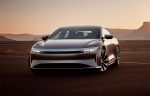 Lucid Motors Adopts Tesla NACS Giving Future Owners Access to Supercharger Network
Lucid Motors has just made a significant announcement in the world of electric vehicles (EVs). The company has decided to embrace the North American Charging Standard (NACS), a pivotal move that will grant Lucid's future EV owners access to Tesla's renowned Supercharger network. This decision marks a turning point in the ongoing evolution of EV charging infrastructure.
The North American Charging Standard initially started as Tesla's exclusive charging connection, commonly referred to as the Tesla proprietary connector. Over time, it has gained immense popularity and traction, transforming into the primary choice of connector across the North American continent. While Tesla had previously opened up its massive Supercharger network to other EV brands, most non-Tesla electric vehicles with CCS-type connectors required an adapter for access.
The significance of NACS became even more apparent this past summer when major automakers like Ford and GM announced their plans to adopt it for their future EV models. This created a domino effect, as numerous OEMs and charging networks committed to making NACS the preferred standard for recharging electric vehicles. Hyundai Motor Group, Chargepoint, BMW Group, and Subaru are among the companies that have pledged to adopt NACS in recent times.
Lucid Motors has now joined this growing movement, announcing its intention to adopt NACS by the year 2025. According to the company's official statement, all Lucid EV models currently equipped with CCS-type connectors will be able to access the Tesla Supercharger network using an adapter by 2025. Additionally, Lucid plans to incorporate the NACS-type plug into its future EVs, beginning also in 2025.
Peter Rawlinson, the CEO and CTO of Lucid, emphasized the significance of this move, stating, "Adopting NACS is an important next step to providing our customers with expanded access to reliable and convenient charging solutions for their Lucid vehicles. We believe that a unified charging standard, backed by the nationwide rollout of future-ready higher-voltage charging stations, will be a critical step in empowering American consumers to adopt electric vehicles."
Lucid Motors currently offers one EV model, the Air, available in various trim levels, including the tri-motor Sapphire version. Their second model, an SUV named Gravity, is set to make its public debut in the near future, with deliveries scheduled for 2024. With this latest announcement, it is clear that Lucid's first two models will require an NACS adapter for accessing the Tesla network by 2025. While the company has yet to unveil its long-term product roadmap, it is safe to assume that forthcoming Lucid models assembled after the specified date will come equipped with the NACS plug as standard technology.
With Lucid Motors' decision to adopt NACS, this charging standard has solidified its position as the new industry norm in North America, further streamlining the electric vehicle ownership experience and facilitating the widespread adoption of EVs across the continent.