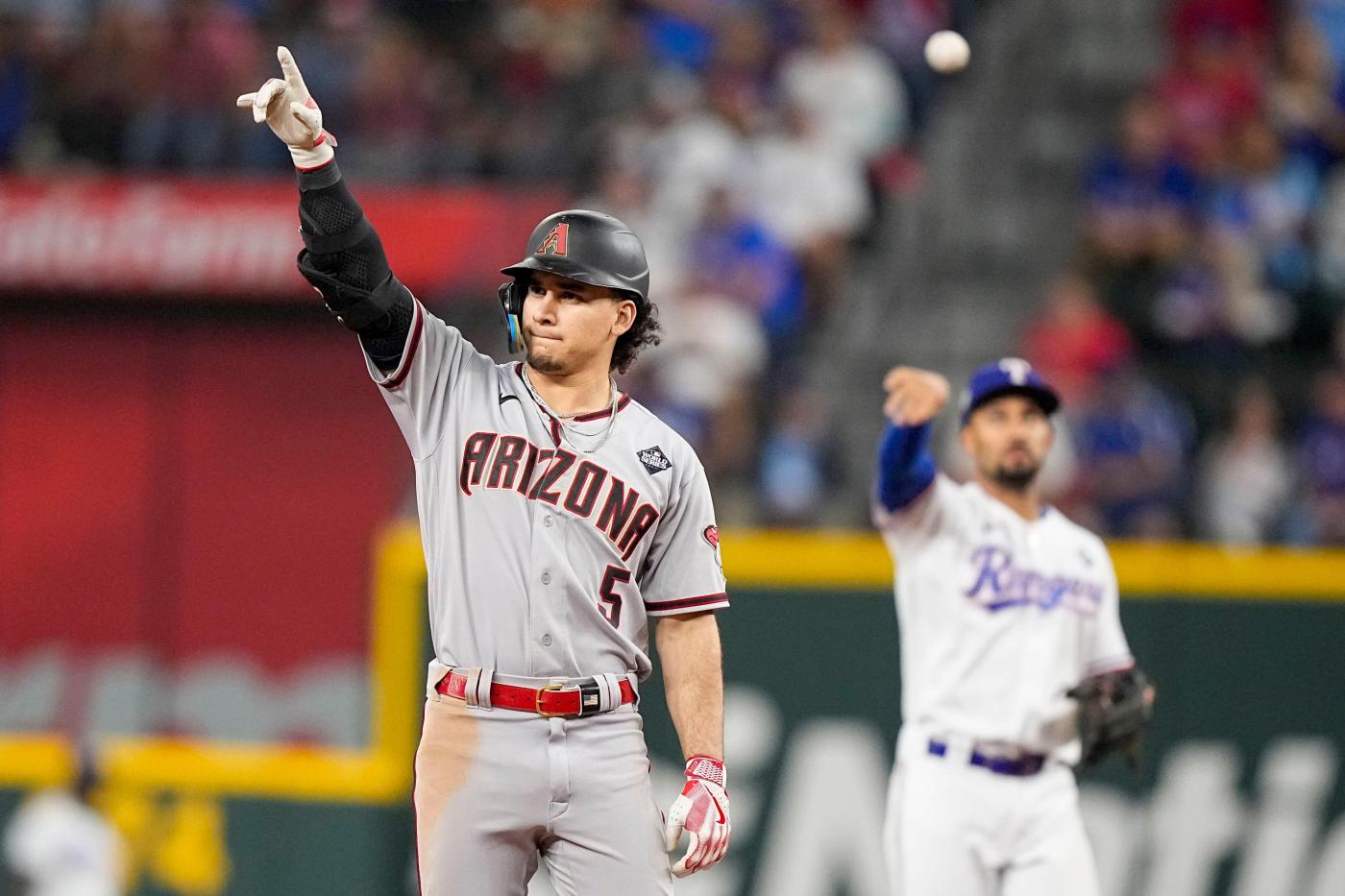 Column: This World Series continues a disturbing trend of diminishing audiences. Why is no one watching?
Seven years ago Thursday the Chicago Cubs and Cleveland Indians staged an epic Game 7 of the World Series that averaged 40 million TV viewers.
The once-in-a-lifetime win by the Cubs led MLB and Fox to crow that the game was healthier than ever, and who could dispute them after an audience like that?
It was the most-watched World Series game in 25 years, since the Minnesota Twins beat the Atlanta Braves before 50 million viewers in another Game 7 in 1991. The 2016 Cubs were a likable, young team that figured to be back again, and around the league, team executives plotted their own rebuilds to emulate Chicago's success.
But that didn't happen. The Cubs' win in '16 turned out to be a blip, not only for their hopes of creating a dynasty but for baseball's resurgence on the national sports scene.
Fast-forward to 2023, a year when new rules were implemented to bring fans a faster-paced game with more hitting and added speed on the base paths. It was an instant hit, drawing raves for Commissioner Rob Manfred.
But instead of crowning the season with a World Series that would satiate long-lost fans, this Fall Classic matchup between the Texas Rangers and Arizona Diamondbacks has thus far drawn pathetic ratings.
The Series opener, which featured Corey Seager's game-tying, two-run home run in the bottom of the ninth and Adolis García's walk-off home run in the 11th, turned out to be the lowest-rated Game 1 in Series history with an average of 9.172 million viewers on Fox.
Game 2, a close affair until the Diamondbacks pulled away in the eighth inning in a 9-1 win, had an average of 8.15 million viewers on Fox. Monday's Game 3 was the least-watched Series game on record with an average of 8.13 million viewers as the Rangers won 3-1.
In comparison, the NCAA women's national basketball championship game last March between LSU and Iowa drew 9.9 million viewers to ESPN, thanks in no small part to the intriguing matchup pitting Iowa's Caitlin Clark and LSU's Angel Reese.
Who would've guessed LSU-Iowa would battle the World Series for ratings supremacy?
Of course, the World Series ratings figure to pick up if the series goes six or seven games. The Rangers could end it Wednesday as they lead 3-1 heading into Game 5 at Chase Field in Phoenix.
But based on recent trends, it's still likely to go down as one of the lowest-rated of all time. Last year's edition, which featured the Houston Astros' six-game win over the Philadelphia Phillies, was the second-lowest average viewership ever, bettering only the Los Angeles Dodgers win over the Tampa Bay Rays in 2020, the pandemic-shortened season.
That's obviously not a good trend for baseball, a sport that's now vastly different from the one you and I grew up watching. Starters yanked before their third time around the order. Hitters strike out swinging for the fences when they only need to make contact. Managers make bullpen decisions based on pregame strategizing by their general managers.
Those are but a few examples of how the game has evolved, for better or worse.
A better matchup would've helped, obviously, and it's no surprise Rangers-Diamondbacks hasn't moved the needle.
The expanded postseason gave the sixth-seeded Diamondbacks an opportunity to sneak in despite going 34-44 (a .429 winning percentage) from July 2 to the end of the regular season. They did manage to beat the collapsing Cubs in six out of seven games in September, which ultimately made a difference in the tight National League wild-card race.
Only the most die-hard baseball fans outside of Arizona knew the names of more than a handful of the Diamondbacks players heading into the postseason. Several have made themselves known this October, including Ketel Marte and Mt. Carmel grad Alek Thomas. Arizona took advantage of the opportunity and upset the star-studded Dodgers and Phillies on their way to the World Series, so no one can say they didn't earn it.
Yet the lack of star power remains. When the Game 3 starter is rookie Brandon Pfaadt, who finished with a 3-9 record and a 5.72 ERA, you know this is a team without much pitching depth.
The Texas Rangers aren't exactly a dominant club either, earning a wild card after finishing behind the Houston Astros in the AL West. But their quest for the first championship in franchise history should make this Series watchable, much as it did for the '16 Cubs. And at least they have some recognizable players like Seager and Marcus Semien, while García made a name for himself with a brilliant performance in the American League Championship Series.
Still, a World Series needs superstars. Until MLB figures out a way to get the game's two biggest stars — Shohei Ohtani and Aaron Judge — into a World Series, it's probably doomed to repeat the trend of diminishing audiences for the foreseeable future.
That's no problem for you or me. We're watching no matter who is playing. If you're just a fan who loves watching baseball, you don't care about World Series ratings. You just want to see some good games and some memorable moments. There's still a chance this one will deliver its share of both.
But if you're Manfred or MLB Players Association executive director Tony Clark, you have to be concerned about the game's future.
The decision to add more wild card teams — meaning more postseason games to sell to media outlets — hasn't seemed to make a dent in viewer interest. Reducing game times might have worked well in the regular season, but perhaps doesn't really matter as much in October.
The next obvious move is to implement the automated strike zone, which was brought up by Fox announcer Joe Davis after an egregious call by plate umpire Alfonso Márquez against the Diamondbacks in the bottom of the ninth inning of Game 3. If that call had gone against the New York Yankees in a World Series game, robo-umps would already be a done deal.
No matter how this one turns out, it's going to take a lot of brainstorming by MLB executives this offseason to figure out how to make the World Series a must-see event for all fans.
Denying the obvious is no longer an option.
Numbers don't lie.
()