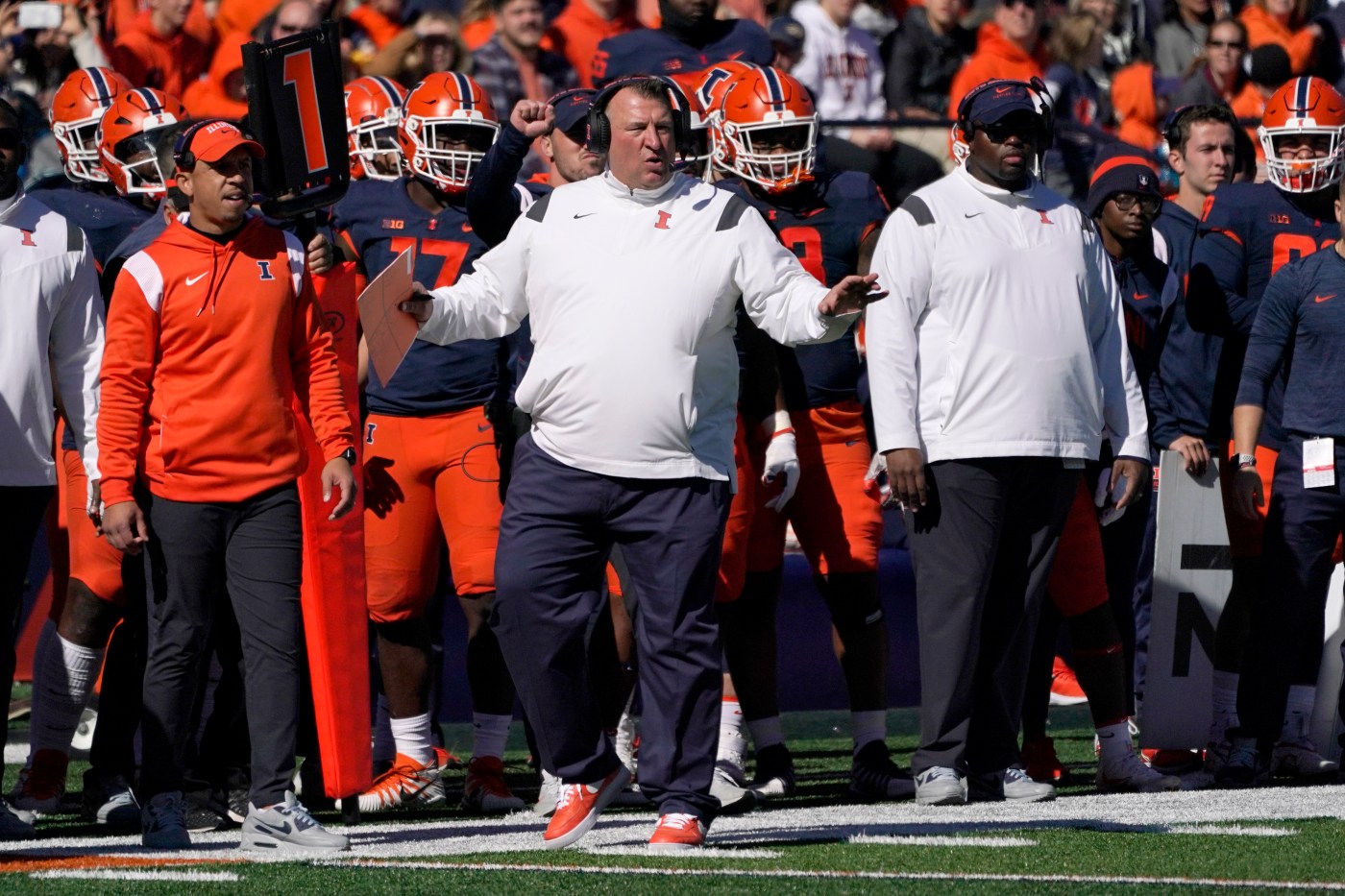 Double digits? Gophers look to end nine-game losing streak to Bret Bielema-coached teams
Illinois coach Bret Bielema and Gophers coach P.J. Fleck talked about a shared opponent during an offseason event: the Iowa Hawkeyes.
Bielema reminded Fleck there is a "strategic way to beat" the Hawkeyes. The Illini did it last year with a 9-6 victory, and the Gophers got over the hump with a 12-10 win on Oct. 21.
"It's really hard to do it," Fleck recalled Bielema sharing. "You got to be willing to commit to it. As tempting as it is and as frustrating as it it can get, you just have to stick with the plan."
It has proven difficult for the Gophers to beat Bielema anywhere at any time. He has a perfect 9-0 record against Minnesota — 7-0 during his years coaching at Wisconsin (2006-12) and 2-0 with the Illini — going into Saturday's game at Huntington Bank Stadium.
Fleck and Bielema didn't talk about games against each other.
"It's just awkward," Fleck said of that topic coming up. "One won; one lost. And usually you are being really complimentary. It's usually just about other games and other games in different times in our career. Back at Western Michigan or him back at Arkansas or him at Wisconsin."
After putting up an 8-5 record a year ago, Illinois is 3-5 overall and 1-4 in Big Ten play this season. The Gophers (5-3, 3-2) are three-point favorites for Saturday's game.
Big honor
Redshirt sophomore running back Jordan Nubin won Big Ten offensive player of the week for his 204-yard and two-touchdown showing in last Saturday's 27-12 win over Michigan State.
Nubin's older brother, senior safety Tyler Nubin, won Big Ten defensive player of the week earlier this season.
Running back Darius Taylor has won conference freshman of the week three times. Zach Evans has won it once.
Kicker Dragan Kesich has been honored as special teams player of the week twice this year.
Trending upward
Brevyn Spann-Ford's 30-yard reception against Michigan State was the senior's biggest and longest catch of the season. The Gophers hope it's a springboard for their top tight end going into the final month of the regular season.
"Brevyn is a really good football player. You go through anybody's career, there's times where they are not playing as well as they know they can play," Fleck said. "… You have to be able to work through that. Nobody has worked harder than Brevyn. You are talking about finding a way to get yourself out of whatever he was in. It wasn't anything that was one particular thing. It was just some inconsistency. This is a huge step forward for him."
Spann-Ford had two receptions for 43 yards in the Michigan State game. He had 13 catches for 66 yards going into the game.
Briefly
The Gophers' road game at Purdue next Saturday will kickoff at 2:30 p.m. in West Lafayette, Ind., the U said Monday. It will air on NBC. … The Illinois game on Saturday will be the U's 100th at Huntington Bank Stadium. … If Fleck wins Saturday, it will be his 50th win at Minnesota. He currently has a .620 winning percentage, the best mark since Bernie Bierman, who last coached at the U in 1950. The U has had 13 other coaches since then.
Related Articles

P.J. Fleck heard Gophers fans' boos Saturday and wanted to respond

Gophers football: Tyler Nubin shares pride over Jordan Nubin's big day vs. Michigan State

Gophers run over Michigan State in a 27-12 win

Gophers receiver Chris Autman-Bell's block helps out in a big way

Gophers football: After sweet taste of bourbon, P.J. Fleck and Co. need to avoid another sobering letdown