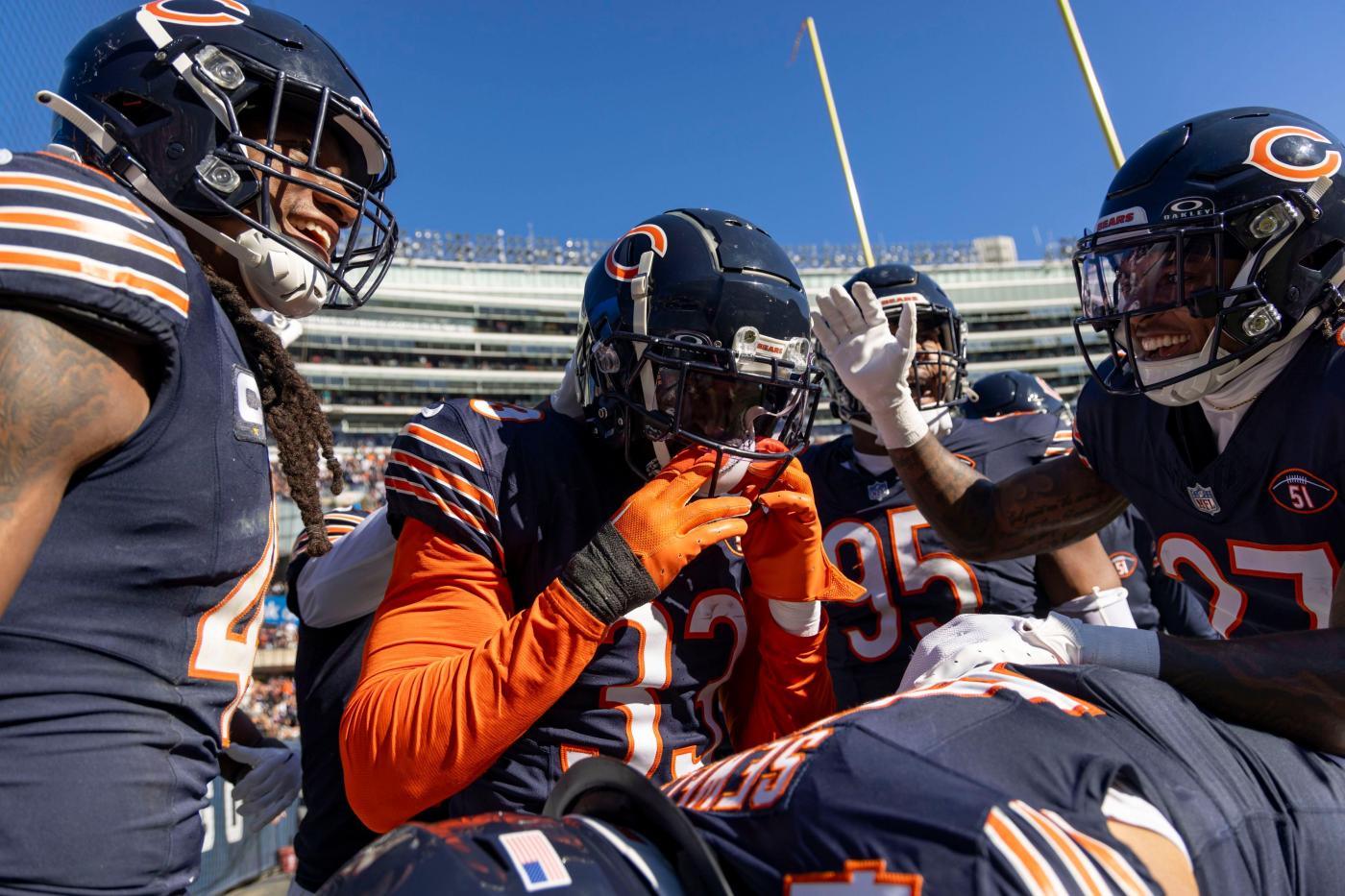 Chicago Bears Week 8 storylines: A supercharged Tyson Bagent debate, Tyler Scott's growth mindset and Jaylon Johnson's contract desires
The Chicago Bears are headed west this weekend, off to Inglewood, Calif., to face the Los Angeles Chargers on Sunday night. Coming off a 30-12 blowout of the Las Vegas Raiders, the Bears have experienced a spike in confidence and still hope to salvage their season with 10 games remaining.
They'll have a great chance to gather believers with a road upset Sunday. As kickoff approaches, here's the inside slant on three notable storylines.
Just a feeling
One of the Bears' more underrated offensive moments from Sunday's 30-12 victory against the Raiders was a play that didn't quite unfold as planned. It came in the third quarter, third-and-6 at the Raiders 25 with the Bears looking to add to a 14-3 lead.
Coordinator Luke Getsy called for a Tyson Bagent pass from out of shotgun with DJ Moore running a deep corner to the left and Darnell Mooney using a switch release on his out route to the same side. Tyler Scott, meanwhile, had an in-breaking route 12 yards down the field.
Bagent, though, didn't like what he saw as he eyed Scott against a Raiders zone coverage that closed the window over the middle. The quarterback's pocket was still pretty clean. But his first three reads weren't open, and who knew how much longer the protection would hold up?
Thus 3.1 seconds after the snap, Bagent found his check-down and felt comfortable letting running back Darrynton Evans do the rest. Evans did, using a block from Cole Kmet, breaking two tackles and grinding through contact with cornerback Marcus Peters to pick up the first down.
"(Tyson) did a nice job handling that," Getsy said Thursday.
Yep, one of the Bears' eight third-down conversions and one of Bagent's more meaningful completions in his first NFL start was a check-down dump-off caught 9 yards behind the line of scrimmage.
The Bears' sound protection, Getsy said, was paramount for the quarterback on that sequence.
"It enabled him to work across the board," Getsy said. "Then he got the ball to Darrynton with some space, and Darrynton did the rest.
"It was really an incredible play and a very important play for us to keep that drive alive."
Good luck trying to squeeze that simple gain of 6 into any hyped-up social media highlight montage. Still, for Bagent, showing wit throughout a winning afternoon at Soldier Field left an impression.
"It must be those 7,000 passes he's thrown in his life," Bears coach Matt Eberflus cracked.
Indeed, experience continues to be Bagent's calling card, a strength he is leaning on as he figures out this new world of high-level offenses and defenses on the sport's biggest stage.
His 53-game pass-attempt total at Shepherd University was 2,040, a high-volume library of repetitions that are helping to enhance his command of the position.
Sure, that was all in Division II in the Pennsylvania State Athletic Conference — and for one season in the Mountain East. But the experience has provided Bagent with heightened comfort that is making his storybook leap to the NFL feel less daunting. And that little dump-off to Evans to help continue a touchdown drive was just one of several examples in which Bagent didn't try to do too much and the Bears reaped the rewards.
"He went out and kept his poise like we expected him to do," Getsy said.
Predictably, the week-after reaction to Bagent's victorious effort was all over the place in Chicago, creating a charged civic conversation that has been, at its best, healthy and nuanced — until the high-volume extremists on both sides have taken over.
As the shouting has amplified, Bagent has essentially been likened to Tom Brady by the intoxicated optimists and to Charlie Brown by the eye-rolling skeptics. A second start Sunday against the Chargers at SoFi Stadium is certain to enliven the debate.
Somehow, of all fan bases, Bears backers still can't resist the urge to overreact in ridiculous ways to small sample sizes, jumping to extreme long-term conclusions on both sides of the spectrum and feeling obligated to always contrast one quarterback's performance against another's.
Eventually, perhaps, the most important decision makers in the Bears front office will have to do a comprehensive comparison of Bagent's production with what they have seen out of established starter Justin Fields.
But for now, with a critical yet open-minded lens on Bagent's play, it's easy to recognize some of the essential quarterbacking skills the rookie possesses that give him the chance to make the absolute most of his NFL opportunity — both as a temporary fill-in for an injured teammate and perhaps in the future as a QB1.
Pocket presence in this league always will be an invaluable skill. Same goes for field vision and situational awareness. Efficiency and accuracy are critical as well. And showing rhythm in the passing game remains a plus.
In his first NFL start, Bagent demonstrated all those qualities.
In addition, his ability to make good decisions consistently and reduce game-changing mistakes allowed him to build trust with teammates and coaches. His football savvy helped with clean game management.
A reliable internal clock, an ability to surf the pocket and a knack for hunting positive off-script passes also created offensive momentum. Which, of course, generates confidence.
And if the feedback of coaches and teammates matters, the competitive edge and charismatic self-assuredness Bagent brings to the field has been notable. "I don't think it was a surprise to anybody in this locker room or this building," running back D'Onta Foreman said. "The way he carries himself, the way he handles this and goes about it is a part of who he is.
"I'm looking forward to another week to see if he can build on that."
The football world will be watching Sunday night with a necessary understanding that quarterback success in the NFL is all about consistency, about stacking good performances on top of one another and showcasing a winner's command during game-on-the-line moments.
Every week presents different challenges. And for those understandably eager to see more from Bagent, he will have to eventually display an ability to stretch the field vertically. Against the Raiders, he threw only one pass that traveled 15 yards beyond the line of scrimmage, and his longest completion was a 17-yarder to Foreman on a screen play.
The Chargers defense ranks last in the NFL against the pass, allowing 310 yards per game while having surrendered 20 completions of at least 25 yards.
Bagent already has acknowledged the balance he'll have to strike to test the Chargers down the field while being aware of a threatening pass rush led by Khalil Mack and Joey Bosa.
"That's why the NFL is so hard," Bagent said. "You've got to know when to eat the play. You've got to know when to take advantage of the play. You've got to know when to escape. And you've got to know when to just throw it away or take a sack.
"Once again, we're not trying to be careful in anything we're doing. We just want to play our game as effectively and as in sync as we possibly can."
In his first NFL road start, in his first performance under the prime-time spotlight, Bagent's hope is to continue keeping things simple and pushing the Bears offense forward.
Patience project
On a key third down in the first quarter Sunday, Bears rookie Tyler Scott ran a basic dig route. Inside release, 13 yards down, then a crisp cut across the middle to gain separation from Raiders cornerback David Long Jr.
Scott was the third read on the play. But the timing and precision of his route was important giving quarterback Tyson Bagent an opening for a clutch completion, a gain of 13 that helped push the Bears toward their first touchdown.
As simple as it seemed, it was a big moment for both rookies, one that went viral on social media as an example of Bagent's pocket presence, field vision and decisiveness.
But for Scott? "We're going to have to have a long talk about that one," fellow receiver DJ Moore said immediately after the game.
Wait. Come again?
"He caught that with his stomach," Moore explained.
On the sideline after the drive and again following the game, Moore needled Scott about the theatrical leap he made during that play, jumping to body-catch a ball that probably would have been just above his helmet had he stayed on his feet or elevated slightly.
"Rookie jitters thing, you know?" Scott said this week with a smile. "It's third down. I haven't caught a whole bunch of balls. I was just trying to secure the catch.
"The previous week I dropped a third-down screen. So my mentality there was, 'I'm catching this ball no matter what. Even if I have to jump 3,000 feet in the air, I'm catching it.' "
The ribbing from Moore was all in good fun. But both players understood the back-and-forth was instructional as well.
"The message behind it is simple honestly," Moore said. "I just told him, 'Hey, maybe if you had just jumped a little bit, you could have caught it with your hands and had a bigger run after the catch.' By making that catch with his body, he allowed the defender get to him and knock him down."
For an ambitious Scott, who's trying to become a complete playmaker, Moore's critique was the latest reminder of how demanding life as an NFL receiver will continue to be. Every little detail matters. Which, to some extent, is why Scott has fallen in love in recent years with the position he is making a career out of.
Not that long ago, Scott, 22, was a standout running back, an enthusiast of that position with a Reggie Bush Fathead on his bedroom wall, an affinity for old Gale Sayers and Eric Dickerson highlights and an unapologetic infatuation for how Adrian Peterson ran the ball.
As a backfield bottle rocket, Scott had speed and vision and big-play sizzle. But when colleges came calling and began suggesting alternatives for where they wanted him to play, he had to listen.
Scott was aware of his size — 5-foot-11 and 166 pounds coming out of Norton High School in Ohio. He understood the shelf life and physical toll for running backs as well.
"I ain't going to lie," Scott said. "In high school, I got hit a lot. Like, a lot. I said to myself, 'I think I'm kind of tired of getting hit every play. So why don't I go ahead and widen out and get away from all those D-linemen and linebackers? Let's use this speed a different way.' "
At the University of Cincinnati, Scott opted to become a receiver, uniting with Bearcats assistant coach Mike Brown and beginning a three-year undergraduate program as an aspiring route runner and pass catcher. That the education came under Brown was no small thing either with the passionate teacher and his eager student forming an instant connection.
It didn't hurt that Brown had undergone a position change in college, converting from quarterback to receiver at Liberty before going on to play for the Jacksonville Jaguars.
"It gave him more empathy in terms of the demands of the position," Scott said.
Added Brown: "I was able to communicate with Tyler on a different level because I knew some of the things that gave me issues early on. I tried to use those to help him."
For three seasons, Brown pushed and Scott responded, learning how to disguise routes, make clean breaks and fully utilize his elite speed. Scott's signature game in his breakout junior season at Cincinnati came in September 2022 against Indiana, a 185-yard eruption that included three first-half touchdown catches.
The first came on a post route against the ideal coverage, a look the Bearcats were so certain they would get from the Hoosiers secondary that Scott and quarterback Ben Bryant previewed the entire sequence between themselves at the team hotel the morning of the game.
In studying video of Indiana, Scott identified an opportunity to run into the defensive back's blind spot, use his leverage against him and then break. He and Bryant were confident a touchdown was waiting.
In live action that afternoon, Scott put Hoosiers cornerback Tiawan Mullen into the spin cycle. "He was actually my host on my official visit to Indiana," Scott said.
With Mullen twisted, Scott's speed and suddenness gave him a 5-yard cushion after his break and, ultimately, a home run play that helped grab the attention of NFL talent evaluators.
On draft weekend, Bears area scout Ryan Cavanaugh referenced that play as one that easily jumped out in the Bears' assessment of Scott. "He's explosive," Cavanaugh said. "And he shows that in his routes and his downfield ability."
But even that elite burst is something Scott has had to refine and is still learning to utilize properly. He was an accomplished track star growing up, competing in the Junior Olympics in the 400-meter dash.
In that forum, the way Scott ran was more powerful and violent. Now he's trying to smooth things out to aid with his ability to track the football.
"I was always a power sprinter," Scott said. "And when I first started tracking deep balls, it was more difficult than I thought. I'd be like, 'Why is the deep ball (wobbling)?' I couldn't steady the ball.
"At first, I was thinking it was a helmet problem. But I had to learn the concept of the effortless sprint, understanding when to use my full, all-out sprint and when to tempo myself."
That, too, is something Moore has helped with. With a track background, Moore has spent years gaining a better feel for how to convert track speed into football success blending out-of-the-blocks acceleration with the football mechanics of being able to stop on a dime.
Moore also admits that as an eager rookie with the Carolina Panthers, he consistently overran deep balls.
"I had to learn to slow down."
Moore also has refined his running in a way where his play speed has a deceptive and controlled glide to it.
"I had to learn that too," he said. "When I was a rookie, I was just going full speed. All the time. Just how Tyler was when he first got here. But you learn to change.
"For me, the glide came from fully understanding where I had to be with my depths and where I had to be for the progression of the quarterback. That was a big deal."
As things have evolved in the Bears receivers room this month, Scott has remained ready. The team traded Chase Claypool to the Miami Dolphins in Week 5 and sent Equanimeous St. Brown to injured reserve with a hamstring injury six days later.
In the two games since, Scott has played more offensive snaps (79) than he had in the first five weeks combined (64) and gradually started to contribute in meaningful ways.
In addition to that aforementioned 13-yard reception early last week, Scott added a third-down conversion in the second quarter with a decisive end-around burst, knifing between Maxx Crosby and Marcus Peters to pick up 6 yards.
A week earlier, as the Bears threatened to rally against the Vikings at Soldier Field, Scott's 5-yard reception on a scramble drill was most notable for the effort he showed sprinting 20 yards back toward the line of scrimmage to squeeze a positive gain out of an across-the-field off-script throw that Bagent fired with conviction into an open space.
"I was dying to get my hands on a ball," Scott said. "It may have been only 5 yards. But that was a want-to catch. And with a rookie quarterback in there fighting his butt off, that's exactly how you build trust. You show him that, even in the midst of chaos, he has a receiver willing to put it all on the line."
Day by day, week after week, month to month, the Bears coaching staff has begun trusting Scott more as he has gained a deeper understanding of the offense, of formations and splits and alignments, of route combinations and timing.
"The natural talent and the toughness he has is starting to shine through," offensive coordinator Luke Getsy said, "because now he's starting to understand what's going on and then how to react whenever things don't show up exactly the way we talked about. That's a big part of this game, just being able to have that reaction."
As much as anything, Scott has reminded himself to exhale, to embrace the growth process, to continue stacking successes and learning from mistakes.
"It's patience, honestly," he said. "In all phases. For me, it's patience in understanding where you're at on the depth chart. It's patience in understanding where you're development is relative to your skill set. It's patience in better understanding route combinations and knowing where you're at in the progression (of a play). It's patience in realizing you have more time than you think with that. And it's also patience in giving myself grace — to be able to grow, to understand that I'm going to mess up, to realize I'm going to have bumpy days, bad practices and rough games. But if I give myself patience and also understand the patience of the position, I'm going to give myself a shot."
'Nothing to agree on'
With 10 games remaining in his fourth season, cornerback Jaylon Johnson hasn't changed his tune. He doesn't want to go anywhere.
Johnson wants to continue his career with the Chicago Bears. He wants to establish himself as one of the league's best cornerbacks. And he would like a hefty contract extension from general manager Ryan Poles and the folks upstairs at Halas Hall that will reward him for his commitment and performance.
As Bears coach Matt Eberflus said earlier this week of his two seasons overseeing Johnson, "He has done everything we have asked."
Johnson on Sunday contributed two interceptions to the Bears' 30-12 blowout of the Raiders, returning the first one 39 yards for a touchdown. He immediately found a Fox camera behind Soldier Field's north end zone, took off his helmet and began gesturing as if he was sending money into the air.
It was an obvious and calculated message.
"Damn right," Johnson said. "100%. … I know who I am and I know I can play this game at a high level. I feel like I deserve to be paid like that. I'm taking that attitude for any team, for anybody and everybody in the NFL."
On Thursday, however, in an exchange with reporters in front of his locker at Halas Hall, Johnson spoke with a slightly more irritated tone when addressing contract negotiations he described as "slower than I expected." Which is to say that whatever communication Poles and his contract negotiation team has had with Johnson's camp hasn't found the sweet spot for what would make the 24-year-old cornerback happy.
I asked Johnson what he is seeking from the Bears with his rookie deal holding a March 13 expiration date.
"Security," he said. "That's what all this is. That's what we play the game for. Security. At the end of the day, a lot of it goes back to respect as well. It's not just about taking anything.
"You can throw numbers at somebody and just hope they take anything. But that's not what I'm looking to do. I'm looking for respect and security at the end of the day."
In four days, the NFL trade deadline will arrive. In this instance, that's only significant if Poles and the Bears either don't see Johnson as part of their long-term defensive nucleus or see no possible way a bridge gets built in contract discussions with Johnson and his agent, Chris Ellison.
In either case, the Bears could seek to offload Johnson in exchange for draft capital. Which is exactly what Poles did a year ago with star linebacker Roquan Smith, trading the Bears defensive captain to the Baltimore Ravens for a second-round pick. And that is part of the reason, admittedly, Johnson remains a bit edgy and so outwardly uncertain that he will still have his Halas Hall locker stall at this time next week.
"At the end of the day, it's all the 'He says, she says' (stuff)," Johnson said. "'We're in talks. We're not in talks.' At the end of the day, we're going to see if something gets done by the trade deadline.
"If I happen to get traded, then I get traded. If not, then I get extended hopefully. And if not (that), then I've just got to continue to play. There are plenty of (directions) this can go. But we're all going to see. I'm waiting to see as well."
Smart money still says the Bears keep Johnson for the rest of this season and continue to evaluate his performance and durability. Last week's interceptions — off Brian Hoyer and Aidan O'Connell — were only the second and third interceptions of Johnson's career. He also has missed 13 games over his four seasons. Thus, the Bears' push to see more is understandable.
Still, if the internal belief is that Johnson can be an important piece in the team's championship puzzle, Poles and Co. should push to find the contractual key to unlock the treasure chest of security and respect Johnson is seeking.
The Tuesday trade deadline isn't all that imposing for the Bears, who would still have 4 1/2 months to continue contract talks before Johnson could even begin to connect with other suitors.
Put another way, Johnson doesn't have much leverage to force the Bears' hand other than drumming up support in the court of public opinion.
To his credit, Johnson hasn't tied himself in knots with worry about his future. Asked Thursday if the approaching trade deadline weighs on him, he just smiled.
"I sleep great at night," he said, reiterating that he won't even venture an educated guess on whether he'll be sticking around in Week 9 or heading for a new destination.
"We're going to see by the 31st. I don't have a thought process. We're all going to see. And I'm waiting to see. Because somebody can say one thing and you may believe it and then something else happens.
"We saw what happened (last year) to (Christian) McCaffrey. They told him they weren't going to trade him. Traded him at 11:59. So I don't believe hardly anything I'm told. I'm going off actions."
Last summer, Dallas Cowboys star Trevon Diggs helped to reshape the market for cornerbacks, signing a five-year, $97 million extension with more than $42 million guaranteed. Diggs, who was selected one pick after the Bears drafted Johnson at No. 50 in 2020, then suffered a season-ending anterior cruciate ligament tear in Week 2. That offers a pertinent example for why financial security is so important to Johnson.
At the time of Diggs' extension, Johnson was self-aware enough to note publicly that he hadn't quite reached that tier of NFL playmaking and therefore wasn't seeking a comparable deal. But Johnson still sees himself as one of the better lockdown corners in the league and hopes his second contract offers a commensurate reward.
If Johnson has specific numbers in mind, he isn't saying. (Reasonably, both sides might target a middle ground for a deal with three or four seasons and an average annual value of around $14 million.)
Could Johnson at least describe the business back-and-forth with the Bears as agreeable?
"I mean, ain't nothing been done," he said. "So I don't have nothing to agree on yet."
The likelihood is Johnson will remain in a Bears uniform through the end of this season with plenty of incentive to continue proving his worth.
()