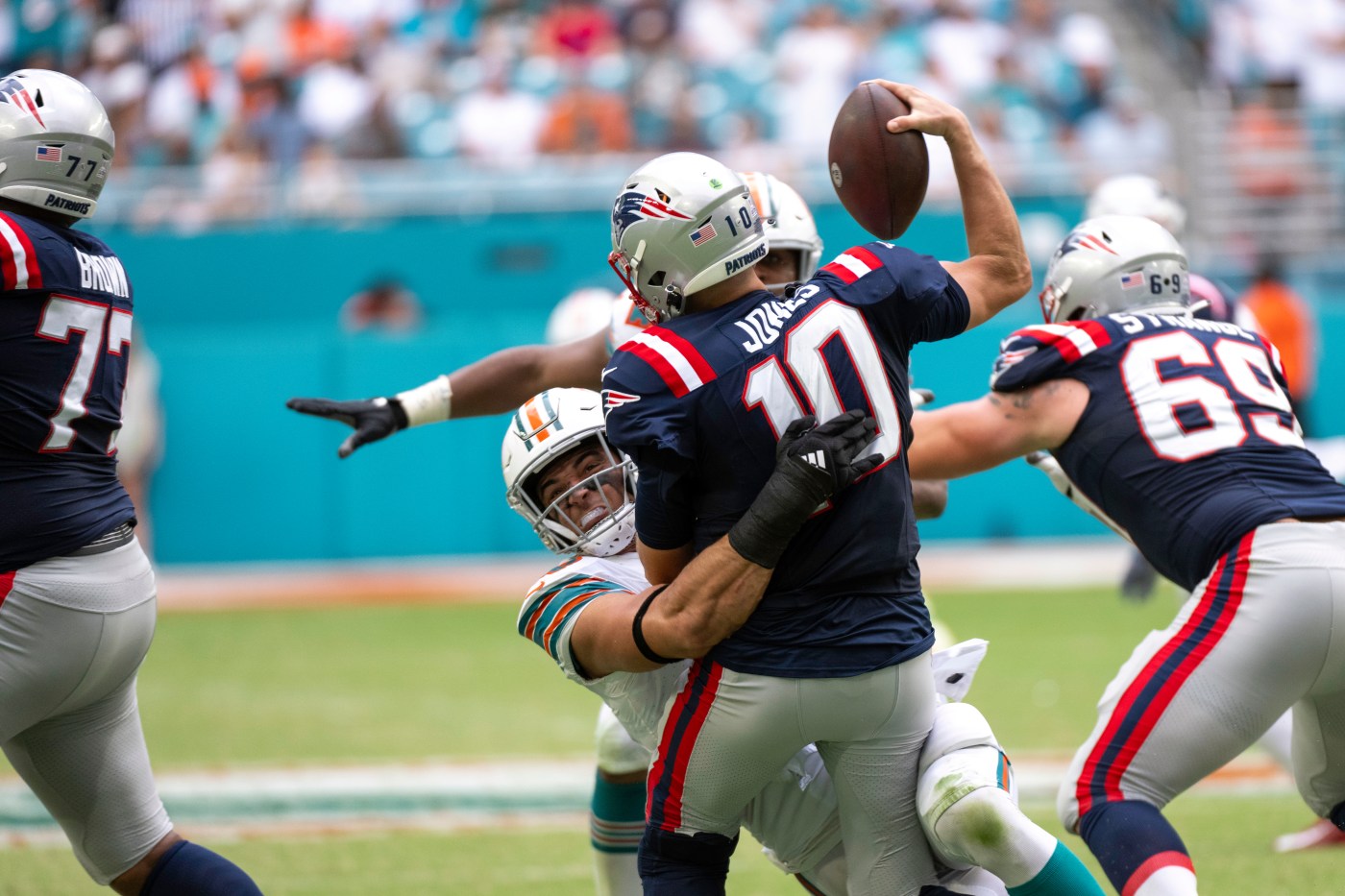 Patriots' latest loss shows recent offensive surge was just a fluke
MIAMI GARDENS, Fla. — The Patriots' brief offensive revitalization was fun while it lasted. It also wasn't real.
After last week's win over the Bills, we asked where that team came from. It was apparent where the team that lost 31-17 to the Dolphins was hiding. This was the same team that struggled over and over again through the first six weeks of the season.
The Patriots struggled to move the ball in Sunday's loss in Hard Rock Stadium, gaining just 218 total yards on 51 plays, and so many of the issues that plagued them in blowout losses earlier in the season tormented them once more in Week 8.
Related Articles

Mac Jones, Patriots can't keep up with Dolphins in 31-17 Week 8 loss

Patriots quickly rule out Kendrick Bourne with knee injury vs. Dolphins

Patriots lose starting wide receiver to head injury in Week 8 vs. Dolphins

Patriots lose defensive captain to hamstring injury vs. Dolphins

Patriots recent high draft pick among healthy scratches in Week 8 inactives vs. Dolphins
"We just got behind the sticks early, turned the ball over obviously, weren't good on third down," tight end and offensive captain Hunter Henry said Sunday. "Just situational football wasn't great today. We were able to capitalize on the first turnover, but the second turnover, we really needed to put points on there. We just weren't able to execute. They were able to do some good things too. You gotta give them credit too. Their D-line is really good up front. They move in, make a lot of plays in the backfield that we need to be better on."
The Patriots' offense showed promise late in the first quarter after safety Kyle Dugger gave them the ball on the Dolphins' 30-yard line after picking off quarterback Tua Tagovailoa. Quarterback Mac Jones hit Kendrick Bourne on a 24-yard catch and run touchdown to cap off a three-play, 30-yard drive. But they managed just a field goal early in the second half after linebacker Anfernee Jennings recovered a muffed handoff between Tagovailoa and running back Raheem Mostert. The Patriots actually moved backward 1 yard before rookie Chad Ryland banged through a 38-yard field goal.
Jones was intercepted once, and it would have been a pick-six for cornerback Jalen Ramsey if rookie wide receiver Demario Douglas wasn't able to force the All-Pro, returning from injury, out of bounds. Jones nearly threw two more picks on the Patriots' final offensive drive.
"Like I always talk about, every week is different," Jones said when asked why the Patriots couldn't continue their offensive momentum from Week 7. "Gameplan changes. We just needed a little more production from me, from everybody. That's where it starts. It starts with the quarterback. I can be cleaner on my reads and all of that stuff. You've got to be really sharp against a team with a really good offense, and I thought the defense fought really hard. It's a really good football team we played."
Head coach Bill Belichick was asked after the game if Jones would continue to be the Patriots' starting quarterback.
"We all need to play better, yeah," Belichick said. "We all need to coach and play better."
The Patriots had the same offensive line combination that protected Jones well in Week 7. They let up three sacks and four more QB hits on Sunday. And rookie wide receiver Demario Douglas, an offensive sparkplug, continued to see an increased role but picked up just 25 yards on five catches. Wide receivers Kendrick Bourne (knee) and DeVante Parker (head) both left the game with injuries, and the team did not benefit from officiating.
But it's clear that the Patriots cannot compete with a unit as high-powered as the Dolphins' offense no matter how hard the defense fights. The Dolphins gained 390 yards on 73 plays while Tagovailoa tossed three touchdowns.
It was fair to pump the brakes on declaring that the Patriots were back after last week's win. After Sunday's loss, and based on the first six weeks of the season, it looks like merely an aberration.