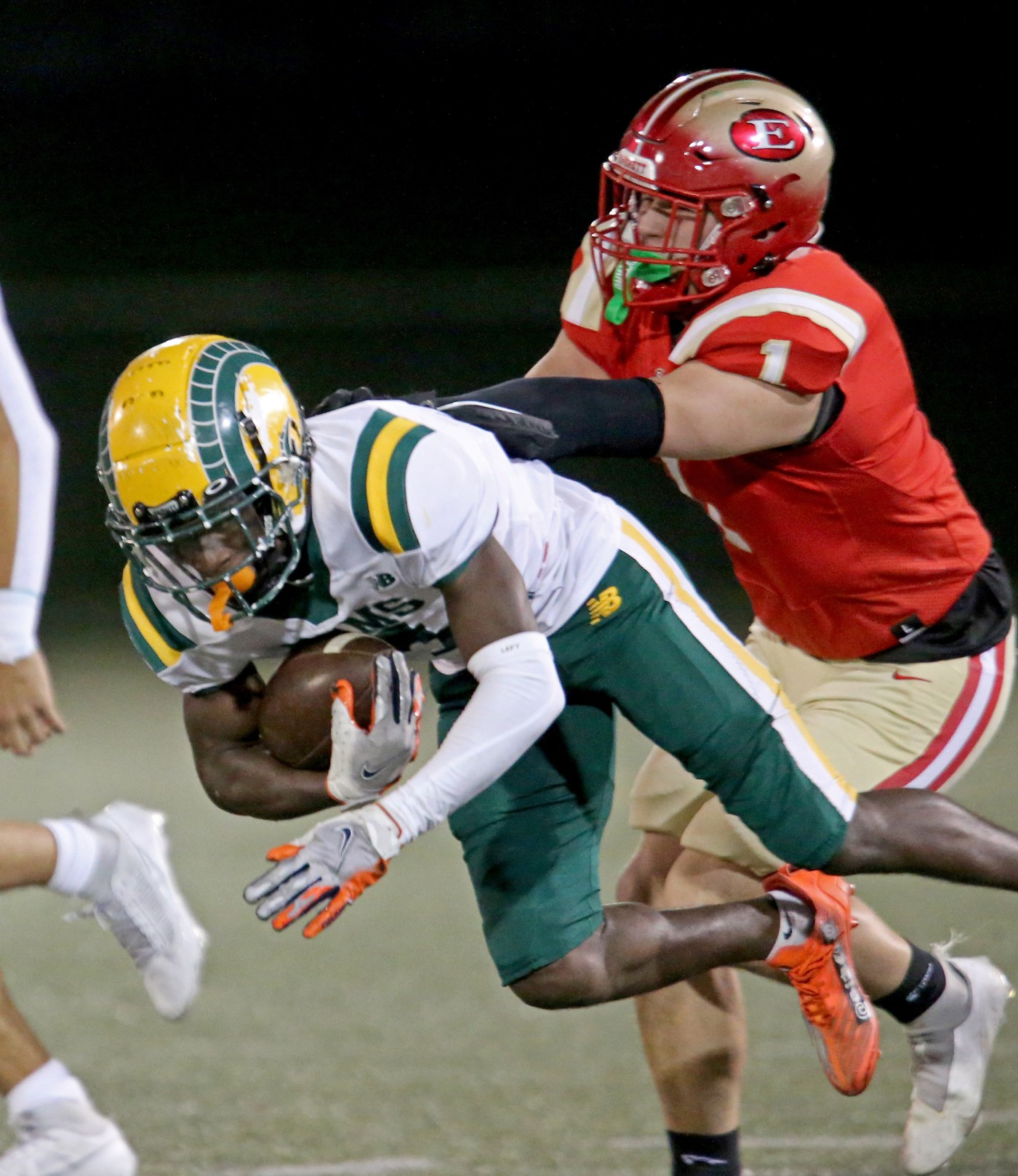 Friday's high school roundup/scores: Brody Joly (4 TD's) powers Apponequet past Fairhaven
Brody Joly scored four times as Apponequet (3-5) knocked off Fairhaven 26-21 in the South Coast Conference. … Nathan Wood ran for 85 yards and a touchdown as Case (3-5) blanked Seekonk, 13-0.
Jake Kennedy ran for two touchdowns and returned an interception for another, combining with two rushing touchdowns apiece from Max Dresens and Michael Caulfield as Wayland (6-2) ran all over Newton South in a 53-13 Dual County League win. … Senior Cooper Tarantino racked up 76 yards and a score on nine carries, adding 59 yards and a touchdown through the air for Lincoln-Sudbury (7-1) in a 36-14 win over Westford Academy (5-3).
Luiz Barbosa ran for one score and Jack Lombardo threw for another as Medford (5-3) defeated Lynn English 18-9 in the Greater Boston League. … Abass Atoui rushed for 150 yards and three scores as Revere (2-6) blanked Malden, 27-0.
Ronan O'Connell threw for one score and ran for another as Winchester (7-1) defeated Lexington 28-6 in the Middlesex Liberty. … In the Freedom Division, Connor Brophy found pay-dirt four times for Melrose (6-2) in a 41-28 victory over Wilmington (4-4). … Anthony Gerrior completed 11-of-22 passes for 228 yards and two touchdowns as Burlington (5-3) defeated Watertown, 35-7. Ryan Brooks caught six passes for 167 yards and both scores. … Kevin Gilmartin ran for a touchdown and also caught a TD pass as Stoneham (5-3) beat Wakefield, 22-6.
Stu Burnham ran for 101 yards and a touchdown as Old Colony (7-1) defeated South Shore 12-0 in the Mayflower Athletic Conference.
Dillon Chapman rushed for a pair of scores as Monomoy (3-5) defeated St. John Paul 20-14 in the Cape and Islands.
Zach Wolinski scored three times as North Andover (5-2) defeated Tewksbury 43-20 in the Merrimack Valley Conference.
Jack Spear threw for 283 yards and three touchdowns for Swampscott (5-3) in a 42-7 Northeastern Conference win over Masconomet. … John Gucciardi passed 13-for-15 for 212 yards and four touchdowns, and took 13 carries for 132 yards and another touchdown as Gloucester (5-3) doubled up Beverly, 42-21.
Connor Curtis ran for two touchdowns, helping Mansfield (5-3) pull off a 21-7 Hockomock League win over Stoughton.
Ben Scalzi completed 18-of-23 passes for 155 yards and four touchdowns, while Mehki Bryan caught six passes for 84 yards and two scores as Hanover (8-0) defeated North Quincy 42-13 in the Patriot League. … Gio Lynch-Riberio rushed in each of Plymouth South's (5-3) final three touchdowns, helping overcome Owen Pace's four touchdown passes for Pembroke in a 35-34 nail-biter. … Jackson Belsan completed 12-of-19 passes for 241 yards and four touchdowns, and Alex Burrill ran for three scores and caught a TD pass as Scituate (5-3) bested Quincy, 49-24.
Maxwell Parent ran for 169 yards and a pair of touchdowns, while adding 14 tackles, as St. Mary's (Lynn) (6-2) defeated Archbishop Williams 40-28 in the Catholic Central League. … Dominic Cavallo, Keegan Plante and Dan Yazbeck all ran for touchdowns as Bishop Stang (3-5) defeated Bishop Fenwick, 24-14.
Liam Appleton ran for three scores and also returned a punt for a score as Cohasset (4-3) handled Randolph 43-6 in the South Shore League.
A.J. Pinet rushed for 315 yards and six touchdowns on 24 carries as Dedham (6-2) defeated Millis 43-14 in the Tri-Valley League. … Ethan Rodriguez ran for a pair of scores as Norton (6-1) beat Medway, 23-6. … Jack Dwyer took 11 carries for 206 yards and three touchdowns, Matty Mahoney added 102 rushing yards and a score on four carries, and Brian Dearborn (two interceptions, one returned for a TD) starred defensively for Norwood (6-2) in a 54-0 win over Hopkinton. … Corey Perkins ran for 172 yards and three scores on 16 carries as Bellingham (5-3) cruised to a 42-6 win over Dover-Sherborn.
Preston Callender Jones rushed for 195 yards, four touchdowns and three conversions as Brighton rolled to a 44-14 win over Latin Academy in the Boston City League. Jermaury Moore had15 tackles and three pass breakups for the Bengals. … Steven Chapa and Chris Testa each ran for two touchdowns as East Boston (4-3) blanked English/New Mission, 32-0.
Sam Hubbard's touchdown run helped Natick (5-3) take the lead in a back-and-forth Bay State Conference matchup only for Milton to answer, but the Redhawks blocked the PAT to secure a 17-16 win.
Henry Hasselbeck threw two touchdown passes (both to Jonathan Monteiro) and rushed for a score for Xaverian in a 43-15 Catholic Conference win over St. John's (Shrewsbury). Michael O'Connor added 163 rushing yards and a score for the Hawks (6-2).
In a nonleague contest, Treyvon Fields threw five touchdown passes, four of them to Andrew Hedgepeth, as Cathedral (5-2) outscored Greater Lawrence, 43-22. … Montavius Zollarcoffer rushed for 110 yards and a touchdown, while adding 95 receiving yards and a score as O'Bryant (6-1) defeated Minuteman, 21-8.
Aiden Kundel ran for a score and completed 14-of-20 passes for 140 yards and two touchdowns as Barnstable (7-1) bested Old Rochester, 43-7. … Noah Mackenzie completed 8-of-12 passes for 270 yards and four touchdowns, while Kamari Hughes caught four passes for 120 yards and two scores as Walpole (5-3) defeated Wachusett, 45-13. …    Trevor Jollin's second touchdown rush came with 38 seconds left for a late lead, capping off a 12-point comeback in the second half for Sandwich (4-4) as part of a 22-19 win over Rockland.
FIELD HOCKEY
Kelly Holmes scored a pair of goals to cross the 100-point plateau and Mara Boldy tallied her second hat trick in a week, lifting King Philip over Mansfield, 7-1, in Hockomock League play.
Haylen Wilson and Sam Ruddick scored for Hingham (15-2-1) in a 2-1 nonleague win over Falmouth. … Khloe Schultz (three goals, two assists) and Quinn Jordan (two goals) paced things offensively for Sandwich (17-0-1) in an 8-0 rout of Middleboro. … Sarah Cabral and Sydney Almeida netted two goals each for Dartmouth (17-0) in a 5-0 win against Apponequet. … Lillie MacKinnon scored the lone goal for Whitman-Hanson (3-10-5) in a 1-0 win over Bridgewater-Raynham.
Avery Bent sniped a goal and tacked on a pair of assists, leading Dover-Sherborn (14-2-2) to a 4-1 victory over Tri-Valley League rival, Medfield.
Ryan Crook scored a goal and dished an assist as Somerset Berkley (17-0-1) topped Dighton-Rehoboth 3-1 in a South Coast Conference matchup. … Megan Smith scored twice and assisted Riley Doherty on another goal, helping Case (14-1-1) three-peat as SCC Gold champs with a 3-0 shutout over Seekonk.
Avery Motta's goal and assist led a well-balanced Durfee (12-3-2) attack in a 3-1 nonleague win over Attleboro. … Iliana Nikolouzos scored an insurance goal after assisting Meghan Collins for the go-ahead tally, helping lift Peabody over Revere, 2-0.
BOYS SOCCER
Carter Couto buried a hat trick as Westport (16-0-1) cruised to a 7-0 nonleague win over Carver. … Antonio Guarino and Angel Luyo scored for Archbishop Williams (11-3-4) in a 2-0 victory over Bourne.
George Baroud and Noah Schneeweis got the goals for West Bridgewater (4-12-3) in a 2-0 South Coast Conference win over Seekonk. … Derrick Camara scored twice and provided an assist for Somerset Berkley (14-1-3) in a 3-0 victory over Bishop Stang.
Ben Elliot fired in two goals for Hanover (9-5-4) in a 5-0 Patriot League win against Plymouth South.
GIRLS SOCCER
Emilee Dunham found the net to lift Rockland (8-7-2) to a 1-0 South Shore League win over Abington.
Sydney DeRoche struck for four goals to power Austin Prep during a 7-1 win over Montrose in the NEPSAC.
In a South Coast Conference matchup, Cailee Leonard notched a hat-trick in a 3-2 win over GNB Voke, to help Dighton-Rehoboth (9-7-2) clinch a spot in the state tournament.
Tahirah Johnson hit the back of the net twice and supplied an assist as Cathedral (7-7) coasted to a 6-0 victory over Brighton.
VOLLEYBALL
Annabella Karpicz recorded 10 kills, four aces and three blocks, while Abigail Viera finished with seven kills and two aces as Somerset Berkley (13-7) finished its regular season with a 3-0 nonleague win over Bishop Stang. … Caroline Gray and Andrea Mulligan notched seven kills each as Whitman-Hanson (15-5) swept Abington, 3-0. … Abby Bettencourt (17 assists, 11 kills) supplied her 1500th career assist, and Lizzy Bettencourt (12 kills, seven aces) registered her 500th career kill as Peabody bested North Andover, 3-0. … Fayth Bascon posted seven kills, and Lila Paster chipped in with five kills and a block as Swampscott (11-9) earned a 3-0 win over Revere.
Ella Stein posted 10 kills and seven aces, surpassing 187 career aces for Ipswich (18-0) in a 3-0 Cape Ann League win over Georgetown. … Chase Carangelo tallied 16 kills and 12 digs, while Erin Higdon had nine aces, five kills and eight digs as Lynnfield (10-9) downed Pentucket, 3-0.
Ellen Swanson grounded seven kills and five aces as Dennis-Yarmouth (11-8) defeated Nauset 3-0 in Cape and Islands League action.
Adrie Waldinger erupted for a career-high 23 kills to lead Andover (17-3) to a 3-1 Merrimack Valley Conference win over Chelmsford.
GIRLS ICE HOCKEY
Marblehead announced that Hadley Woodfin has been named its new girls hockey coach. A two-sport star at the school, Woodfin served as a captain of the hockey team in her junior and senior years. She went on to play field hockey at Colby-Sawyer College.
SCORES
FIELD HOCKEY
Bridgewater-Raynham 1, Whitman-Hanson 0
Canton 4, Norwood 3
Case 3, Seekonk 0
Chelmsford 1, Methuen 1
Concord-Carlisle 1, Needham 0
Danvers 2, Westwood 2
Dartmouth 5, Apponequet 0
Dedham 6, Ursuline 1
Dover-Sherborn 4, Medfield 1
Durfee 3, Attleboro 1
Hingham 2, Falmouth 1
King Philip 7, Mansfield 1
Peabody 2, Revere 0
Sandwich 8, Middleboro 0
Somerset Berkley 3, Dighton-Rehoboth 1
Wellesley 2, Lincoln-Sudbury 0
FOOTBALL
THURSDAY'S RESULTS
Chelsea 19, Somerville 6
Dedham 43, Millis 14
Norton 23, Medway 6
St. Mary's (L) 40, Archbishop Williams 28
FRIDAY'S GAMES
Amesbury 36, Triton 7
Andover 34, Billerica 15
Apponequet 26, Fairhaven 21
Barnstable 43, Old Rochester 7
Bellingham 42, Dover-Sherborn 6
Belmont 28, Reading 21
Bishop Stang 24, Bishop Fenwick 14
Blue Hills 28, Tri-County 6
Bourne 49, Atlantis Charter/Westport 12
Braintree 36, Newton North 6
Brighton 44, Latin Academy 14
Burlington 35, Watertown 7
Burncoat 37, Keefe Tech 6
Cambridge 48, Boston Latin 14
Canton 33, Sharon 7
Cardinal Spellman 49, Arlington Catholic 0
Carver 40, Mashpee 16
Case 13, Seekonk 0
Cathedral 43, Greater Lawrence 22
Catholic Memorial 41, Malden Catholic 19
Central Catholic 36, Chelmsford 35
Cohasset 43, Randolph 6
Concord-Carlisle 42, Acton-Boxboro 14
Dartmouth 28, New Bedford 18
Duxbury 28, Hingham 12
East Boston 32, English/New Mission 0
Essex Tech 38, Ipswich 30
Everett 43, Lynn Classical 12
Foxboro 49, Oliver Ames 6
Gloucester 42, Beverly 21
Greater New Bedford 24, Dighton-Rehoboth 21
Hanover 42, North Quincy 13
Holliston 41, Ashland 0
Hull 21, TechBoston 6
King Philip 42, North Attleboro 14
Lawrence 15, Haverhill 14
Lincoln-Sudbury 36, Westford Academy 14
Mansfield 21, Stoughton 7
Marblehead 17, Danvers 7
Marshfield 44, Whitman-Hanson 15
Medford 18, Lynn English 9
Melrose 41, Wilmington 28
Methuen 43, Lowell 20
Middleboro 34, Abington 7
Milford 24, Franklin 0
Monomoy 20, St. John Paul II 14
Nashoba Tech 55, Lowell Catholic 18
Natick 17, Milton 16
Nauset 40, Falmouth 0
Needham 24, Framingham 7
Norwell 21, East Bridgewater 6
Norwood 54, Hopkinton 0
Newburyport 49, North Reading 41
North Andover 43, Tewksbury 20
North Middlesex 41, Oakmont 6
O'Bryant 21, Minuteman 8
Old Colony 12, South Shore Voke 0
Peabody 27, Salem 26
Pentucket/Georgetown 27, Northeast/Mystic Valley 20
Plymouth South 35, Pembroke 34
Revere 27, Malden 0
Sandwich 22, Rockland 19
Scituate 49, Quincy 24
Shrewsbury 21, Bridgewater-Raynham 6
Silver Lake 15, Plymouth North 9
Somerset Berkley 56, Dennis-Yarmouth 33
Stoneham 22, Wakefield 6
Swampscott 42, Masconomet 7
Taunton 28, Attleboro 6
Tyngsboro 42, Dracut/Innovation 0
Walpole 45, Wachusett 13
Wareham 34, Cape Cod Tech 8
Wayland 53, Newton South 13
Westwood 35, Medfield 17
Weymouth 14, Wellesley 13
Winchester 28, Lexington 6
Winthrop 38, Saugus 8
Woburn 43, Arlington 7
Xaverian 43, St. John's (Shrewsbury) 15
SATURDAY'S GAMES
West Bridgewater at Diman, 11
Durfee at Brockton, 12
Bedford at Waltham, 1
Governor's Academy at Thayer Academy, 1
Greater Lowell at Lunenburg, 1
Greenwich Country Day at Dexter Southfield, 1
Lawrence Academy at Tabor, 1
Lynnfield at Hamilton-Wenham, 1
Manchester Essex at KIPP, 1
St. John's Prep at BC High, 1
Austin Prep at New Hampton, 2
BB&N at Belmont Hill, 2
St. Sebastian's at Milton Academy, 2:30
Pingree at Hamden Hall, 3
Rivers at Middlesex, 3
St. Mark's at Noble and Greenough, 3
Roxbury Latin at Groton, 3:15
Martha's Vineyard at Nantucket, 3:30
St. George's at Brooks, 4
Whittier at Lynn Tech, 4
Southeastern at Bristol-Plymouth, 5
Holbrook/Avon at Upper Cape, 6
BOYS SOCCER
Archbishop Williams 2, Bourne 0
Danvers 2, Pioneer Charter 2
East Bridgewater 1, Bridgewater-Raynham 0
Excel 5, O'Bryant 5
Hamilton-Wenham 3, Georgetown 2
Hanover 5, Plymouth South 0
Ipswich 4, Saugus 2
Lynn Tech 1, Shawsheen 0
Northeast 5, East Boston 1
Norton 6, Millis 0
Old Rochester 4, Apponequet 1
Somerset Berkley 3, Bishop Stang 0
Upper Cape 1, St. John Paul II 0
West Bridgewater 2, Seekonk 0
Westport 7, Carver 0
Winchester 2, Belmont 0
GIRLS SOCCER
Arlington 4, Reading 0
Austin Prep 7, Montrose 1
Belmont 3, Winchester 2
Cathedral 6, Brighton 0
Dighton-Rehoboth 3, GNB Voke 2
Dover-Sherborn 3, Dedham 1
Hingham 2, North Quincy 2
Lynn Tech 0, Madison Park 0
Rockland 1, Abington 0
VOLLEYBALL
Andover 3, Chelmsford 1
Boston Prep 3, Muniz 0
Brookline 3, Boston Latin 1
Canton 3, Quincy 0
Carver 3, Westport 1
Case 3, Dartmouth 2
Chelmsford 3, Central Catholic 1
Dennis-Yarmouth 3, Nauset 0
East Bridgewater 3, Randolph 0
Falmouth 3, Sandwich 2
Ipswich 3, Georgetown 0
Lynn Classical 3, St. Mary's (L) 0
Lynnfield 3, Pentucket 0
Nantucket 3, St. John Paul II 0
Newton North 3, Melrose 0
Norwell 3, Bridgewater-Raynham 1
Peabody 3, North Andover 0
Reading 3, Danvers 1
St. Paul's 3, Brooks 1
Somerset Berkley 3, Bishop Stang 0
Swampscott 3, Revere 0
Westford Academy 3, Cambridge 0
Whitman-Hanson 3, Abington 0
Woburn 3, Arlington 0
BOSTON CITY LEAGUE FINAL
Madison Park 3, Snowden 1
FOOTBALL BOXES
BARNSTABLE 43, OLD ROCHESTER 7
Old Rochester (4-4)  0   7    0     0    –    7
Barnstable (7-1)        9   20   14   0    –    43
BA – Aiden Kundel 56 run (Dias kick)
BA – Kurt Campbell safety
OR – Gavin Barton 1 run (Wilson kick)
BA – Chevy Shakespeare 17 pass from Kundel (kick failed)
BA – Tajardo France 25 pass from Kundel (Dias kick)
BA – Darren Thomas 10 fumble return (Dias kick)
BA – Kyle Coffin 32 int. return (Dias kick)
BA – Cole Raposo 5 fumble recovery (Dias kick)
BISHOP STANG 24, BISHOP FEEHAN 14
Bishop Stang (3-5) 0    21    0    3    –    24
Bishop Feehan (6-2) 7     0    0     7    –    14
BF – Anthony Nichols 2 run (Aidan Silva kick)
BS – Dominic Cavallo 7 run (Wyatt Bergeron kick)
BS – Keegan Plante 1 run (Bergeron kick)
BS – Dan Yazbeck 11 run (Bergeron kick)
BS – Bergeron 25 field goal
BF – Nichols 1 run (Silva kick)
BURLINGTON 35, WATERTOWN 7
Burlington (5-3)  7 7  7 14 – 35
Watertown (1-7)  0 0  7  0 – 7
BU – Matthew Conte 88 pass from Anthony Gerrier (Joshua Pupa kick)
BU – Ryan Brooke 16 pass from Gerrier (Pupa kick)
BU – Haris Mukanga 2 run (Pupa kick)
WA – Anthony Shorter 34 pass from Gnai Concannon – Garvin (Stefano Salvucci kick)
BU – Joseph Poland 28 run (Pupa kick)
BU – Christopher Odivin 1 run (Pupa kick)
CASE 13, SEEKONK 0
​​Case (3-4)          0    6    7    0  –  13
Seekonk (0-8)    0    0    0    0  –   0
CA – Nathan Wood 2 run (kick failed)
CA – Chris Gaboriault 29 pass from Jack Orton (Aedan Borges kick)
COHASSET 43, RANDOLPH 6
Randolph (3-4)           6      0    0   0  –    6
Cohasset (4-3)            7   15   14    7  –  43
CO – Liam Appleton 25 run (John Shannon kick
RA – Allen Young 1 run (kick failed)
CO – Appleton 8 run (Shannon kick)
CO – Appleton 29 run (Appleton rush)
CO – Appleton 38 punt return (Shannon kick)
CO – Shane Mulcahy 16 pass from Michael Wildfire (Shannon kick)
CO – Mulcahy 89 pass from Wildfire (Shannon kick)
EAST BOSTON 32, ENGLISH/NEW MISSION 0
E. Boston  (4-3)         12  6   6  8  – 32
English/NM  (0-8)        0  0  0  0  –  0
EB – Chris Testa 30 run (conversion failed)
EB – Steven Chapa 7 run (conversion failed)
EB – Testa 4 run (conversion failed)
EB – Gabe Silva 2 run (conversion failed)
EB – Chapa 10 run (Shakim Clark rush)
EVERETT 43, LYNN CLASSICAL 12
Lynn Classical (5-3)   6    0      0    6   –   12
Everett (7-1)           7    2    14   20   –  43
EV – Manny Santiago 1 run (Adoni Santos kick)
LC – Brian Vaughan 1 run (rush failed)
EV – Safety
EV – Christian Zamor 2 run (Santos kick)
EV – Domenic Papa 49 pass from Carlos Rodrigues (Santos kick)
LC – Javon Clayborn 2 run (pass failed)
EV – Zamor 31 run (Santos kick)
EV – Santiago 8 run (Santos kick)
EV – Zamor 20 interception return (kick failed)
LINCOLN-SUDBURY 36, WESTFORD ACADEMY 14
Westford Academy (5-3)       0    7    0    7    –    14
Lincoln-Sudbury (7-1)          21   15   0    0    –    36
LS – Cooper Tarantino 57 run (Marcus Cassel kick)
LS – Jake Haarde 25 pass from Tarantino (Cassel kick)
LS – Rayhan Nsereko 5 run (Cassel kick)
LS – Eric Siegal 19 pass from Logan Umbach (kick blocked)
LS – Umbach 20 int. return (kick blocked)
WA – Evan Pastors 11 pass from Jake Cullen (Ryan Kyle kick)
LS – Cassel 45 field goal
WA – Quinn Reynolds 15 pass from Cullen (Kyle kick)
MARSHFIELD 44, WHITMAN-HANSON 15
Whitman-Hanson (3-5)    2   6    7    0    –    15
Marshfield (6-2)               6   0   14   24   –   44
MA – Tor Maas 7 pass (conversion failed)
WH – Safety
WH – Johnny Walker 2 run (kick good)
MA – Gio Joseph 25 interception return (Thomas Kelly kick)
WH – Brendan Moore 18 pass from Ryan Nash (kick failed)
MA – Nic Cupples 16 run (Kelly kick)
MA – Kelly 35 yd field goal
MA – Maas 56 run (Kelly kick)
MA – Justin Lemire 3 run (Kelly kick)
MA – Jadon Silva 8 run (Kelly kick)
MELROSE 41, WILMINGTON 28
Wilmington (4-4) 0    14    7    7    –    28
Melrose (6-2) 7    7    21    6    –    41
ME – Connor Brophy 69 run (Brophy kick)
WI – Iascone 10 run (Hunter Sands kick)
WI – Iascone 7 run (Sands kick)
ME – Max Liancini 3 run (Brophy kick)
WI – Iascone 1 run (Sands kick)
ME – Brophy 24 run (Brophy kick)
ME – Brophy 16 run (Brophy kick)
ME – Brophy 18 run (Brophy kick)
WI – Christian Febbo 56 pass from Michael Lawler (Sands kick)
ME – Liancini 6 run (kick failed)
MIDDLEBORO 34, ABINGTON 7
Middleboro (6-2)    0  12    8    14  –  34
Abington  (6-2)       0   0     7    0    –   7
MI – Bolu Sotonwa 72 run (kick failed)
MI – Sotonwa 11 pass from Nate Goodine (rush failed)
AB – Ryan Simonetti 3 run (Michael Reilly kick)
MI – Sotonwa 11 run (Goodine rush)
MI – Sotonwa 24 run (Dylan Covell kick)
MI – Goodine 1 run (Covell kick)
MILFORD 24, FRANKLIN 0
Franklin (5-3)  0    0   0   0    –    0
Milford (7-1)    7  10   7   0    –   24
MI – Nick Araujo 41 run (Araujo kick)
MI – Jack Buckley 1 run (Araujo kick)
MI – Araujo 39 field goal
MI – Araujo 1 run (Araujo kick)
NASHOBA TECH 55, LOWELL CATHOLIC 18
Nashoba (5-3)          16  15    8  16   –  55
Lowell Catholic (1-8)   0  6   12    0   –  18
NT – Andrew Ferreira 16 run (Ferreira rush)
NT – Jayden Centauro 10 run (Centauro rush)
LC – Jayden Lopez 78 pass from Seamus Scott (pass failed)
NT – Anthony Panetta 6 run (Ferreira rush)
NT – Ferreira 9 run (Ferreira kick)
LC – Shawn Nherisson 20 pass from Aidan Virella (pass failed)
NT – Panetta 94 kick return (Centauro rush)
LC – Virella 1 run (pass failed)
NT – Oliver Storlazzi 14 run (Ferreira rush)
NT – Chris Bresnick 7 run (Centauro rush)
NATICK 17, MILTON 16
Natick (5-3)   3   7   7   0   –  17
Milton (5-3)   0  10   0   6  –   16
NA – Nathan Napier 32 field goal
MI – Luke Haley 15 pass from Patrick Miller (Aidan Rowley kick)
NA – Jesse Gagliardi 5 run (Napier kick)
MI – Aidan Rowley 25 field goal
NA – Sam Hubbard 1 run (Napier kick)
MI – Ronan Sammon 18 pass from Miller (kick blocked)
NORTON 23, MEDWAY 6
Medway (0-8)   0   0   0   6   –    6
Norton (6-1)      7   0   7   9   –   23
NO – Ethan Rodriguez 6 run (Andrew Strojny kick)
NO – Ben Grainger 80 kickoff return (Strojny kick)
NO – Strojny 23 field goal
ME – Christian Cautilli 2 run (conversion failed)
NO – Rodriguez 2 run (no conversion)
NORWOOD 54, HOPKINTON 0
Hopkinton (4-4)   0   0   0     0    –    0
Norwood (6-2)    14  7  19   14   –   54
NO – Jack Dwyer 70 run (Micah Pappadopoulous kick)
NO – Brian Dearborn 30 interception return (Pappadopoulous kick)
NO – Matty Mahoney 60 run (Pappadopoulous kick)
NO – Dwyer 75 run (kick failed)
NO – Dwyer 8 run (conversion failed)
NO – Drew Bartucca 9 run (Kerrlson Oliveira kick)
NO – Donald Bryant 14 run (Oliviera kick)
NO – Bryant 3 run (Oliviera kick)
OLD COLONY 12, SOUTH SHORE TECH 0
South Shore (5-3) 0    0    0    0    –     0
Old Colony (7-1) 6    0    0    6    –    12
OC – Stu Burnham 41 run (kick failed)
OC – Shawn Markham 8 run (rush failed)
PLYMOUTH SOUTH 35, PEMBROKE 34
Plymouth South (5-3)   14   7   14    0   –   35
Pembroke (2-6)            13   7    0    14  –   34
PS – Justin Lachance 8 run (Ian Wernick kick)
PE – Jayden Leonard 96 kick return (conversion failed)
PS – Lachance 64 run (Wernick kick)
PE – Brenden Kanya 13 pass from Owen Pace (Ben Voelkl kick)
PS – Gio Lynch-Riberio 57 run (Wernick kick)
PE – Leonard 34 pass from Pace (Voelkl kick)
PS – Lynch-Riberio 20 run (Wernick kick)
PS – Lynch-Riberio 76 run (Wernick kick)
PE – Leonard 28 pass from Pace (kick failed)
PE – Leonard 62 pass from Pace (Will McNamara from Pace)
REVERE 27, MALDEN 0
Malden (2-6)     0   0   0   0  –  0
Revere  (2-6)   7   7   7   6  –  27
RE – Abass Atoui 5 run (Felipe Maia kick)
RE – Atoui 3 run (Maia kick)
RE – Geo Woodard 14 run (Maia kick)
RE – Atoui 18 run (kick failed)
ST. MARY'S 40, ARCHBISHOP WILLIAMS 28
Abp. Williams (3-5)    0    14   8   6   –   28
St. Mary's       (6-2)   20   14   0   6   –   40
SM – Yaniel Belliard 9 run (conversion failed)
SM – Maxwell Parent 6 run (conversion failed)
SM – Nick Marks 33 pass from Belliard (Tyler Guy run)
AW – Nick Schwartz 1 pass from Joe Schwartz (kick failed)
SM – Guy 12 pass from Belliard (conversion failed)
AW – N. Schwartz 25 pass from J. Schwartz (Tom Costello pass from J. Schwartz)
SM – Parent 40 run (Nathan Cutone pass from Belliard)
AW – Shane Wright 1 run (Wright run)
SM – Guy 21 run (conversion failed)
AW – J. Schwartz 2 run (conversion failed)
SANDWICH 22, ROCKLAND 19
Sandwich (4-4)   0   0   7  15   –   22
Rockland (5-3)     6   6   0   7   –   19
RO – Jordan Depina 55 run (kick failed)
RO – Terran Williams 40 run (conversion failed)
SA – Adam Ferreira 2 run (kick good)
SA – Trevor Jollin 6 run (conversion good)
RO – Depina 8 run (kick good)
SA – Jollin 1 run (kick good)
SCITUATE 49, QUINCY 24
Quincy (2-6)    6    6    6    6  –  24
Scituate (5-3) 21   14   7   7  –  49
SC – Lawson Foley 12 pass from Jackson Belsan (Sam Allard kick)
SC – Alex Burrill 65 pass from Belsan (Allard kick)
QU – Alex Martinez 15 run (rush failed)
SC – Willy Robinson 78 kickoff return (Allard kick)
SC – Foley 17 pass from Belsan (Allard kick)
QU – Gabriel Rodriguez 6 run (rush failed)
SC – Joey Burke 10 pass from Belsan (Griffin McGirr kick)
QU – Rodriguez 13 run (pass failed)
SC – Burrill 4 run (Allard kick)
SC – Burrill 5 run (Allard kick)
QU – Jonas Ala 3 run (pass failed)
STONEHAM 22, WAKEFIELD 6
Wakefield (5-3)  0   0  6  0 – 6
Stoneham (4-4)  8  0  8  6 – 22
ST – Kevin Gilmartin 50 run (Sean Kilty rush)
WA – Miles Sanchez 34 run (conversion failed)
ST – Gilmartin 20 pass from Matt Tran (Kilty rush)
ST –  Kilty 50 run (kick blocked)
SWAMPSCOTT 42, MASCONOMET 7
Masconomet (1-6)   0   0     0   7   –   7
Swampscott (5-3)    7   7   21   0   –   42
SW – S.Nadworny 11 run (Marino kick)
SW – Domelowicz 25 pass from Spear (Marino kick)
SW – Marino 32 pass from Spear (Marino kick)
SW – Tripp 67 pass from Spear (Marino kick)
SW – Beauchamp 7 run (Marino kick)
SW – Bush 1 run (Marino kick)
MA – O'Brien 74 pass from Gustafson (Cefalo kick)
WAYLAND 53, NEWTON SOUTH 13
Newton South (4-4)   7   0    6    0    –   13
Wayland (6-2)           7   21  13  12   –   53
NS –  Timmy Trotman 10 pass from Charlie Vydaro (Henry Hysenaj kick)
WA – Michael Caulfield 10 run (Dylan Englehardt kick)
WA – Max Dresens 35 run (kick failed)
WA – Dresens 60 run (Caulfield run)
WA – Caulfield 18 run (run failed)
WA – Luke DiPietro-Froio 25 pass from Michael Keenen (run failed)
NS – Paxton Boyd 41 pass from Vydaro (pass failed)
WA – Jake Kennedy 12 run (Englehardt kick)
WA – Kennedy 12 run (kick failed)
WA – Kennedy 70 interception return
WINCHESTER 28, LEXINGTON 6
Lexington (1-7)       0     0   0   6   –     6
Winchester (7-1)   14   14   0   0   –   28
WIN – George Nelson 85 kick return (Kieran Corr kick)
WIN – Ryan Doucette 3 run (Corr kick)
WIN – Ronan O'Connell 5 run (Corr kick)
WIN – Jack Centurelli 14 pass from O'Connell (Corr kick)
LEX – Christian Flores 5 run (kick failed)
XAVERIAN 43, ST. JOHN'S (S) 15
Xaverian (6-2)   14  8   7  14  –   43
St. John's (3-5)   0   7   0   8   –   15
XA – Henry Hasselbeck 1 run (kick failed)
XA – Jonathan Monteiro 15 pass from Hasselbeck (Michael O'Connor run)
SJ – Cole DiPierso 6 pass from Dylan DiPierto (kick good)
XA – Monteiro 43 pass from Hasselbeck (Gabe Callender from Hasselbeck)
XA – Jayce Devine 2 run (Joseph MacDonald kick)
SJ – Paul Hanlon 7 pass from DiPietro (conversion good)
XA – O'Connor 33 run (MacDonald kick)
XA – Will Benting 2 run (MacDonald kick)