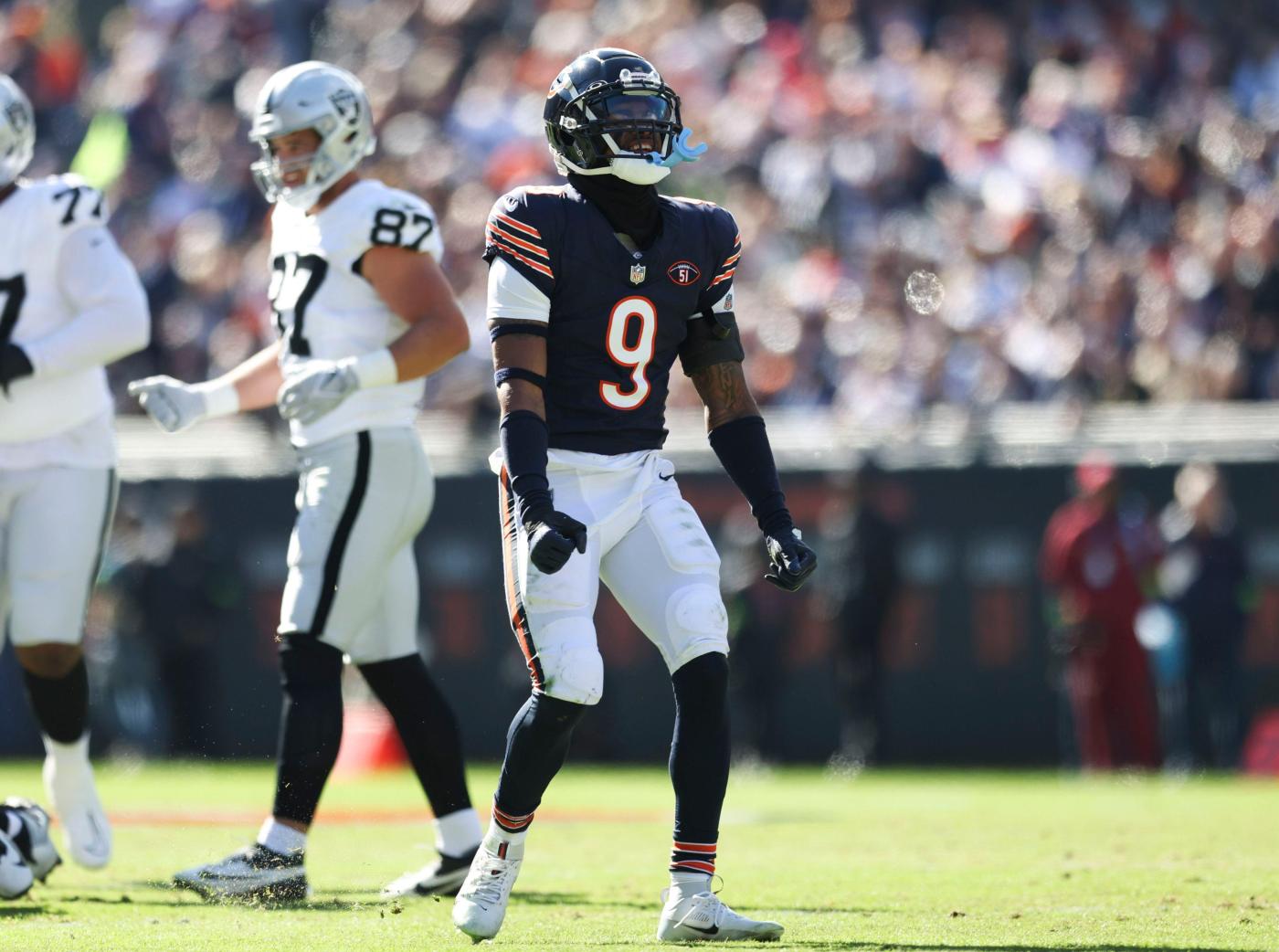 5 things to watch in the Chicago Bears-Los Angeles Chargers game — plus our Week 8 predictions
Chicago Bears undrafted rookie quarterback Tyson Bagent will try to earn his second win in as many starts Sunday, but this one will be on a bigger stage than his first.
The Bears, winners of two of their last three games, take on the Los Angeles Chargers on "Sunday Night Football" at SoFi Stadium. As kickoff approaches, here's our snapshot look at the game.
Player in the spotlight
Tyson Bagent
For the second straight week, the undrafted rookie from Division II Shepherd takes the reins in place of quarterback Justin Fields, who is out with a right thumb injury.
And this time, Bagent is going against the worst-ranked passing defense in the league.
The Chargers have allowed 310 passing yards per game and 8.1 passing yards per play, though it should be noted that their slate of six opponents thus far has included three of the best passing offenses in the league in the Miami Dolphins, Kansas City Chiefs and Minnesota Vikings.
Still, a major topic during the week was whether the Bears can get more big plays from Bagent, who completed 21 of 29 passes for 162 yards, a touchdown, no interceptions and a 97.2 passer rating in his debut start.
Getsy praised Bagent's poise, his ability to run a clean operation and his management of the run game in his first start. But he was asked about getting the vertical passing game going against this defense.
"The Chiefs do that to pretty much everybody," offensive coordinator Luke Getsy said of explosive plays. "You've got to take that out of the picture there. On top of it, you have one of the best pass rushes in the National Football League. You have to take all of that into account as far as where our best matchups (are). Where do we have the best opportunity to go find success?"
Bagent said he will be confident in whatever the Bears ask him to do.
"I think I have a strong arm," he said. "I'm confident to make any play that's called."
Pressing question
Can the Bears defense prove it's for real?
The Bears defense has made clear progress over the last three games.
The Bears didn't allow more than 50 rushing yards in any of the games against the Washington Commanders, Minnesota Vikings and Las Vegas Raiders. They've totaled six takeaways in a three-week span. And they've given up 44 total points to the three opposing offenses.
However, two of those teams had major absences. The Vikings were playing without wide receiver Justin Jefferson and the Raiders were playing without quarterback Jimmy Garoppolo.
If the Bears defense wants to prove it can perform against better offenses, the Chargers and quarterback Justin Herbert are a good test. Herbert has completed 67% of his passes for 1,592 yards, 10 touchdowns, four interceptions and a 97.1 passer rating. The Chargers offense ranks eighth with 364.2 yards per game.
Herbert threw for a season-high 405 yards against the Vikings in Week 3, but his production has been down the last three games since fracturing his middle finger on his left, non-throwing hand, with no passer rating better than 84.
Still, the Bears know he is a major challenge.
"He's got one of the strongest arms in the league," linebackers coach Dave Borgonzi said. "He can make all the throws, in cuts, balls on the sideline. He can make every throw there is. And also, he's athletic. … He scrambles really effectively and he's accurate."
Keep an eye on …
Khalil Mack
The Bears face their old friend for the first time since general manager Ryan Poles traded him to the Chargers in the 2022 offseason.
Mack leads the Chargers with seven sacks this season, but six of them came in an Oct. 1 victory over the Raiders. He also had two forced fumbles that game.
Bears safety Eddie Jackson, who has remained close with Mack since he left the Bears, thinks the edge rusher is going to be geared up for this game, especially given how he played against his former Raiders team.
"He's ready, man," Jackson said. "I don't know if Mack is circling no games on the schedule, but I think Oakland Raiders and here … I don't want to speak for him, but I think it's going to be a little personal."
The Chargers pass rush also includes edge rusher Joey Bosa, who has three sacks, and defensive lineman Morgan Fox, who has five.
It could be a big challenge for the offensive line.
Right tackle Darnell Wright was on the injury report all week with shoulder and toe issues, but he practiced in full Friday and said he is "good to go" for the game. Eberflus said the Bears will not activate left tackle Braxton Jones from injured reserve yet as he works his way back from his neck injury, meaning Larry Borom is likely to again start at left tackle.
Borom called Mack "a handful" and Wright said he will present a different challenge than what he has faced so far this year.
"He's a really good player, really strong. He has a high motor," Wright said. "Just the type of explosive player he is (makes him different). He's speed, power, strong guy, but he's also a little bit faster than you expect. His leverage is a little bit different because he's not as tall."
Safety questions
The Bears listed both of their starting safeties — Jackson and Jaquan Brisker — as questionable for the game.
Jackson has been battling a foot injury since Week 2 but practiced in full Friday. He said "we're going to see" when asked if he will be good to play.
Jackson said he had multiple tests done on his foot, the same one that he injured last year, and "everything's intact, everything's stable." He described the issue as "wear and tear" and "scar tissue" from the previous injury and said it's something he has to fight through.
He played 14 snaps against the Vikings but could tell his foot wasn't ready. He said it has been tough to not contribute to the defense as they try to turn it around from a tough start.
"You get those moments being out of football for so long," Jackson said. "It's like you want to go, you want to go push it. It just wasn't there yet, just needed more time or rest for it to recover."
Brisker missed practice all week with an illness, though he returned to Halas Hall on Friday. Eberflus said if he's feeling healthy the Bears would feel comfortable playing him.
"We'll see what capacity that may be based on how he's feeling," Eberflus said. "But we're going to give him every chance we can to get to the game for sure."
Injury report
Fields, right guard Nate Davis (ankle) and cornerback Terell Smith (mononucleosis) have been ruled out for the game.
Jackson, Brisker and offensive lineman Dan Feeney (knee) are questionable.
Wright and rookie running back Roschon Johnson (concussion) have been cleared to play, though Eberflus said they were still working through what role Johnson will have.
For the Chargers, tight end Gerald Everett (hip), wide receivers Joshua Palmer (knee) and Jalen Guyton (knee), safety Alohi Gilman (heel), defensive back Deane Leonard (hamstring) and defensive lineman Otito Ogbonnia (knee) are questionable.
Predictions
Brad Biggs (3-4)
It will be interesting to see how Tyson Bagent performs in his second start now that an opponent has some film on him, and perhaps the Chargers plan to make the short passing game more difficult. The Chargers are susceptible to opponents' passing games and have faced the top three passing offenses in the league — the Miami Dolphins, Kansas City Chiefs and Minnesota Vikings. The weakness of the Bears defense has been defending the pass, and the Chargers have big-armed quarterback Justin Herbert. That seems like a disadvantage for a team that has lost its last six games in the Sunday night time slot.
Chargers 27, Bears 20
Colleen Kane (3-4)
This is a good measuring stick game for the Bears to see if the progress they've made in winning two of the last three games is for real. The Chargers are a two-win team with a lot of talent, starting with quarterback Justin Herbert. If the Bears can slow him down, it will go a long way in stating their case that they've made a turnaround. Undrafted rookie Tyson Bagent hasn't given anybody many reasons to doubt him yet. He has handled what has been thrown at him with poise. But this test on the road on "Sunday Night Football" with Khalil Mack lurking seems more significant. I don't know that he and the Bears can pull off their second straight win.
Chargers 24, Bears 20
Dan Wiederer (4-3)
The Bears have been playing a better brand of football this month and are starting to reap the rewards. Still, their two victories have come against quarterbacks Sam Howell and Brian Hoyer. It will be a step up in class Sunday night on the prime-time stage at SoFi Stadium. And Justin Herbert and the Chargers offense will challenge the Bears to keep up. An upset bid hinges on the ability to take care of the ball and limit mistakes. Herbert, though, is too dangerous.
Chargers 27, Bears 23
()