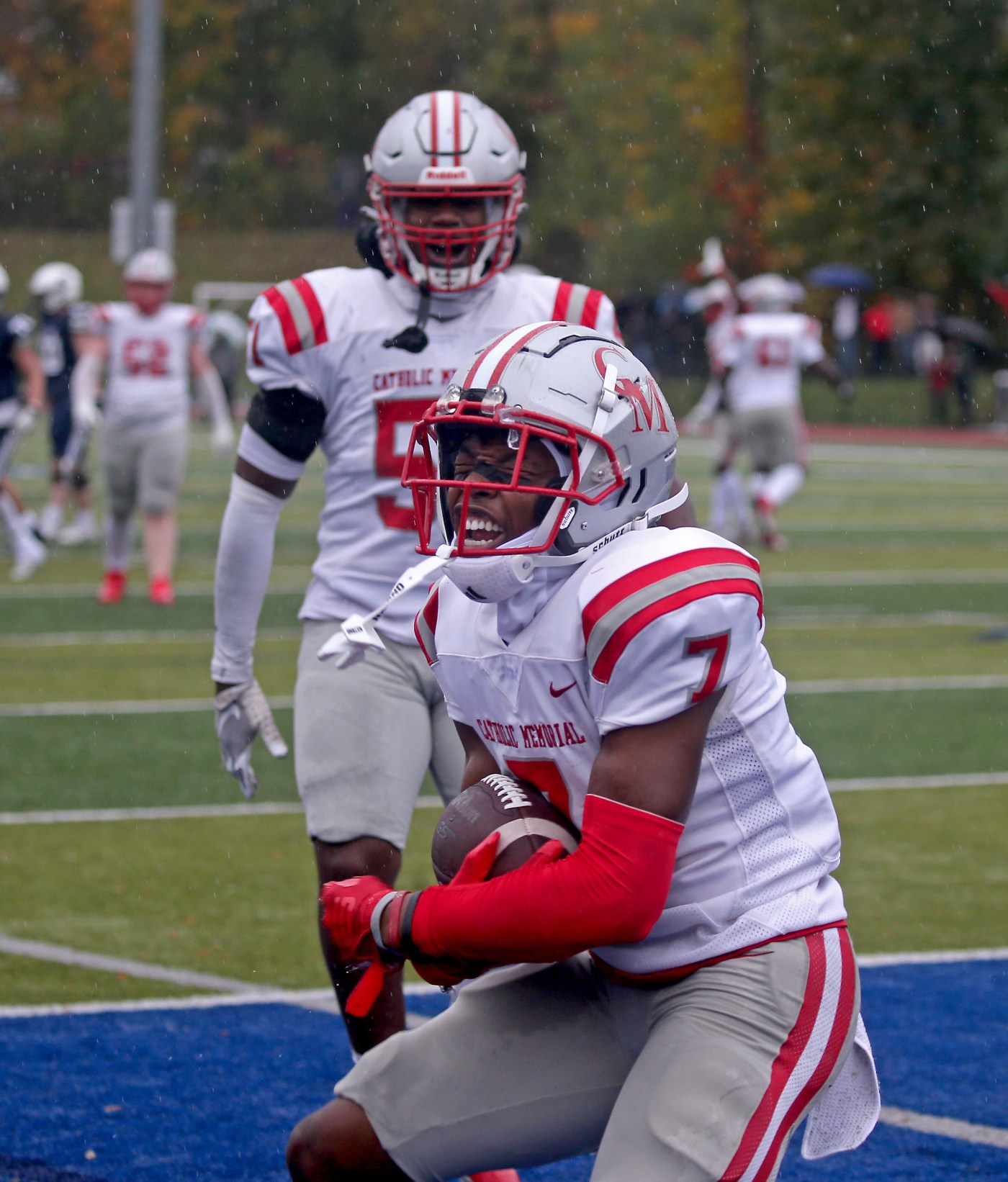 Week 8 high school football preview: Final week of regular season means scoreboard watching
The final week of the regular season means that there will be plenty of scoreboard watching.
Many teams have qualified for the postseason and are just waiting for where they land in terms of seeds. For others, they are in a position in that they need to win and hope others lose to ensure a spot in the statewide tournament.
Let's take a quick look at some of the key games in terms of tournament purposes starting with Division 1.
Central Catholic is ranked No. 9, but hasn't attained the minimum requirement of three wins to quality for the playoffs. The Raiders will travel to Chelmsford to face a team that is much better than its 1-6 record indicates.
Another interesting game to watch is Everett hosting Lynn Classical with the Greater Boston League title on the line. Despite a top-10 ranking in the latest Sweet 16 and a 6-1 record, the Crimson Tide is teetering on the edge as they are ranked No. 16 in Div. 1, barely ahead of Leominster, which plays at Algonquin.
What has hurt Everett is its strength of schedule, as many of the GBL schools reside in lower divisions and many of them are struggling. As a result, the Crimson Tide are the only school in Div. 1 with a negative opponent rating.
In Div. 2, Chelmsford and Bridgewater-Raynham both are in the top 16, but since they won't reach the three-win minimum, they are out, which opens up two spots. Quincy is sitting at No. 17, but need to win at Scituate in order to become tourney-eligible. If the Presidents lose, that opens things up for Cambridge (4-3) and Diman (3-4).
Reading is going through a rare offseason, but the Rockets (2-5) could earn their way into the postseason by defeating a much-improved Belmont squad. Should Reading lose, it would open things up for bubble teams Minnechaug and Lynn Classical.
Thanks in large part to playing in the Catholic Conference, Malden Catholic heads into the final week of the season ranked No. 9 in Div. 4, but the Lancers are a win shy of qualifying. Unfortunately for Malden Catholic, standing between them and the postseason is a game against a powerhouse Catholic Memorial team coming off a loss.
Barring an upset of epic proportions, the beneficiaries of a Malden Catholic loss would appear to be Wakefield, Marblehead and Melrose. While Wakefield and Melrose are tourney-eligible, Marblehead would need to beat a solid Danvers team to get to three wins and need some outside help.
In Div. 5, Bishop Stang is sitting in the No. 11 spot, but needs a win over Bishop Fenwick to crack the three-win mark and qualify for the postseason. Two other teams needing that third win are No. 16 Apponequet (hosting undefeated Fairhaven) and No. 17 Medfield (at Westwood).
It is going to be musical chairs in Div. 6 as it looks like four teams could be vying for two spots and none of them have easy tasks. No. 15 Sandwich is at Rockland, No. 16 Stoneham hosts Wakefield, No. 17 North Reading hosts Newburyport and No. 18 Tri-County vistits Blue Hills.
In Div. 7, Case is barely hanging on to the No. 16 spot, but is facing a must-win game against Seekonk and hope it is enough to hold off No. 17 Oxford and No. 18 Lunenburg.
Div. 8 appears to be all set as there are plenty of teams who have qualified, but are playing for seeds. Defending state champion Hull (2-4) is No. 18, but within striking distance of No. 16 Athol and No. 17 Franklin Tech. The Pirates close out the regular season with a home game against Tech Boston.
Moving over to the ISL, there are two big games on the docket for Saturday. Lawrence Academy travels to Tabor Academy in a battle of 5-0 teams. Closer to Boston, surprising Belmont Hill (4-1) hosts BB&N (4-1).