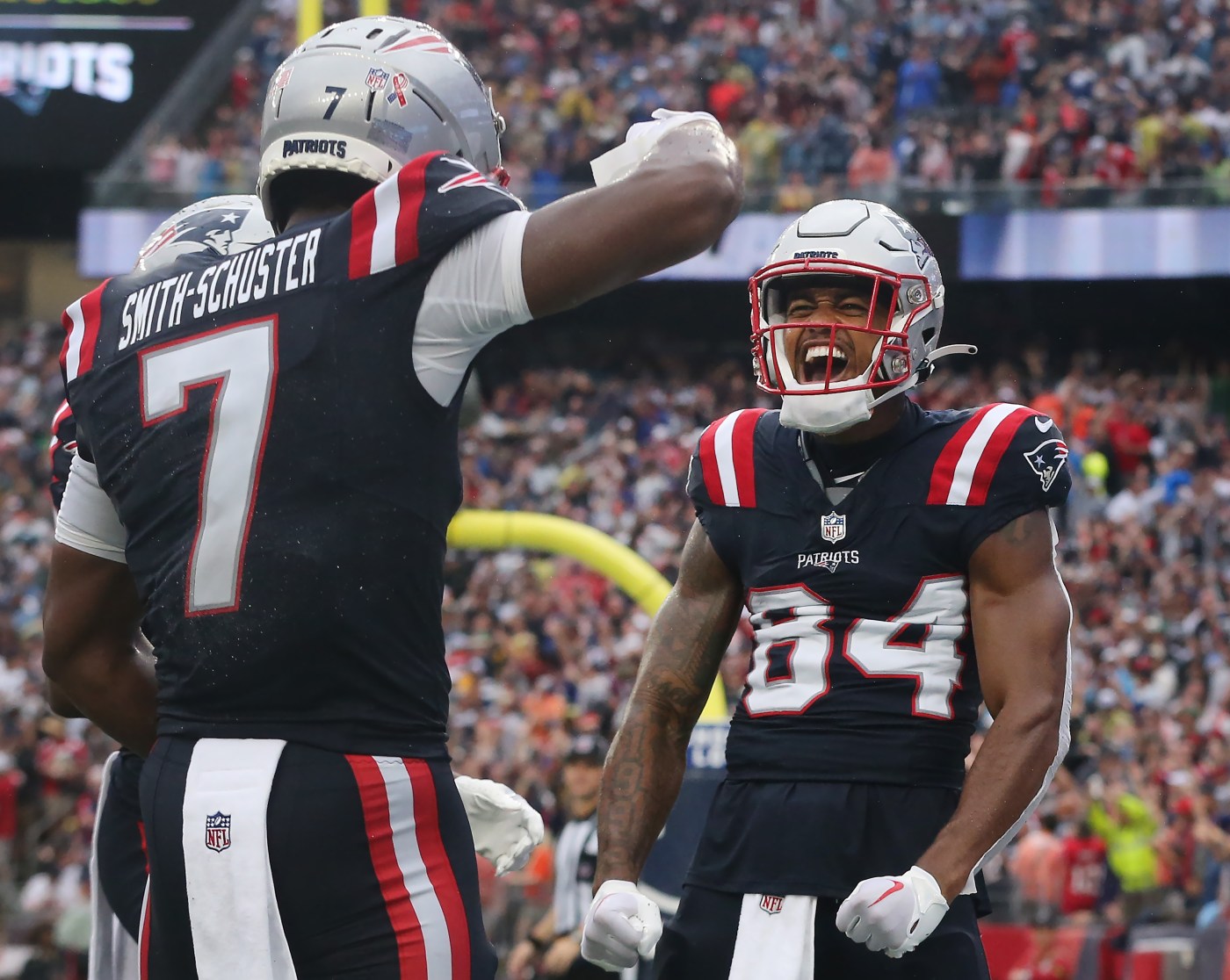 Callahan: What is the Patriots' next move at wide receiver?
FOXBORO — Down in Miami, the big story of the week broke Thursday when Dolphins star Tyreek Hill told reporters he planned to play this weekend against the Patriots.
In New England, the Pats' top news hit a little differently.
That headline read: "Patriots sign Jalen Reagor from practice squad to active roster."
Womp, womp.
No two stories could offer a clearer or stronger contrast between the state of these rival offenses. The Patriots are 2-5 because they've bogged down by a porous offensive line and one of the league's least threatening receiving corps. Meanwhile the Dolphins, even after getting thumped last Sunday in Philadelphia, are cruising at 5-2 with the NFL's most explosive weaponry.
In Miami, Hill is the system, and the system is Hill. He leads the NFL in receiving with 906 yards and covers hundreds more in pre-snap motion that stretches defenses. If he retired tomorrow, Hill could safely begin to draft his speech for the Pro Football Hall of Fame's 2029 induction ceremony.
Reagor, meanwhile, is seen as a first-round bust. After two months in New England, he drew praise from Bill Belichick mid-week for the yards he's covered on scout team. Reagor's promotion came after the Patriots exhausted his three allowable elevations from the practice squad to the game-day roster.
In three game appearances, he has two catches. The Pats are officially on Plan Z at receiver.
Yet the more interesting piece of Reagor's promotion is not the player, but the numbers crunch. The Patriots now roster seven wide receivers, including six who don't play special teams. None of the seven were listed on Thursday's injury report, making it unlikely any land on injured reserve in the coming days.
Considering the Pats typically activate five receivers on game days, two should be destined to become healthy scratches for the foreseeable future.
That's a lot of dead weight to carry, especially in light of more information that's emerged in recent days: JuJu Smith-Schuster rated as the worst receiver in the NFL per ESPN analytics; DeVante Parker has one catch in each of the last two games; Tyquan Thornton has two catches on the season.
Rookie wideout Kayshon Boutte, who famously tapped one of his feet, but not both, at the end of the season opener, is already a professional healthy scratch. He's missed the Patriots' last six games. Reagor's addition seems to have made Boutte redundant, considering both play the same 'X' position, where players are asked to win in isolation on the weak side of offensive formations.
How long can the Patriots carry on like this? It's like stocking your shelves with bad food (Smith-Schuster and Parker), cans you can't open (Thornton) or ingredients you already have (Reagor and/or Boutte). Couldn't the Pats use one or two of these spots on positions thinned out by injury, like defensive tackle or outside linebacker?
Another move must be coming.
Did the Pats pad their depth knowing they would deal Kendrick Bourne by Tuesday's trade deadline?
Patriots' first-round pick being helped by 'mirror check' and practice reps
Bourne is their No. 1 receiver by targets, catches, receiving yards and receiving touchdowns. Trading him now would mean selling high. Bourne admitted last week the possibility of getting dealt is weighing on him.
"Definitely will be on my mind, but just being ready for whatever man," Bourne said. "I want to be here, I love to be here, but if there are other plans then it is what it is."
NFL executives have told the Herald he should fetch a fifth or sixth-round pick on the open market. If the Patriots lose Sunday, there's no reason not to announce themselves as sellers at the deadline. It's time for a rebuild, and Bourne is among their top assets, alongside safety Kyle Dugger, pass rusher Josh Uche and offensive lineman Mike Onwenu.
Might the Patriots find a way to part with Smith-Schuster?
Related Articles

Patriots-Dolphins injury report: Tyreek Hill upgraded, Bill Belichick lists 13 Thursday

Patriots down 2 players at practice Thursday, return DL Keion White

Patriots' first-round pick being helped by 'mirror check' and practice reps

Source: Patriots signing former 1st-round WR to active roster

Callahan: The Patriots can't take Demario Douglas off the field anymore
No team is trading for him. Releasing Smith-Schuster outright would cost them millions in cap space, room they don't presently have. Not to mention, the ever cheap Pats aren't ones to flush cash down the drain, even if Smith-Schuster's nagging knee injury has already made him and his three-year, $25.5 million contract a sunk cost.
The Patriots' most likely out comes next summer via trade. That also goes for Parker, who's soured faster than a cup of milk left out in the Miami heat. Even then, they may find no suitors.
The only certainty seems to be another receiver transaction will come first.
It has to, right? Right?
Right?!