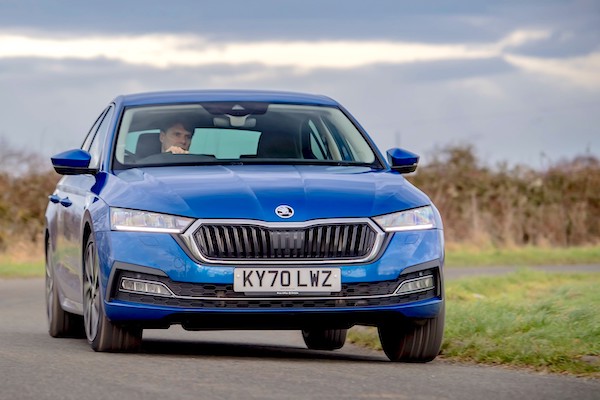 Hungary April 2023: Skoda Octavia topples Suzuki S-Cross to rank #1 YTD
New car sales in Hungary dip -6% year-on-year in April, a poor result given April 2022 was already down -16.9% on the year prior. The year-to-date cume is now up just 0.8% to 38,091. Toyota (+5.3%) easily remains the favourite brand in the country with 13% share vs. 14.2% so far this year. Skoda (+62.4%) soars to 10% share vs. 8.5% year-to-date while former leader Suzuki (-37.7%) implodes again but rallies back up two spots on March to #3. It still ranks at a very low #5 year-to-date vs. #1 over the Full Year 2022. Ford (-23.2%) is also in a bad way at #4 while Kia (+15.6%) very solidly closes up the Top 5. Mercedes is up four ranks on last month to #7, BMW stays at #8 and Hyundai is also up 4 to #10.
Over in the models lane, the Skoda Octavia (+262.2%) compensates for a particularly drab year-ago volume and repeats at #1, also toppling the Suzuki S-Cross (-45%) to rank in the YTD pole position. The Kia Ceed (+14.4%) rounds out the podium with 4% share just above the Suzuki Vitara (-39.9%). The Ford Tourneo Custom (+22.4%) is very solid at #5, distancing the Toyota C-HR (+13.8%) and a struggling Toyota Corolla (-31.4%). The Toyota Yaris Cross (+136%) and Hilux (+59.8%) also shine in the remainder of the Top 10. Notice also the Dacia Jogger at #11, the VW Golf (+238.2%) at #18 and the Opel Corsa at #20. In the YTD charts, the MG ZS ranks #45 and the new Mazda CX-60 at #75.
Previous month: Hungary March 2023: Skoda Octavia takes the lead, Tesla Model Y in Top 10, sales edge up 3.1%
One year ago: Hungary April 2022: Suzuki S-Cross retains lead in market off -16.9%
Full April 2023 Top 20 brands, Top 50 models below and Jan-Apr 2023 Top 100 models below.
Hungary April 2023 – models (PC only):
| | | | | | | | | | | |
| --- | --- | --- | --- | --- | --- | --- | --- | --- | --- | --- |
| Pos | Brand | Apr-23 | % | /22 | Mar | 2023 | % | /22 | Pos | FY22 |
| 1 | Toyota | 1,108 | 13.0% | 5.3% | 1 | 5,416 | 14.2% | 11.5% | 1 | 2 |
| 2 | Skoda | 856 | 10.0% | 62.4% | 2 | 3,234 | 8.5% | 35.1% | 2 | 6 |
| 3 | Suzuki | 818 | 9.6% | -37.7% | 5 | 2,977 | 7.8% | -41.3% | 5 | 1 |
| 4 | Ford | 702 | 8.2% | -23.2% | 3 | 2,996 | 7.9% | -15.7% | 3 | 4 |
| 5 | Kia | 666 | 7.8% | 15.6% | 6 | 2,581 | 6.8% | -5.4% | 6 | 5 |
| 6 | Volkswagen | 663 | 7.8% | -16.2% | 4 | 2,984 | 7.8% | 6.0% | 4 | 3 |
| 7 | Mercedes | 370 | 4.3% | n/a | 11 | 1,495 | 3.9% | n/a | 9 | 8 |
| 8 | BMW | 353 | 4.1% | n/a | 8 | 1,734 | 4.6% | n/a | 8 | 9 |
| 9 | Dacia | 333 | 3.9% | -38.0% | 9 | 1,912 | 5.0% | 3.9% | 7 | 7 |
| 10 | Hyundai | 298 | 3.5% | n/a | 14 | 1,372 | 3.6% | n/a | 11 | 11 |
| 11 | Audi | 296 | 3.5% | n/a | 12 | 1,268 | 3.3% | n/a | 12 | 13 |
| 12 | Opel | 291 | 3.4% | 0.3% | 7 | 1,410 | 3.7% | -5.5% | 10 | 10 |
| 13 | Mazda | 203 | 2.4% | n/a | 19 | 665 | 1.7% | n/a | 17 | 19 |
| 14 | Volvo | 192 | 2.2% | n/a | 15 | 928 | 2.4% | n/a | 14 | 14 |
| 15 | Renault | 176 | 2.1% | n/a | 18 | 816 | 2.1% | n/a | 15 | 18 |
| 16 | Lexus | 136 | 1.6% | n/a | n/a | 379 | 1.0% | n/a | n/a | 23 |
| 17 | MG | 120 | 1.4% | n/a | n/a | 430 | 1.1% | n/a | n/a | 30 |
| 18 | SsangYong | 103 | 1.2% | -53.8% | 20 | 705 | 1.9% | 4.0% | 16 | 16 |
| 19 | Fiat | 100 | 1.2% | -6.5% | 10 | 1,092 | 2.9% | 48.8% | 13 | 12 |
| 20 | Tesla | 90 | 1.1% | 4400.0% | 16 | 541 | 1.4% | 229.9% | 18 | 24 |
| n/a | Peugeot | 72 | 0.8% | n/a | 17 | 474 | 1.2% | n/a | 20 | 15 |
| n/a | Nissan | 46 | 0.5% | n/a | 13 | 536 | 1.4% | n/a | 19 | 17 |
| 23 | Seat | | | | | 367 | 1.0% | 59.6% | n/a | 21 |
| 24 | Porsche | | | | | 224 | 0.6% | 55.6% | n/a | 28 |
| 25 | Mini | | | | | 221 | 0.6% | n/a | n/a | 26 |
| 26 | Honda | | | | | 182 | 0.5% | n/a | n/a | 22 |
| 27 | Cupra | | | | | 121 | 0.3% | 83.3% | n/a | 29 |
| 28 | Land Rover | | | | | 103 | 0.3% | 98.1% | n/a | 31 |
| 29 | Alfa Romeo | | | | | 67 | 0.2% | n/a | n/a | 27 |
| 30 | Jaguar | | | | | 21 | 0.1% | 40.0% | n/a | 36 |
| 31 | Bentley | | | | | 11 | 0.0% | n/a | n/a | 39 |
| 32 | Dongfeng (DFSK) | | | | | 8 | 0.0% | n/a | n/a | 38 |
| 33 | Aston Martin | | | | | 6 | 0.0% | n/a | n/a | 41 |
| 34 | Lotus | | | | | 3 | 0.0% | n/a | n/a |  – |
| 35 | Rolls Royce | | | | | 1 | 0.0% | n/a | n/a | 43 |
Hungary April 2023 – models (PC+LCV):
| | | | | |
| --- | --- | --- | --- | --- |
| Pos | Model | Apr-23 | % | /22 |
| 1 | Skoda Octavia | 489 | 5.7% | 262.2% |
| 2 | Suzuki S-Cross | 386 | 4.5% | -45.0% |
| 3 | Kia Ceed | 342 | 4.0% | 14.4% |
| 4 | Suzuki Vitara | 338 | 4.0% | -39.9% |
| 5 | Ford Tourneo Custom | 312 | 3.6% | 22.4% |
| 6 | Toyota C-HR | 256 | 3.0% | 13.8% |
| 7 | Toyota Corolla | 229 | 2.7% | -31.4% |
| 8 | Ford Transit | 217 | 2.5% | -7.7% |
| 9 | Toyota Yaris Cross | 203 | 2.4% | 136.0% |
| 10 | Toyota Hilux | 195 | 2.3% | 59.8% |
| 11 | Dacia Jogger | 161 | 1.9% | new |
| 12 | Kia Sportage | 153 | 1.8% | 9.3% |
| 13 | Renault Master | 141 | 1.6% | 0.7% |
| 14 | Toyota RAV4 | 131 | 1.5% | 24.8% |
| 15 | Skoda Kodiaq | 129 | 1.5% | 92.5% |
| 16 | Dacia Duster | 125 | 1.5% | -28.2% |
| 17 | Hyundai i30 | 125 | 1.5% | 23.8% |
| 18 | VW Golf | 115 | 1.3% | 238.2% |
| 19 | Ford Puma | 108 | 1.3% | -55.2% |
| 20 | Opel Corsa | 103 | 1.2% | n/a |
| 21 | VW Passat | 100 | 1.2% | -29.6% |
| 22 | Hyundai Tucson | 90 | 1.1% | 5.9% |
| 23 | Fiat Ducato | 86 | 1.0% | n/a |
| 24 | Ssangyong Korando | 81 | 0.9% | -49.1% |
| 25 | VW Taigo | 81 | 0.9% | n/a |
| 26 | Fiat 500 | 79 | 0.9% | 14.5% |
| 27 | Tesla Model Y | 75 | 0.9% | n/a |
| 28 | Toyota Yaris | 74 | 0.9% | -45.2% |
| 29 | Toyota Corolla Cross | 73 | 0.9% | new |
| 30 | Skoda Scala | 73 | 0.9% | -11.0% |
| 31 | VW T-Roc | 73 | 0.9% | -60.3% |
| 32 | Ford Transit Custom Van | 71 | 0.8% | 18.3% |
| 33 | Ford Focus | 71 | 0.8% | n/a |
| 34 | MG ZS | 69 | 0.8% | n/a |
| 35 | Mercedes Sprinter | 67 | 0.8% | n/a |
| 36 | Suzuki Swift | 67 | 0.8% | n/a |
| 37 | Skoda Karoq | 66 | 0.8% | n/a |
| 38 | Opel Astra | 65 | 0.8% | 209.5% |
| 39 | Skoda Fabia | 64 | 0.7% | n/a |
| 40 | Ford Ranger | 61 | 0.7% | -50.0% |
| 41 | Opel Mokka | 60 | 0.7% | -42.3% |
| 42 | Volvo XC40 | 59 | 0.7% | 0.0% |
| 43 | Ford Kuga | 58 | 0.7% | -64.8% |
| 44 | Volvo XC60 | 58 | 0.7% | -27.5% |
| 45 | VW Arteon | 58 | 0.7% | n/a |
| 46 | Mercedes GLC | 55 | 0.6% | n/a |
| 47 | Ford Transit Courier | 55 | 0.6% | n/a |
| 48 | Renault Express Van | 54 | 0.6% | n/a |
| 49 | Opel Crossland | 53 | 0.6% | -19.7% |
| 50 | Audi Q3 | 52 | 0.6% | n/a |
| 51 | Isuzu D-Max | 52 | 0.6% | n/a |
Hungary January-April 2023 – models (PC+LCV):
| | | | | | |
| --- | --- | --- | --- | --- | --- |
| Pos | Model | 2023 | % | /22 | FY22 |
| 1 | Skoda Octavia | 1,552 | 4.1% | 61.3% | 6 |
| 2 | Suzuki S-Cross | 1,487 | 3.9% | -46.8% | 1 |
| 3 | Kia Ceed | 1,366 | 3.6% | 2.3% | 3 |
| 4 | Ford Tourneo Custom | 1,203 | 3.2% | 71.1% | 11 |
| 5 | Suzuki Vitara | 1,150 | 3.0% | -39.1% | 2 |
| 6 | Toyota Yaris Cross | 995 | 2.6% | 72.1% | 12 |
| 7 | Toyota C-HR | 983 | 2.6% | 24.1% | 15 |
| 8 | Dacia Duster | 980 | 2.6% | 1.6% | 5 |
| 9 | Toyota Corolla | 959 | 2.5% | -29.1% | 4 |
| 10 | Fiat 500 | 878 | 2.3% | 69.8% | 8 |
| 11 | Toyota Yaris | 869 | 2.3% | 12.9% | 9 |
| 12 | Toyota Hilux | 725 | 1.9% | 46.2% | n/a |
| 13 | Dacia Jogger | 655 | 1.7% | new | 20 |
| 14 | Renault Master | 589 | 1.5% | 7.5% | n/a |
| 15 | Fiat Ducato | 545 | 1.4% | n/a | n/a |
| 16 | Toyota RAV4 | 530 | 1.4% | -19.3% | 10 |
| 17 | VW T-Cross | 525 | 1.4% | 28.7% | 23 |
| 18 | Ford Transit | 524 | 1.4% | -6.1% | n/a |
| 19 | Kia Sportage | 498 | 1.3% | -15.9% | 13 |
| 20 | Ssangyong Korando | 496 | 1.3% | 0.2% | 16 |
| 21 | Hyundai Tucson | 460 | 1.2% | 20.7% | 18 |
| 22 | Skoda Kodiaq | 418 | 1.1% | 38.9% | 28 |
| 23 | Hyundai i30 | 397 | 1.0% | -3.4% | 19 |
| 24 | Tesla Model Y | 389 | 1.0% | n/a | n/a |
| 25 | Ford Transit Custom Van | 384 | 1.0% | 26.3% | n/a |
| 26 | Toyota Corolla Cross | 383 | 1.0% | new | n/a |
| 27 | VW Passat | 373 | 1.0% | 1.4% | 24 |
| 28 | Ford Kuga | 372 | 1.0% | -42.2% | 17 |
| 29 | Opel Crossland | 365 | 1.0% | 23.3% | 21 |
| 30 | Opel Corsa | 363 | 1.0% | n/a | 34 |
| 31 | Opel Mokka | 362 | 1.0% | 4.3% | 38 |
| 32 | Mercedes Sprinter | 359 | 0.9% | 37.5% | n/a |
| 33 | Nissan Qashqai | 358 | 0.9% | 62.0% | 35 |
| 34 | Ford Puma | 357 | 0.9% | -44.2% | 14 |
| 35 | Ford Ranger | 356 | 0.9% | -25.2% | n/a |
| 36 | Skoda Scala | 354 | 0.9% | 20.4% | 36 |
| 37 | Ford Focus | 338 | 0.9% | -25.1% | 22 |
| 38 | VW Golf | 332 | 0.9% | 30.2% | 25 |
| 39 | Volvo XC60 | 305 | 0.8% | -5.9% | 29 |
| 40 | VW Taigo | 300 | 0.8% | n/a | 30 |
| 41 | VW Arteon | 300 | 0.8% | n/a | 33 |
| 42 | VW T-Roc | 295 | 0.8% | -52.2% | 7 |
| 43 | Audi A3 | 293 | 0.8% | n/a | 47 |
| 44 | VW Caddy | 291 | 0.8% | n/a | n/a |
| 45 | MG ZS | 289 | 0.8% | n/a | n/a |
| 46 | Renault Express Van | 286 | 0.8% | n/a | n/a |
| 47 | Skoda Superb | 284 | 0.7% | -23.9% | 27 |
| 48 | Mercedes GLC | 280 | 0.7% | n/a | n/a |
| 49 | Volvo XC40 | 259 | 0.7% | -1.5% | 31 |
| 50 | VW Tiguan | 242 | 0.6% | n/a | 26 |
| 51 | Suzuki Swift | 241 | 0.6% | n/a | 40 |
| 52 | Hyundai i20 | 228 | 0.6% | n/a | 46 |
| 53 | Skoda Fabia | 225 | 0.6% | n/a | n/a |
| 54 | Renault Megane | 217 | 0.6% | n/a | n/a |
| 55 | Kia Niro | 215 | 0.6% | -7.3% | 37 |
| 56 | BMW X5 | 208 | 0.5% | -15.1% | 32 |
| 57 | Toyota Aygo X | 207 | 0.5% | n/a | 43 |
| 58 | BMW 3 Series | 206 | 0.5% | -13.1% | 50 |
| 59 | Lexus NX | 203 | 0.5% | n/a | n/a |
| 60 | Opel Astra | 197 | 0.5% | -63.2% | 44 |
| 61 | Dacia Sandero | 194 | 0.5% | -26.0% | 39 |
| 62 | Ford Transit Courier | 188 | 0.5% | n/a | n/a |
| 63 | Skoda Karoq | 182 | 0.5% | n/a | n/a |
| 64 | Opel Movano | 180 | 0.5% | n/a | n/a |
| 65 | VW Crafter | 179 | 0.5% | n/a | n/a |
| 66 | Audi Q3 | 174 | 0.5% | n/a | n/a |
| 67 | Isuzu D-Max | 174 | 0.5% | n/a | n/a |
| 68 | Skoda Kamiq | 173 | 0.5% | n/a | n/a |
| 69 | Audi Q8 | 172 | 0.5% | n/a | n/a |
| 70 | BMW X3 | 172 | 0.5% | n/a | n/a |
| 71 | Renault Clio | 169 | 0.4% | n/a | n/a |
| 72 | Ford Transit Connect Van | 168 | 0.4% | n/a | n/a |
| 73 | Toyota Proace City | 167 | 0.4% | n/a | n/a |
| 74 | Kia Xceed | 158 | 0.4% | n/a | 41 |
| 75 | Mazda CX-60 | 150 | 0.4% | new | n/a |
| 76 | Renault Trafic | 149 | 0.4% | n/a | n/a |
| 77 | Toyota Proace Combi | 143 | 0.4% | n/a | n/a |
| 78 | Mercedes C Class | 140 | 0.4% | n/a | n/a |
| 79 | Seat Ateca | 139 | 0.4% | n/a | n/a |
| 80 | Abarth 500 | 138 | 0.4% | n/a | n/a |
| 81 | Kia Sorento | 137 | 0.4% | n/a | n/a |
| 82 | BMW 5 Series | 135 | 0.4% | n/a | n/a |
| 83 | Mazda CX-5 | 133 | 0.3% | n/a | n/a |
| 84 | Tesla Model 3 | 131 | 0.3% | n/a | n/a |
| 85 | Audi Q7 | 127 | 0.3% | n/a | n/a |
| 86 | Renault Captur | 122 | 0.3% | n/a | n/a |
| 87 | Seat Arona | 122 | 0.3% | n/a | n/a |
| 88 | Toyota Camry | 122 | 0.3% | n/a | n/a |
| 89 | Mini Hatch | 113 | 0.3% | n/a | n/a |
| 90 | Volvo V60 | 113 | 0.3% | n/a | n/a |
| 91 | Citroen C3 | 113 | 0.3% | n/a | n/a |
| 92 | Mercedes GLE | 112 | 0.3% | n/a | n/a |
| 93 | Hyundai Kona | 111 | 0.3% | -56.1% | n/a |
| 94 | Opel Vivaro Tour | 110 | 0.3% | n/a | n/a |
| 95 | Peugeot Boxer | 109 | 0.3% | n/a | n/a |
| 96 | Peugeot 2008 | 108 | 0.3% | n/a | n/a |
| 97 | Mazda3 | 106 | 0.3% | n/a | n/a |
| 98 | Peugeot Partner | 105 | 0.3% | n/a | n/a |
| 99 | Mercedes A Class | 104 | 0.3% | n/a | n/a |
| 100 | Mercedes V Class | 103 | 0.3% | n/a | n/a |
| 101 | BMW X6 | 102 | 0.3% | n/a | n/a |