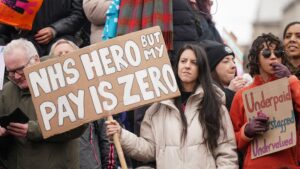 UK economy grows 0.1% in the first quarter
Quarterly growth between January and March rose by 0.1 per cent compared with the same period last year, in line with economists' forecasts and matching weak growth figures recorded at the end of 2022.
The UK's growth outlook has brightened in recent months after a sharp decline in global energy prices reduced the chances of a recession hitting this year. A recession is defined as two consecutive quarters of falling growth.
The Office for National Statistics (ONS) said that growth in March had declined by 0.3 per cent, following no growth in February and a 0.5 per cent expansion in January. Higher quarterly output was the result of a 0.5 per cent growth in the manufacturing sector, a 0.1 per cent rise in services and a 0.7 per cent acceleration in the construction industry.
The UK's overall economic performance was hit by nationwide industrial action by civil servants demanding better pay. Output in education, health and public administration all declined in the first three months of the year as a result of strikes.
March's outright fall in growth could be attributable to the strikes, the ONS said, highlighting its business surveys, which have found that one in ten businesses across the country were affected by industrial action.
The figures come a day after the Bank of England revised up its growth outlook by the highest margin on record, wiping out its earlier predictions that the economy would succumb this year to the longest recession in half a century.
The Bank's upgrade was the result of a 40 per cent decline in global gas prices this year, coupled with government support for household energy bills and a better-than-expected global economy helping businesses. The Bank now expects annual growth to expand by 0.25 per cent this year, compared with an earlier forecast of a 0.5 per cent contraction.
Economists expect that growth in the second quarter will remain anaemic because the continuation of strike action and an additional bank holiday to mark the King's coronation will weigh on output.
Jeremy Hunt, the chancellor, said: "It's good news that the economy is growing but to reach the government's growth priority we need to stay focused on competitive taxes, labour supply and productivity.
"The Bank of England governor confirmed yesterday that the Budget has made an important start but we will keep going until the job is done and we have the high wage, high growth economy we need."
Samual Tombs, chief UK economist at Pantheon Macroeconomics, said the UK remains the only G7 country in which the main quarterly measure of GDP has not recovered to its pre-Covid peak yet. "This chiefly reflects weakness in households' real spending, which was 2.3 per cent below its Q4 2019 level. But at least the magnitude of the underperformance is not increasing relative to other countries in Europe, which have faced a similarly enormous energy price shock," he said.