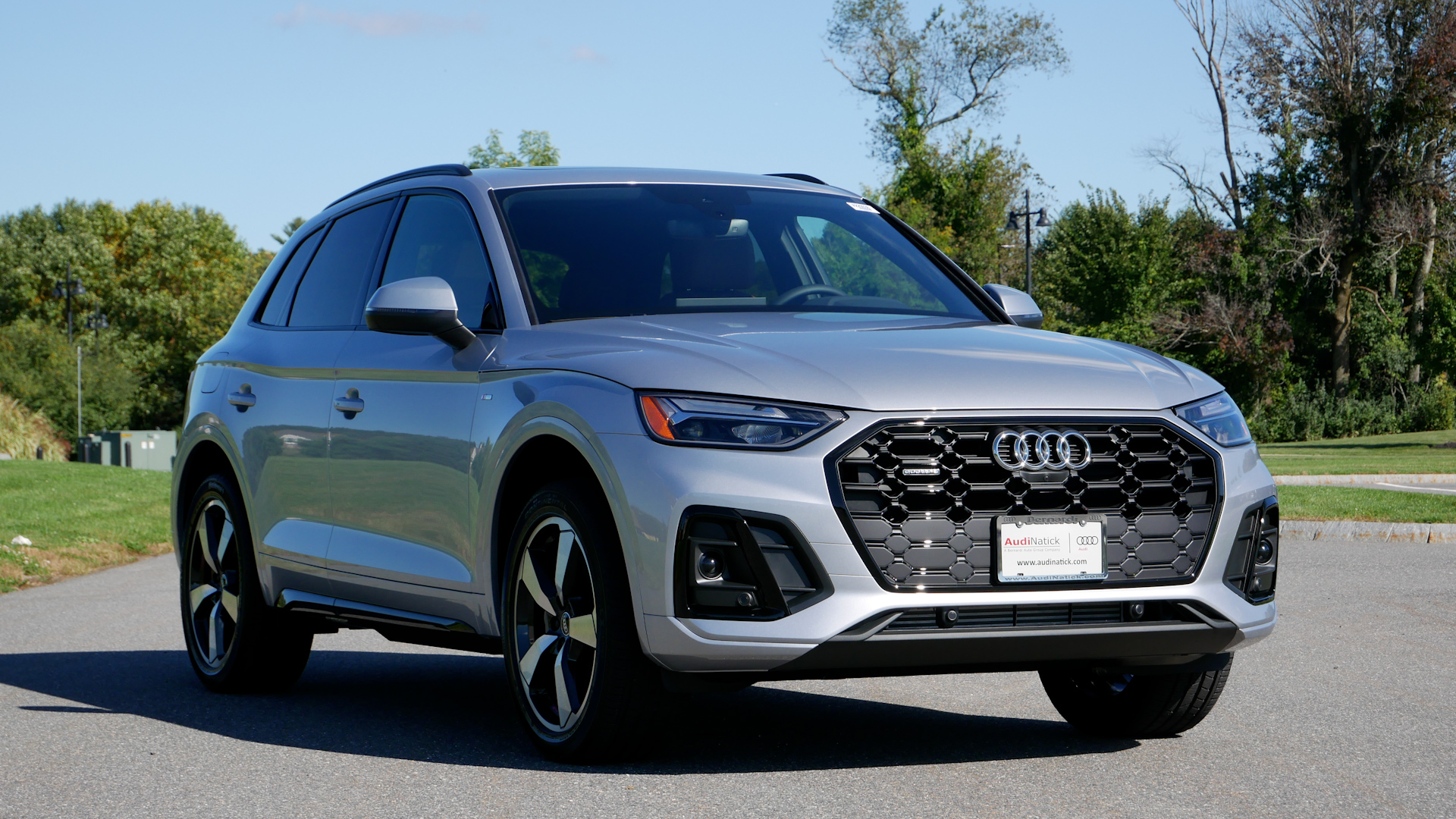 2022 Audi Q5 vs 2022 BMW X3 – Battle Of The Luxury Compacts
Buying a luxury crossover is easier said than done, as there's a wide variety to choose from as many brands in this segment offer a compact SUV that provides a welcoming interior, state of the art technology, improved practicality over a sedan, and more refined driving dynamics. In 2021, the BMW X3 and Audi Q5 were the best selling crossovers to come from German manufacturers, and most likely, you're cross shopping both right now as you're ready to make a decision for your next vehicle. While priced similarly, Audi and BMW have different styles pertaining to how they perform and the environment you find yourself in when getting behind the wheel. So here is a comparison of both crossovers to help you choose the right vehicle for you.
Exterior
BMW and Audi, like many luxury brands rarely deviate from tradition when it comes to the exterior designs of their vehicles, and the X3 and Q5 are no exceptions as relatively speaking there's been minor tweaks to the road presence for each crossover throughout the years, but nothing substantially drastic where they become unrecognizable.
Starting with the X3, the 2022 model experienced a mid cycle refresh. The changes made include enhanced kidney grilles, sharper body lines for the lower portion of the front bumper, and redesigned LED headlights and taillights for a modernized look, despite many consumers claiming that this generation for the X3 is beginning to look outdated. The model we had featured last year was equipped with the M-Sport package, removing all plastic cladding for an aggressive and capable appearance, and with the shadow line package, gloss black accents help accentuate the new cosmetic features. While most buyers may opt out of having a sportier design, BMW's best selling model still looks good in 2022, but keep in mind that we're getting closer to the arrival of a new generation which should be coming out sometime in 2024.
For 2022, Audi also made some slight changes to the Q5, making the S-Line standard, removing the brushed aluminum accents and replacing them with a honeycomb-like grille for a lower profile look. Adding a nice color contrast on our model, the black optic package takes the sportier looks one step further, and rather than just blending in on the roadways like it had done in the past, the Q5 does draw attention now even with it's more reserved and unassuming road presence. Important to note, just as we've seen with the X3, Audi is gradually reshaping the Q5 to appear athletic and spry; attempting to blur the lines when parked side-by-side with the more performance focused SQ5.
With this segment seeing a strong growth in interest for better handling characteristics and a boost in horsepower, the exteriors for both the Q5 and X3 are evolving to meet the demands of buyers, and for 2022 these two crossovers achieve that thanks to their minor facelifts.
Interior
The whole point of buying a luxury vehicle is to enjoy the comfort, admire the classy cabin, and receive far better technology than what we experience from affordable alternatives. If you're the type of buyer who desires an upscale driving environment, listen up because this right here could be the deal maker or breaker depending on which crossover you're seriously considering on buying.
First taking a look at the Q5, catching your eye first is going to be the technology you interact with on a daily basis. It wouldn't be far fetched to say that Audi's virtual cockpit is a selling point in and of itself, as it's without question one of the best displays in this price range and market. Allowing you to customize what you see in front of you, the map can be the primary display or you can scroll through other bits of relevant info. Compared to Mercedes Benz, who also offers an extensive digital gauge cluster, you'll find that Audi's virtual cockpit is easier to use and navigate through.
Then moving over to the infotainment system, coming standard is a 10.1 inch touchscreen, with Audi's latest MMI user interface. For a head unit that is exclusively a touchscreen, responsiveness is impressive, and just like with the gauge cluster, resolution and quality is top notch. Optional, you'll have a variety of camera angles to choose from to ensure you don't hit any stationary objects or curb your wheels when parallel parking, and this has become common for most crossovers in this segment including the X3.
When it comes to seating comfort, they're not aggressively bolstered but will keep you in place in twists and corners. Obviously there will be a distinct difference compared to the SQ5, which is more performance oriented, but for most drivers and passengers, these front seats should provide a sufficient amount of comfort on longer drives.
Now taking a look at the X3, BMW's interior layout is beginning to show it's age despite the full digital gauge cluster and the highly respected iDrive 7 system. Unlike Audi, the screen in front you doesn't offer any customizability, and one issue that I've experienced numerous times is that sun-glare does make it difficult to see this display sometimes. Compared to rivals even outside of Germany, BMW might be falling a bit behind, as others are beginning to model their digital displays after Audi. However, the X3 redeems itself with the head unit, as BMW's iDrive 7 system offers dual functionality with a rotary dial, touch pad, and quick access buttons. There's going to be those times when you don't want to reach for the touchscreen, and BMW makes it convenient to scroll through different menus so you can focus on the road ahead. That's one feature I'd like to see Audi bring back, because from a user friendly standpoint, touchscreen alone often leave much more to be desired.
For seating comfort, you'll have the choice between BMW's sensa-tec leatherette upholstery or Vernasca leather. Believe it or not, the Sense-Tec seats are surprisingly plush which isn't something you would have said earlier last decade. Of course, Vernasca leather would give you the comfort you desire, but if you're looking to limit paying extra for optional equipment, the leatherette material is more than enough. Since BMW prioritizes performance, you'll find that bolstering and support are more aggressive than the Q5, inspiring confidence when cruising on backroads.
Driving Dynamics
Finally for performance this is where not only on paper, but behind the wheel, these crossovers go in completely different directions, as both the X3 and Q5 prioritize opposing characteristics that may turn off some buyers, and lead them to choosing the competitor.
Starting off with the powertrains, the BMW X3 30i is powered by a 2 liter turbocharged 4 cylinder engine that puts out 248 hp and 258 lb ft of torque and is paired with a ZF-8 speed automatic transmission, whereas the Audi Q5 has a 2 liter turbocharged 4 cylinder engine that puts out 261 hp and 273 lb ft of torque and is paired with a 7 speed dual clutch automatic transmission. Don't let these numbers fool you, as they can be quite deceptive. You'll probably assume that the Audi Q5 is going to be more dynamic and far and away quicker than the X3, but that couldn't be further from the truth. In a straight line, both crossovers can achieve a 0-60 time of around 6 seconds, and due to Audi's usage of the 7 speed dual clutch, it pairs well with 4 cylinder engine to provide quick and crisp get shifts.
Ride quality and handling is where the Q5 will be a compelling choice for drivers not look to be on the edge of their seats. The suspension is soft and steering is lighter compared to the X3, making longer road trips relaxing. In this segment, Audi is a great all-around crossover that drives smoothly and certainly feels like an upscale vehicle.
The BMW X3 on the other hand, takes "the ultimate driving machine" monicker to heart. Even with the 4 cylinder engine, this crossover is primed and ready to keep you on the edge of your seat. The ZF-8 speed automatic is more refined than the dual clutch in the Q5, giving drivers immediate gear shifts. Where the X3 stands out though is with it's tighter steering feel and stiffer suspension in sport mode that the Audi Q5 just couldn't replicate. You receive a small taste of what BMW's offers with their performance vehicles while still retaining practicality and daily drivability, and when you're on backroads you can have a lot of fun and look sensible as you eat up corners.
Conclusion
The Audi Q5 and BMW X3 have their strengths and weaknesses. Interior and technology wise, Audi has a more accommodating driving environment, not only when it comes to comfort and plushness, but also the presentation with the virtual cockpit and MMI user interface. The BMW X3 shines with it's compelling and enjoyable driving characteristics that inspires pushing this crossover in the corners or in a straight line. Either way you can't go wrong by choosing one over the other, it just simply comes down to what you find appealing in your next vehicle, and whether you prefer modern day tech to interact with on your daily commutes, or you want something that's fun to drive while still being practical.
The post 2022 Audi Q5 vs 2022 BMW X3 – Battle Of The Luxury Compacts appeared first on Boston Auto Blog.