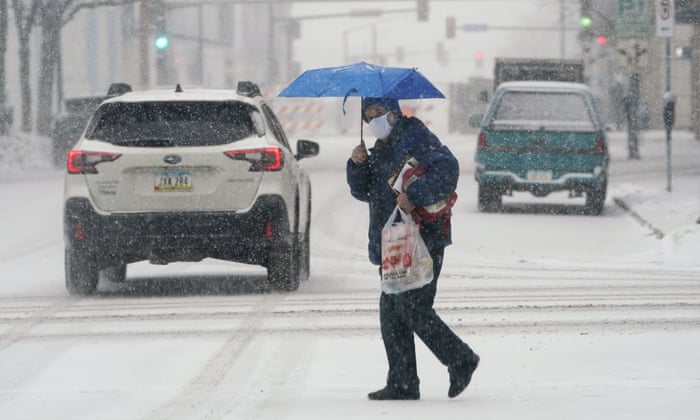 DC area's Winter Weather Advisory scaled back as wet snow falls
Some D.C. residents may be experiencing weather whiplash as Saturday was springlike but temperatures have dropped to transition rain into wet snow; the National Weather Service scaled back its Winter Weather Advisory on Sunday morning.
Warm temperatures nearing 60 moved out to make way for wintry weather Sunday. Here's what you need to know.
The NWS's Winter Weather Advisory is active through 4 p.m. in parts of Maryland and Virginia. The advisory in D.C. and its immediate surrounding areas was cancelled around 8:30 a.m.
The advisory is active through 4 p.m. in
Snowfall predicted totals mostly range from around 1 to 2 inches. Areas north and west could have 3 to 6 inches of snow.
Roads could be wet, use caution on bridges and overpasses.
Potential for a refreeze Monday morning.
With snowfall wrapping up in some parts of the region and warm temperatures preventing accumulations, the NWS reigned in its advisory for parts of the region around 8:30 a.m. It also lowered its expected snowfall totals.
"The ground and pavement is warm, and it will take awhile for us to see much accumulation," Storm Team4 Meteorologist Mike Stinneford said. "Look for up to 2 inches of snow, mainly on the grass."
But Stinneford said areas north and west could see accumulations of 3 to 6 inches.
Good news! We've trimmed back the snowfall accumulations and advisories a bit, with snow ending to the northwest and warm temperatures limiting accumulations further south and east. pic.twitter.com/x8fOx3aFAN

— NWS Baltimore-Washington (@NWS_BaltWash) February 13, 2022
The snow should stop by the early afternoon in most parts of the D.C. region, according to the NWS. Snow will mostly accumulate on non-paved surfaces.
The WTOP Traffic Center warns drivers to budget extra time when driving in the snow and to leave extra distance between their vehicle and the one in front of it as slippery spots can make braking distances further.
Band of heavier #snow west to north of town, caution I-81 corridor, I-66 through #FrontRoyal, road temps below freezing. #DCSnow #MdTraffic #VaTraffic #DCTraffic

Traffic