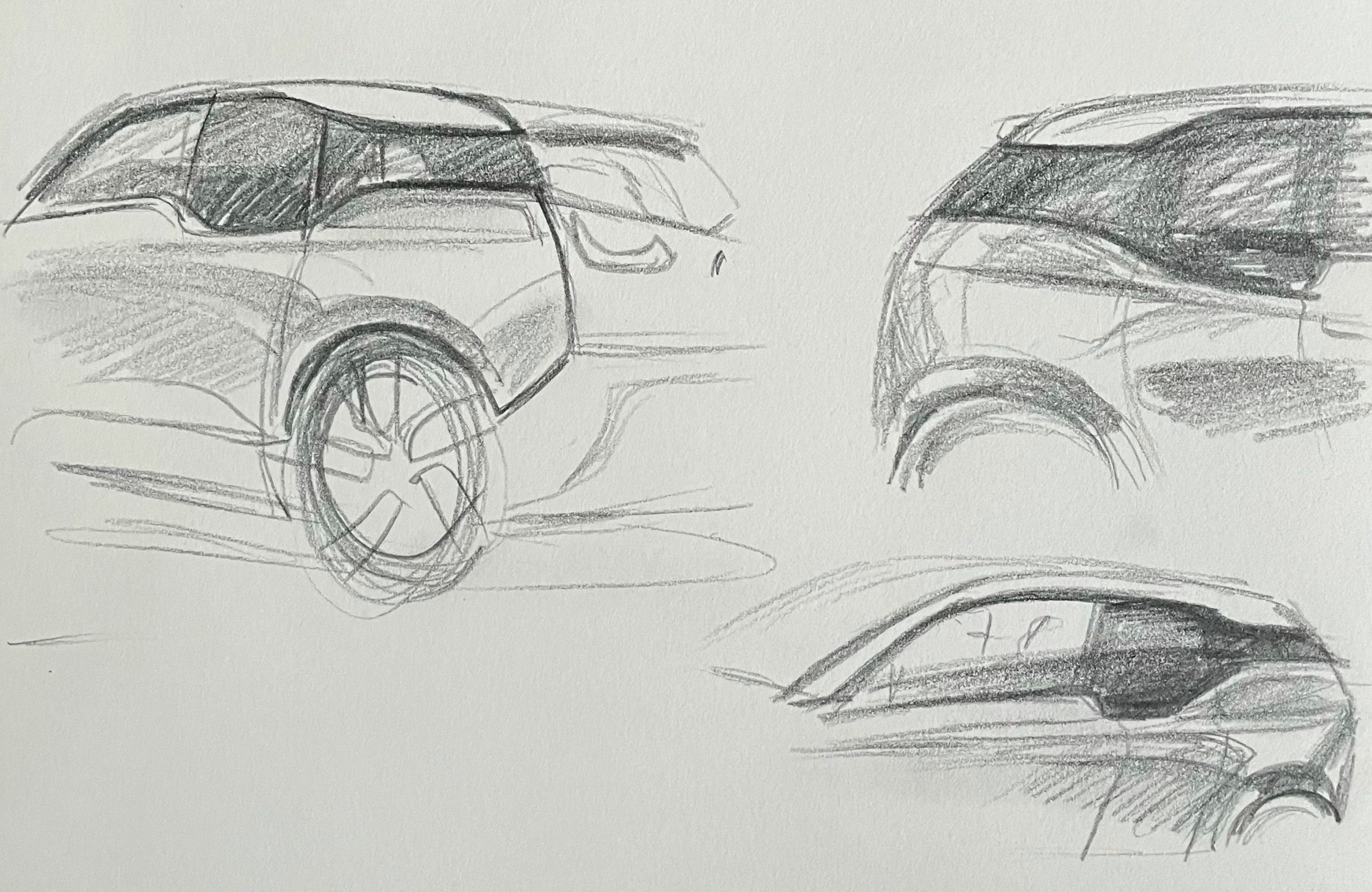 The history of the floating roof or, the uninteresting curiosity of the separated C-pillar.
Automotive styling is very much a fashion business. Designers are a rare breed, existing in very low numbers. They study at the same places and learn from each other. They change studios quite often, and sometimes in packs (headhunted by each other). Add the huge risks involved in billion dollar business decisions and we constantly will see what looks like copy-cat trends in automotive styling, but are actually a lot more subconscious in implementation. There are even trends in design sketch styles- but I think that may deserve it's own blog post. The fashion industry carefully monitors and plans around trends, and this is also true in automotive (particularly CMF departments) but in terms of exterior design the intention is often to appear different (brand recognition) but the result can be quite similar if a design is "on trend". Sometimes there are glaringly obvious copies- but more commonly we just see the results of parallel inspirations and attempts to appear on consumers radar as the "next best thing". Recently my fleet of cars increased with a 2014 BMW i3 joining. This wonderful design (exterior by Nicolas Guille) inspired me to think about it's stylistic influences. For around 10 years we have seen a trend for elaborate C-pillar dressage and floating roofs, along with abrupt changes in window/belt lines. Let me try to explain, and perhaps uncover a timeline. It might not be very interesting….
Authors own i3…. with paint-over graphic.
The first evidence of floating roof designs probably came from our likeable original gangsters of car styling– the US of A. The 1950 Chevrolet Bel Air is pretty much the archetypal elaborate Coupé roof protege. The Bel Air continued this style for many iterations and is remembered almost exclusively for it. Many pre-war cars had contrasted colour roofing. The materials used were soft fabrics and coverings were often temporary. Pre-war was an era when most cars were not fixed roof. The rise of monocoque construction post war (from aircraft metal working technology) with reduced costs of panel stamping in mass production, meant that the the fabric roof died out due to a reversal of costs. Metal was now king, but the US stylists used paint choices and styling lines to remind us of the elegant past of coach-built carriages and pre-war romance. Post war emotional styling was the next big trend.
In Europe the roof shapes and design were much more pragmatic due to manufacturing methods(similar technology from aircraft) but with more subdued styling that owed a lot to housing (actual miniature gutters around the domed roof!) rather than high-tech space-age ideas. It is often joked that a Rover, or Rolls Royce is a stately home on wheels, and this is stylistically and thematically true (inside and outside). The 1959 Mini shows a long-lasting example of this style, continued as pastiche to this day with all Mini designs. Just before the mini appeared, Europe create one of the most original and innovative car designs ever from Flaminio Bertoni in 1955. The Citroen DS. The same guttering can be seen, which also neatly hides the edges of the roof panel, but the jet-set style of American cars is also hinted at. The Citroen was remarkable for so many innovative technologies and the roof was yet another, being made from GRP (Glass Reinforced Plastic). Matching a plastic panel colour to painted metal (and perhaps even painting it) was not easy in the 1950s, so I believe this might explain the decision not to match the colours on the cheaper ID19 model based on the DS21. The DS/ID roof was also bolted on, with a rubber seal between it and the metal frame. On later models the plastic roof was bonded with adhesive! In 1966, this was truly space age, and links very nicely to perhaps the spiritual successor of the DS for innovation and technology – the BMW i3. A plastic roof panel again, but this time recycled CFRP (Carbon Fibre Reinforced Plastic) is again glued onto the roof frame. A glass roof was available on the BMW, but Citroen reportedly offered an even more daring entirely transparent panel for the DS! Glass roofs are a modern trend, perhaps publicised heavily by Tesla, but Citroen did it first over 65 years ago.
Between these two important vehicles were some lesser known brave designs that tried tricks with C-pillar design. The most outstanding of all was the Renault Avantime of 1999. Patrick Le Quement lead a major renaissance of Renault design, and French car design in general, during the 1990s. Beginning with some rather sensible unexciting designs – which were excellent examples of the late 80s and early 90s industrial design aesthetic (strong aerodynamic and engineering-led designs). The late 90s and leading into the new millennium Renault's financial position enabled Le Quement to take some bold next steps. The Avantime was a very strong example of his modernist approach. Even the vehicle type it represented was totally unique, a 2 door MPV/Coupe/Luxury sedan "crossover" which sounds strange even now. BMW later got close to this concept with their 5 series Gran Turismo of 2009 (F07).
The failure of the bold works of Le Quement perhaps set back car styling a few years, (along with perhaps the Fiat Multipla) to it's usual cautious self. Fiat followed quite soon with their new Panda design, with a utilitarian approach to window graphics, somewhat similar to the i3 created 10 years later. It wasn't until Chris Bangle gained a powerful position at BMW that things finally took a step forwards. From 2003 when Bangle released his iconic E60 5 series it was game on, and Citroen certainly took note of this. They explored more interesting design shapes, and their 2005 C-Sport Lounge concept car showed bold treatment of it's C-pillar, a lot like their famous DS model of the past. The inspiration seemed to come full circle, when that Citroen inspired the creation of an entire new brand: DS, and the concept car developed into the DS5 production model of 2011. The smaller DS3 model was released first, and we saw that the C-pillar treatment and contrast colour roof was emphasised as a key DS brand trait. The DS brand really brought these ideas to the mass-market and this is when other manufactures began to borrow this European flair. The Japanese (Nissan), and Korean car companies embraced this flair, in an attempt to appeal to European tastes and the Koreans are still playing with more styling ideas than perhaps any other manufacturers. Something that we have seen the DS brand introduce into the mainstream, is the shark fin B-pillar treatment seen on the DS3 model first. This forward facing styling feature, is reminiscent of the reverse rake screen of the Citroen AMI-6. The AMI 6 was Citroen's most extreme take on the interesting styling of a C-pillar. It is the opposite angle to which we are accustomed, and the DS has a B-pillar which reverses the usual directional angle that we expect in this area. This shark fin is something we see moved to the C-pillar in a lot of contemporary Kia designs for example.
Lastly a couple of honourable mentions to bold designs that have pushed floating roof, contrast colours, and elaborate C-pillar designs into new genres. The Aston Martin DB11 (designed by Julian Nunn and Leighanne Earley) is still controversial after it's 2016 debut, thanks mostly to it's floating C-pillar design. This seemed much too "fashionable" for die-hard Aston traditionalists. Warnings were given that it may date, but has it? The trend is still around 5 years later, and also the design had many advantages. One reason it was green-lit was for the customisation options it gave Aston buyers. Different materials, and different colour combinations (including non- contrasting) are available in almost infinite variations. Aston wanted to emphasise they were a bespoke car company. You can play with those yourself on their configurator…. The c-pillar also conveyed a hidden message, regarding the innovative aerodynamic design. Air is ingested at the leading edge of the C-pillar, the rear of the second side window. Air travels down the C-pillar internal structure, either side of the luggage space, and exists in a slot across the rear deck. This creates a spoiler, an invisible air spoiler, to give high speed stability, known as Airblade. The invisible spoiler is one of the DB11's greatest design features, and means we get that lovely smooth clean rear deck
A car that I owned (from new in 2017, but replaced in 2021) is the dramatic and bold Toyota C-HR. This coupe crossover was a styling-trick tour de force. A real life text book for aspiring car designers to learn every trick from. There has perhaps not been any car in history that employed so many styling tricks in ONE vehicle, it probably deserves a blog post of its own. It did also hit the trend of contrast colour roof, with a floating C-pillar. By now I hope you realise that floating, means that the roof structure, and the side/door structure of the car seem to be separated somehow- as if the roof just floats over the body of the car. Toyota also used this transitional area, between side and roof, to cram in a "hidden" rear door handle. It was not completely invisible, but it was impractical and a purely styling based decision to put it there. I found it useful as a parent because my young children at the time could not reach to open the door themselves. This meant I had more control of where and when they opened it!
Authors own C-HR… with added snow in complex C-pillar design
The most important and radical cars since the DS, as mentioned earlier, were the BMW i3 and i8. These cars were previewed by the advanced thinking, efficient dynamics concepts. The first of these debuted in 2009. The floating surfaces, and new shapes and structures were made possible by carbon construction techniques. The concepts were perhaps created with total freedom, and the production cars could follow with innovative surfaces. In the case of these cars, the styling was to create the feeling that almost every component of the car was floating- and not connected to any other component. This is a huge leap away from the solidity and formality previously expected of vehicle aesthetics. An annihilation of the Bauhaus-like principles that car design still hinted at, but did not respect, in terms of being pure emotional styling exercises, not rational products. There was of course some functionality implied by these cars styling, mostly aerodynamic flow management and the visual representation of it. This can be done without the flowing aesthetics, as evidenced in cars such as the McLaren Senna, or almost any covered-wheel race car. The i8 followed on from the concept, and put in practice a reoccurring aesthetic which had a surface starting at the A-pillar, flowing all the way to the rear deck, via a C-pillar (B-pillar was invisible, blacked out, or not present). The glass and dark coloured body of the cars were sandwiched in between. This has become a trademark style of all BMW i products. The forward thinking of the original two i3 and i8 products, means that many other brands and designs have been influenced by them. The separation of the roof- with a flowing line from A pillar to rear most pillar, with blacked out section in between has become a true car styling trope of the 2020s.
During the more pragmatic 1970s, 80s and even 90s, there were cars with styling features on their C-pillars which might be classified here but mostly the features were to hide welds, or act as air vents. In the 70s the black vinyl roof was a popular look, but without the floating style of the C-pillar being different in colour to the roof and body side. The 80s and 90s also saw aero look as a trend, and perhaps another blog post can explore this. Aerodynamic aesthetics originally meant lack of features, and quite uniform shapes. One example might be the Renault Fuego from 1980, and the same year the extremely small division at the base of the Audi Coupe C-pillar. Perhaps if you find more examples of this aesthetic, post them in the comments section.
Timeline of floating C-pillar developments
1950 Chevrolet Bel Air
1955 Citroen DS and ID19
1959 Austin Mini
1969 Land Rover Range Rover
1980 Renault Fuego
1980 Audi Coupe (B2)
1982 Citroen BX
1985 Ford Granada/Scorpio
1999 Renault Avantime
2003 Fiat Panda
2005 Citroen C-Sport Lounge (concept)
2009 BMW Efficient Dynamics (concept)
2009 Citroen DS3
2011 Citroen DS5
2012 Opel Adam
2013 BMW i3 and i8
2014 Citroen C4 Cactus
2016 Aston Martin DB11
2016 Lexus RX
2019 Peugeot 2008
2021 Chevrolet Trailblazer
Thanks again to www.citroenorigins.fi for great Citroen images!
EDIT: Thanks to replies on Twitter- and in the comments section, I decided to add some reader suggestions in another gallery.
Debate seems to centre on what counts as a floating C-pillar, and I agree that not all my examples "float". There has been some designs mentioned with a blacked out C-pillar, such as the Ford Granada Scorpio. Yes a black painted C-pillar does indeed create a floating roof, this is true, but the added upwards kink or other changes of colour or material, are the main exaggerated versions we see as a modern trend. Citroen have had this feature on nearly every model since the DS, and the XM is reminiscent of the BMW i3 for sure. Meanwhile after writing this post, Genesis said "hold my beer" and created one of the strangest C-pillar designs we've seen for a long time with their new BEV, the GV60. Hard to describe (essentially a severe V graphic) but I'm not a fan.