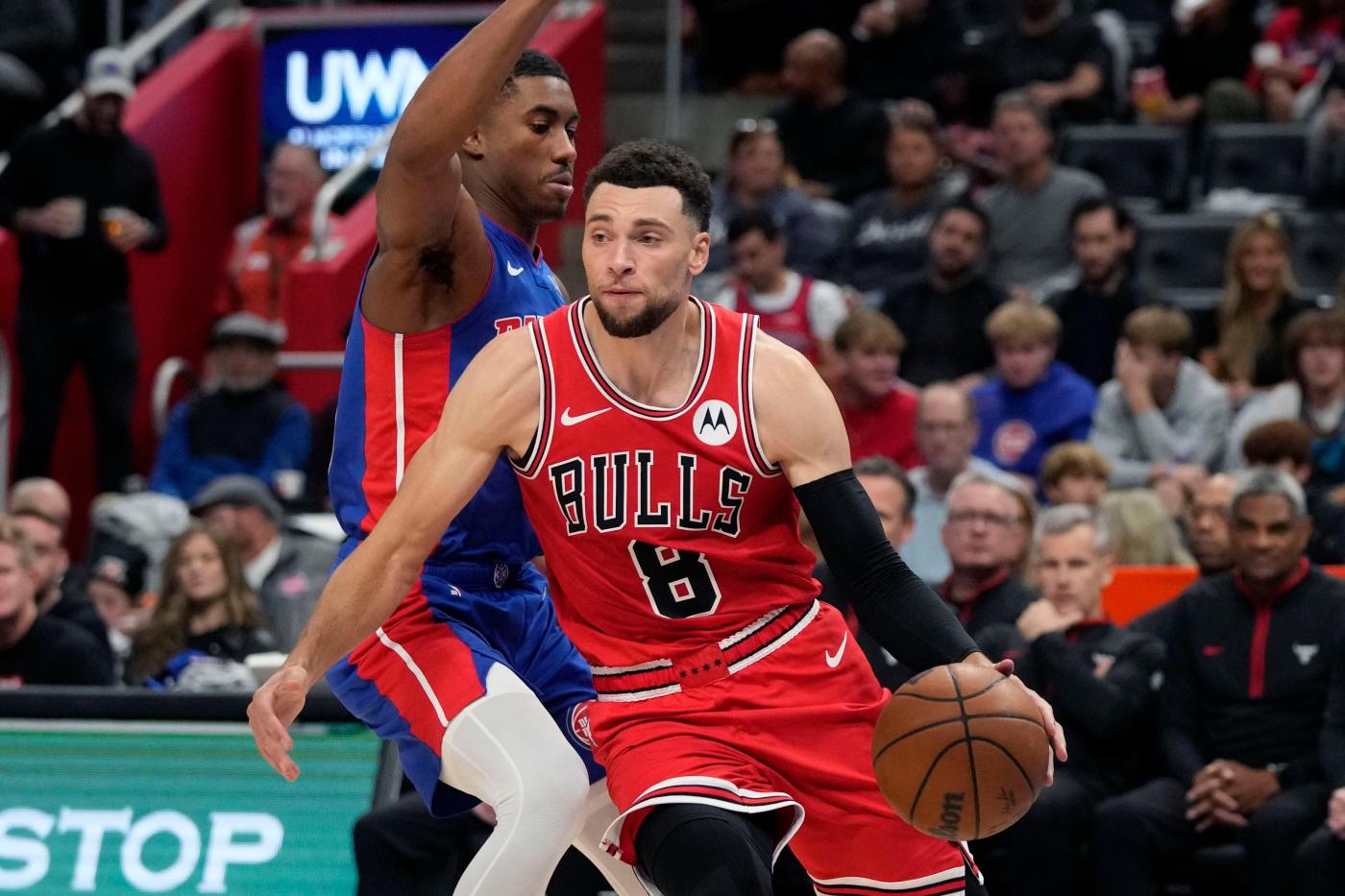 Zach LaVine frustrated with shaky Chicago Bulls offense after career night: 'We're trying to figure out something that isn't working'
The best scoring night of Zach LaVine's career was an exercise in futility.
LaVine was at his peak Saturday night in Detroit. He cut to the rim with defiance and slung shots from behind the arc with zero hesitation. This version of LaVine is undeniable and irresistible — "unstoppable" as DeMar DeRozan described it. But none of that mattered.
Despite LaVine's 51 points, the Bulls still lost by double digits, driving home the same truth that has defined the team for the prior two seasons — the stars can't do it all for this team.
The current Bulls roster is built around three stars: LaVine, DeRozan and Nikola Vučević. For two years, the Bulls have posted meager offensive results as they attempted to play through this trio — even while all three former All-Stars registered several of the most efficient years of their careers.
In Year 3, coach Billy Donovan wants to try something different. The Bulls entered this season with the mentality of spreading the ball. The concept makes sense on paper — if the Bulls can't compete offensively even when LaVine, Vučević and DeRozan are scoring consistently, then they need to find a boost in points by feeding the rest of the roster.
But after the third game of the season, LaVine wasn't sold on the new system's effectiveness on the court.
"We're trying this new thing out to have a complete, cohesive offense with equal opportunity," LaVine said. "It's gonna take some figuring it out. We got a lot of stuff in transition through the first couple of games and me and DeMar were in the corner a lot. We're trying to figure out how to get involved."
"Hero ball" has never been the solution in Chicago — that's why the Bulls brought in Vučević and DeRozan two years ago, then spent this preseason harping on 3-pointers and ball rotation. But LaVine is also objectively correct. The offense isn't working. The Bulls have been stagnant on the attack through the first three games, barely cracking a 100 offensive rating (101.8, 24th in the league).
The Bulls need to settle somewhere in the middle. They can't get by on LaVine's effort alone. They also clearly can't compete when he's not scoring, as evidenced by the first two games of the season.
"It's something that we have to figure out," LaVine said. "We each have obviously been the main option on a team before and then was the main scoring option on this team. It's just something new that we have to figure out, figure out how to go about it. The first through games, we haven't gotten 100% of it yet. We're trying to figure out something that isn't working. We're gonna stick with it though."
LaVine suffered his own stop-and-start entry to the season, which could be a byproduct of injury. Concern emerged Friday night when LaVine exited the locker room with a heating pad strapped to his back after the first half. LaVine acknowledged some back stiffness after the game, when he again wore a heating pad and joked that he took "a ton" of Tylenol, but brushed off questions about the injury as a long-term issue.
LaVine had been listed as probable for Saturday's game in Detroit with mid-lateral back spasms, but played through discomfort for his career night. .
This is familiar territory for LaVine. Last year he was plagued by lingering recovery from an offseason knee injury, which ultimately dragged out three months into the season. LaVine sat out the first two games of the season, then missed two of the ensuing games. His shooting remained streaky through November, including a disastrous 1-for-14 night against the Orlando Magic.
LaVine finally snapped into form in January. He scored 77 points over the course of back-to-back games against the Philadelphia 76ers on Jan. 6 and Utah Jazz on Jan. 7. After scoring six 3-pointers against the Jazz, LaVine expressed relief at his return to full health: "It's good to feel like me again."
Despite needing three months to ease into the season, LaVine finished on one of the best runs of his career. He hit his stride after the All-Star break, averaging 27 points and 4.7 assists while shooting 53.2% from the field and 39.4% from 3-point range.
This year was supposed to be different. LaVine had a normal offseason, training on his own and with Bulls teammates in California for the majority of the summer. He played in charity golf tournaments and crushed a couple of at-bats during the MLB All-Star celebrity softball game.
In the weeks leading up to the home opener, LaVine's enthusiasm was visible — he was ready to start a season feeling comfortable in his own body. But he's also unwilling to miss games again, even if that means playing through pain for 77 minutes in a span of 24 hours.
"I've played through worse," LaVine said. "It's not bad enough that I shouldn't play."
LaVine knows this is his last chance to prove this system can work before the front office breaks up the central trio. That brings additional pressure for a team attempting to adapt its core offensive scheme — and the Bulls don't have the luxury of a slow start.
If this group hopes to stay together, LaVine knows the offense has to start clicking in the opening weeks of the season.
"We've been here for long enough," LaVine said. "Vooch has been traded, I've been traded, DeMar has been traded. We understand it's a business. Obviously, we're all frustrated on why it's not clicking the way it should be but that's just the position we're in. It's our third year here together. We all know how this business is. We all love each other. We've got to figure out how to make this thing work."
()