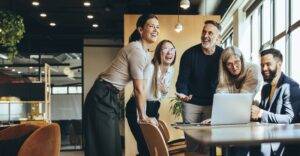 UK SMEs regaining confidence
UK's Small businesses are slowly regaining confidence in the economy, despite falling revenues and tightening recruitment, a survey shows.
Optimism was measured at -8 points in the third quarter of the year, up from -14.2 points in the second but still below the first-quarter reading of -2.8. It means that overall confidence among small companies has been in negative territory for about 18 months.
The quarterly report by the Federation of Small Businesses also showed that most do not predict growth over the next year, while one in eight expect to contract. The share of small firms planning to hire more staff in the fourth quarter has fallen back slightly, to about one in nine.
Martin McTague, chairman of the federation, said: "After the economic turmoil wrought by the cost of doing business crisis over the past year and a half, [there are] signs of stabilisation in small firms' performance. We need to beware that stabilisation does not turn into stagnation and that intentions to invest and grow are not thwarted by economic circumstances."
Two in five small businesses reported a fall in revenue in the three months to the end of September. Among the leading sectors, hospitality businesses had the lowest level of confidence, at -31.1 points for accommodation and food services activities. Retail and wholesale businesses were next, at -22.8 points, followed by construction, at -7.7, manufacturing, at -6.7, and information and communication, at -3.5. The professional, scientific and technical sector was the only big segment to register a positive confidence reading, at 6.9 points.
Industry bodies have called on the government to address weak business activity at the autumn statement next month. The federation has campaigned for the 75 per cent business rates relief discount for retail, hospitality and leisure firms, which is due to run out at the end of March, to be renewed.
Read more:
UK SMEs regaining confidence