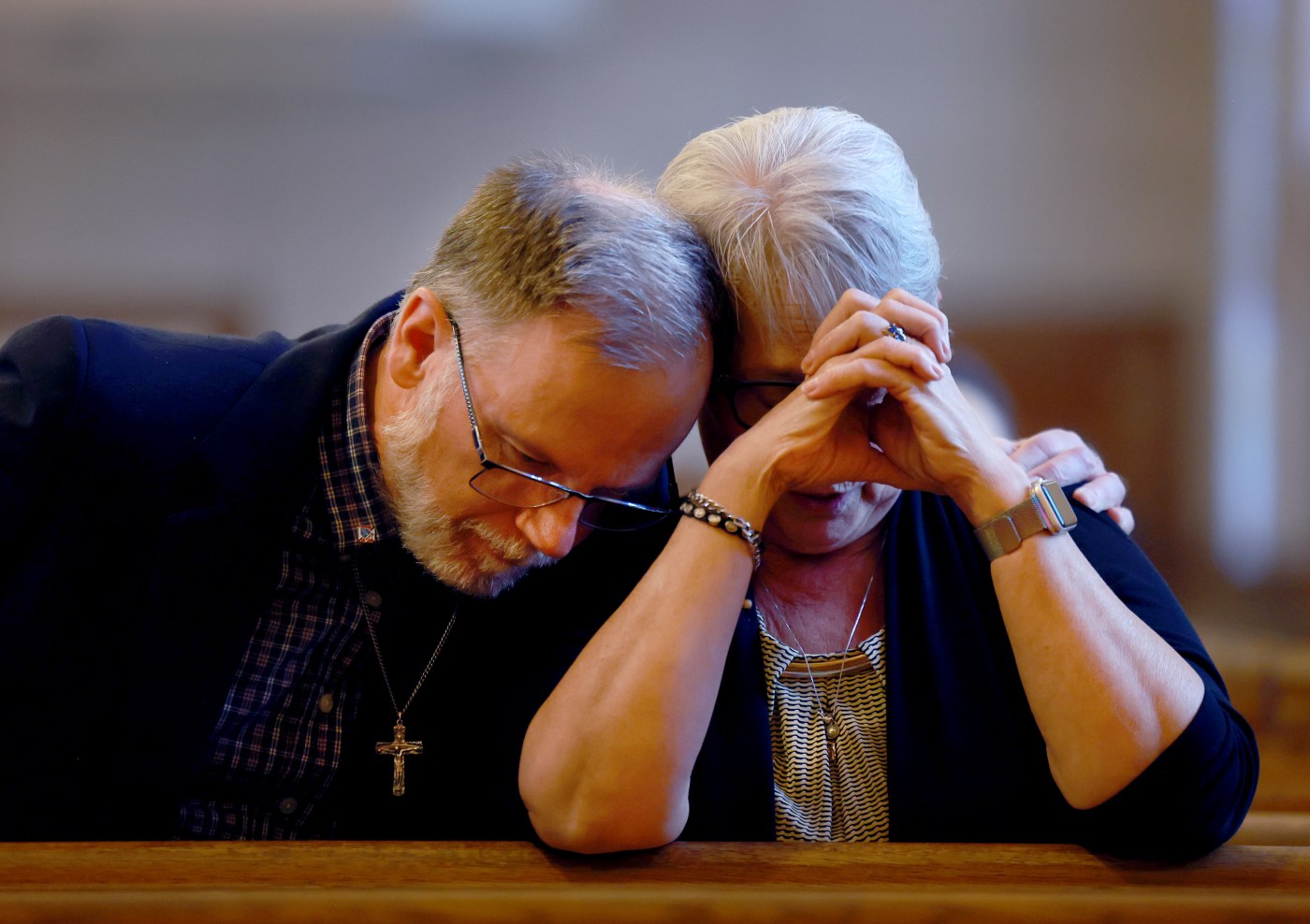 Carrying heavy hearts, Lewiston residents come together and look forward after Maine's dark day
LEWISTON, Maine – Bells rang throughout this city of shattered hearts after each name of the 18 victims shot and killed in last week's mass shooting was read, one after one.
Hundreds of locals, carrying heavy hearts, gathered at churches throughout the community on Sunday to grieve and process the "biggest challenge" it has faced.
As residents shed tears and shared hugs, community members vowed Lewiston will not be defined by last Wednesday's shooting at Just-In-Time Recreation bowling alley and Schemengees Bar and Grille that killed 18 and injured 13.
"In the days to come, as the world moves on, as the national media shifts its focus to the next crisis, we will stay together," Lewiston native Tom Caron told a massive turnout of people, from near and far, at the Basilica of Sts. Peter and Paul Sunday evening.
"We will support each other through the tears, the shock, and the grief in this tight knit city of big hearts. … We can never allow Lewiston to be remembered for violence," he said.
Caron, a leading voice of Red Sox baseball on NESN, reminded those who gathered, filling the pews and flowing outside, there is love and beauty in the community, one in which he learned the value of hard work.
That sense of love was seen throughout the city Sunday, as memorials grew outside the local pub and bowling alley.
A traffic display board up the road from Schemengees reads: "Thank you to all involved in helping our great city."  Another read: "Lewiston Strong."
The victims' names are written on posters and carved into pumpkins. One pumpkin was attached with a picture of Joey Walker, the manager of Schemengees who confronted the gunman with a butcher knife.
"Not all heroes wear capes," a message on the picture reads.
Down the road, at the Lewiston Mall, residents participated in a Halloween celebration, with dozens of parents and children dressed in costumes waiting to receive candy – a sign that life is starting to come back after Maine's "dark day."
An hour-long prayer service earlier in the day at Holy Family Church served as the first formal gathering to grieve for those lost and pray for the community to remain a unified front in the days to come.
Maine State Police on Friday found the dead body of alleged gunman Robert Card inside a box trailer parked in an overflow lot across the street from the Maine Recycling Corporation in Lisbon, an area that had not been checked when law enforcement previously searched the site two times.
Portraits of the victims who died stood on the steps up to the altar inside Holy Family Church as well as the Basilica of Sts. Peter and Paul.
Husband and wife Chris and Nancy Pierce, who live outside of Lewiston but have a "history and relationship" with the city and surrounding area, took part in the prayer service at Holy Family.
Chris Pierce said he felt compelled to turn out because he knew Andy Violette, the son of Bob and Lucille Violette, both of whom died at the bowling alley. "We wanted to come for him and all of the others who were taken so suddenly and so unjustly," he said.
His wife Nancy called the tragedy a "terrible shock to us, Mainers." She hopes the events of the past week will not change her and her husband as well as the entire community.
"We have faith that the deceased are in a good place, and I hope it doesn't make us fearful," she said. "This is all pretty raw."
A mourner prays in front of pictures of victims set up during a memorial at the Holy Family Church Sunday, in Lewiston, Maine. (Photo by Joe Raedle/Getty Images)
An overflow crowd gathered at a vigil for the victims of Wednesday's mass shootings, Sunday outside the Basilica of Saints Peter and Paul in Lewiston, Maine. (AP Photo/Matt Rourke)