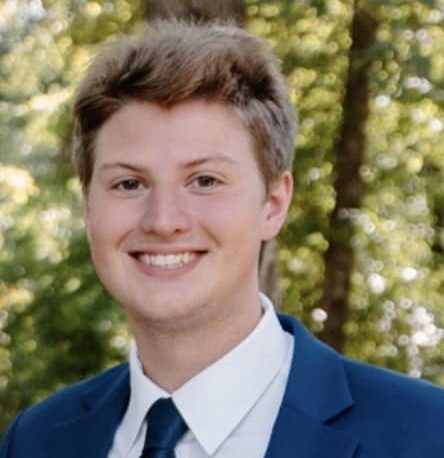 Bryce Borca's parents says son's disappearance in Eagan has been 'hardest year of our lives'
One year since Bryce Borca went missing in Eagan, his parents are opening up about their pain in a letter that includes a message to their son.
"Bryce, we love you more than life itself. We miss you in every way. We miss that smile. We miss your sweetness, your kindness and your ability to make everyone around you feel better," they wrote.
Bryce Borca (Courtesy of the family)
Borca, who was 23 at the time, was last seen on Oct. 30, 2022. His last known location was Fort Snelling State Park at the end of Yankee Doodle Road in Eagan. He was trying to walk home after a night out with friends and hasn't been found.
"It's been one year since we lost our sweet Bryce," parents Troy and Carina Borca wrote in a letter posted late Sunday. "One year. Some days it feels like 10 years and other days it feels like 10 weeks."
They thanked Eagan police, county and state authorities and search groups "that continue to help us find answers. … We pray and hope that another year will not go by without answers."
Missing as he tried to walk home
On Oct. 30, 2022, Borca took a ride-share back to Eagan. Friends said they'd been drinking on a party bus.
The ride-share dropped off Borca and two friends in the 3200 block of Hill Ridge Drive in Eagan at 2:08 a.m., according to a search warrant affidavit previously filed by police to collect Borca's electronic devices to search for evidence to assist in locating him.
Borca left to walk back to his residence in the 3400 block of Promenade Avenue in Eagan, which is about two miles away. At 2:34 a.m. Oct. 30, 2022, Borca spoke with friends using video FaceTime and said his phone had 2 percent battery remaining and he didn't know where he was. The video appeared to be in a heavily wooded area.
He shared his location from his phone, which put him in a wooded area off Minnesota Highway 13, the opposite direction of his apartment. The call ended and his friends believed his phone ran out of battery power.
Searches covered over 100,000 acres of land and water in Fort Snelling Park and surrounding area, his family wrote in January. Professional search teams, canine teams, drones and water sonar equipment were used. Many tips and leads came in, including surveillance videos from the community and businesses in the area, according to Borca's family.
Bryce's Blessings
Troy and Carina Borca announced in August they'd started Bryce's Blessings, a nonprofit to honor their son and support other families coping with the loss of a child.
"Losing a child is the hardest loss there is," they wrote in Sunday's letter. "The pain never retreats. At times it might dull for an hour or two, but the hole in our hearts will be there forever. It is our hope that someday that hole becomes less jagged."
Some have called the foundation "putting purpose into pain," Borca's parents wrote, adding, "And that feels just as good as it sounds."
So far, 1,000 people have donated to help others or participated in a golf event honoring Bryce Borca. Bryce's Blessings is partnering with Faith's Lodge in Wisconsin to sponsor the cost of attending a retreat next year for parents coping with the loss of a child.
"Through the darkness" of the last year, "some light has shone through," Troy and Carina Borca wrote.
That has included meeting teachers who Borca worked with and hearing from children he spent his days with. "He taught and mentored young children who adored 'Mr. Bryce,'" according to Bryce's Blessings website.
Bryce Borca's parents said they think about him before they fall asleep, when they wake up, "and every minute in between."
"The last year has been the hardest year of our lives," they wrote. "We are not the same people we were a year ago. … As people who are planful of our lives, this was not in the plan. But it's clear the plan is not ours to execute on. It's in God's hands."
They ended the letter with: "We love you Bryce today and forever. Until we see you again…."
Related Articles

From meeting his wife to rescuing a child in a pond, retiring St. Anthony fire chief 'grateful' to serve hometown

Drug Takeback Day provides a place to safely dispose of unwanted medication, syringes

Man found dead in marshy area off St. Paul freeway had been reported missing

DJ Jade Tittle is leaving The Current due, in part, to harassment from a stalker

A list of mass killings in the United States since January