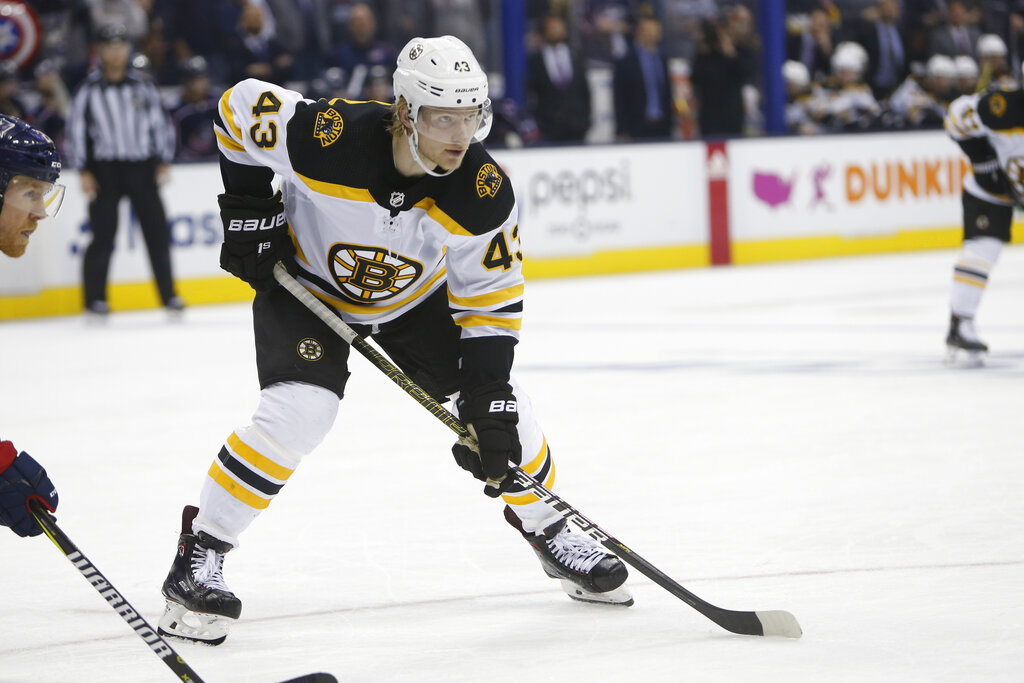 Bruins notebook: Danton Heinen nearing a deal?
There was no official signing by the end Monday's morning skate, but it appears as though Danton Heinen's long wait for a contract is coming to an end.
Heinen took the first shift as the fourth line left wing in the morning skate, at the end of the skate, he was awarded with the center stretch to stick taps all around. It certainly seemed as if somehting was in the works.
Heinen has been with the B's on a tryout agreement since the start of training camp but, because of some salary cap constraints, the club had not been able to sign him. That appears to be changing, and a Heinen addition would give coach Jim Montgomery a player he could plug in throughout the lineup.
"His versatility is really important he can play both wings adeptly as well and he understands whatever line he's put on, what the expectation is of the role he's going to play," said coach Jim Montgomery, who coached Heinen at the University of Denver.
This is would be Heinen's second go-round with the B's, who drafted him in the fourth round (116th overall) in 2014. He played 220 games with the B's and was part of the B's run to the Finals in 2019 before the B's traded him the next season to Anaheim at the deadline for Nick Ritchie. He played with the Ducks and the Penguins, posting a career-high 18 goals with Pittsburgh two years ago. But with so many teams facing a cap crunch last summer, he found himself without a contract.
Montgomery has liked the way Heinen has kept himself sharp as he skated in limbo.
"I've been really impressed because when we do practice and there are opportunities for him to make plays or penalty kill, he's been very noticeable," said Montgomery. "He's making a lot of plays, a lot of smart plays. He's got really soft hands. It doesn't matter who he's gone with. And he's got more energy that other people, to be fair, because they're playing. His practices are his games right now."
Heinen, meanwhile, has seemed very much like a member of the team. He was on the west coast road trip and was at the Centennial Gala at the Copley Plaza earlier this season.
"It's been a little different, but everyone's been great with me and it's been fun to be here and be a part of it and watch these guys win games. It's a little different, but everyone's been great," said the 28-year-old Heinen. "It's a great group and a group you want to be a part of."
While there's been some uncertainty with his situation, Heinen credits the organization for keeping him in the loop.
"There's a lot of moving parts and a lot up in the air, but they've been great communicating with me and the staff's been working with me and the trainers and stuff keeping me ready, so that's just my mindset the whole time. Just be ready," said Heinen….
Since the tragic death of American hockey player Adam Johnson, who was accidentally cut in the neck with a skate blade on Saturday while playing in the British pro league, the debate surrounding neck guards has resurfaced.
On Sunday, several Providence Bruins players chose to wear the extra protection though no players at the Boston morning skate elected to do the same.
Montgomery has firsthand experience with both a similar tragedy, as well as neck guards and he understands why some players won't wear them.
"It is awful and it's tragic. A kid I played with back in Montreal, Jamie Lechner, I think was the first player to pass because of the same thing. I wasn't playing with him at the time. He had graduated to midget hockey and I was still second-year bantam at the time. But just hearing the stories, it's very similar. A skate accidentally hits someone in the right place, and it was horrific. I remember going to his funeral and how hard it was on all of us at such a young age. And then Adam Johnson, I coached against him in college (when Johnson was at Minnesota-Duluth)…You just feel awful," said Montgomery.
"We went to the neck guards right away in Quebec and I think after that season, all of Canada adopted it. It is hard to get used to it, and I think it's a personal choice if you want to do it. As soon as I got out of Quebec and got into college hockey, I took it off. Just because I felt it restrained me from breathing the way I wanted to or, whatever, it's a nuisance getting a little rug burn (on the neck). I think it's a personal choice. It's obviously something that could help you but the thing is, the (guard) moves up and down and maybe it's not protecting you where you need to be protected anyways. And if you're going to put it firmly there, then that's going to really start to restrict your breathing as your playing. It's tragic, it's horrific when it's happened I think three or four times in the last 30 years, maybe 40 years, but I think it's a people choice."
The B's Jakob Lauko is currently out of the lineup after he suffered a close call with a skate blade when, in Chicago, a Blackhawk's skate blade came up and hit him under the face shield near the eye. Fortunately the eye was not damaged but he did suffer fractures to the orbital bone….
After 19-year-old Matt Poitras has been the target of a couple of questionable hits, Montgomery decided to put a little extra protection on his line in the form of Trent Frederic.
"I think teams know that Poitras is a good player and they're trying to test him. I don't think they'll test him as much with Freddy on his line," said Montgomery.
Frederic played with Poitras a little bit in preseason and was looking forward to it again.
"I'll be out there if anything happens," said Frederic. "You can't necessarily stop it but you can definitely be there when something does and hopefully it limits it. But he's a good player, he's quick, he turns so well so sometimes guys can only take him down cheaply. It's good on him that he's getting that attention. He's just got to keep playing his game and I think he's doing really well."
Monday's game was Poitras' ninth and final one before the B's had to decide whether to keep him and burn a year on his entry level deal or send him back to junior. The former option seemed like the better bet…
Montgomery on playing the Florida Panthers, who shocked the B's in the first round last year: "It's not one of 82. They ended out season and they went all the way to Finals. Our summers were miserable until the Finals were over. And that's because they beat us. So yeah, this means more."