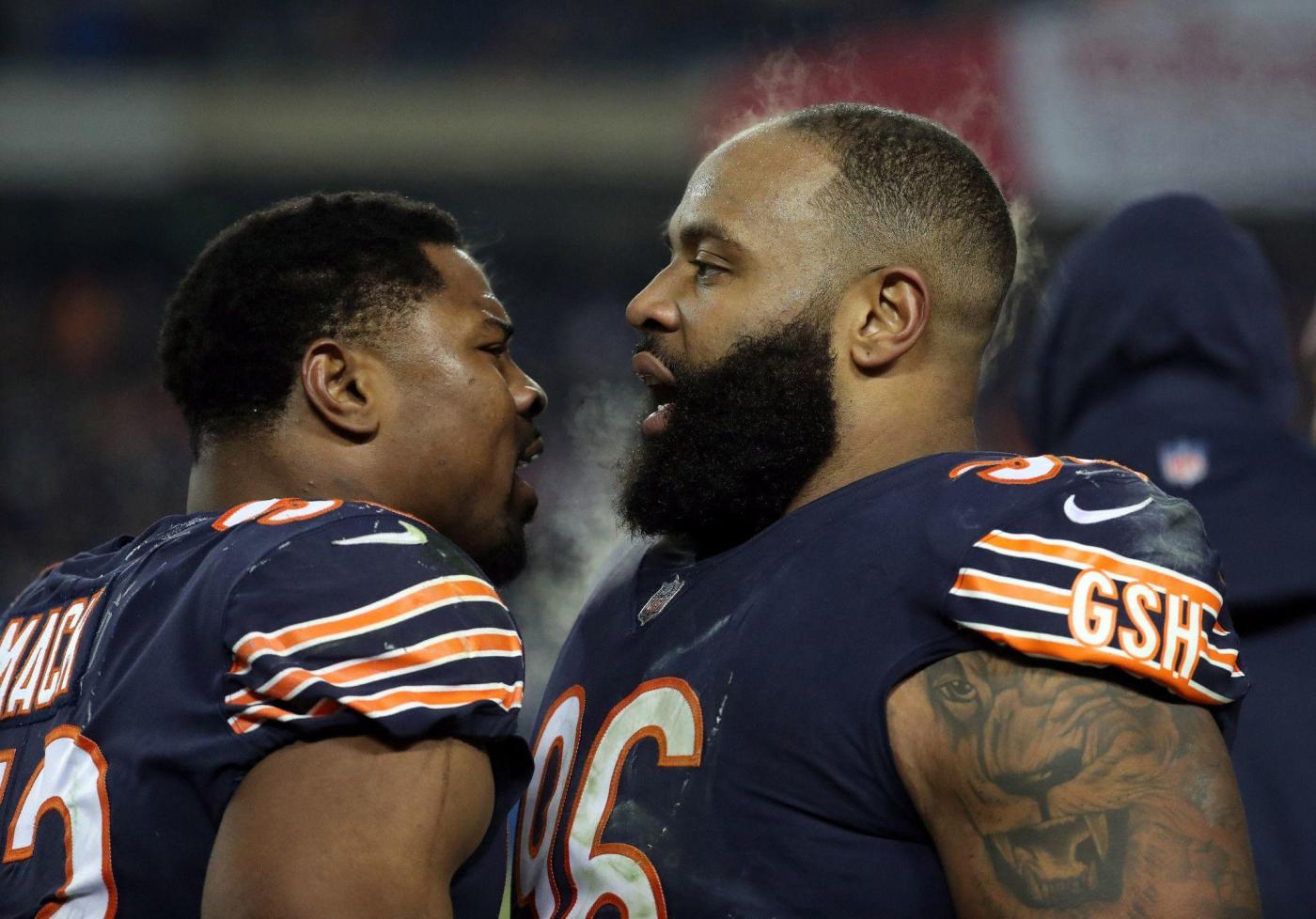 Tyson Bagent won his 1st NFL start. A look at 12 key numbers as the Chicago Bears ready to face the Los Angeles Chargers.
Coming off a 30-12 romp over the Las Vegas Raiders, the Chicago Bears will finish off the AFC West portion of their schedule Sunday night when they travel to Los Angeles to face the Chargers.
Matt Eberflus is still looking to win consecutive games for the first time as Bears coach. But the Bears have played much better in all three phases this month and will wrap up October on the "Sunday Night Football" stage. As the game approaches, here's a look at 12 attention-grabbing facts and figures.
1
Combined total of turnovers and sacks taken by Bears quarterback Tyson Bagent in his first NFL start Sunday. Bagent completed 21 of 29 passing attempts for 162 yards and a touchdown and posted a 97.2 passer rating. He also had three runs for 24 yards. Bagent averaged 7.7 yards per completion and didn't attempt a pass that traveled more than 15 yards beyond the line of scrimmage but still guided the Bears to a runaway victory. Of the last 10 quarterbacks to make their first NFL start with the Bears — Bagent, Justin Fields, Mitch Trubisky, Matt Barkley, Caleb Hanie, Kyle Orton, Craig Krenzel, Rex Grossman, Henry Burris and Shane Matthews — Bagent's first-start rating ranks second and his passing yardage total fifth.
3
Touchdowns running back D'Onta Foreman scored in Sunday's win, making him the second Bears player this season to reach the end zone three times in the same game. Receiver DJ Moore had three touchdowns in the Bears' Week 5 victory against the Washington Commanders. Other Bears to accomplish that feat over the past 20 seasons include Taylor Gabriel, Jordan Howard, Brandon Marshall (twice), Matt Forte (twice) and Greg Olsen. Foreman scored on runs of 2 and 3 yards and added a 5-yard touchdown reception from Tyson Bagent. The last time the Bears had multiple players score at least three touchdowns in a game during the same season was 1995, when receiver Curtis Conway and running back Rashaan Salaam did so.
39
Return yardage by cornerback Jaylon Johnson on his interception return touchdown in Sunday's win. Johnson swiped a Brian Hoyer pass intended for Davante Adams in the fourth quarter and raced untouched into Soldier Field's north end zone. It was Johnson's first NFL touchdown and first end-zone visit since Nov. 2, 2019, when he returned a Jacob Eason interception for a TD in a 33-28 Utah win against Washington. That return? Also 39 yards.
31
Games, before Johnson's pick-six Sunday, that had passed since the Bears' last defensive touchdown. The Bears hadn't recorded a defensive TD since Week 9 of 2021, when DeAndre Houston-Carson had a 25-yard fumble-return score against the Pittsburgh Steelers on "Monday Night Football."
6
Sacks by San Diego Chargers edge rusher Khalil Mack in the team's 24-17 Week 4 win against the Raiders, the most by any NFL player in a game since Falcons defensive lineman Adrian Clayborn had six against the Cowboys in 2017. Mack, who was one sack shy of Derrick Thomas' single-game record, has had only one sack in the Chargers' other five games. He had eight sacks in 2022 after the Bears traded him to the Chargers for a 2022 second-round pick and a 2023 sixth-rounder. The Bears traded the latter selection back to the Chargers in exchange for two 2022 Round 7 selections. Overall, they used the return from the Mack deal to draft safeties Jaquan Brisker and Elijah Hicks and punter Trenton Gill.
17-16
Score of the last meeting between these teams, a Chargers victory in Week 8 of 2019 at Soldier Field. That game ended when Bears kicker Eddy Pineiro pulled a potential game-winning 41-yard field-goal attempt wide left as time expired. Bears quarterback Mitch Trubisky had two costly fourth-quarter turnovers in that loss and also missed a near-certain 58-yard touchdown pass to Taylor Gabriel late. On the final possession, Matt Nagy chose to kneel down with 43 seconds remaining on first-and-10 from the Chargers 21 rather than attempt a run or pass before sending Pineiro out for his kick. Pineiro noted two days later that he would have preferred to attempt that final kick from the right hash mark rather than the left. That was the second of four consecutive losses for the Bears in a dispirting 8-8 season.
25
First-half points allowed by the Bears over their four October games. The defense has been on the field for 18 possessions before halftime this month and has allowed only two touchdowns and four field goals. The average halftime score of those contests: Bears 17, Opponents 6.
.174
Third-down conversion rate of Bears opponents the last two games. The Vikings were 2-for-13 on third downs in Week 6 at Soldier Field, and the Raiders were 2-for-9 on Sundasy. Through five games, the Bears defense allowed opponents to convert 58.2% of their third downs, an NFL worst. They have climbed one rung on the ladder above the Tampa Bay Buccaneers.
285.1
Average passing yards per game by Chargers quarterback Justin Herbert, the second highest average in NFL history among players with at least 1,000 passing attempts. The only quarterback to average more is Patrick Mahomes (301.8). For comparison's sake, since Herbert entered the league as the No. 6 pick in 2020, all Bears quarterbacks have averaged 203.6 passing yards per game. Herbert's 1,458 career completions already have set the NFL record for most completions through a player's first four seasons. He alsois credited with 14 game-winning drives through his first 55 starts.
139
Receiving yards needed by Chargers standout Keenan Allen to become the 54th player in NFL history to reach 10,000. Since joining the Chargers as a third-round pick in 2013, Allen has averaged 80 catches, 929 yards and five touchdowns per season. He is on pace this season for career highs in catches (130), yards (1,626) and TDs (11).
140:38
Game time the Bears have led — out of 240 minutes — in four games this month. The Bears recorded dominant wire-to-wire victories over the Commanders and Raiders and held a 28-7 lead before losing to the Denver Broncos. They have trailed for only 50:34 this month with 43:33 of that coming in a Week 6 loss to the Vikings.
6
Consecutive losses by the Bears on "Sunday Night Football," all by double figures. That includes two defeats in Los Angeles — to the Rams. The average score of those six losses has been 32-15. The Bears' last victory on "Sunday Night Football" was a 15-6 defeat of the Rams in 2018. This will be the team's only Sunday night game this season.
()