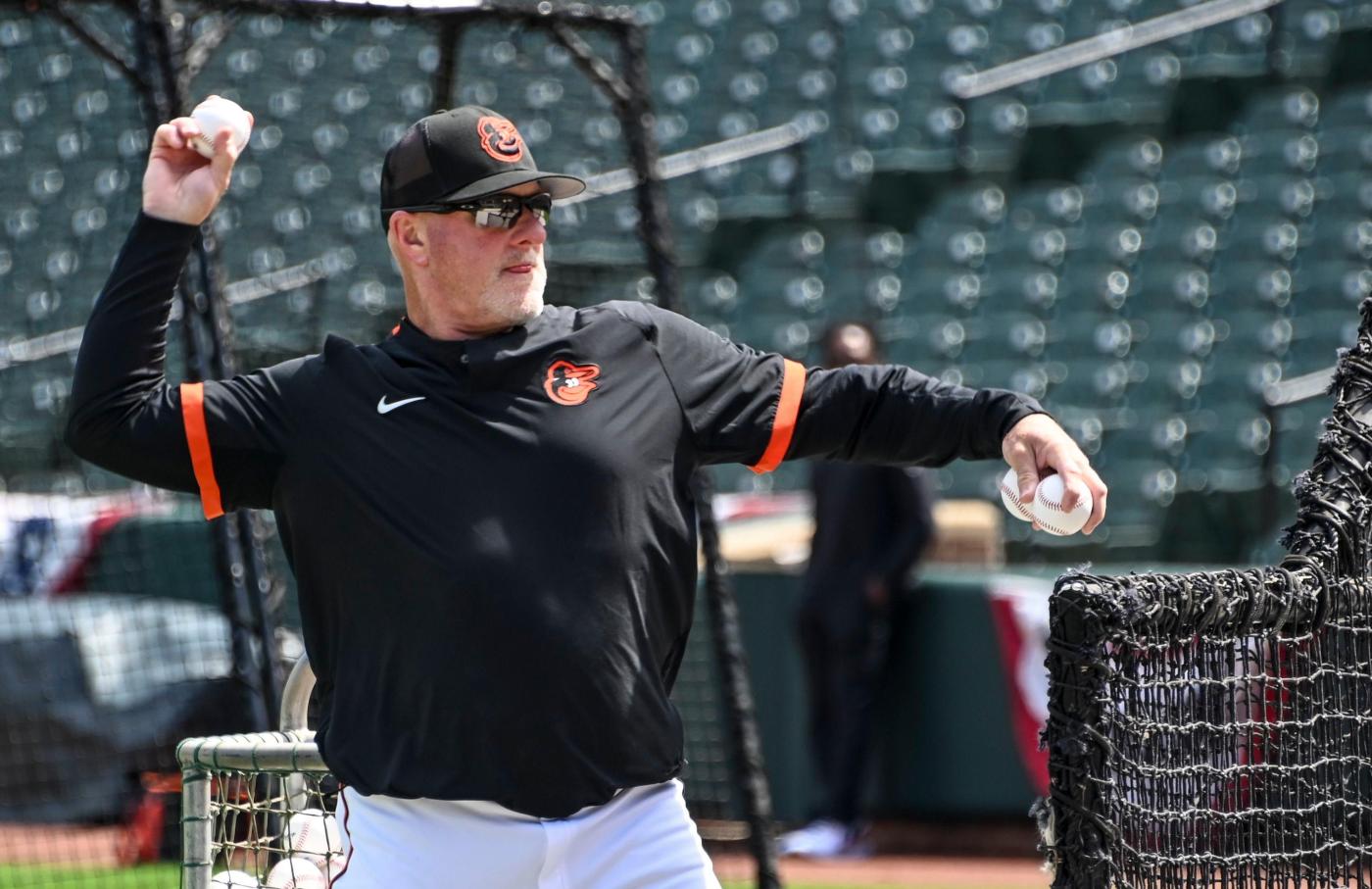 Orioles make pitching coach changes, with Chris Holt remaining as director of pitching
Neither of the Orioles' pitching coaches will be back on manager Brandon Hyde's staff in 2024, though one will remain in the organization.
Chris Holt will focus on his duties as Baltimore's director of pitching and no longer also serve as the club's major league pitching coach, while assistant pitching coach Darren Holmes is the lone other member of the staff not expected to be back next season, a source with direct knowledge of the team's plans confirmed to The Baltimore Sun.
Holt, 44, was one of Mike Elias' first hires after the latter became the Orioles' executive vice president and general manager in November 2018, with Holt having served as a minor league pitching coach and coordinator in the Houston Astros' system while Elias was in their front office. Holt has since played a major role in both Baltimore's pitching program overall and the growth of individual pitchers, notably helping left-hander John Means in the spring of 2019 to fine-tune the changeup that has become his signature pitch.
Holt was Baltimore's minor league pitching coordinator in 2019 before becoming the organization's director of pitching in 2020; in that role, he oversees pitching development throughout the organization. His return to that role as his sole focus comes after three seasons as Hyde's pitching coach.
In 2021, the first of those campaigns, the Orioles' pitching staff ranked last in the majors in ERA, but their performance in 2022 marked the sport's biggest year-to-year improvement in more than 90 years. Several young starters, such as Kyle Bradish, Grayson Rodriguez, Dean Kremer and Tyler Wells, took steps forward in 2023.
Holmes, 57, was also involved in that progression. He has been with the Orioles since 2020, serving as their bullpen coach that season before spending the previous three years as assistant pitching coach.
Before joining the Orioles, Holmes was the Colorado Rockies' bullpen coach from 2015 to 2019. After his 13-year pitching career — which included a stint with Baltimore in 2000 — Holmes spent nearly a decade as the Director of Sports Performance at Acceleration Sports Institute, with his background in biomechanics eventually leading to a consulting job with the Atlanta Braves.
It's not yet clear whether the Orioles intend to replace both Holt and Holmes on the major league coaching staff, though the organization does have at least two notable internal candidates for any opening.
Justin Ramsey, Triple-A Norfolk's pitching coach and Baltimore's upper-level pitching coordinator, joined Holt as one of the first coaching hires of Elias' front office. He has worked closely with Holt and Holmes in his efforts with the Tides' pitchers, with Rodriguez, the club's top pitching prospect at the time, often crediting Ramsey for his improvements after a return to the minors.
Pitching strategy coach Ryan Klimek has played a significant role in the Orioles' game planning for opponents over the past two seasons, drawing praise from the club's pitchers and Hyde; 2023 was Klimek's seventh year with the Orioles, beginning as a player development intern in 2017.
Hyde, 50, is set to manage the Orioles for a sixth season in 2024, a season he could spend as the reigning American League Manager of the Year after guiding Baltimore to 101 wins and the AL East crown this year. His coaching staff also includes bench coach Fredi González, major league field coordinator/catching instructor Tim Cossins, major league coach José Hernández, hitting coaches Matt Borgschulte and Ryan Fuller, offensive strategy coach Cody Asche, first base/outfield coach Anthony Sanders and third base/infield coach Tony Mansolino.
MASNSports.com first reported the changes to the Orioles' coaching staff.
Around the horn
The Orioles claimed left-hander Tucker Davidson from the Kansas City Royals on Wednesday. Davidson, 27, has a 5.98 ERA in 55 career appearances (17 starts) with the Braves, Los Angeles Angels and Royals. Baltimore's 40-man roster is full.
Earlier this week, the Orioles signed right-hander Nate Webb to a two-year minor league contract. Webb, 26, missed 2023 after undergoing Tommy John elbow reconstruction in the spring. Yet to appear in the majors, Webb reached Triple-A in the Royals' system in 2022.
()